The Political Science Club is open to all students with an interest in political science. This dynamic organization was recently recognized as Monmouth University's Most Outstanding Organization.
The club seeks to raise political awareness and energizes the campus community to register and vote in national and local elections. It is active in sponsoring political debates, policy forums, and Rock the Vote campaigns, and has co-sponsored an undergraduate political science conference. It has also established a debate team and routinely debates students from other universities on the major issues of our time. In addition, the club sponsors a trip to Washington, D.C., each spring semester and is widely recognized as an organization that knows how to affect positive change on campus and in our larger community.
For more information, contact Professor Joe Patten at 732-263-5742 or jpatten@monmouth.edu.
Students participate in the annual 5K Run sponsored by the
Political Science Club and the Sociology Club.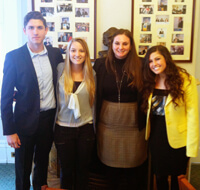 Four political science majors from Monmouth University presented papers at the annual meeting of the New Jersey Political Science Association held at the Eagleton Institute of Politics.