Experiential Education, a requirement for all undergraduates, enables students to link classroom academics with real-world experiences. As part of Ex Ed, students participate in valuable learning and educational opportunities; this can include cooperative education, service learning, and study abroad semesters in London, Florence, Heidelberg, Buenos Aires, Cádiz, or Sydney.
Meet Nicole Tarsitano
Digital Content Writer Intern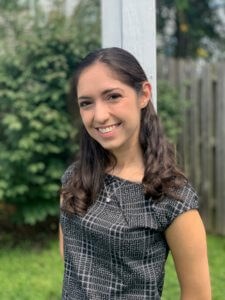 To fulfill my goal to be a writer, I searched for any internship opportunity that would let me create a portfolio of work and gain some experience in the industry. After sending out a few applications I received a positive response and a phone interview with a digital marketing company based out of New York City. I was a content writer interning for the company during the Summer 2019 semester.
This was my first real chance to write for publication outside of the university setting. Initially, my supervisor had me working on articles for the company's blog and doing research that I could use for future assignments. After completing a few laid back assignments as samples of my writing style, one of which was published online, my supervisor offered me a position in which I would be able to write directly for their clients. He would send me approximately five articles to complete by a specific deadline; I would complete the research and write each article integrating the client's website along with any other resources that were relevant. These would then be sent off to the client and be published on their digital platform.
As the internship progressed, he increased my assignments to between ten and twelve per weekly deadline. I was able to take on articles for a wider range of clients, including a new one that he trusted me to impress. Toward the end of the internship position, my supervisor invited me to a networking event at the Microsoft building in Manhattan. I was able to sit in on a panel of speakers that discussed diversity in the workplace and meet with entrepreneurs and writers to expand my industry connections. This was my first opportunity to interact with professionals in the field along with writers my own age looking to move forward in their writing careers.
Having the chance to write for a digital marketing company opened up so many doors for my future. I now have a strong portfolio of writing samples and a current job position writing for the same company. The experience that this position offered will undoubtedly help me progress in the writing industry. It taught me more about my own writing voice and gave me a great way to strengthen my professional writing skills. The internship I always dreamed of has turned into a job that I hope will open up more full-time career opportunities in the future.
Experiential Education for English Majors
Experiential education offers you the opportunity to integrate and expand your skills as critical thinker and proficient writer and reader; bring your knowledge and ethical judgment to bear upon life situations; gain experience and develop field-related competencies; improve your ability to learn in a self-directed and self-reflective manner; enhance your understanding of different professional environments and explore career options, and reflect on personal and professional development.
In the past, English majors secured Experiential Education placements with Random House, St. Martin's Press, The Strand Theatre in Lakewood, Monmouth County SPCA, Family Promise of Monmouth County, Long Branch Public Library, and the National Geographic Society.
There are several types of Ex Ed opportunities available to English majors:
Cooperative Education – Work in an academically/career relevant position (as paid or unpaid intern or job-"shadower") under the direction of a faculty member (sponsor).
Service Learning – Work with a non-profit organization to apply what you learn in the classroom to projects that meet community needs. Complete related academic assignments under the direction of a faculty sponsor.
Experiential Education classes – Any class with the designation "course type: EX." The Department of English offers EN 384: Language and Community (Course Description: Students will learn theories and best practices of tutoring and will apply them in literacy activities in community settings. Will convene in three chronological formats: training of how to tutor, internship hours, and reflection on application of tutoring theories in the internship hours.)
Study Abroad – A semester or summer program in London, Sydney, Cadiz, or Florence, or an international experience approved by the University. Please contact the Study Abroad Office for more information.
English/Education majors satisfy the Ex Ed requirement through student teaching.
Find out more information on ways to fulfill your Experiential Education requirement, answers to frequently asked questions, and how to get started.