Experiential Education, a requirement for all undergraduates, enables students to link classroom academics with real-world experiences. As part of Ex Ed, students participate in valuable learning and educational opportunities; this can include cooperative education, service learning, and study abroad semesters in London, Florence, Cadiz, or Sydney.
Meet Katryna Cordova
Senate Office Intern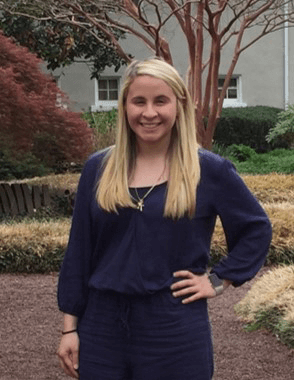 I have always believed that an internship is a chance to leave my comfort zone and learn something new. When I began to search for the right Ex Ed placement I knew I wanted to be challenged by a new opportunity outside my usual surroundings. I also wanted an internship that related to my goals in life. I want to be an attorney, so I began to search every type of internship that could possibly involve the legal field. I decided on Senator Jennifer Beck's office in Red Bank. The political world is not my cup of tea but I was very excited to be given this opportunity to face something that challenges me head on. I was invited to intern for my fall semester (2016) three days per week. The excitement of being in a Senator's office and understanding the behind the scenes of politics was outweighing the nervous part of me.
As an intern I was able to take part in multiple events outside of the office and broaden my political horizon greatly. The second day at my internship I was asked to attend a dinner where Senator Beck honored Rape Crisis Advocates. I took part in this powerful gathering and I was able to hear many advocates tell their stories. There would have never been a chance for me to meet such wonderful strong women if I had not interned at the Senator's office. I attended a wonderful luncheon at the Shadowbrook at Shrewsbury for the Affordable Housing Alliance that honored Senator Beck's work with them. It was amazing to constantly see how a woman could be so important and effective in a world mainly dominated by men.
Inside the office I was able to take part in meetings and therefore meet the Senator's constituents. During one meeting I met five rabbis from Long Branch; they were concerned about the assisted suicide bill and whether it would be passed in New Jersey. It was interesting to meet different heads of communities like the rabbis; they are a voice for the Jewish community in Long Branch. I expanded my horizons when I met them: when else would I able to be in a room with five rabbis and begin to understand their concerns and their faith? I also met a brilliant woman who wanted to be nominated to become a judge. She had been an attorney most of her life and she wanted to make a difference in her community. Much like Senator Beck it was inspiring meeting a woman who was capable of achieving what I want to do and more. The Senator's office allowed me to meet many new people in the field I am interested in and become inspired to follow in the footsteps of people like Senator Beck.
This internship definitely allowed me to step out of my comfort zone. An internship is one of the few chances in life where I could immerse myself in a new environment and grow so much as a student. I loved meeting new people, taking part in events, and learning what it meant to be a representative for a community. I will carry these lessons with me as I continue on to law school next year. As a student at Monmouth University I have learned how to speak to not just my peers, but also professors and Senators. I am able to discuss multiple subjects with adults and not feel intimidated because Monmouth has allowed me to flourish in all my classes. This internship has provided the opportunity to use all the skills I have learned at Monmouth and transform them into real-life experience.
Experiential Education for English Majors
Experiential education offers you the opportunity to integrate and expand your skills as critical thinker and proficient writer and reader; bring your knowledge and ethical judgment to bear upon life situations; gain experience and develop field-related competencies; improve your ability to learn in a self-directed and self-reflective manner; enhance your understanding of different professional environments and explore career options, and reflect on personal and professional development.
In the past, English majors secured Experiential Education placements with Random House, St. Martin's Press, The Strand Theatre in Lakewood, Monmouth County SPCA, Family Promise of Monmouth County, Long Branch Public Library, and the National Geographic Society.
There are several types of Ex Ed opportunities available to English majors:
Cooperative Education – Work in an academically/career relevant position (as paid or unpaid intern or job-"shadower") under the direction of a faculty member (sponsor).
Service Learning – Work with a non-profit organization to apply what you learn in the classroom to projects that meet community needs. Complete related academic assignments under the direction of a faculty sponsor.
Experiential Education classes – Any class with the designation "course type: EX." The Department of English offers EN 384: Language and Community (Course Description: Students will learn theories and best practices of tutoring and will apply them in literacy activities in community settings. Will convene in three chronological formats: training of how to tutor, internship hours, and reflection on application of tutoring theories in the internship hours.)
Study Abroad – A semester or summer program in London, Sydney, Cadiz, or Florence, or an international experience approved by the University. Please contact the Study Abroad Office for more information.
English/Education majors satisfy the Ex Ed requirement through student teaching.
Find out more information on ways to fulfill your Experiential Education requirement, answers to frequently asked questions, and to get started.