Department of English
Monmouth University's Department of English gives students the opportunity to study literature, writing, and rhetoric in a supportive and engaging intellectual community of faculty and peers. English majors and minors are encouraged to pursue their interests under the direction of dedicated and accomplished faculty mentors both inside and outside the classroom, and can choose from a range of programs and courses offerings in the areas of literature, creative writing and professional writing. Students will enhance their close reading and analytical skills as they encounter the pleasures and possibilities found in reading literary works of aesthetic and cultural value. A major or minor in English enables students to develop critical awareness that prepares them for careers in the areas of teaching, law, business, publishing, writing, and administration, and most importantly, lays the foundation for a lifelong engagement with the versatility, power, and beauty of language.
M.A./M.F.A in Creative Writing
Monmouth's M.A./M.F.A. dual-degree program builds upon our 30-credit M.A. in English with a new 18-credit M.F.A. curriculum. Graduates will leave the program ready to pursue publication of their own work and qualified to seek careers in higher education, publishing, and related fields.
After completing their M.A. in English with a Creative Writing concentration, Monmouth's M.F.A. students will immerse themselves in an additional 18 credits of intensive study that includes advanced craft seminars, workshops, networking opportunities with publishing professionals and visiting writers, and career preparation in our internship program and reserved adjunct teaching positions.
Transfer students from other M.A. programs and alums with non-CW M.A. degrees from Monmouth may apply for our bridge program to complete the M.F.A. Part-time status, night classes, financial aid, graduate assistantships, and paid teaching opportunities available.
Scholarly Speaker Series

Join us for a lecture
and discussion with
Dr. Magali Armillas-Tiseyra on Friday,
November 20, at 2:30-3:30 p.m.
Register for the Zoom event with Michele McBride.
Virtual Tuesday Night Book Club
Tuesday Night Book Club is hosted by Monmouth University's Ken Womack and Michael Thomas. Each month they'll explore a different novel. All you have to do is Zoom in and join the discussion!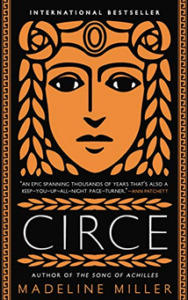 Madeline Miller's Circe
October 27, 2020
Register here.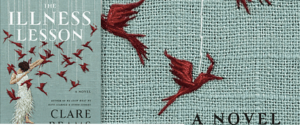 Clare Beams' The Illness Lesson
November 17, 2020
Register here.

Amor Towles' A Gentleman In Moscow
December 15, 2020
Register here.
For more information about the Virtual Tuesday Night Book Club, please visit https://www.monmouth.edu/mca/series/tuesday-night-book-club/.
Visiting Writers Series
The Visiting Writers Series was introduced to campus in 2005 as a way to connect students with contemporary authors whose works have significantly impacted the world of literature. Founded by Michael P. Thomas, poet and Associate Dean for the Wayne D. McMurray School of Humanities & Social Sciences, the Series has become a celebrated component of the University's Center for the Arts.
In each installment of the Visiting Writers Series, students and faculty attend a lecture given by the author and are invited to participate in creative discussions and workshops. By fostering organic relationships between the University community and visiting authors, the Series promotes critical thinking and cultural diversity.
Read our Q & A's with the 2019-2020 Visiting Writers here. For more information about the Visiting Writers Series, please visit https://www.monmouth.edu/mca/series/visiting-writers-series/.
ANNOUNCEMENTS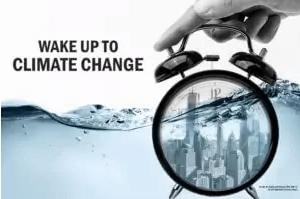 Attend the Climate Crisis Teach-In. Click here to register and view the full schedule of events.

Do you have questions about programs and classes? Sigma Tau Delta invites you to attend their Mentorship Program Coffee Hour on Wed., November 11, at 3:15 p.m.

Join us for Coffee Hour hosted by English Graduate Faculty members. Please click on the image above for more details!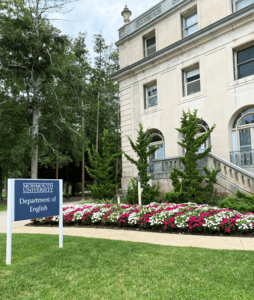 We are eager and available to help with any of your questions and concerns. Please reach out to us at any time via email (english@monmouth.edu) or call us at 732-571-3439.
Monmouth Now: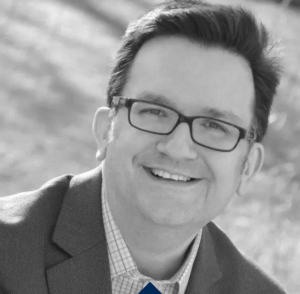 Professor Womack was an expert on 20/20 episode, "John Lennon: His Life–Legacy–Last Days".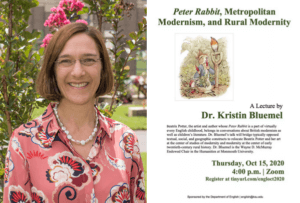 Dr. Kristin Bluemel delivered a  Guest Lecture at Kansas State University on Oct. 15. Learn more about her talk in Monmouth Now.

Learn more about the new anthology, Border Lines: Poems of Migration (Knopf, 2020) here!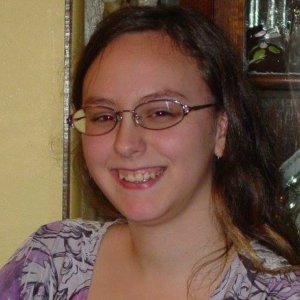 Congratulations to Katelyn Snyder, NJCEA graduate student representative for the 2020-2021 academic year.
—————–

Read the "MLA Statement Deploring Systemic Racism" at www.mla.org.

Read the Spring 2020 issue of our Department newsletter,
Words Matter.