Department of English
Monmouth University's Department of English gives students the opportunity to study literature, writing, and rhetoric in a supportive and engaging intellectual community of faculty and peers. English majors and minors are encouraged to pursue their interests under the direction of dedicated and accomplished faculty mentors both inside and outside the classroom, and can choose from a range of programs and courses offerings in the areas of literature, creative writing and professional writing. Students will enhance their close reading and analytical skills as they encounter the pleasures and possibilities found in reading literary works of aesthetic and cultural value. A major or minor in English enables students to develop critical awareness that prepares them for careers in the areas of teaching, law, business, publishing, writing, and administration, and most importantly, lays the foundation for a lifelong engagement with the versatility, power, and beauty of language.
Creative Writing Minor
The English Department is pleased to announce the implementation of the Creative Writing Minor. This 18-credit minor is open to students from all majors. Students will take courses in general creative writing, as well as in specific genres, and will have the opportunity to learn from publishing writers. Please see the curriculum chart. If you have any questions, please contact Dr. Goulding, English Department Chair, at goulding@monmouth.edu.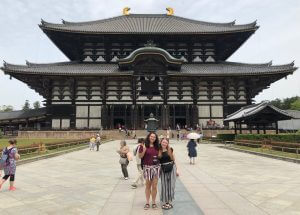 Meet Brittany Cote
The day after graduation I felt a weight lift from my shoulders, and excitement settle in for the opportunities and experiences ahead of me. While I was ready for the next chapter of my life to begin I also felt the anxiety of the "real world" creeping up on me. I needed to reward myself with something that could distract me, which is how I came up with the ambitious idea to go visit Japan (specifically Osaka, Kyoto and Tokyo). Luckily for me a friend of mine was willing to take the 16+ hour trek to the land of the rising sun with me. I wanted to become more independent, which I found both terrifying and exhilarating. However, I have come to realize that this trip was necessary in order for me to mature. While in Japan I discovered a lot about myself and pushed myself out of my comfort zone every day. I'm not one for leaving my bubble of safety but I knew I had to at least try. I wanted to do and try as much as possible because I knew an experience like this might never come again.
I had the time of my life. I visited temples, got attacked by hungry deer, tried raw fish (also known as sashimi) and a lot of other unfamiliar foods, communicated with people whose language I didn't speak, saw a real-life geisha, made new friends and more. Every day was a new experience and a new boundary I had to cross. Within the span of two weeks I learned that I love Japanese curry, every home in America should have a bidet, and that I'm more than capable of handling myself than I thought I was. At first, I was expecting to find myself stranded in a random city begging my mom to come and get me. Thankfully, that didn't happen and I actually found myself sad to leave at the end of my travels. I realized I would miss trying to decipher the train timetables, making odd hand gestures while trying to communicate with locals, and the scenic mountain range that could be seen almost anywhere I went. I also realized that these experiences and memories I've gained have changed me for the better.
I think it's safe to say that all, if not most, newly-graduated college students fear the unknown and their futures because who wouldn't? What I have come to understand after my short time abroad is that there is no timeline for life. It doesn't matter that I didn't get as close to the Imperial Palace as I wanted to or that I didn't reach the top of Fushimi Inari Shrine. Just like it doesn't matter that I don't get my dream job right after graduation or that it takes time to earn my Master's. No matter how long it takes to achieve my goal all that matters is that I get there. I encourage every college graduate to travel after graduation and before starting work or school again. The experience is not only relaxing (for the most part) but it gives that boost of confidence every new adult needs before jumping into their future.
ANNOUNCEMENTS
Annual Graduate Symposium
Call for Papers
April 24, 3-7 PM
Location: Bey Hall 222
Who will be presenting?
John Francis
Daphne Keller
Colleen King
Kimberly Morgan
Daniel Murphy
Connor White
Elizabeth White
It's not too late! Join your esteemed peers and present your work!