Department of English
Monmouth University's Department of English gives students the opportunity to study literature, writing, and rhetoric in a supportive and engaging intellectual community of faculty and peers. English majors and minors are encouraged to pursue their interests under the direction of dedicated and accomplished faculty mentors both inside and outside the classroom, and can choose from a range of programs and courses offerings in the areas of literature, creative writing and professional writing. Students will enhance their close reading and analytical skills as they encounter the pleasures and possibilities found in reading literary works of aesthetic and cultural value. A major or minor in English enables students to develop critical awareness that prepares them for careers in the areas of teaching, law, business, publishing, writing, and administration, and most importantly, lays the foundation for a lifelong engagement with the versatility, power, and beauty of language.
M.A./M.F.A in Creative Writing
Monmouth's new M.A./M.F.A. dual-degree program, set to launch in fall 2019, builds upon our 30-credit M.A. in English with a new 18-credit M.F.A. curriculum. Graduates will leave the program ready to pursue publication of their own work and qualified to seek careers in higher education, publishing, and related fields.
After completing their M.A. in English with a Creative Writing concentration, Monmouth's M.F.A. students will immerse themselves in an additional 18 credits of intensive study that includes advanced craft seminars, workshops, networking opportunities with publishing professionals and visiting writers, and career preparation in our internship program and reserved adjunct teaching positions.
Transfer students from other M.A. programs and alums with non-CW M.A. degrees from Monmouth may apply for our bridge program to complete the M.F.A. Part-time status, night classes, financial aid, graduate assistantships, and paid teaching opportunities available.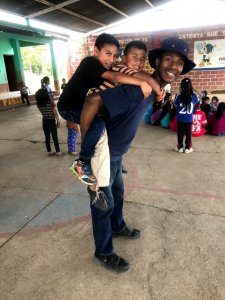 Meet Andie Mali
Andie, a senior majoring in English and Economics, took a 10-day trip to Guatemala in May 2018 as part of Monmouth's Alternative Break Service Program. As his description shows, the experience was life-changing.
We took a five hour bus trip up into the mountain villages and stayed in Chichicastenango. For the next week, we would wake up early in the morning to travel another hour into the mountains to Xepocol—a whopping 7,000 feet above sea level. We were construction workers, building up the walls of a classroom for the 410 kindergarten through sixth graders there to use as a computer lab. We were playmates, entertaining the kids during recess with our funny accents, unique clothes, and exciting games. But most importantly, we were humbled. From the first moment we stepped out of the airport until the last hug and farewell, I know I can speak for the entire group when I say that we were all moved and taken aback by powerful love that we experienced in a place that was worlds away from what we knew as home.
Advisors and students who went on past trips encouraged us to use our journals every day to make sense of all that happened to us during the ten days. I couldn't bring myself to do it for some reason. But I did decided to write something to tell our group on the bus ride to the airport the day that we left:
We all have a differing mix of emotions towards this trip regarding the things we saw and experienced. But the commonality is that we all did this together. We'll never know the struggle of the Guatemalan people, but that does not mean that our trip was for nothing. Corey said something to me that is so true: even if we only make an impact on one person in our lifetime, it was still a life well lived. We can't ever lose sight of that mindset. But I think we need to remember that this trip was more for us than it was for the people that we came to help. All of our eyes were opened to the best and worst life has to offer. That was necessary. And for some of us this mission trip may have opened doors and paths to our purposes in this life… Look inside yourself because I know what each of you are capable of. I've seen your potential. Look inside yourself because coming back to the States won't be easy. But after you do all that self-reflecting, please remember the other beautiful people that you made connections with while on this trip. We are all available for each other. Always remember that.
Service-learning in another country made me realize the true significance of volunteerism. It has to be more than just a "resume-builder" for it to actually mean something to you and someone else. I found my passion and my purpose in Guatemala, and now I want to push on to law school and graduate with a dual MBA and LLM degree in Public Interest/Service Law. I hope to one day be a force for good in my community in the United States and in other countries. I would encourage every college student to immerse themselves in a program where they are direct servants of their fellow man because any chance we get to help others is a step towards a life well lived.
ANNOUNCEMENTS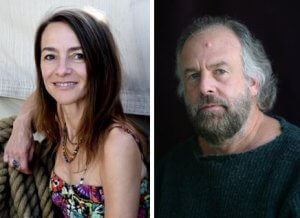 Drs. Mihaela Moscaliuc and Michael Waters are holding a reading at the Beyond Baroque Literary Arts Center in Venice Beach, CA on Friday, September 13.
http://ow.ly/ViNT50w70UH

Featured in Monmouth Now:
(Click on image to read the full article.)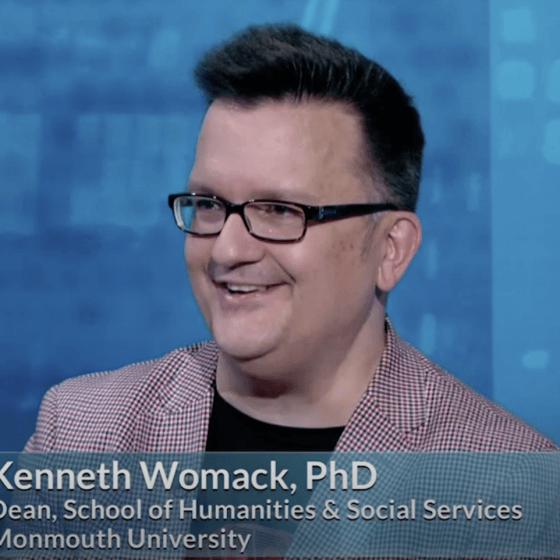 Watch Dean Womack's interview on "One on One with Steve Adubato".
Dean Womack's review of "Blinded by the Light" is featured on salon.com
________________

Congratulations to Dr. Frank Fury for his new post as the Director of Writing Services.