Department of English
Monmouth University's Department of English gives students the opportunity to study literature, writing, and rhetoric in a supportive and engaging intellectual community of faculty and peers. English majors and minors are encouraged to pursue their interests under the direction of dedicated and accomplished faculty mentors both inside and outside the classroom, and can choose from a range of programs and courses offerings in the areas of literature, creative writing and professional writing. Students will enhance their close reading and analytical skills as they encounter the pleasures and possibilities found in reading literary works of aesthetic and cultural value. A major or minor in English enables students to develop critical awareness that prepares them for careers in the areas of teaching, law, business, publishing, writing, and administration, and most importantly, lays the foundation for a lifelong engagement with the versatility, power, and beauty of language.
M.A./M.F.A in Creative Writing
Monmouth's new M.A./M.F.A. dual-degree program builds upon our 30-credit M.A. in English with a new 18-credit M.F.A. curriculum. Graduates will leave the program ready to pursue publication of their own work and qualified to seek careers in higher education, publishing, and related fields.
After completing their M.A. in English with a Creative Writing concentration, Monmouth's M.F.A. students will immerse themselves in an additional 18 credits of intensive study that includes advanced craft seminars, workshops, networking opportunities with publishing professionals and visiting writers, and career preparation in our internship program and reserved adjunct teaching positions.
Transfer students from other M.A. programs and alums with non-CW M.A. degrees from Monmouth may apply for our bridge program to complete the M.F.A. Part-time status, night classes, financial aid, graduate assistantships, and paid teaching opportunities available.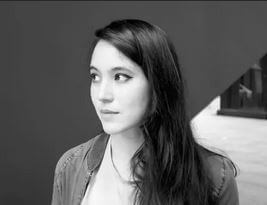 Visiting Writer Alexandra Kleeman
September 17, 2019
Alexandra Kleeman is celebrated at Monmouth for her contributions to the literary world. As someone who always held a secretive ambition to write fiction, Kleeman claims it is helpful to consider "all the different shades of telling" in a written work; whether fiction, nonfiction, reportage, essays, or poetry, allow yourself to explore. Her advice is to "store everything you perceive because you never know when you could use it." Stripped of conventional topics, Alexandra's writing has led her to some interesting places and allowed her to experience them firsthand. From attending fruitarian festivals to going on bed-rest to not only write about the subject but to live it and know it personally, is perhaps what gives Kleeman's work its uniqueness. Surrounding herself with inspiration, Alexandra succeeds in portraying the idealized concept of female beauty through themes of entrapment, fantasy, identity, space, among others, and within a stream of consciousness that is freakishly fantastic. Some of her inspirations include Ben Marcus, Donald Barthelme, and Don Delillo. The author has always been drawn to the art of storytelling, and we were lucky enough she did just that for our Visiting Writers Series event held on September 17, 2019, along with a rewarding Q & A held afterward:
How do you create a character without making them too much like yourself? How do you create an individual?
"I seem to incorporate a seed of myself into creating a character, a seed that relates not only to you, but to everyone. Plant the seed, watch it grow into it's own being. I consider questions like 'How do they like their coffee?', 'Do they always get to work early or late?', or 'How do they make their breakfast?"
What inspired you to write in a stream of consciousness?
"I've always been interested in fantasy tales and getting to play with those dream-like realities. It's special when you read something and you can say 'I could see myself in that'. I like the idea of language being a weapon and wanted to explore those magical, fabulist aspects of writing."
What are your thoughts on the writing process? How do you find time to write?
"I prefer to write at night, because it works better for me. It's so important to know your writing process and learn what's best for you. Don't force yourself to write every day if it's too much for your schedule. Try new things, make an outline, write on paper instead of the computer, vise vera. Putting pressure on your work can make the writing process difficult, discover your optimal timeframe and work around it. There's a lot more than just one way to find out what works for you, attempt as many as you can."