Cooperative Education (Co-op)
Mission Statement
The Office of Cooperative Education is committed to providing students with the knowledge and understanding necessary to make sound career decisions through participation in career-related and academically relevant work experiences and to provide a three-fold partnership among the business community, faculty, and participating students.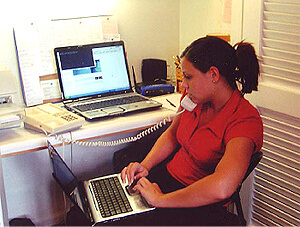 "Working at Yohalem Ltd. has been a rewarding experience where I have learned the world of business and how it is conducted. Working along side of the President of Yohalem Ltd., Kathy C. Yohalem' has really given me an inside learning experience to help me gain knowledge of why and how businesses are run and the fundamentals behind their management. These two years of experience have given me a greater insight on the inside workings of a business and have taught me what it takes for a business to be successful."
Michelle Baruffi
Intern at Yohalem Ltd.
Additional Information
Experiential Education Application

The experiential education form is now an advisor initiated e-form. Please contact your advisor for assistance.