About the Program
Journalism/Public Relations students develop a deep understanding of the contrasting media fields to prepare them for a wide variety of career opportunities. The faculty bring strong backgrounds to enable students to master everything from interviewing, reporting, and editing, to campaign planning, crisis communication, and social media strategy.
Core Courses
Introduction to Journalism
Introduction to Public Relations
Newswriting
Digital Media Writing
Student Outcomes
You will make connections in local media markets and discover opportunities with major broadcasting networks, top PR firms, and influential advertising agencies.
Undergraduate Research & Internships
The program enables emerging journalists to research and report stories by serving on the award winning newspaper, The Outlook. Emerging publicists develop campaigns, design publications or communications through the nationally accredited and certified PRSSA (Public Relations Student Society) or becoming part of the team on the Shadow PR Firm. Students also participate in media-based internships to further expand upon classroom knowledge.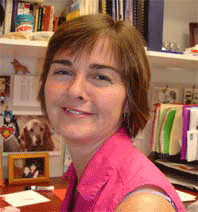 Lorna Schmidt
Director of Advising
Communication
Plangere Center, 225