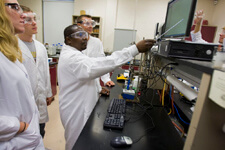 The mission of the Department of Chemistry and Physics is to provide our students with excellent preparation for their professional lives after graduation from Monmouth University, whether it is direct entry into the work force, graduate school in chemistry, or medical or other professional school.  We accomplish this by providing rigorous curricula containing essential subject matter as well as instruction that emphasizes laboratory experience, problem solving and critical thinking.
Most importantly, we provide the transformative learning experience of conducting original laboratory research under the guidance of faculty whose interests span all the major disciplines of chemistry.  This helps our students develop a strong sense of independence and perseverance.  They have many opportunities to present their work at University events and professional meetings, and they do so with great pride and enthusiasm.
Our mission also includes providing courses designed to help non-science majors learn about the processes of science and the application of scientific thinking to a wide variety of issues, thus preparing them to be well-informed citizens.