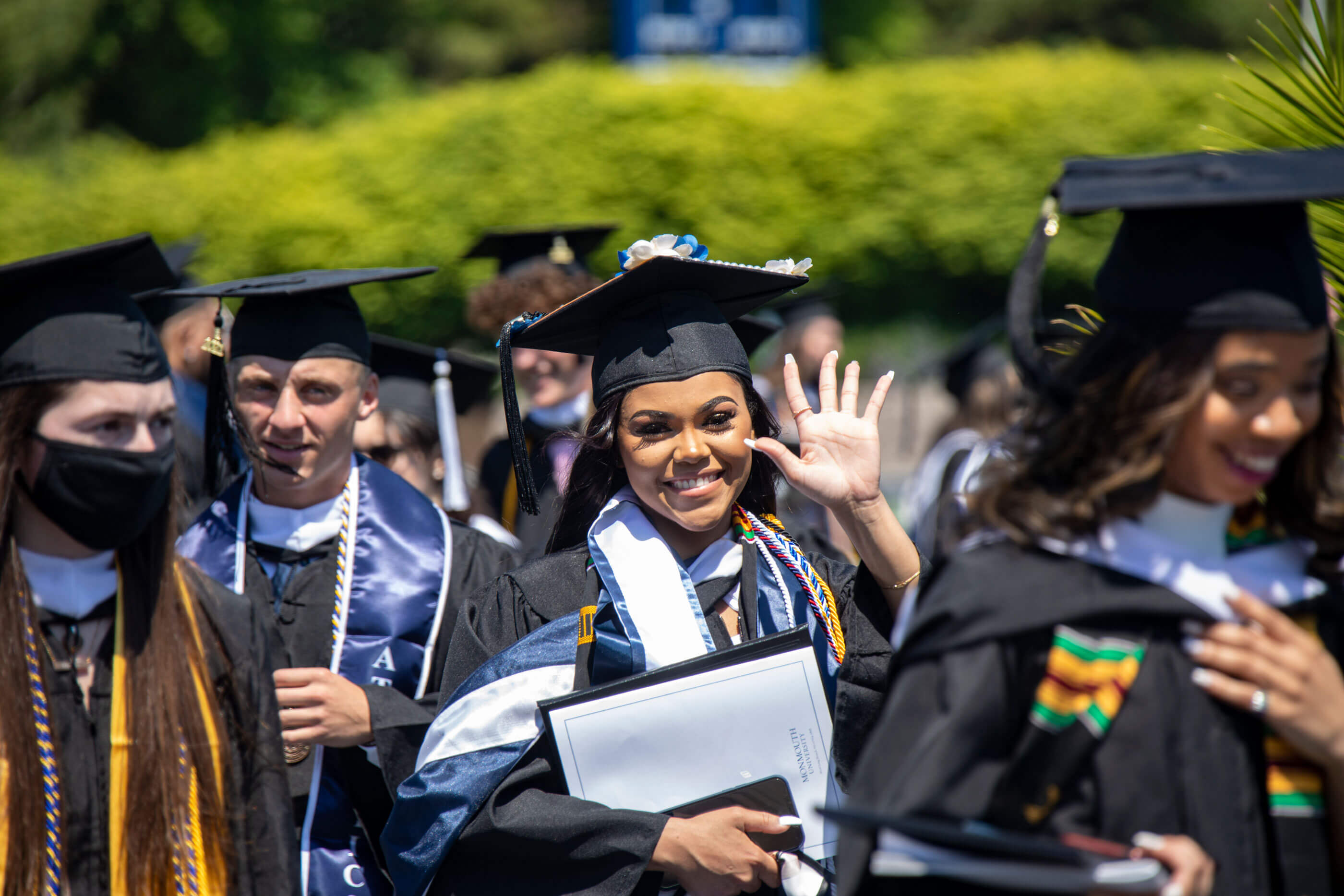 Friday, January 13, 2023 1 p.m.
Snow date Saturday, January 14
Monmouth University will hold a Winter Commencement on Friday, January 13, 2023 1 p.m. (snow date is Saturday, January 14), on campus in the OceanFirst Bank Center. Students who will have completed their degree requirements in the Fall 2022 semester will be recognized at this time. Plans are being finalized and more information will be coming out soon. Students should continue to check their student email.
Please do not hesitate to contact the Office of Student Life at 732-571-3417 with any questions you may have.
Tickets
Graduates will be provided five (5) guest tickets and the ceremony will be livestreamed simultaneously as well. Graduates do not need a ticket.
Cap, Gown, and Tassel
In order to participate, you will need to order your cap and gown (tassel included) directly through Herff Jones. The site will open on Friday, October 21, 2022, and will close on Monday, November 7, 2022, at midnight. Please check your student email for the link to order your cap and gown.There is no cost to you to order your cap and gown.
You will be able to pick up your cap and gown at a Graduation Fair on Thursday, December 15 (more information to come). If you are not able to pick up that day, you may pick up beginning on Monday, December 19, in the MU Bookstore Monday – Friday between the hours of 8:45am and 5:00pm.
Please note: the Bookstore will be closed from Saturday, December 24, 2022 through Monday, January 2, 2023.
Grad Images Photography
GradImages, a professional photography service, will be at Commencement to photograph graduates as they are recognized on stage. Your proofs will be sent via e-mail to your student account and mailed to your home address. If you have any questions regarding your proofs, please contact GradImages Customer Service Department at 800-261-2576 or email them at ecc.giservice@gradimages.net.
You may pre-register your e-mail address at https://www.gradimages.com/registration to ensure an accurate address is on file. By pre-registering, you will receive a coupon for 20% off your order of $50 or more. 
Honors Cords
Please note: If you are a baccalaureate degree recipient graduating with Honors (cumulative GPA 3.50 or higher with at least 53 MU credits) please pick up your honors cord at the check-in table the day of commencement.
Honors Designations:
Cum Laude: 3.50 – 3.64
Magna Cum Laude: 3.65 – 3.84
Summa Cum Laude: 3.85 – 4.00
Honor society and non-academic honor cords will be distributed by the advisor for each of the relevant organizations. If you are currently a member of such an organization, you should contact your advisor to determine if and when honor cords will be distributed to the graduating members.
Graduate students are not eligible for honor cords unless provided by their specific academic discipline's honor society.
Philanthropy Cords
Graduating students who make a gift of $20.23 to the Class of 2023 Giving Campaign will receive a philanthropy cord to wear at Commencement. Gifts can be made at fly.monmouth.edu/23gift and can be designated to scholarships, a favorite academic program, Division I sport, or a club or organization that means the most to you. And because publications like U.S. News & World Report measure alumni donor participation when ranking universities, your support helps to influence how a wide range of decision makers, from prospective students to hiring companies, view the value of a Monmouth University degree. Please continue to check your Monmouth email for more information on philanthropy cord distribution as Commencement gets closer.
Color Representation
The colors you will see in the hoods of our faculty represent the various fields in which the degrees were taken:
Apricot – Nursing
Brown – Fine Arts
Citron – Social Work
Crimson – Journalism
Dark Blue – Philosophy
Golden Yellow – Science
Green – Medicine
Lemon-Yellow – Library Science
Light Blue – Education
Orange – Engineering
Pink – Music
Purple – Law
Sage Green – Physical Education
Salmon Pink – Public Health
Scarlet – Theology
Yellow-Brown: Commerce, Business, Accounting
White – Arts, Letters, Humanities