Six Summer Research Projects Receive UCI Support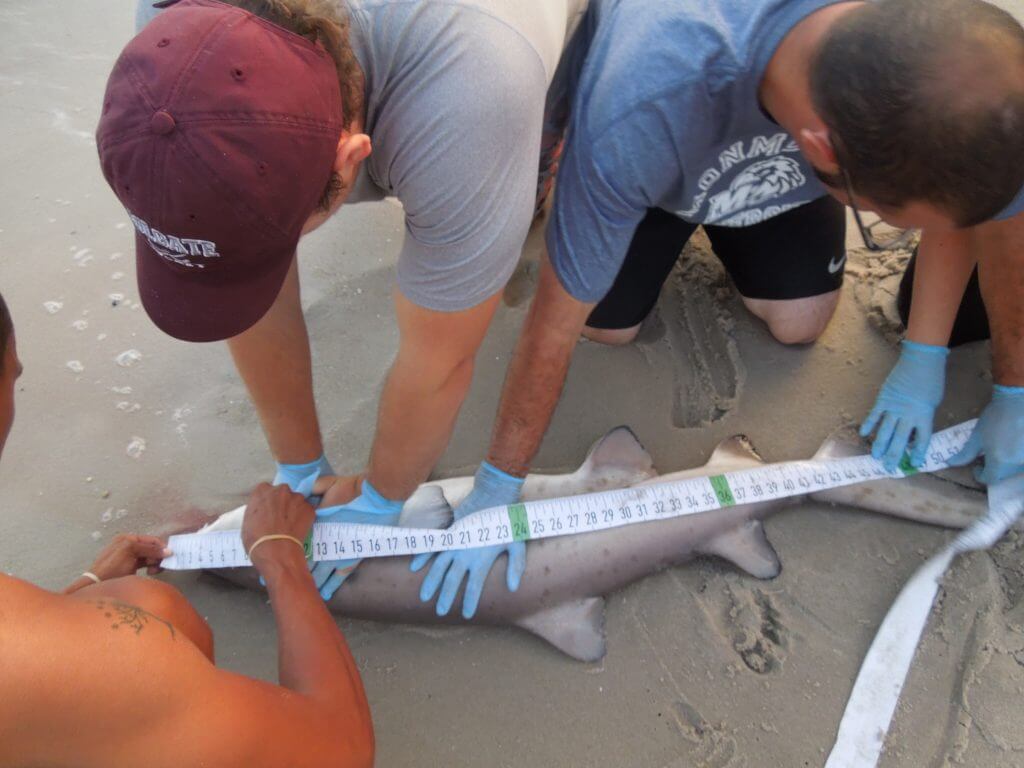 Monmouth University student-faculty research teams will be searching high and low for information about the Jersey Shore's unique environments this summer with the help of tools ranging from aerial drones to fishing longlines.
Six projects were recently selected to receive funding support through the UCI's Heidi Lynn Sculthorpe Summer Research Program and Marine Science & Policy Initiative. The work will be completed by 20 students, faculty and staff members representing a wide range of academic disciplines.
The programs emphasize hands-on research projects that provide real world experience for students while helping make a difference in the communities where they take place. The UCI makes competitive grant funding available for students to design and propose their own research ideas and see them through with guidance from Monmouth University faculty mentors, or for faculty to propose projects that employ student researchers. Below are this summer's grant recipients.
Heidi Lynn Sculthorpe Projects
Discovering the Ecological Self: As part of her thesis research, student Lia Stiles will extend the UCI-supported Discovering the Ecological Self project by interviewing participants and cataloging documents, images, and videos online for public viewing.
Student Researcher: Lia Stiles
Faculty Mentor: Kimberly Callas, Dept. of Art
Exploring Nest-Site Selection in Northern Diamondback Terrapins: The aim of this study is to determine how female terrapins' nest site selection is influenced by vegetation. Field experiments will be conducted to determine if shifts in vegetative structure caused by climate change pose potential threats to the terrapin nesting process.
Student Researcher: Taylor Donovan
Faculty Mentor: Pedram Daneshgar, Dept. of Biology
The Impact of Environmental Factors on Government Stability in Guatemala: The team will investigate how climate change is contributing to government instability in Guatemala by disturbing traditional farming practices/the economy, and provide insight on the potential political impact of future coastal climate refugees on governments such as the U.S. and Mexico.
Student Researchers: Justin Dritschel and James Hawk
Faculty Mentor: Ken Mitchell, Dept. of Political Science and Sociology
Marine Science and Policy Initiative Projects
Classification and Measurement of Aerial Imagery with TensorFlow: A student-faculty research team will develop techniques and methodologies with TensorFlow software to analyze and classify aerial images taken by a drone. Aerial Applications will contribute image data and project management guidance to the team.
Student Researchers: Steven P. Cassidy, Mahmoud E. Shabana and Nianqi Tian
Faculty Mentors: Gil Eckert, Dept. of Computer Science/Software Engineering; Jim Nickels, UCI marine scientist
Conservation and Demographics of New Jersey Coastal Sharks and Sturgeon: Associate Professor Keith Dunton will continue his research into the demographics and habitats of sturgeon, sharks and rays along the New Jersey coast.
Student Researchers: Lauren Kelly, Troy Ohntrup and Charlie Vasas
Faculty Mentor: Keith Dunton, Dept. of Biology
Harmful Algal Blooms in Monmouth County Coastal Lakes, Estuaries, and Ocean: The researchers will examine the factors contributing to harmful algal blooms in the Navesink and Shrewsbury rivers, Deal Lake, and the nearshore ocean off Monmouth County beaches in order to build a better understanding of their formation and help predict/manage them in the future.
Student Researchers: Erin Conlon, Skyler Post and Katelyn Saldutti
Faculty Mentor: Jason Adolf, Dept. of Biology
These opportunities have been made possible through the generous support of many private and corporate donors. If you would like to make a tax-deductible gift to the Urban Coast Institute, please use our Give a Gift Now contribution form.