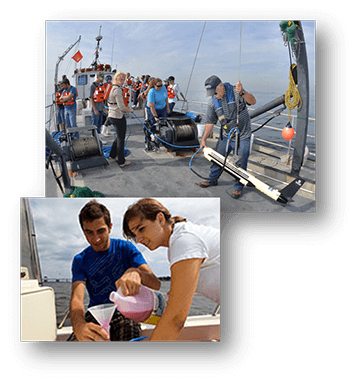 The Urban Coast Institute's Marine Science & Policy Initiative is creating new opportunities for Monmouth University to conduct research and policy analysis, enhance student experiences in and out of the classroom, and support community stewardship of coastal and ocean ecosystems.
The Initiative has raised the University's profile as the premier state and regional center for ocean and coastal policy by:
Increasing student and faculty research opportunities, recruitment scholarships and community engagement.
Fostering collaboration with Rockefeller University on scientific projects and symposiums with regional, national and international implications.
Securing the future for Monmouth University's marine programs with facilities, equipment and program enhancements.
The Initiative grew from a successful 2014 Challenge Grant campaign, in which the Rechnitz family pledged $3 million if the University could raise $2 million in matching gifts. Today, having met the challenge, these funds are making a variety of innovative research activities and programs possible. Thanks to all of the generous donors who have made this program a success.
Click Below for More on These Topics
(Users must have Monmouth U. login credentials to access MyMU Portal/Apply for Funding.)