What's Next for Ocean Policy Under President Biden?
Urban Coast Institute Director Tony MacDonald was one of eight national experts to contribute written perspectives on their hopes and expectations for the incoming administration in the latest edition of The Skimmer on Marine Ecosystems and Management.
MacDonald writes, "While it is important for the new administration to correct the record on the importance of oceans and environment in general and restore commitments to best available science and reasonable oversight and regulation, that will not be sufficient for proper management of our ocean. … I propose the administration be more ambitious and more focused on the future. The Biden-Harris administration cannot look just at traditional thinking and rely only on ocean program budget 'plus ups' to achieve these goals."
UCI Funds Projects that Support and Research Socially Vulnerable Communities in Time of COVID-19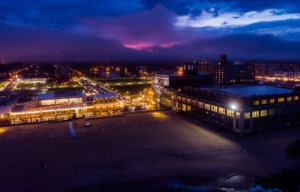 The Urban Coast Institute (UCI) has awarded Heidi Lynn Sculthorpe Faculty Enrichment Grants for projects that will create Little Free Library installations in low-income coastal communities and study COVID-19's impacts on the African American community in Asbury Park, New Jersey.
In light of the pandemic and to reflect our commitment to Diversity, Equity, Inclusion and Justice (DEIJ), the UCI issued a special call for proposals in August to support faculty and student research and community-based projects focused on sustainably rebuilding our coastal communities and economies while addressing disproportional impacts to and needs of our most vulnerable populations. The call noted that environmental justice communities, including those of low income, communities of color, immigrant groups, and Indigenous peoples are disproportionately vulnerable to the environmental and health impacts of climate change and COVID-19.
The following are summaries of the two grant-funded projects. Both are currently underway.
Nourishing Book Deserts: Providing Access to Authentic and Relevant Interdisciplinary and Inclusive Books for Coastal Communities
Faculty Researchers: Kenneth Kunz, Jason Fitzgerald and Michelle Schpakow, Department of Curriculum and Instruction; Kurt Wagner, Monmouth University librarian; and Lori Burns, Department of Educational Counseling and Leadership
This project aims to counter the limited availability of books in the home in low-income coastal communities, an issue which has been exacerbated by virtual schooling and children's reduced access to school libraries. Faculty researchers and students from the School of Education will initiate a process for local school districts to apply for the installation of Little Free Libraries in their communities. The grant will cover the purchase of texts and the materials to build the physical libraries, which will be designed by Monmouth University artists. Reading materials in the libraries will be coastal-relevant, interdisciplinary and inclusive to tackle the complex challenges facing their locations.
Paradoxical Paradise: Asbury Park, an African American Oral History and Mapping Project
Faculty Researchers: Hettie V. Williams, Geoffrey Fouad and Melissa Ziobro, Department of History and Anthropology
"Paradoxical Paradise" is a multiyear and multidisciplinary research, oral history and digital mapping project that seeks to document and preserve the African American history of Asbury Park. The grant will fund a phase of the project focused on COVID-19 and the experience of African Americans in the city as it relates to health disparities. Activities will include archival research led by Williams (with an emphasis on drawing parallels between the 1918 influenza pandemic and COVID-19); student interviews with residents guided by Ziobro; and the creation of GIS map products by Fouad and students that visualize COVID-19 health statistics in the area and the pandemic's impacts on African Americans.
About the Program
The Heidi Lynn Sculthorpe Scholars program offers grant opportunities to students and faculty of all disciplines whose work advances core elements of Monmouth's Strategic Plan and supports the UCI's mission. The program is funded through the generosity of many corporate and private donors. If you would like to make a tax-deductible gift to the UCI, please click here. For more information, contact UCI Associate Director Thomas Herrington at therring@monmouth.edu.
Citizen Science Data Indicates Climate Threat to Monmouth Coastal Lakes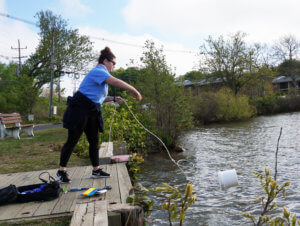 With nearly 450 water quality samples collected by citizen scientists over the last 18 months, the data has begun to tell some stories about the condition of Monmouth County's coastal lakes.
Those patterns were revealed by Monmouth University Endowed Associate Professor of Marine Science Jason Adolf during the second annual Coastal Lakes Observing Network (CLONet) Workshop, held virtually on Nov. 17 (scroll below for video and slides). The event also provided an opportunity for community volunteers who have sampled Deal Lake, Lake Como, Lake Takanassee, Sunset Lake, and Wesley Lake to share lessons learned and discuss next steps for the project heading into 2021.
According to Adolf, Secchi depth readings have been among the most telling indicators of the lakes' overall health. These readings are taken by slowly lowering a black and white disc in the water and measuring the distance at which they are no longer visible. The deeper the visibility, the less turbid the lake.
Lake Takanassee in Long Branch has consistently shown the best depth – which lines up with other indicators showing its overall cleanliness – while Sunset Lake in Asbury Park has shown the poorest results to date. Adolf said that along a four-tier scale ranging from oligotrophic (best) to hypereutrophic (worst) conditions, the lakes on the whole fell in the latter category. Typical characteristics of hypereutrophic water bodies include an abundance of nutrients that fuel harmful algal blooms (HAB), low dissolved oxygen levels, occasional fish kill events, and the presence of thick scum and dense weeds.
"Even though Takanassee is relatively better than the other lakes, in general, we're dealing with eutrophic to hypereutrophic systems," Adolf said. "In terms of pollution and degradation, we're at the bottom of the scale, which means we can only go up."
Climate Threats Loom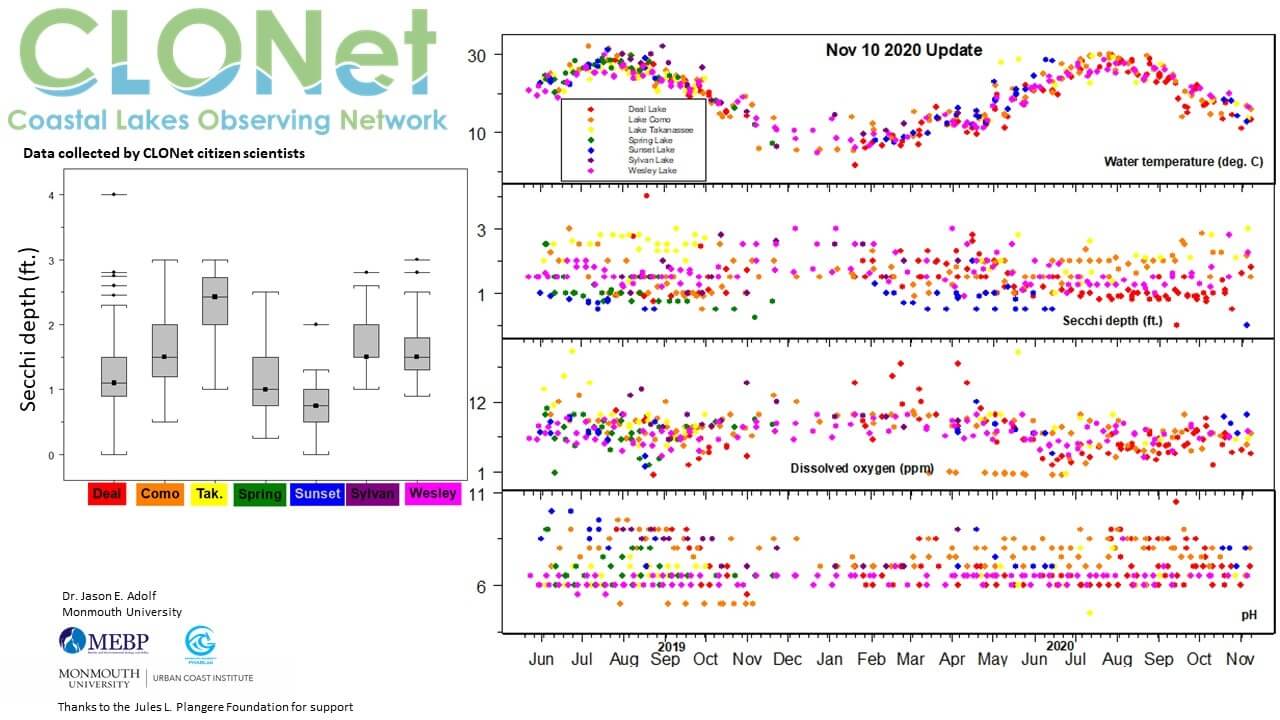 HAB organisms thrive in warm waters, especially those over 25 degrees Celsius (about 77 degrees Fahrenheit). With two summers of temperature readings now in the books, the data shows the lakes are most susceptible to HABs from June through September.
"This is something we can look at year after year and monitor whether this window is going to expand or contract as temperatures change with climate change," Adolf said.
The analysis found a strong correlation between HAB events and rainfall, with spikes in the lakes frequently following storms during the warm season. This owes to the fact that stormwater runoff in these heavily developed areas carries nutrients such as fertilizers and animal wastes directly into the lakes.
"The climate predictions for New Jersey include increased rainfall and increased larger rainfall events," Adolf said. "Considering how our coastal lakes seem to be responding to rainfall, that's something we all need to be thinking about."
Residents who observe a HAB in their lake can now report it online to the New Jersey Department of Environmental Protection (NJDEP). Vic Poretti of the NJDEP Division of Water Monitoring and Standards provided a tutorial on the agency's HAB Interactive Map Reporting and Communication System, which gathers information including the location of the sighting, details about the lake and photos. Poretti said that although the issue of HABs in New Jersey drew more attention in 2019 due to high-profile closures at the summer tourism destinations of Lake Hopatcong and Greenwood Lake, there were actually more instances reported statewide in 2020.
Looking Ahead
CLONet's capacity will expand in its third calendar year with the recent addition of Urban Coast Institute Citizen Science Coordinator Erin Conlon. A May graduate of Monmouth University's Marine and Environmental Biology and Policy Program, Conlon has been working on the CLONet project since its inception and now leads citizen science trainings, checks data quality and provides equipment for volunteers. Conlon's work and CLONet are made possible through a grant from the Jules L. Plangere, Jr. Family Foundation.
Conlon said her goals for 2021 are to increase communication between the community lake groups and build new research partnerships with outside organizations and other labs within Monmouth University. In one such partnership, CLONet will take the lead on the coastal lakes aspects of a NJDEP and U.S. Environmental Protection Agency study of HAB risks to New Jersey lakes. A phycocyanin meter donated by the Watershed Institute and NJDEP will allow CLONet to take direct measurements of the prevalence of HAB organisms in the lakes.
Conlon said she hopes to expand CLONet to cover five additional coastal lakes in Monmouth County that are not currently being tested by citizen scientists, but have been by Monmouth University Phytoplankton and Harmful Algal Bloom Lab (PHAB Lab) students: Fletcher Lake, Silver Lake, Spring Lake, Sylvan Lake and Wreck Pond. Any individuals, schools or community groups interested in volunteering as citizen scientists are encouraged to contact Conlon at econlon@monmouth.edu. Visit the CLONet website for more information.
Video & Slides: CLONet 2020 Workshop
Slides from Workshop
Study proves bits of DNA in seawater correlate to the weight of netted fish
Humanity is a step closer to answering one of the most ancient of questions — "how many fish in the sea?" — thanks to newly-published proof that the amount of fish DNA collected in a water sample closely corresponds to kilos of fish captured in a trawl with nets.
In a breakthrough study, scientists from The Rockefeller Program for the Human Environment, the New Jersey Department of Environmental Protection and Monmouth University report that floating bits of DNA found in small water samples reveal the relative biomass of fish in the sea roughly as well as a "gold standard" US state government trawl with nets.
The researchers drew seawater samples during New Jersey government fish trawls and tested the water for fish DNA. Analysis of the water was able to reveal the relative abundance of fish with a 70% match in results between the two sampling methods. In addition to the great concordance between methods, the study found that each sampling method yielded information missed by the other.
Click here to read a news release with full details.
Cresson Puts Marine Life Under a Microscope in New Art Collection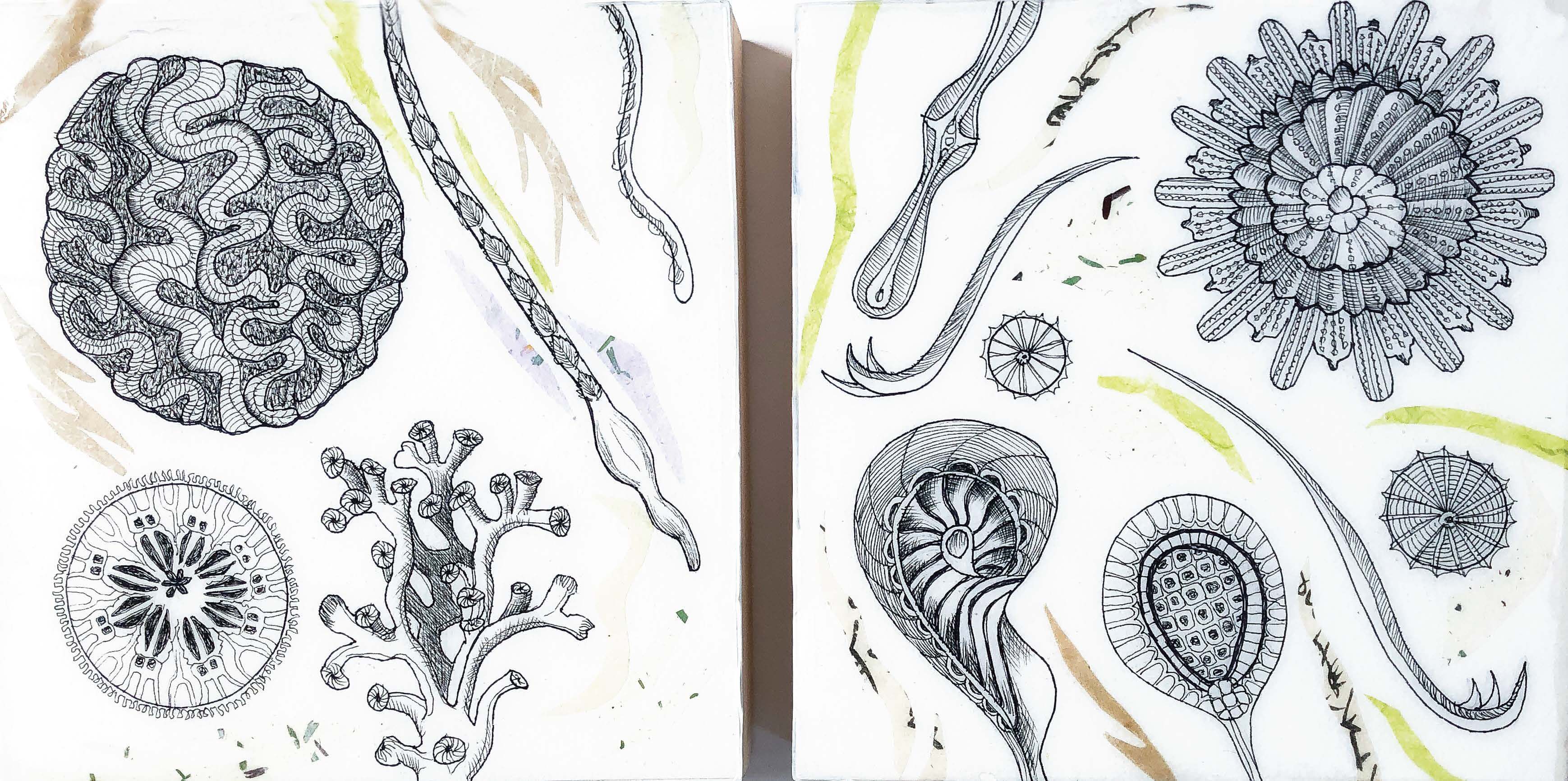 Before the advent of microscopic photography, it fell to the varying artistic skills of scientists to show the world what the invisible plants and animals in our oceans looked like. One of the most prolific and talented was Ernst Haeckel, an 1800s German zoologist and marine biologist whose groundbreaking sketches of organisms such as zooplankton, diatoms and copepods continue to capture the imagination of science enthusiasts and artists to this day.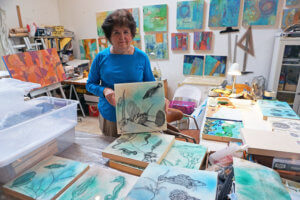 Count among them Monmouth University Professor Pat Cresson, who recently created over 50 works highlighting both microscopic marine organisms and larger sea creatures. Cresson presented her collection, The Interface Between Marine Biology and Creative Microscopic Inhabitants of the Sea, in a Nov. 18 webinar hosted by the Department of History & Anthropology.
In an interesting twist, Cresson's focus on the deep sea started with the CDC. In the early days of the COVID-19 pandemic, Cresson was struck by the aesthetic beauty of models showing the virus and began investigating what other infectious diseases looked like. This research eventually shifted to imagery depicting the unicellular and microscopic life forms that are abundant in our waters, as Haeckel had famously done before.
"Art and science are very similar in some perspectives," Cresson said. "Both science and art are human attempts to understand and describe the world around us. The subjects and methods have different traditions, and the intended audiences are different, but I think the motivations and goals are fundamentally the same."
Cresson's first works in the collection were detailed black ink drawings on heavy white watercolor paper. She then began creating a series of illustrations on deep wood panels that were covered with glued drawings on paper. Then an epoxy surface was poured over these panels, sometimes stained blue or green giving the appearance that they were submerged under water. She also created several collages on paper adhered to wood panels depicting ocean scenes. (Click here to view an online image gallery containing additional works from the collection.) Materials for the project were purchased through a faculty enrichment grant awarded via the Urban Coast Institute's Heidi Lynn Sculthorpe Scholars program.
Building upon her work, Cresson assigned her Advanced Digital Imaging class to create first traditional collages (cut paper and materials) and then digital collages focused on marine ecosystems. Some of the student works were also presented in the webinar.
"I gave them different ideas – the food web, symbiotic relationships, the role of light in the ocean, the health of the ocean and warming oceans, corals reefs and how they're being bleached out," she said. "They came up with some really interesting imagery. I was very happy with what they came up with."
Video: Maritime Archaeology at Monmouth University
Professor Richard Veit and UCI Marine Scientist Jim Nickels recently brought their maritime archaeology class aboard the R/V Heidi Lynn Sculthorpe to scan for shipwrecks along the bottom of the Sandy Hook Bay and Shrewsbury River. Through this unique Monmouth University course, students explore the underwater history of New Jersey through readings, lectures and fieldwork, including the use of side-scan sonar and camera-equipped remote operated vehicle technologies in area waters.
Herrington Garners Mid-Atlantic Sea Grant Award for Ocean City Flooding Project
Urban Coast Institute Associate Director Thomas Herrington was honored with the Mid-Atlantic Sea Grant Region's Outstanding Outreach Award for his work helping residents and government officials in Ocean City, New Jersey, find solutions for chronic nuisance flooding in the community.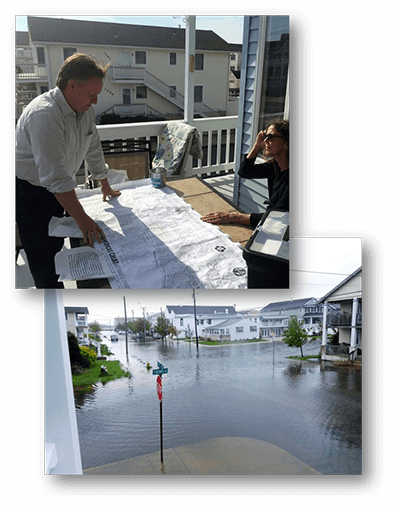 The award was presented during the Mid-Atlantic Sea Grant Region's annual meeting, held virtually in October. Herrington serves as the New Jersey Sea Grant Consortium's coastal community resilience specialist.
The project was carried out through the American Geophysical Union's Thriving Earth Exchange (TEX) program, which pairs scientists with local communities to solve problems on a pro bono basis. The barrier island community has seen flooding increase in frequency and severity over the years, to a point where high tides can cause disruptions and damage without rain. Herrington, an Ocean City native, worked with members of a grassroots community flooding group to examine the source and causes of the flooding and identify long-term solutions that would remain effective in the face of sea level rise and the more intense storms wrought by climate change.
Herrington trained local residents to conduct citizen science work and pool their data using an app developed by iSeeChange.  Through use of the app, Herrington was able to compare the information with federal data and investigate the source of flooding, its frequency, and location. Click here to read more about the group's collaboration with iSeeChange.
In its nomination, New Jersey Sea Grant noted, "Through his efforts, the community and local government increased their knowledge on the complexity of the flooding events residents are currently experiencing." The document added that Herrington's work could serve as a model for researchers and extension agents at Sea Grant programs throughout the country.
"The data collected by the citizens is helping the community see that rainfall runoff combined with high tide levels is the major contributor to street flooding and has prompted a discussion of ways to reduce rainfall runoff into the storm sewer system," Herrington said.
Visit the project page on the Thriving Earth Exchange website for more information, including a detailed overview, research documents, partner profiles and news coverage.
Mid-Atlantic Ocean Data Portal Story Map Profiles Captain of Navesink Queen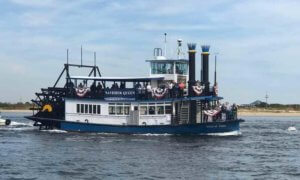 Come rolling on the rivers and bays with Capt. Dan Schade and his old-time paddle wheeler, the Navesink Queen, in the latest edition of the Mid-Atlantic Ocean Data Portal's "Ocean Stories" series, created by UCI Communications Director Karl Vilacoba. The story and its interactive data maps provide a snapshot of life navigating the crowded waters of the Navesink and Shrewsbury rivers and Sandy Hook and Raritan bays aboard his fleet of classic boats. Click here to read the story. (Non-mobile device recommended for best view of scrolling data maps.)
RECENT WEBINARS
Monmouth University Climate Crisis Teach-In
Monmouth University hosted a weeklong "Wake Up to Climate Change" Climate Crisis Teach-In series in October that included several virtual presentations featuring UCI staff and UCI-funded student projects. Click here to visit the Teach-In page for a full list of lecture recordings and abstracts.
Green Infrastructure and New Jersey Stormwater Management
This Oct. 23 webinar explored new statewide rules calling for the use of green infrastructure to reduce pollution and flooding caused by stormwater runoff in development projects. Moderated by UCI Associate Director Thomas Herrington with panelists Gabe Mahon, New Jersey Department of Environmental Protection Division of Water Quality; Mike Pisauro, The Watershed Institute; Chris Obropta, Rutgers Cooperative Extension; and James Cosgrove Jr., Kleinfelder, Inc.
Connected, Dynamic, at Risk: Coastal Nation Interests in a Strong New High Seas Biodiversity Treaty
The UCI and Monmouth University Institute for Global Understanding hosted this Nov. 5 Global Ocean Governance Lecture Series talk featuring Rutgers University Associate Professor Cymie Payne and Guillermo Ortuño Crespo, a postdoctoral researcher at the Stockholm Resilience Centre and coordinator of early career professional engagement for the U.N. Decade of Ocean Science.
The Ocean-Climate Action Plan: Building the Blue Economy for the 21st Century
In this Oct. 21 guest lecture, Jason Scorse of the Middlebury Institute of International Studies at Monterrey discussed key projects that he is working on in food systems and ocean and coastal policy.
Welcome Erin Conlon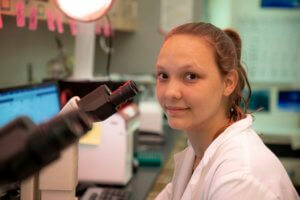 Erin Conlon recently joined the UCI as its citizen science coordinator for the Coastal Lakes Observing Network (CLONet). A May 2020 Monmouth graduate, Erin was a member of the Phytoplankton and Harmful Algal Blooms Research Lab (PHABLab), where she led summer research projects focused on the Shrewsbury and Navesink rivers and assisted on studies related to water quality in local beaches and lakes. The UCI thanks the Jules L. Plangere, Jr. Family Foundation for supporting Erin's work.