What will the Biden administration's "30 by 30" conservation initiative mean for ocean areas in the Mid-Atlantic? What can trace genetic materials floating in the water teach us about turtle populations in New Jersey's coastal lakes? These are among the many questions that eight Monmouth University student researchers will explore this summer with the support of UCI Heidi Lynn Sculthorpe Scholars grants and research assistantships.
The Heidi Lynn Sculthorpe Scholars Program offers competitive grant funding for students and faculty mentors of all disciplines whose work furthers the goals and mission of the UCI. The program supports hands-on research projects that provide real world experience to students while helping make a positive impact in coastal communities. For the first time this year, a grant will support one participant in the Monmouth University Provost's Summer Scholars Living and Learning Community, which enables students to live on campus while conducting their research. The Summer Scholars faculty coordinator is Endowed Associate Professor of Marine Science Jason Adolf of the Department of Biology and the UCI.
The research efforts listed below will kick off in June.
eDNA as a Tool for Surveying Turtles in New Jersey's Coastal Lakes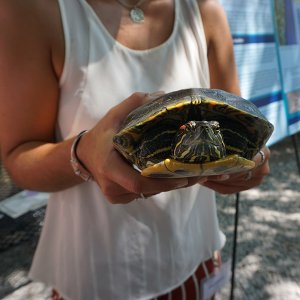 Student: Delaney Mestey-Jones
Faculty Mentor: Megan Phifer-Rixey, UCI Marine Genetics Faculty Fellow
The student will test the use of environmental DNA (eDNA) as a tool for detecting the presence of turtles in coastal lakes. In addition, the student will help develop the approach for use in teaching labs for undergraduate and high school students.
The Effect Hurricanes Have on Sustainable Tourism in the Bahamas and New Jersey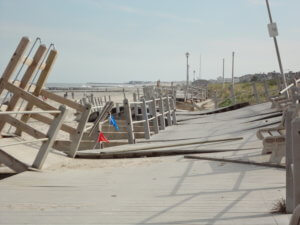 Students: Catherine Melman-Kenny and Sabria Smith
Faculty Mentor: Ken Mitchell, Chair, Department of Political Science & Sociology
The researchers will analyze the experiences of New Jersey after Hurricane Sandy and the Bahamas after Hurricane Dorian to determine how differences in policy, sustainable infrastructure, planning and protocols influenced the recoveries of their tourism industries.
Exploring Salt Tolerances of Lichens in Coastal Ecosystems
Student: Emily Vasquez (UCI/Provost Summer Scholar)
Faculty Mentor: Associate Professor Pedram Daneshgar, Department of Biology
This study will test the salt tolerance of lichens growing in areas by the ocean in order to make predictions of how climate change and coastal flooding may alter lichen abundance and ecosystems in the future. Lichens in the field will be studied and digitally mapped, and different types of lichens will be grown in a greenhouse and subjected to saltwater exposure tests.
Female Labor Force Participation and Care of Children in Coastal New Jersey
Student: James T. Allan
Faculty Mentors: Assistant Professor Katerine Ramirez, Department of Economics, Finance, and Real Estate; Assistant Professor Geoffrey Fouad, Department of History & Anthropology
Drawing on federal and state data, the project will probe whether commute times from daycare facilities affect the labor force participation and job choices of women in Jersey Shore communities, and whether those figures differ from their partners' by marital status or number and age of children.
New Jersey Coastal Resilience Collaborative Policy Analyst
Student: Samantha Pawlik (Research Assistant)
Faculty Mentor: UCI Associate Director Thomas Herrington and Director Tony MacDonald
The New Jersey Coastal Resilience Collaborative (NJCRC) is a partnership of stakeholders and interested parties from all sectors, including universities, nonprofit and for-profit groups, national estuary programs and reserves, advocacy organizations, state agencies and regional planning groups, established to foster sustainable and resilient coastal communities and ecosystems by generating informed action. The student will review present and proposed changes to the New Jersey coastal zone land use management rules, prepare a brief on the impact of the proposed rules, and aid the NJCRC in preparing recommended changes to the proposed rules for consideration by the state.
The "30 by 30" Initiative: Confronting the Threats of Biodiversity Loss and Climate Change 
Student: Kyra Velock (Research Assistant)
Faculty Mentor: Randall S. Abate, Rechnitz Family/UCI Endowed Chair in Marine and Environmental Law and Policy
The "30 by 30" initiative (also called the America the Beautiful initiative) seeks to conserve and protect 30% of U.S. land and ocean areas by the year 2030. The student will focus primarily on ocean protection, presenting information on the political and economic challenges, and environmental benefits, associated with reaching this goal, and legal tools that will be essential for achieving it such as marine spatial planning and marine protected areas.
A Win-Win for Offshore Wind Energy in the Mid-Atlantic: Science and Policy Options to Mitigate Harm and Maximize Benefits to Marine Species and Biodiversity
Student: Riya Ajmera
Faculty Mentor: Randall S. Abate, Rechnitz Family/UCI Endowed Chair in Marine and Environmental Law and Policy
The student will conduct research and interview experts involved in the Mid-Atlantic offshore wind regulatory landscape, including representatives from state and regional regulatory bodies, the offshore wind industry, environmental groups, marine scientists, the commercial fishing industry, and Native American leaders. The student will prepare a white paper examining science-based policy options that advance a "win-win" goal of promoting offshore wind development in a way that enhances protection of the marine environment through improved data and management, including marine protected areas and other area-based management tools. The paper will address the nature and scope of risks to the Mid-Atlantic marine environment and propose possible solutions to mitigate harm to marine species and promote marine biodiversity.
Fall Funding Opportunities
Monmouth University students and faculty are invited to apply now for fall Heidi Lynn Sculthorpe Scholars funding opportunities. Fall grants available include:
Faculty Enrichment Grants for the enhancement of existing curriculum, new curriculum development, research and scholarship, and team-teaching opportunities. Proposals will be accepted through Aug. 13, 2021.
Mini-Grants are also available to faculty and students for conference fees, symposia, guest speaker honoraria, equipment and supplies, and other needs to be determined on a case-by-case-basis. Applications can be submitted at any time and are reviewed on a rolling basis.
Those interested may apply via the UCI Funding Opportunities page on the MyMU Portal (Monmouth University sign-in credentials required). For more information, contact UCI Associate Director Thomas Herrington at therring@monmouth.edu.
These opportunities have been made possible through the generous support of many corporate and private donors. If you would like to make a tax-deductible gift to the UCI, please use our Give a Gift Now form.