Watch: Herrington Guest on Tidal Flooding Talk
November 6, 2018
Tidal Flooding Talk 11-4-2018:It's Sunday evening at 7pm and Palma Accardi and I are back at The Irish Pub in Atlantic City for another episode of Tidal Flooding Talk. Join us and our guest Dr. Thomas Herrington from Monmouth University as we talk storm preparation and awareness along the shore as nor'easter season begins. Stop on by the pub or join the conversation online.

Posted by Dan Skeldon on Sunday, November 4, 2018
UCI Associate Director Tom Herrington sat down with Dan Skeldon and Palma Accardi at The Irish Pub in Atlantic City for the Nov. 4 taping of the New Jersey Coastal Coalition's weekly Facebook Live series "Tidal Flooding Talk." In it he talks about storm preparation and awareness along the shore as nor'easter season begins.
UCI Announces Marine and Environmental Lunch Speaker Series
November 2, 2018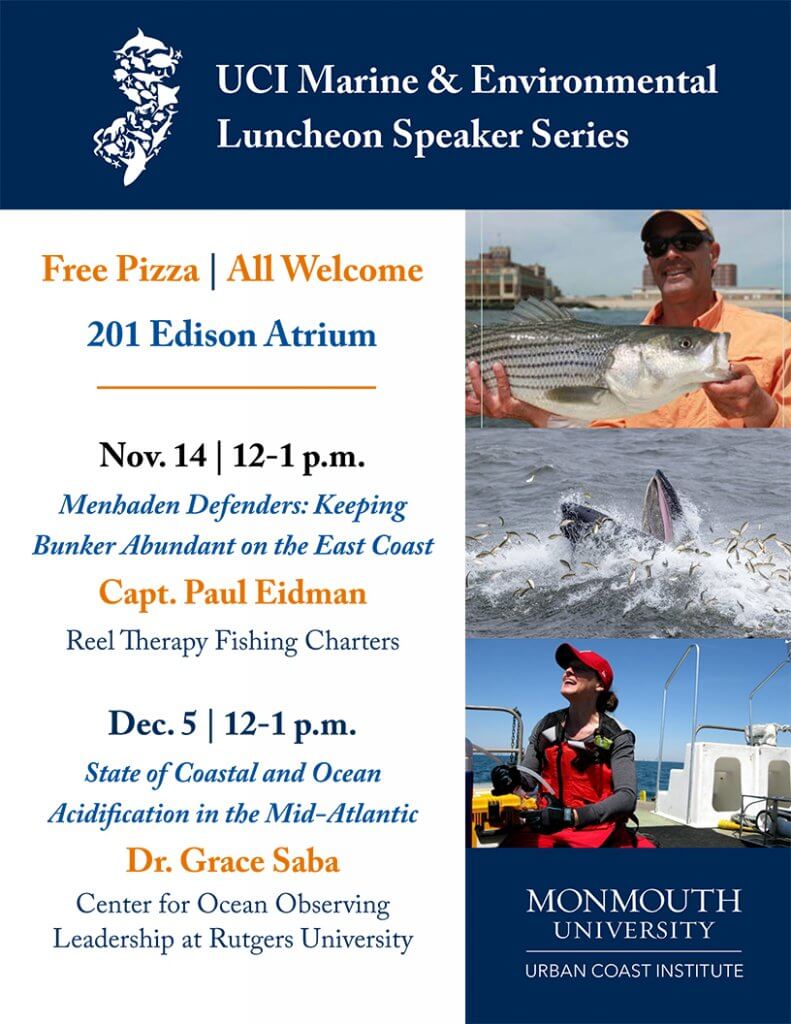 The UCI invites all Monmouth University students and faculty to attend its upcoming Marine and Environmental Lunch Speaker Series talks. All events will be held in Edison Hall's multipurpose room and free pizza and drinks will be served.
Report Relives the First Four Decades of NJ's Coastal Management Program
October 30, 2018
Look back at 40 years of protection, policy and progress accomplished through New Jersey's Coastal Management Program in a newly released report by the Urban Coast Institute. Presented in the four decades from 1978 through 2018, the report reviews the milestones the CMP has reached, the events that have shaped its policies, and some of the trials and tribulations it has faced along the way.
The report recognizes the tireless efforts of many who made the protection and management of New Jersey's coastal resources their mission since the CMP's adoption. The UCI recently honored the New Jersey Climate Adaptation Alliance, represented by Honorary Co-Chairs and former Govs. Tom Kean and Jim Florio, along with four other individuals who made significant contributions to the CMP's success at the 14th Annual Coastal and Ocean Champion Awards Reception.
Click the links below to download or read the publication online. Hard copies are available upon request at uci@monmouth.edu.
Abate Shares Legal Expertise throughout the Americas

October 30, 2018
From Canada to Colombia, Rechnitz Family UCI Endowed Chair in Marine and Environmental Law and Policy Randall Abate was on the road to deliver several invited presentations in October.
On Oct. 1 at the Universidad del Rosario in Bogota, Colombia, Abate, who is also a professor in Monmouth University's Department of Political Science and Sociology, delivered the lecture "Animal Law and Environmental Law: Parallels and Synergies" to professors and students. The following day, he delivered a keynote presentation titled "Climate Justice Litigation in the United States: Lawsuits against Public and Private Entities for Climate Change Impacts," to more than 100 professors, lawyers, public officials, and students at the "Climate Justice: Impacts, Litigation, and Social Movements" conference.
Next, Professor Abate traveled to the University of Windsor Law School in Windsor, Ontario, Canada, to deliver the presentation, "Atmospheric Trust Litigation: Foundation for a Constitutional Right to a Stable Climate System?" to law professors and students. The Oct. 22 talk was part of a roundtable discussion, "Legal Avenues for Climate Justice: Obstacles and Opportunities," along with three other leading Canadian climate justice scholars.
Professor Abate then crossed the border for his second engagement of the day at the University of Detroit Mercy School of Law. There he discussed his work-in-progress book, Climate Change and the Voiceless: Protecting Future Generations, Wildlife, and Natural Resources (Cambridge University Press, forthcoming August 2019), with approximately 75 law professors and students.
Apply Now for UCI Scholars Funding Opportunities
October 22, 2018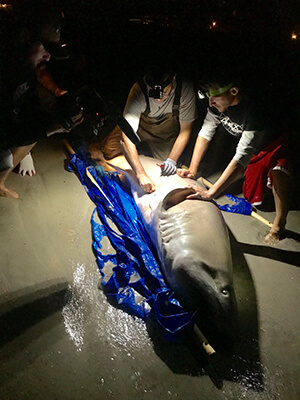 Monmouth University students and faculty of all disciplines are invited to apply now for spring, summer and fall UCI Scholars funding and other grant opportunities.
Competitive grants available include:
Faculty Enrichment Grants for the enhancement of existing curriculum, new curriculum development, research and scholarship, and team-teaching opportunities. Deadlines are Dec. 11 for the spring 2019 semester, April 30 for the summer semester and June 30 for the fall semester.
Student Summer Research Grants for research projects either proposed by students with the support of a faculty mentor or proposed by a faculty member to enable students to conduct research with them. Proposals are due March 15.
Mini-Grants are also available to faculty and students for conference fees, symposia, guest speaker honoraria, equipment and supplies, and other needs to be determined on a case-by-case-basis. Applications can be submitted at any time and are reviewed on a rolling basis. Awards range from $250 to $500 depending on the availability of funds.
Applications should demonstrate that the work would advance core elements of Monmouth's Strategic Plan and support the UCI's mission.
Those interested may apply via the UCI Funding Opportunities page on the MyMU Portal (Monmouth University sign-in credentials required). For more information, contact UCI Associate Director Dr. Thomas Herrington at (732) 261-5588 or therring@monmouth.edu.
University Vessels, Shark Research Featured in Monmouth

October 22, 2018
Pick up a copy of the fall edition of Monmouth magazine to read a pair of articles about UCI initiatives. "Meet the Fleet: A look at how Monmouth's marine research vessels stack up" contains an infographic and story comparing the University's 49-foot Heidi Lynn Sculthorpe, 29-foot Seahawk and 18-foot Little Hawk. The article "Tag Team" covers UCI-funded research by School of Science students and faculty on shark populations along the Jersey Shore.
Monmouth University Christens Research Vessel as the Heidi Lynn Sculthorpe
October 18, 2018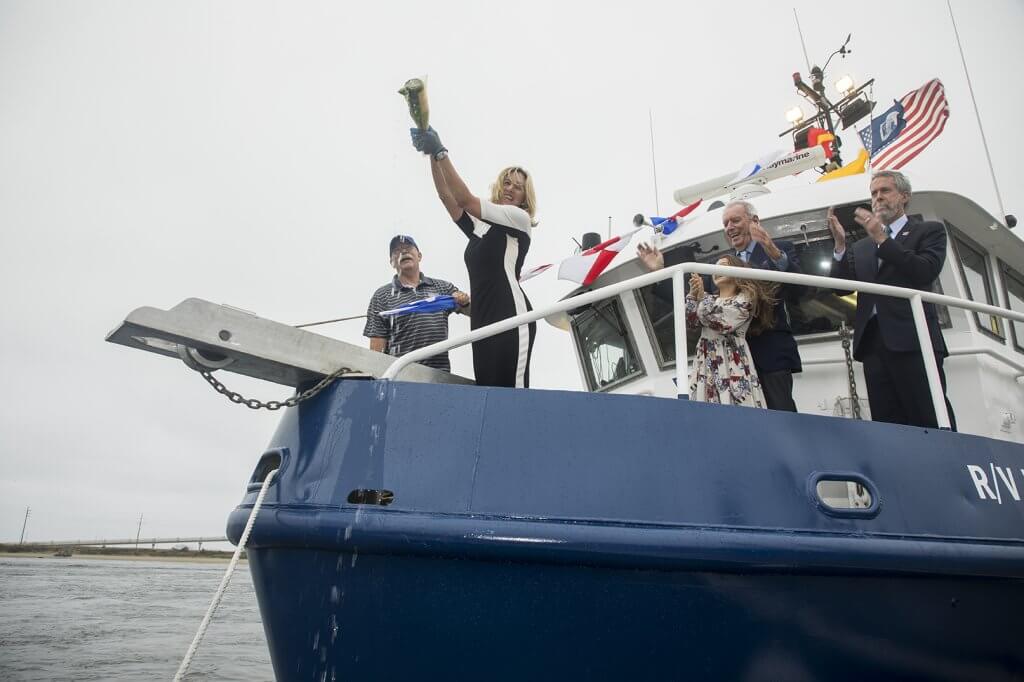 With a crash of the ceremonial champagne bottle, Monmouth University's newest and largest research vessel was christened as the R/V Heidi Lynn Sculthorpe.
The 49-foot vessel (formerly the R/V Nauvoo) was named in memory of Heidi Lynn, a lifelong Shore area resident who loved to surf and spend time at the beach with her family and friends. Ms. Sculthorpe's father, Robert B. Sculthorpe, is a graduate of Monmouth and former chair of the University Board of Trustees.
"For the next few decades, people in New York Harbor, Sandy Hook Bay, and along the beaches of the Jersey Shore, will see her name pass by them on the water every day," Monmouth University President Grey Dimenna said during a naming ceremony held at Bahr's Landing in Highlands on Oct. 8. "It's going to make them think about her, ask who she is, and build a strong association between Heidi Lynn, Monmouth University, and the ocean. That is a really special thing for us."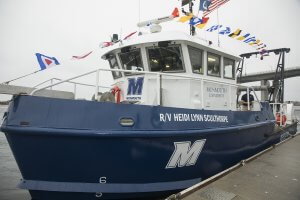 "I have been proud to watch Monmouth's marine programs grow into some of the finest in the country," Mr. Sculthorpe said. "This vessel is an asset few universities can match, and will help Monmouth attract new students and expand its partnerships with other research institutions. I look forward to all of the new discoveries our students and faculty will make aboard the Heidi Lynn."
The vessel was donated to Monmouth by the National Oceanic and Atmospheric Administration (NOAA) and launched this summer. Gifts from George Kolber, of Middletown, and the Fairleigh Dickinson Jr. Foundation made it possible for the University to restore the vessel and outfit it with enhanced technologies that will improve opportunities for students. The most recent donation from Mr. Sculthorpe, of New York City, will ensure the maintenance and operation of the vessel to support faculty and student research for years to come.
The acquisition of the Heidi Lynn will enable the University to conduct research, educational and contract work at a larger scale than ever before. It will also substantially enhance in-house research and monitoring capabilities to meet increasing faculty and student demand within the School of Science's Marine and Environmental Biology and Policy program.
The vessel can take full classes and large groups on the water and work on the open ocean up to 20 nautical miles offshore. Overnight research trips on the water are now possible, as the vessel has a head and the capacity to berth seven.
Monmouth University Urban Coast Institute (UCI) Director Tony MacDonald noted that the name Heidi Lynn Sculthorpe "has long been in our DNA." Since 2008, the UCI has awarded Heidi Lynn Sculthorpe Summer Research Program grants to students for research activities that support the Institute's mission. Recent projects include studies of Jersey Shore shark populations, the endangered Atlantic sturgeon's feeding habits, and the resurgence of oysters in New York City area waters.
The University also owns two smaller research vessels, the 18-foot Little Hawk and 27-foot Seahawk.
Click here to view our album of photos from the christening ceremony.
Kean, Florio among 2018 Coastal and Ocean Champion Award Honorees
October 15, 2018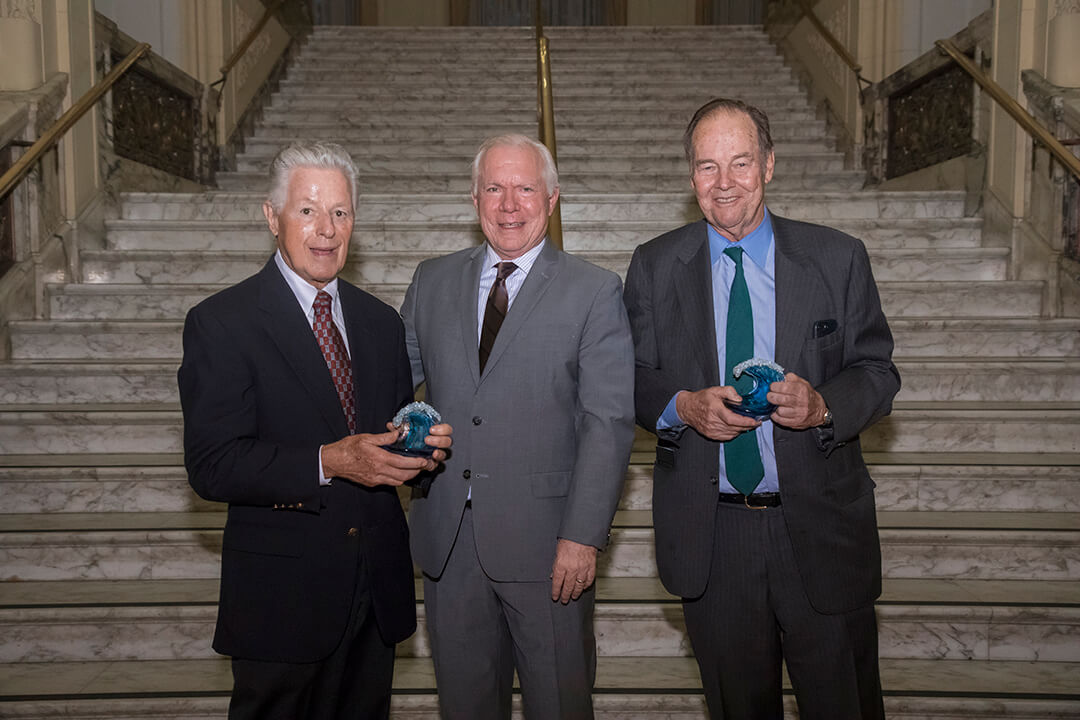 Former Gov. Thomas Kean turned to the man to his left – literally and politically – and observed that he looked familiar.
"We ran against each other," Kean said to his eventual successor, James Florio, as the crowd laughed.
Turning more serious, Kean observed, "[It was] what some people think was the last issues-based campaign in the state. And we argued about everything – urban policy, tax policy, you name it. I don't think we ever disagreed once on the environment. Whichever one of us got elected, New Jersey was going to have an environmental governor for the next four or eight years."
Between the two of them (Kean serving from 1982-90 and Florio 1990-94), New Jersey was actually the beneficiary of 12 years of strong environmental policy from the Governor's Office, including through the early implementation of the state's Coastal Management Program (CMP). The UCI's 14th Annual Coastal and Ocean Champion Awards Reception, held Oct. 9 at Wilson Hall, celebrated the 40th anniversary of the CMP and honored Kean, Florio and four other individuals who made significant contributions to its success.
Launched in 1978 under Gov. Brendan Byrne, the CMP addresses pressing issues along the state's 126 miles of Atlantic coast and 1,792 miles of tidal waterfronts, including sustainable and resilient coastal community planning, climate change, ocean planning and planning for energy facilities and development. In conjunction with the event, the UCI published a 40-year retrospective of the program's major milestones.
Kean and Florio received the UCI's highest honor, the National Champion of the Ocean Award, for their service as honorary co-chairs of the New Jersey Climate Adaptation Alliance and their full bodies of work in protecting the environment.
"Just a few of their accomplishments include leading efforts to regulate marine debris, improved beach water quality, phasing out ocean dumping, opposing oil and gas development [off the Jersey Shore] and so much more," UCI Director Tony MacDonald said. "And I really think that their commitment to the Climate Adaptation Alliance shows that they're not just solving yesterday's problems, but they're looking at tomorrow's challenges and trying to come up with proactive solutions."
Proceeds from the event support student research activities at Monmouth University. The reception is also a unique opportunity for students to spend time with some of the region's and nation's most prominent leaders and scientists on ocean and coastal issues.
"The hope is that the young students here appreciate that there is no Republican or Democratic thought about clean water or clean air," Florio said. "We have problems in New Jersey and they're not incapable of being solved."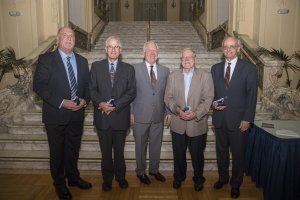 The UCI also presented Coastal and Ocean Leadership Awards to David Kinsey and John Weingart, who were instrumental in the design, 1978 approval and early implementation of the CMP; former New Jersey Department of Environmental Protection Commissioner Mark Mauriello, who spent his career at the agency as an advocate for coastal conservation and management of coastal hazards; and Rutgers University Professor Emeritus Norbert Psuty, a coastal geomorphologist whose long and distinguished career helped build a greater understanding of the history and evolution of the Jersey coast, and the impact of development on its natural processes.
The Champion of the Ocean Awards were established in 2005 to honor individuals who have helped ensure coasts and oceans are clean, safe, sustainably managed and preserved for the benefit and enjoyment of future generations. Past honorees include former Secretary of Defense and CIA Director Leon Panetta, ocean explorer Robert Ballard, marine biologist Sylvia Earle, oceanographer Jean-Michael Cousteau, and former New Jersey Gov. Christine Todd Whitman.
Additional Resources
View our album of photos on Facebook
New Jersey's Coastal Management Program: 40 Years of Coastal Protection, Policy and Progress 1978-2018 — View as digital flipbook | Download PDF (18 MB)
New Jersey Coastal Resilience Summit Held at Monmouth
October 11, 2018
The New Jersey Department of Environmental Protection (NJDEP) launched work on a comprehensive plan to make coastal areas more resilient to the impacts of severe storms and sea level rise at Monmouth University on Oct. 9. The two-day New Jersey Coastal Resilience Summit, hosted by the Urban Coast Institute, gathered roughly 200 of the state's leading experts on climate and resilience topics to discuss threats facing coastal resources, communities and economies and determine what actions need to be taken.
Staff from the UCI, Monmouth University School of Science and Kislak Real Estate Institute participated in panel discussions, and several students joined the plenary sessions. Click here to read the NJDEP's press release and here to view an album of photos from the event.
Gaffney Article Examines Connections Between Ocean Exploration and National Prosperity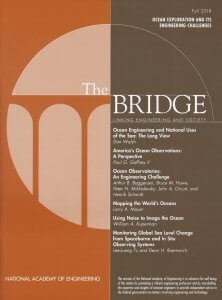 September 26, 2018
The fall issue of the quarterly magazine of the National Academy of Engineering, The Bridge, features an article by Monmouth University President Emeritus and UCI Ocean Policy Fellow Paul G. Gaffney. In the article, America's Ocean Observations: A Perspective, Gaffney notes that "America is the greatest maritime nation, a nation whose place in the middle of the global ocean system has enabled prosperous trade and a unique security situation. Yet that ocean system is still largely unexplored, under-surveyed, and sparsely observed."
Monmouth U. Appoints Rechnitz Family UCI Endowed Chair in Marine and Environmental Law and Policy
September 17, 2018
Monmouth University has named Randall S. Abate its inaugural Rechnitz Family Urban Coast Institute Endowed Chair in Marine and Environmental Law and Policy. In this new position, Abate will conduct research and teach courses on environmental, climate change, marine and coastal, animal, and constitutional law and policy.
Abate will serve as a tenured professor in the Political Science and Sociology Department while also being affiliated with the Urban Coast Institute (UCI). He joins the Monmouth faculty with 24 years of full-time teaching experience at six U.S. law schools, most recently from 2009-2018 at Florida A&M University College of Law in Orlando.
He will teach undergraduate level classes which he expects could draw a mix of students from science, social science, humanities, and business backgrounds. That is because climate change has become what he calls "the ultimate interdisciplinary topic," impacting people's lives on so many levels. He is eager to teach and mentor students who are considering law school and careers in environmental and public policy.
"Especially with what I teach, the earlier you get the message out, the better," Abate said. "With climate change, you want to train tomorrow's environmental leaders when they're 18, not when they're 24 or 25."
Calling the opportunity at Monmouth "irresistible," the Cheshire, Connecticut, native said he was thrilled to return to his roots in the Northeast. Prior to moving to Florida in 2006, he taught at Rutgers University School of Law (Camden), Widener University School of Law (Harrisburg, Pennsylvania) and Vermont Law School, and handled environmental law matters at two firms in New York City. He obtained his juris doctorate and M.S.E.L. (environmental law and policy) degrees from Vermont Law School and a bachelor's degree from the University of Rochester.
Professor Abate has published five influential books, including "Climate Change Impacts on Ocean and Coastal Law: U.S. and International Perspectives" (Oxford University Press 2015). He has also written more than 30 law journal articles and book chapters on environmental and animal law topics, with a recent emphasis on climate change law and justice. He is currently working as the sole author on his sixth book project, "Climate Change and the Voiceless," which will be published by Cambridge University Press in the summer of 2019.
"The book will address how the law is starting to consider ways to protect the vulnerable and marginalized who have no legal voice. The three categories I'm focusing on are future generations, or the unborn; animals; and natural resources," he said. "Right now there's a movement across all three of those domains to give them legal protections even though they can't speak for themselves."
Abate noted that animal law is a deep field of study that deals with how people interface with animals from societal and legal perspectives. It can encompass topics as diverse as how pets are treated by the courts in divorce proceedings, protection of marine endangered species, agriculture and food law and policy reform to promote animal protection, and veterinary malpractice.
The chair was endowed by a gift from Joan and Robert Rechnitz. Mr. Rechnitz is a professor emeritus of English and Mrs. Rechnitz a Monmouth graduate. Joan and Robert Rechnitz Hall on campus is also home to the University's Department of Art and Design. In 2014, the Rechnitzes also made the initial donation that led to a successful $5 million challenge grant fundraising campaign to support the UCI's Marine Science and Policy Initiative. The Initiative has since supported numerous student-faculty research projects, classroom innovation, and science and educational symposia in collaboration with Rockefeller University's Program for the Human Environment.
Tony MacDonald Discusses Repetitive Flooding on Jersey Matters
August 21, 2018
What can be done to counter repetitive flooding in coastal neighborhoods? UCI Director Tony MacDonald sits down with the public affairs show Jersey Matters to discuss the issue as well as Monmouth University's new R/V Nauvoo and other student-faculty research initiatives.
The Book of Ice: Multimedia Performance by Paul D. Miller aka DJ Spooky
August 18, 2018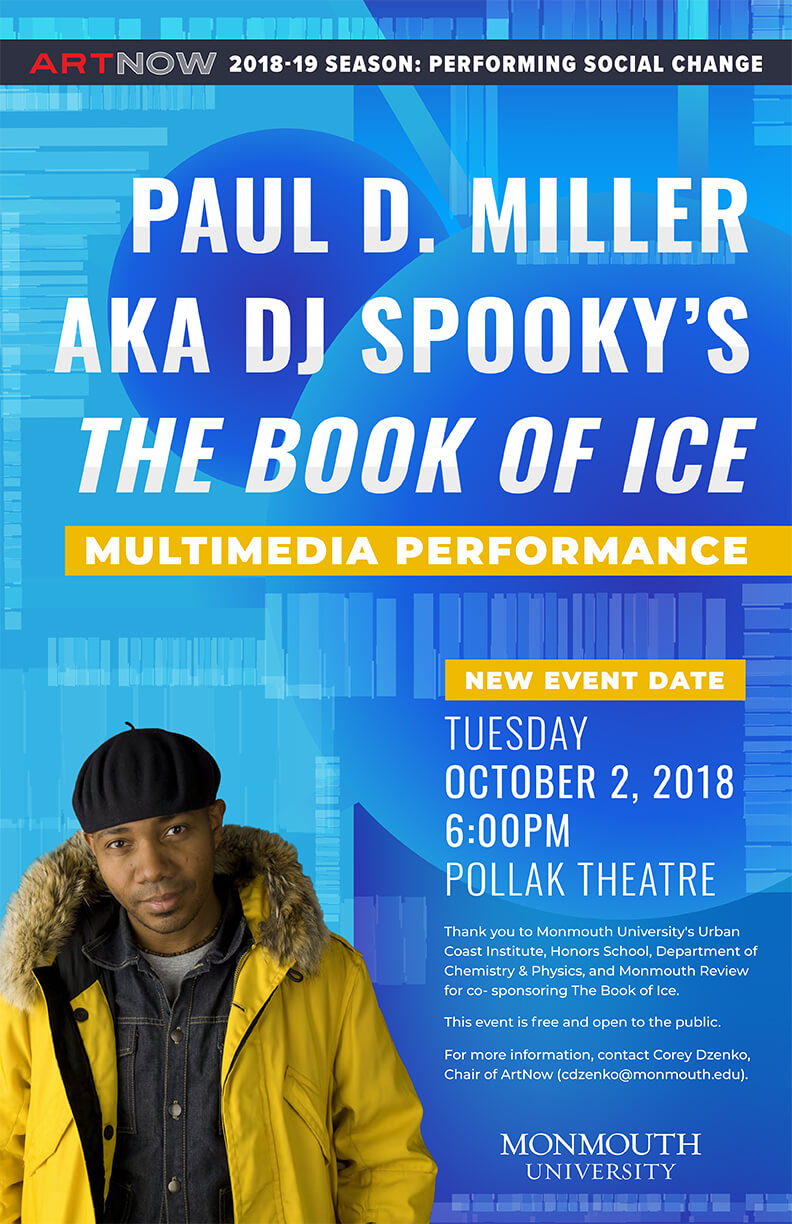 Paul D. Miller, aka DJ Spooky, will visit Monmouth University on Oct. 2 to present his The Book of Ice—a multimedia performance and discussion he will stage with musicians from campus and the region. The free event, co-sponsored by the Center for the Arts and the UCI, will be held at the Pollak Theatre at 6 p.m.
Drawing on the Antarctica's rich history of inspiring exploration and artistic endeavors, Miller has put together his own multimedia, multidisciplinary study of the continent. The Book of Ice is one aspect of this ongoing project. In this multimedia talk, Miller discusses his journeys to Antarctica, climate change, and the creation of The Book of Ice, using Antarctica-related data to create maps, graphics, sound, music, and multimedia performances. To learn more about this event, click here.
Watch: Students Present 2018 Summer Research Projects
August 9, 2018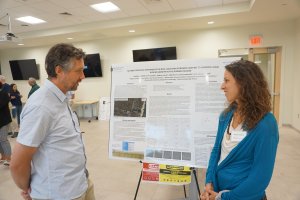 Twenty-one students who completed nine UCI-funded projects shared their work with visitors at the 2018 Monmouth University School of Science Summer Research Program Symposium on Aug. 9. The annual event provides students and their faculty mentors with an opportunity to stage exhibits and discuss their work with members of the public, faculty and their peers.
Scroll down to watch some of this year's participants discuss their projects. A booklet with abstracts for all of this year's Summer Research Program projects can be downloaded here.
A Comparison of Phytoplankton and Water Quality in Two Estuaries in Neighboring Watersheds of Monmouth County
Erin Conlon and Sydney Lucas
Temporal Monitoring of the Endangered Atlantic Sturgeon in Sandy Hook and Raritan Bay
Troy Ohntrup
Collaborative Efforts to Evaluate the Demographics and Post-Release Movements of Sharks Captured in the Recreational Land-Based Surf Fishery
Lauren Kelly
Nutrient Bioassay Experiments in Deal Lake Find Nitrogen Limiting to Harmful Algal Bloom Growth in Summer Season
Katelyn Saldutti
UCI Receives $150,000 Plangere Foundation Grant to Improve Stewardship of Coastal Lakes
July 26, 2018
The UCI has been awarded a $150,000 grant from the Jules L. Plangere, Jr. Family Foundation to establish a Coastal Lakes Community Observing Network (CLONet) focused on improving the health of five Monmouth County lakes. Through the project, Monmouth University School of Science and UCI staff and students will partner with municipalities and community groups to organize citizen science efforts, workshops and on-campus conferences dedicated to understanding the causes of environmental problems facing Lake Como, Deal Lake, Lake Takanassee, Wesley Lake and Sunset Lake.
Monmouth County has 12 lakes along its shoreline that have historically provided a variety of recreational opportunities for residents and visitors and served as important habitats for fish and wildlife. However, intense development around the lakes has introduced pollution from stormwater drainage, litter and other sources, degrading these aquatic ecosystems. As a result, many of the county's coastal lakes suffer from neglect, experience harmful algal blooms, and are often valued less for the natural resources and recreational opportunities they offer and more as an element of local stormwater drainage systems.
A number of coastal lake organizations and commissions have formed to preserve and restore their local lakes. The effectiveness of these organizations in achieving their goals has varied from place to place depending on the availability of funding, local interest and scientific expertise. Monmouth and UCI staff will work alongside and train members of these organizations to monitor physical (for example, depth, sediment thickness, temperature, salinity), water quality (dissolved oxygen, pH), and biological (algae, bacteria) parameters in their waters. The University researchers will also develop standardized monitoring methods and quality assurance protocols for the community groups.
"One of the goals of this project is to create more sustained interest within the communities in continuing to monitor these lakes," said UCI Associate Director Tom Herrington, the project manager. "We really want to build a network of citizen scientists through this grant so they can become our partners into the future."
Monmouth University Endowed Associate Professor of Marine Science Jason Adolf and students began research in the lakes this summer. The team has exposed algae samples filtered from the lakes to nutrients in the lab, then placing containers with the samples back in the lakes to see how they respond. The experiments are intended to simulate how exposure to various inorganic nutrients found in fertilizers and storm runoff might generate harmful algal blooms in the systems.
"If you know the causes of algal blooms, you can learn to predict when they'll happen and ultimately manage them," Adolf said.
Community workshops will be held in the five lake areas under the guidance of University faculty, staff and students to mentor each community group on the use and applications of the project's GIS system, analysis techniques, and future restoration plan development and implementation. Water sampling data and other resources will be shared on a publicly accessible CLONet website.
Shark Week Spotlight: Tagging Smooth Dogfish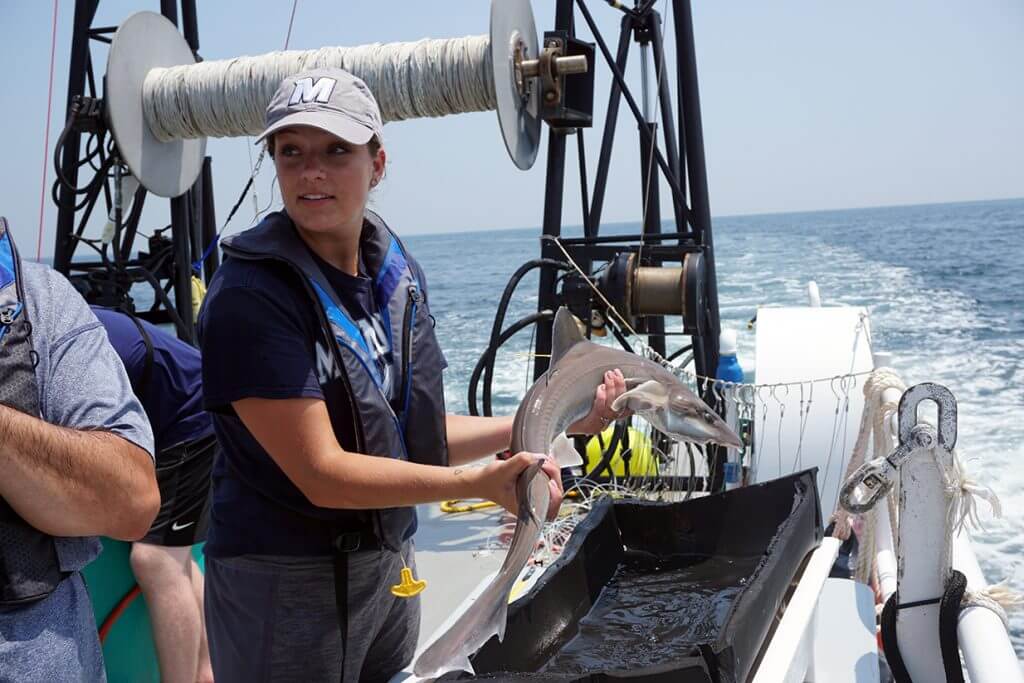 July 23, 2018
Monmouth University Assistant Professor Keith Dunton and students Lauren Kelly, Troy Ohntrup and Charlie Vasas watched as a longline baited with dozens of pieces of menhaden was slowly reeled up to the research vessel Nauvoo. One after another after another they came – roughly 20 in all.
The dogfish days of summer are here.
Known as one of the most abundant sharks in sea, dogfish certainly enjoy their summer home on the Jersey Shore. On this day, all of the animals caught were of the species Mustelus canis, also known as the smooth dogfish.
Smooth dogfish undergo large seasonal migrations. During the spring they move to the cooler waters of the Mid-Atlantic and New England, then return south during the fall to spend their winters near the Carolinas, Dunton said. The fish grow to 4 feet long on average and primarily eat crustaceans, mollusks and small fish. Like many cartilaginous fish species, smooth dogfish have long gestation times and carry their young for up to 11 months.
As the crew unhooked each fish, they placed them in a large tank for temporary holding before surgically implanting two-year acoustic telemetry tags. Dunton described the devices as "an E-Z Pass system for fish." When fish swim by buoys equipped with acoustic receivers, the tags will send information such as the time, date and water conditions at the moment.
The team's work is part of a larger project meant to examine species habitat use in areas off the coast of New Jersey and New York that are being considered for potential offshore wind farms, Dunton said. The group has also been conducting land-based fishing and tagging this summer as part of UCI-funded research into the demographics and habitats of sharks and rays along the Jersey Shore.
Dunton said beachgoers have nothing to fear from these fellow swimmers.
"Dogfish are not dangers to humans," he said. "In fact their teeth are not sharp. They are flat and almost smooth, meant to crush and grind small prey items."
To view an album of photos from the shark tagging trip, click here.
The students will be among several dozen on hand discussing their work at the Monmouth University School of Science Summer Research Program Symposium on Aug. 9. Additional details on the event will be posted here as they become available.