Offshore Wind Energy Symposium July 17 at Monmouth

July 3, 2019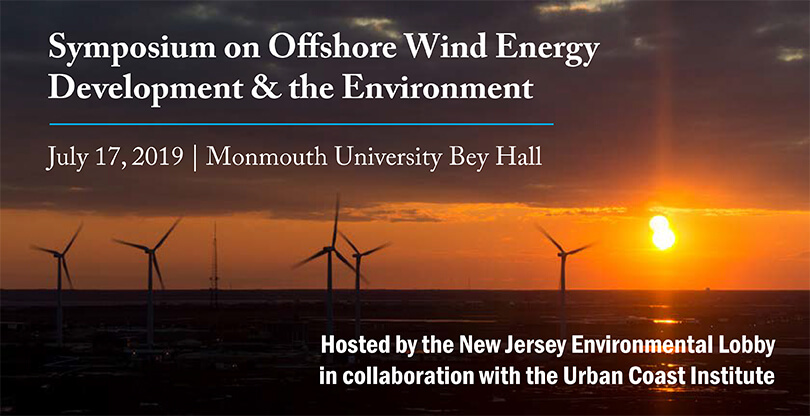 New Jersey recently granted its first award for 1,100 MW of offshore wind in federal waters. What's next for offshore wind in the New Jersey-New York area? What are the implications for the economy, environment and marine life? Explore these issues and more at the Symposium on Offshore Wind Energy Development and the Environment, hosted by the New Jersey Environmental Lobby in collaboration with the UCI.
Speakers will include former New Jersey Gov. James Florio; representatives of state and federal agencies, environmental NGOs, and wind developers Ørsted, Equinor and Atlantic Shores; and many more. Among the discussion topics will be:
The basics of turbine, grid and transmission infrastructure
Wind industry panel and audience Q&A
Siting and permitting processes
Environmental and wildlife issues
Update on New Jersey's Offshore Wind Strategic Plan
Using spatial data for siting and development
Visit the New Jersey Environmental Lobby website for a draft agenda and registration form. The symposium will be held in the Bey Hall auditorium from 9 a.m. to 5 p.m. Continental breakfast will be available before the event and a cocktail hour/networking reception will follow from 5-6:30 p.m. For more information, email njel@earthlink.net.
Monmouth Magazine Story and Infographic Highlights Marine eDNA Research
July 3, 2019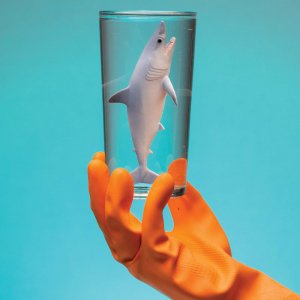 "Thanks to advances in environmental DNA (eDNA) analysis," the University magazine Monmouth reports, "researchers like Assistant Professor of Biology Keith Dunton and his students can easily determine the presence, absence, and migration patterns of any native, invasive, endangered, or hard-to-find species in and around New Jersey's coastal water bodies, just by dipping a cup into water." In its summer issue, the magazine profiles pioneering research being conducted by Monmouth and Rockefeller universities on marine life in the New Jersey-New York area with eDNA. Click here to read the article.
Prof. Abate Delivers Climate Justice Presentations on European Tour, Launches New Blog
July 3, 2019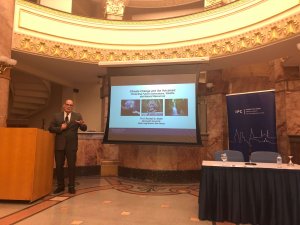 Randall S. Abate, professor in the Department of Political Science and Sociology and Rechnitz Family/Urban Coast Institute Endowed Chair in Marine and Environmental Law and Policy, delivered lectures related to his forthcoming book, "Climate Change and the Voiceless: Protecting Future Generations, Wildlife, and Natural Resources" (Cambridge University Press) in Turkey, the Netherlands, Serbia, and Spain last month. Abate's book, which focuses on how the law can evolve to protect the interests of future generations, wildlife, and natural resources ("the voiceless"), will be published in the fall and is now available for pre-order.
Abate has also launched a new blog, Climate Change(d): Reflections on Climate Change Law and Justice. The first entry describes the recent European lecture tour in detail. Abate's blog will serve as a resource for future book tour presentations, publications, reflections, and resources on climate change law and justice.
Story Map Tells a Tale of Two Shores: Sandy Hook and Eleuthera
June 21, 2019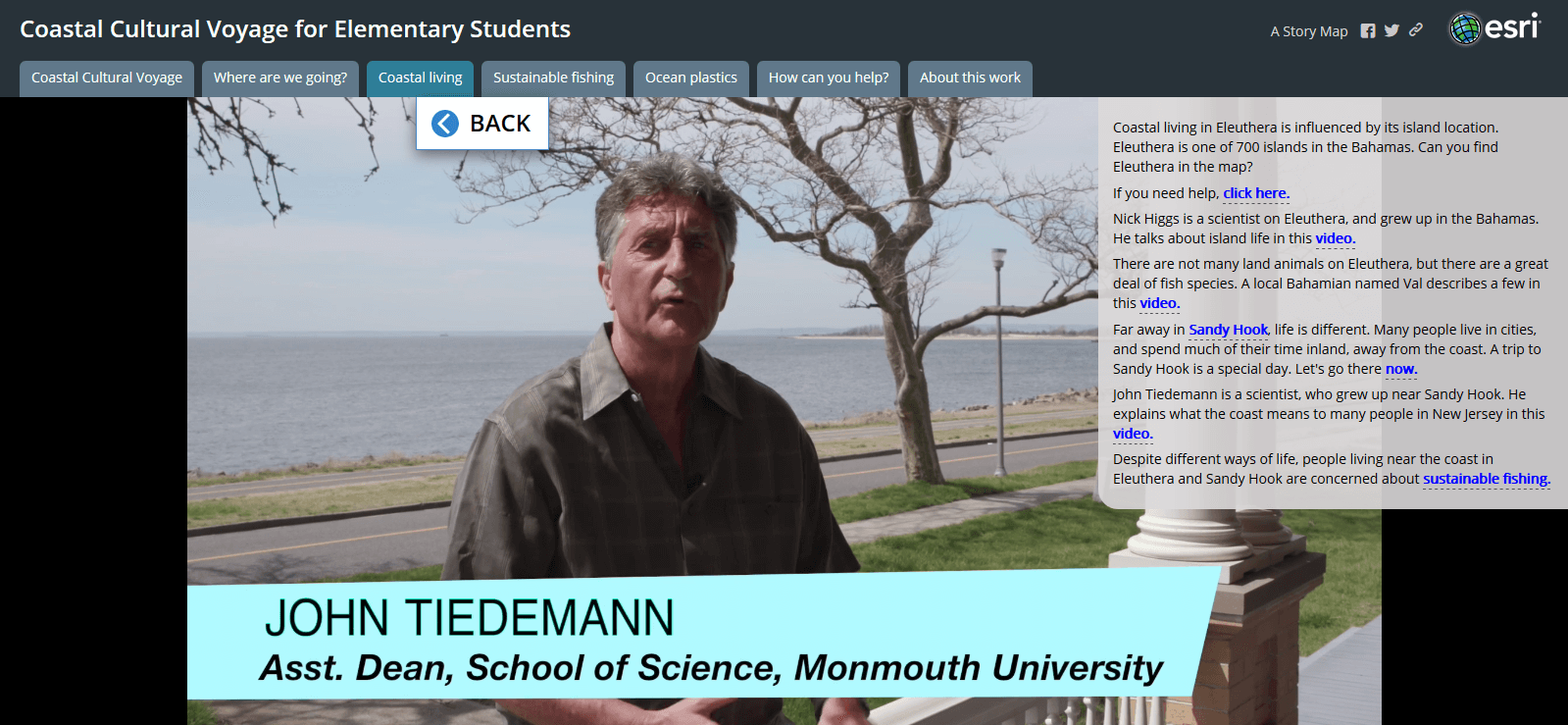 Sandy Hook, New Jersey, and Eleuthera, Bahamas, are over 1,000 miles apart, but Monmouth University GIS Program Director Geoff Fouad and communication graduate student Erin Fleming found the two coastal communities have plenty in common. While both enjoy deep cultural and economic ties to the ocean, they also share some daunting challenges – among them, the impacts of plastic pollution and overfishing.
With the support of a UCI grant, Fleming and Fouad recently completed an Arc GIS story map that compares the communities through the voices of those who live, work and play there. The project contains video interviews with experts including Monmouth University School of Science Assistant Dean John Tiedemann, scientists from NOAA's James J. Howard Marine Sciences Laboratory at Sandy Hook, and Bahamian researchers and locals. The story map is intended as a classroom tool for elementary to high school students.
Fleming is also the director of Monmouth University Production Services, where she guides a team of students as they create video and television content for other departments on campus and external non-profit organizations. The project matched Fleming's video production expertise with Fouad's GIS mapping skills, and the result was a product more rich in multimedia content than what you typically find in academic story maps.
"The video content is the center and the maps complement the video content," Fouad said. "A lot of times, geographers develop story maps and they let the maps tell the story and link it to footage that someone else created. But when you do this kind of interdisciplinary work with somebody with expertise like Erin's, you really want to leverage that."
Fleming said she found working with the medium to be a fun and inspiring experience.
"I could have posted these videos on YouTube but they would have just stood alone as, here's this place and here's this person talking about it," she said. "But because you're giving kids the power to click on something, to choose what they want to watch and then see a map and a place, it takes so many different disciplines and ideas and plugs them into one spot."
The Bahamas was chosen as Sandy Hook's sister site in the story due to the longstanding research partnership between Monmouth University and the Cape Eleuthera Institute. Eleuthera is a long (110 miles), thin (1-mile wide in parts) island that is known for its sandy beaches, coral reefs, scenic bluffs and diverse marine life. Fleming and student Dylan McGilloway traveled to the island in the spring to conduct interviews and research the area. Monmouth students Kel Grant and Jared Garcia worked with Fleming on the Sandy Hook shoots.
As part of her thesis project, Fleming will produce an online children's video series with the footage that would serve as a companion to the story map. She said she's interested to see which product is more effective and embraced among students. The project has left her interested in creating story maps on new topics and collaborating with other faculty experts at Monmouth.
"We have so many talented people on this campus with different skill sets and there's ways to combine them and make these incredible new projects. I'd love to see more of that," she said.
UCI Holds World Oceans Day Plastic Panel

June 21, 2019
By Hanan Al Asadi, UCI Communications Assistant
The UCI hosted a panel discussion on June 8 – celebrated internationally as World Oceans Day – exploring ways people can spread awareness about plastic pollution in the oceans and approaches they can take to reduce the magnitude of the problem.
Held in conjunction with Monmouth University Reunion Weekend, the panel included two alumni who are leaders on the ocean plastics issue in New Jersey: Coalition for the Delaware River Watershed Director Sandra Meola ('12 '15M) and Clean Ocean Action D.W. Bennett Fellow for Coastal Advocacy Zack Karvelas ('17). The session was moderated by UCI Director Tony MacDonald.
Some of the topics discussed include the consequences of inaction, the power of everyday citizens to make a difference and the UCI's work related to plastic pollution. The speakers stressed that everyone can and should have a role in making a change, because if the trend continues unabated, the ocean will contain more pounds of plastic than fish by 2050.
Meola introduced steps that community members can take to protect the ocean. Among them were reducing reliance on single-use plastics, contacting elected officials to urge support for policies that protect the environment, and using social media hashtags such as #NoStrawPlease and #BYObag to raise awareness.
Meola's presentation recalled the previous century when plastic was less of a problem. Pictures were shown from the 40's and 50's when glass and stainless steel were alternatives to the cheap plastic abundant on today's grocery store shelves. Although glass containers were heavy to carry around for products like shampoo bottles, she said their use helped in sustaining a clean ocean.
Karvelas pointed to the need for greater public education on recycling. Most people are unclear on which household plastics are recyclable so they put items in their bins that will not be accepted, such as plastic bags and bottle caps. This raises the risk that a waste management company will throw away the whole batch rather than spend time sorting it out. Karvelas recommended that if you're unsure about whether something can be recycled, it is better to throw it in the trash.
Karvelas also cited beach smoking bans as an example of how a combination of good policy, public awareness and citizen mobilization can turn the tide against ocean plastics. As more and more municipalities enacted smoking ordinances in recent years, Clean Ocean Action's beach sweeps recovered far fewer cigarette butts, he said. The state also eventually followed the towns' lead by passing a ban that took effect this year.
MacDonald stressed that most of the plastic in the ocean comes from land. Although that means we are the cause of the problem, it also means we have the opportunity to control it and develop solutions for a plastic-free ocean.
Associated Press Coverage of Monmouth U. Surf Beach Water Quality Study
June 17, 2019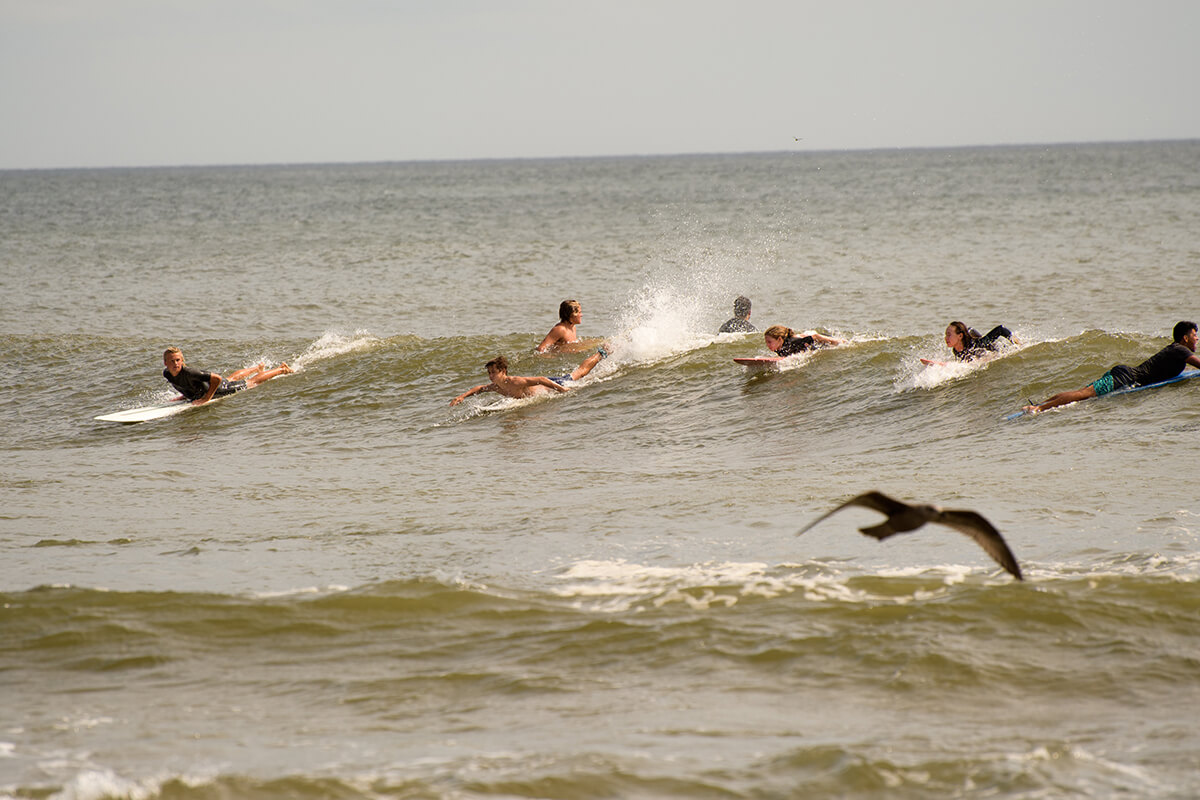 The Associated Press recently observed Monmouth University professors Jason Adolf and Jeff Weisburg and student researchers as they gathered water samples from a surfing beach in Long Branch and examined them in the lab. Their work was part of a yearlong study on the linkage between rainfall and microbial pollution at New Jersey surfing beaches where municipal storm drains and outflow pipes discharge directly into the surf zone. Click here to read the story.
In Memoriam: Dennis Suszkowski
June 17, 2019
We are deeply saddened to share the news of the June 8 loss of our longtime Advisory Committee member, Hudson River Foundation Science Director Dennis Suszkowski. Dennis was a model of personal and professional commitment deserving of our emulation and aspiration. The UCI extends its deepest condolences to his family, friends and colleagues. Click here to read his obituary in The New York Times.
Callas and Phifer-Rixey Join UCI as Faculty Fellows
June 13, 2019
The UCI welcomes Monmouth University Assistant Professor Kimberly Callas as its artist in residence faculty fellow and Assistant Professor Megan Phifer-Rixey as its marine genetics faculty fellow.
The Provost's Office recently named Callas and Phifer-Rixey as the University's inaugural faculty fellows, which will now be competitively selected on an annual basis. Through the program, faculty members were invited to develop proposals to partner with the University's Centers of Distinction and make use of their resources to pursue a project with a significant scholarly, artistic, pedagogical, business or policy outcome that connects the academic department with the Center. Successful candidates will receive financial support for their projects, one course release per semester and the necessary staff and resources from the host Center through the duration their two-year terms.
Callas and Phifer-Rixey's proposals were chosen from a pool of 13 applicants. Their work with the UCI will begin in the fall semester.
Kimberly Callas
Callas joined the Department of Art and Design in 2016 and teaches courses in drawing, sculpture, and 3D design, incorporating social practice and emerging digital processes, including 3D printing, CNC milling and laser cutting. Her work has an ecological focus incorporating interdisciplinary issues including psychology, ecology and poetry.
As an artist living in Jersey City on 9/11, Callas witnessed the Twin Towers fall from across the river and she and her husband were moved to find ways to live that were not dependent on foreign oil. They soon relocated to Maine and built and in-ground, stone house and co-founded a sustainability institute called Newforest. Callas observed that people weren't responding to science and research presentations on sustainability the way she expected.
"I found that it was really people's emotional connections to nature that were helping communities and individuals move more into sustainable action," she said. "If an individual fished in a stream as a child, they would spend their evenings and weekends protecting that stream, no matter what their political leanings were."
Building on this idea, she started Discovering the Ecological Self, a project which encourages students to explore and build connections with natural environments and create works of art inspired by them. The UCI recently provided a faculty enrichment grant to Callas to conduct the project with at-risk youth in Monmouth County, and she continued to develop the idea through an arts residency at Joya: arte + ecología in Spain.
Through her residency with the UCI, Callas plans to immerse herself in the scientific research taking place in coastal environments at Monmouth University and share it with communities through art. She will host Discovering the Ecological Self workshops, develop her own artwork and organize a symposium with the UCI that features research on sustainability topics being conducted by University faculty.
Megan Phifer-Rixey
Dr. Phifer-Rixey is a member of the Biology Department, where she teaches Introduction to Cellular and Molecular Biology, Introduction to Biodiversity and Evolution, and Evolution. She earned her Ph.D. from the University of Pennsylvania and then pursued postdoctoral training at the University of Arizona and the University of California, Berkeley. With a focus on evolutionary and population genetics, her research seeks to answer the question, "How do organisms adapt to their environment?" She also trains Monmouth students as scholars through her research courses and is active in the community, running a grant-funded genetics workshop in local schools.
Phifer-Rixey said the fellowship will provide her the opportunity to apply her skills to marine and coastal environments. She looks forward to creating opportunities for students to engage in authentic genetic research and expanding Monmouth's work with marine environmental DNA (eDNA).
Sampling for eDNA is an approach that allows scientists to confirm the presence of fish and other organisms by testing for trace amounts of genetic material that they shed into the water. The technique holds the promise of being less expensive, more humane and more revealing than other longstanding scientific methods that rely on physically catching or observing animals. Monmouth has been collaborating with Rockefeller University on eDNA research in New York-New Jersey area coastal waters since 2016 and co-hosted the National Conference on Marine Environmental DNA in New York City last year.
"I'm already working on eDNA projects and I think we have a bit of a gap here in that we have the capacity to collect and filter the samples, but we haven't had the capacity to do the genetic benchwork and handle the data," she said. "There's a real opportunity for me to help build that capacity here at Monmouth."
The UCI previously awarded grant funding to Phifer-Rixey to study the genetics of sturgeon and striped bass in coastal New Jersey waters. DNA collected from the fish were analyzed to provide estimates of population size, help identify distinct fish population segments relevant for conservation, and provide other information regarding diversity within and among populations.
Professor Soaks Up Superstorm Sandy Data, Reimagines it as Beach Towel Designs
May 17, 2019
By Hanan Al Asadi, UCI Communications Assistant
Monmouth University Professor Karen Bright has embarked on a creative journey centered on interpreting scientific data related to Superstorm Sandy as abstract artwork. Since early 2017, Bright has been researching statistical information for natural phenomena such as tides, currents, water levels and weather reports and reinterpreting her findings into a uniquely coastal artifact – the beach towel.
The aim of this project is to study and promote preparedness for future storm events and help the Jersey Shore community view Sandy in a more coherent way. With the support of a UCI grant, Professor Bright, of the University's Department of Art and Design, has set up a studio with special supplies that include six Roland HOTboxes – heated aluminum plates that artists can use to apply encaustic paint and medium.
So far, Bright has collected and analyzed data from sources such as the U.S. Naval Observatory, the National Oceanic and Atmospheric Administration (NOAA), Tides and Currents, and many others. In addition, as an artist in residence at Weir Farm National Historic Site last summer, Bright worked on eight panels related to Sandy with intriguing titles such as "The Shape of Water," "Four High Tides, Three Counties, 1 Landfall, 1 Full Moon," and "New Jersey Wind."
Bright's initial inspiration occurred as she was introducing a project on information mapping in one of her undergraduate classes. She began thinking about the potential for depicting data in new ways using unconventional material. Bright also mentioned that her motivation occurred as she noticed the media giving attention and covering current hurricanes happening all over the country and comparing them to past storms, while forgetting about Sandy, a storm that had a devastating impact on New Jersey. Afterward, Bright said she started sketching potential ideas in a book and ultimately developed the beach towel project.
In addition to gathering information that helps the community understand how and why Sandy occurred, another major goal for Bright is to create a community event where members can share their stories and relate to each other. As a way to help the healing and recovery process, Bright is planning to create an installation for Monmouth's Rechnitz Hall DiMattio Gallery. Opening this September, the installation will include: the beach towel display; a public, participatory wall for Sandy stories; a 15-foot-high sculpture that will focus on lost housing units; and a collaboration with a newly hired Assistant Professor/Communications Amanda Stojanov. Bright's plan is to create a beach hut-themed structure that will house an interactive display of wave forms and sound by Stojanov. The hut, which will be designed to appear distressed and made of found, repurposed material, will be in production in the DiMattio Gallery this summer.
Ultimately, Bright's project aims to present the data in a recognizable and impactful way. She plans to continue gathering data and investigating Sandy, and hopes she can extend her research into more locations by mapping and creating new artistic approaches to the visualization of global warming and environmental issues. Below is a sample of Bright's work to date.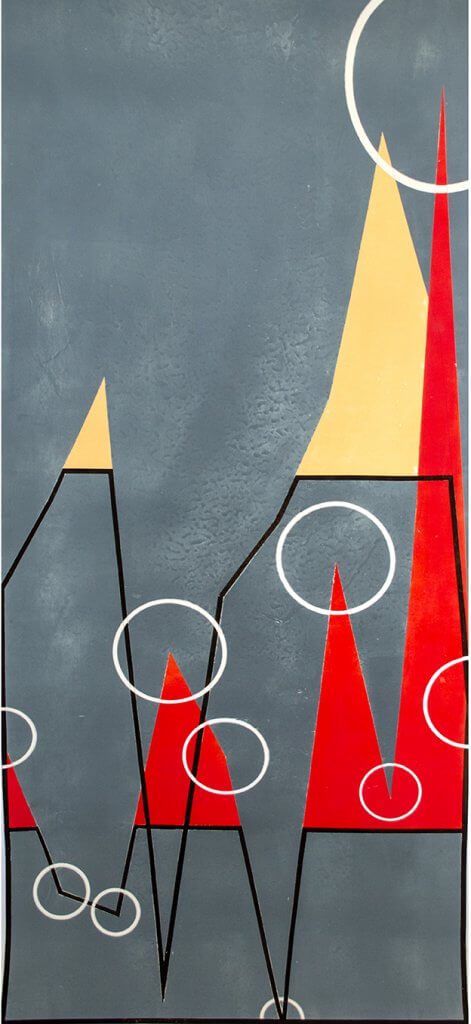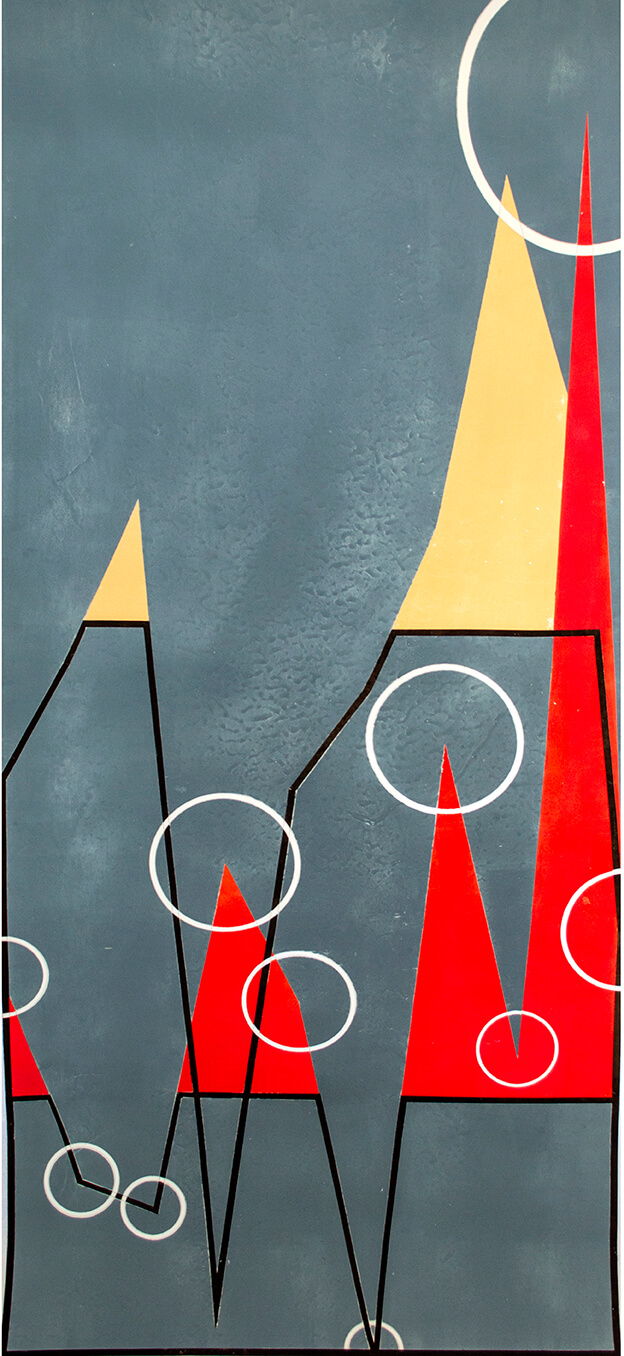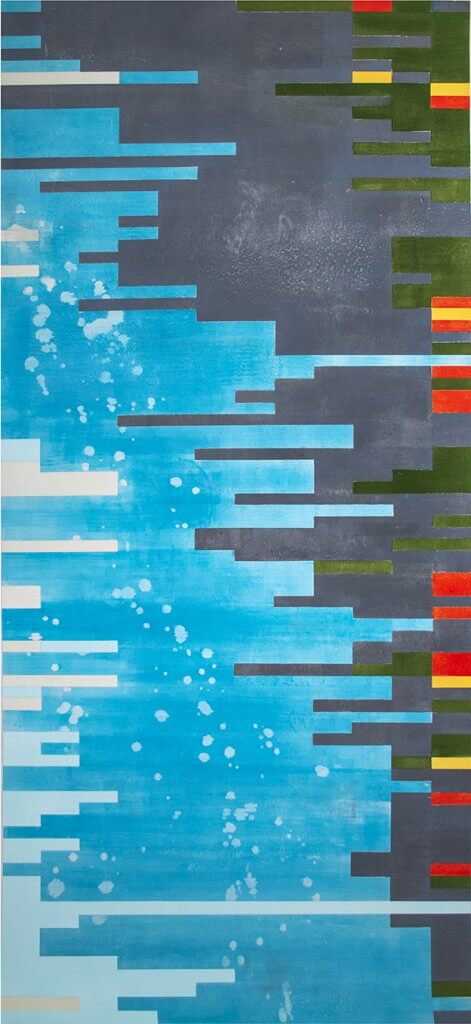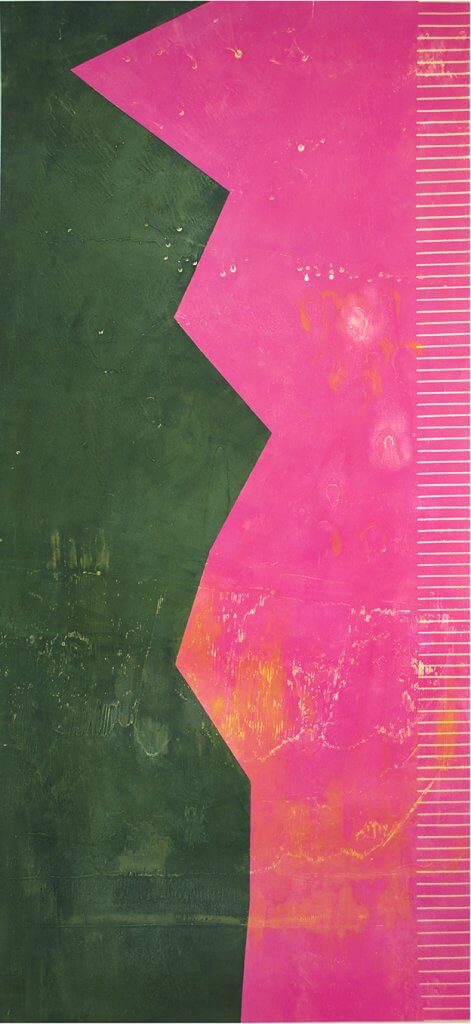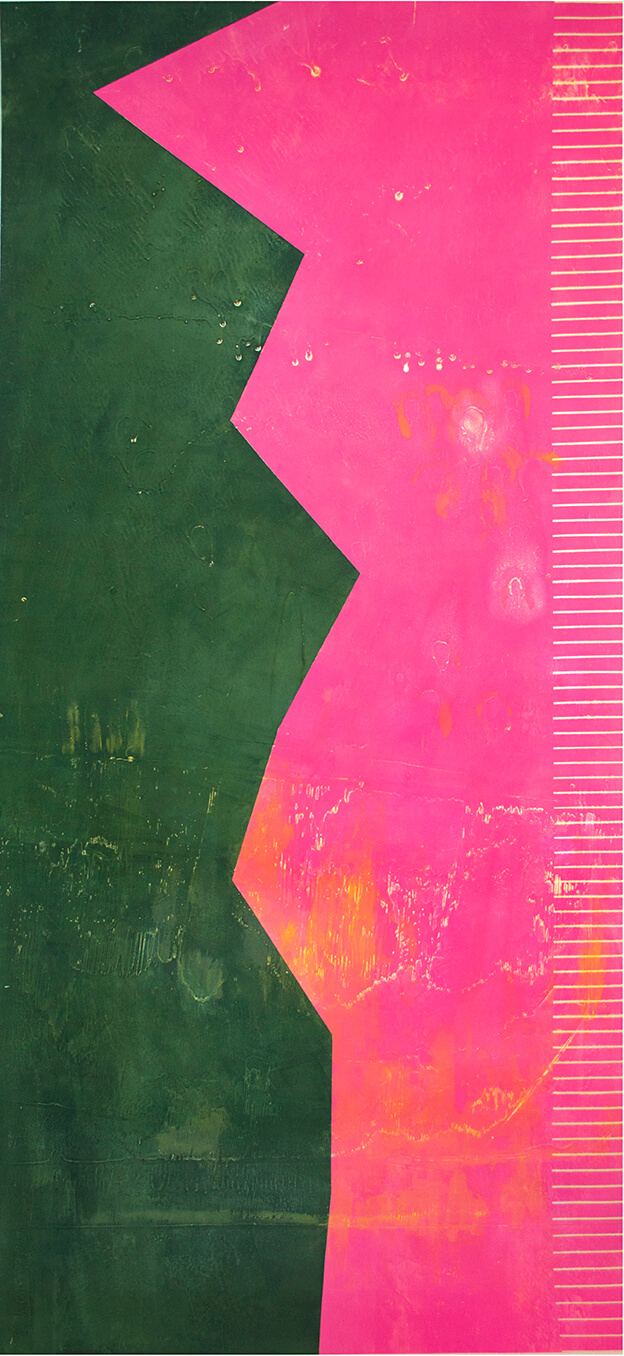 UCI Scholars Program to Support Six Summer Research Projects
May 15, 2019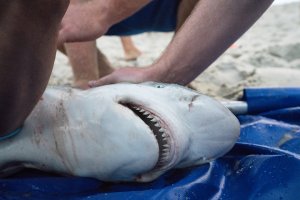 This summer, UCI Scholars will take on research topics ranging from the Jersey Shore's microscopic plant life to its apex predators.
The UCI Scholars Program offers competitive grant opportunities to students and faculty of all disciplines whose work would advance core elements of Monmouth's Strategic Plan and support the UCI's mission. The latest round of grants will support six projects conducted by 13 students beginning this month. Below are snapshots of the projects.
Chesapeake Bay Archaeological Mapping
Student: Chris Menke
Faculty Mentor: Dr. Geoffrey Fouad, Dept. of History and Anthropology
The project will map probable prehistoric archaeological sites in a coastal reach of Chesapeake Bay by identifying environmental characteristics associated with oyster shell heaps – a sign of past habitation.
Conservation and Demographics of New Jersey Coastal Sharks and Sturgeon
Students: Hannah Craft, Lauren Kelly, Michael Nguyen and Charlie Vasas (Provost Scholar)
Faculty Mentor: Dr. Keith Dunton, Dept. of Biology
Associate Professor Keith Dunton will continue his research into the demographics and habitats of sharks and the endangered Atlantic sturgeon along the New Jersey coast.
Dominican Civil Society: A Democratic Response to Climate Change
Students: Matthew Gruhler and Alexis Vasquez
Faculty Mentor: Dr. Ken Mitchell, Dept. of Political Science and Sociology
The group will examine the question of whether the challenges associated with climate change require the production of social capital (connections among individuals) to solve. They will use the problem of plastic pollution in the Dominican Republic as a proxy for the viability of social capital creation to solve environmental problems.
Harmful Algal Blooms in Monmouth County Coastal Lakes, Estuaries, and Ocean
Students: Skye Post and Ariel Zavala
Faculty Mentor: Dr. Jason Adolf, Dept. of Biology
The researchers will examine the factors contributing to harmful algal blooms, deoxygenation, and fish kills in local waters in order to build a better understanding of their formation and help predict/manage them in the future.
Marine Biology Careers App Design
Students: Gianna Rossi and Stephanie Brown
Faculty Mentor: Prof. Linh Dao, Dept. of Art and Design
The team will collaborate on the design and user interface development of a mobile app dedicated to the exploration of career paths in marine biology for high school students and college freshmen.
Reptile and Amphibian Surveys in Urbanized Ecosystems
Students: Travis Kirk and Christiana Popo
Faculty Mentor: Dr. Sean Sterrett, Dept. of Biology
UCI grant funding will be used to purchase "frog logger" devices which can deployed near breeding sites and programmed to record breeding frog vocalizations. The work is part of a larger project intended to study vertebrate diversity in Monmouth County's coastal lakes.
Apply Now for Funding
Monmouth University students and faculty are invited to apply now for fall UCI Scholars funding opportunities. Fall grants available include:
Faculty Enrichment Grants for the enhancement of existing curriculum, new curriculum development, research and scholarship, and team-teaching opportunities. The deadline is June 30.
Mini-Grants are also available to faculty and students for conference fees, symposia, guest speaker honoraria, equipment and supplies, and other needs to be determined on a case-by-case-basis. Applications can be submitted at any time and are reviewed on a rolling basis. Awards range from $250 to $500 depending on the availability of funds.
Those interested may apply via the UCI Funding Opportunities page on the MyMU Portal (Monmouth University sign-in credentials required). For more information, contact UCI Associate Director Dr. Thomas Herrington at (732) 261-5588 or therring@monmouth.edu.
Monmouth University to Study Water Pollution at Surfing Beaches
May 13, 2019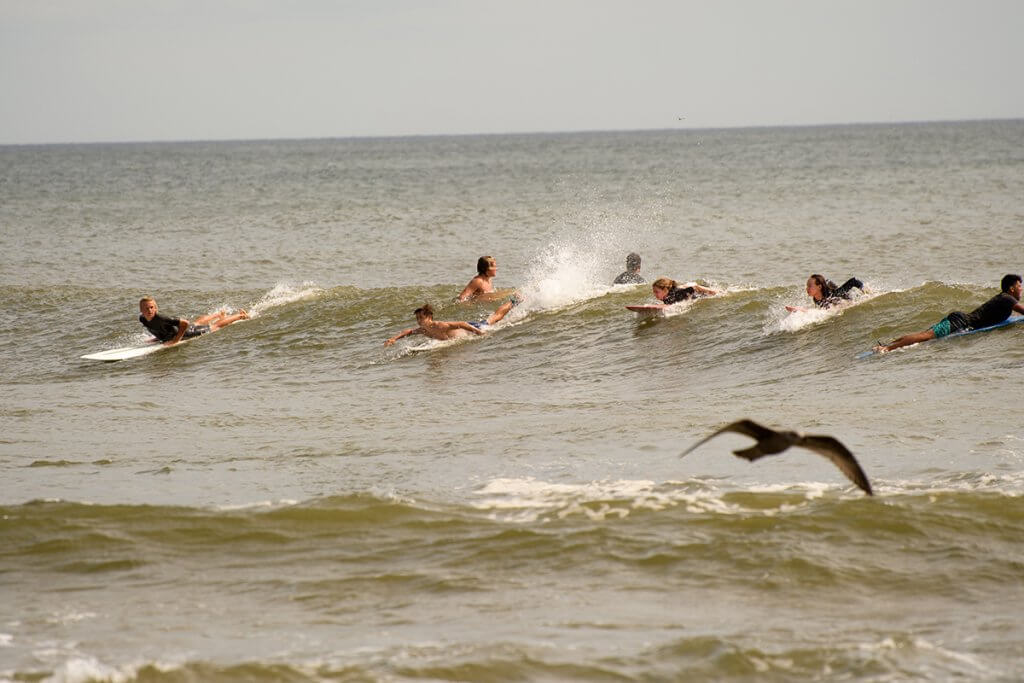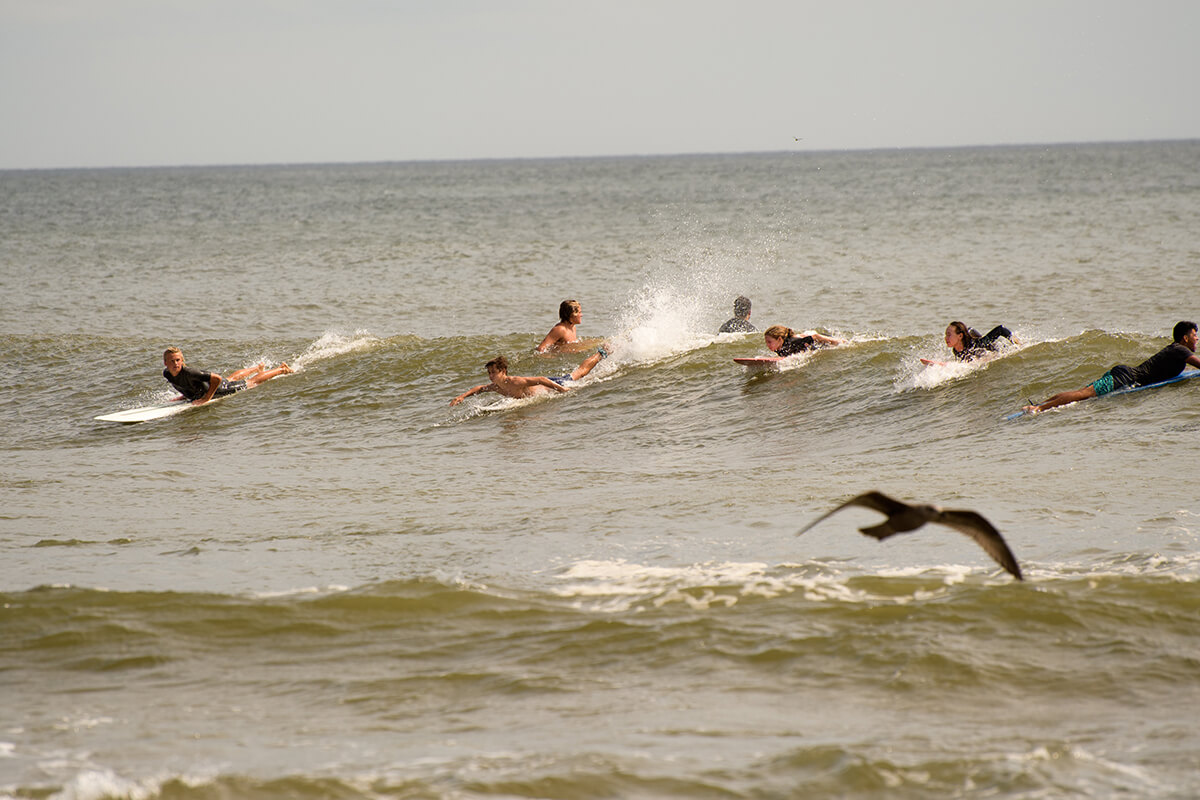 Monmouth University scientists and students have begun a yearlong study on the linkage between rainfall and microbial pollution at surfing beaches in New Jersey including Asbury Park, Deal and Long Branch. The work will be conducted through a $30,000 contract with the Surfers' Environmental Alliance (SEA).
Microbial pollution, the contamination of water with pathogens that can make people sick, is a problem in densely populated coastal areas around the world. At some of Monmouth County's most popular surfing beaches, municipal storm drains and outflow pipes discharge directly into the surf zone.
"We've heard stories from surfers about how the water sometimes smells and looks different at these beaches after heavy rainstorms," said Endowed Associate Professor of Marine Science Jason Adolf of Monmouth University's School of Science and Urban Coast Institute. "However, no data have been gathered to back up the anecdotal evidence about the magnitude of the problem."
Monmouth University Specialist Professor Jeff Weisburg, the project co-lead, added that there is a significant gap in the state's sampling program because it is primarily focused on the busiest bathing beaches in the summer tourism season.
"Surfing is a year-round passion at the Jersey Shore, but the state doesn't test its waters as frequently during some of the best wave months, including the fall hurricane season," Weisburg said. "This project will help show what kind of health risks, if any, that surfers might be exposed to during the colder months."
Testing will focus on five locations: the Asbury Park Casino beach in Asbury Park; the Neptune Avenue and Roosevelt Avenue beaches in Deal; and the Ocean Place and S. Bath Avenue beaches in Long Branch.
Each location will be sampled before and after at least 10 storm events over the course of the year. The researchers will record atmospheric conditions and measurements of the ocean's temperature, dissolved salt levels and clarity before taking water samples near and far from the storm drain pipes at each site. The samples will be analyzed for bacterial abundance and compared with rainfall and water quality data to look for statistical relationships.
"SEA is proud to partner with Monmouth University to implement a long-needed water quality study at local surf spots after rain events," said the Richard Lee, the organization's executive director. "We're hoping this is the start of a long-term collaboration that will benefit the surf community and Monmouth University."
UCI to Host World Oceans Day/Monmouth Reunion Weekend Events: Ocean Plastics Panel, Family Beach Day
May 9, 2019
Celebrate #WorldOceansDay and Monmouth University's Reunion Weekend at these UCI-hosted events. Open to the public – spread the word!
Panel Discussion – Together We Can: A Plastic-Free Ocean
Saturday, June 8 | 2:30-3:30 p.m.
Magill Commons Club Dining Room

The UCI welcomes two Monmouth University alumni and environmental leaders back to campus for a World Oceans Day conversation on plastic pollution and steps you can take to help the problem: Coalition for the Delaware River Watershed Director Sandra Meola '12 '15M and Clean Ocean Action D.W. Bennett Fellow for Coastal Advocacy Zack Karvelas '17. Moderated by UCI Director Tony MacDonald.
Refreshments will be served. Guests are encouraged to stay on campus for great fun with cocktails, food, music and friends at the Wilson Hall Rooftop Celebration. Please note that the Rooftop Celebration is a ticketed, sellout event ― register today!
Family Beach Day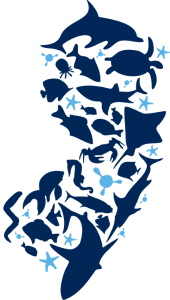 Sunday, June 9 | 10:30 a.m.
West End
Check-in at the University Bluffs (aka "The Diplomats") to receive a wristband for discounts at businesses in West End. Enjoy fun exhibits/activities provided by the Urban Coast Institute, including a Shell & Marine Life ID table with Dr. Jason Adolf, a Science of Sand station with Dr. Tom Herrington, a live underwater drone feed from the R/V Heidi Lynn Sculthorpe and more!
Registration and More Info
For planning purposes, please click here to register for the panel and beach day. In lieu of a registration fee, please consider making a donation to the Urban Coast Institute Scholarship Fund.
Reunion Weekend will run from June 7-9. For a full schedule of activities and other details, visit www.monmouth.edu/alumni/reunion-weekend/.
Abate Participates in Moot Court Competitions, Panels on Environmental and Wildlife Issues
May 2, 2019
Rechnitz Family/UCI Endowed Chair in Marine and Environmental Law and Policy Randall Abate traveled throughout the East Coast this spring engaging students and other stakeholders on issues related to wildlife and environmental protections.
Abate moderated a March 28 panel discussion at the New York City Bar Association titled, "The Endangered Species Act under the Trump Administration." The panel featured experts on Endangered Species Act regulation and litigation and was jointly sponsored by the Animal Law Committee and the Environmental Law Committee of the New York City Bar Association.
He also recently served as a judge for the two largest moot court competitions in the world on environmental law issues. On Feb. 23, he judged the semifinal rounds of the Jeffrey G. Miller National Environmental Moot Court Competition at Pace University School of Law in White Plains, NY. The competition featured teams from 56 law schools throughout the U.S. The problem for this year's competition addressed climate justice litigation issues involving the Alien Tort Statute, the public trust doctrine, and the Due Process Clause.
On April 13, Abate judged teams from India, the Philippines and Ireland in the quarterfinal and semifinal rounds of the International Finals of the 23rd Annual International Environmental Moot Court Competition at Stetson University College of Law in Gulfport, FL. The International Finals featured the top two teams from regional competitions in the U.S., Canada, the U.K., Ireland, Australia, New Zealand, East Asia, Southeast Asia, South America, Africa, and Eastern Europe. The problem for this year's competition addressed how several international environmental law treaties should apply to the use of the Sargasso Sea and the protection of eels.
Finally, Abate was a panelist at Food and Our Changing Climate: A Conference Integrating Science and Law, an interdisciplinary symposium held at the University of Connecticut School of Law on April 26. He delivered a presentation titled "Ocean Iron Fertilization and Indigenous Peoples' Right to Food: Leveraging International and Domestic Law Protections to Promote Access to Salmon in the Pacific Northwest" to an audience of approximately 150 law professors, law students, scientists, policy experts, and activists. His panel featured legal, policy and economic experts on food supply and security issues in the climate change era.
Story Map: Offshore Wind and the Mid-Atlantic Ocean Data Portal
April 30, 2019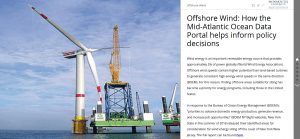 Learn how the Mid-Atlantic Ocean Data Portal is being used to inform discussions on potential locations for offshore wind farms in the New York Bight with a new story map produced for the UCI by Monmouth University Instructor of GIS Dr. Jennifer Whytlaw.
The free and publicly accessible Portal (portal.midatlanticocean.org) contains more than 4,000 interactive maps depicting data such as shipping traffic concentrations, marine life distributions, Naval training areas and much more. The story map discusses how the Portal has grown as a resource for government agencies and stakeholder groups to identify complementary and conflicting uses along the coast and in the ocean.
The UCI is a member of the Portal development team, along with the Mid-Atlantic Regional Council on the Ocean, Rutgers University, The Nature Conservancy and Ecotrust. The UCI's work is supported with a grant from the Gordon and Betty Moore Foundation.
Watch Presentations from Climate Change, Coasts & Communities Symposium
April 30, 2019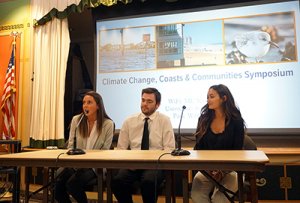 Videos, slides and other materials from the Climate Change, Coasts & Communities Symposium are now available at www.monmouth.edu/climate-coasts-communities. The event, held at Monmouth University on April 17-18, gathered leading experts from around the world in the areas of climate change adaptation law and science.
Keynote speakers included Global Ocean Forum President Biliana Cicin-Sain, University of Tasmania (Australia) Faculty of Law Professor Jan McDonald and University of Utah S.J. Quinney College of Law Professor Robin Craig. The symposium kicked off with Monmouth University students presenting their research on coastal climate adaptation issues and also included panels on:
The legal considerations of climate change and voiceless communities, including future generations, wildlife and natural resources
Lessons to New Jersey from around the nation and the world on adapting to seal level rise, coastal storms and flooding
Scientific strategies to combat climate change-induced factors that are harming marine and coastal ecosystems
The event was hosted by the UCI and Monmouth University's Wayne D. McMurray School of Humanities and Social Sciences, School of Science, Office of the Provost, Global Education Office, Department of Political Science and Sociology, and Youth Activists Group.
Additional Links
Read the 2018 UCI Annual Report
April 4, 2018
The UCI is pleased to present its 2018 Annual Report. The publication looks back at highlights from one of the UCI's most eventful years to date, including the launch of Monmouth University's newest and largest research vessel, the Heidi Lynn Sculthorpe; innovative student-faculty research projects; work with the State of New Jersey to begin the development of a comprehensive coastal resilience plan; a partnership to protect Monmouth County coastal lakes; and much more. Visit our report page to browse its pages in a digital flipbook format or download a PDF version.
Monmouth Poll: Strong Support for Offshore Wind in New Jersey
April 3, 2019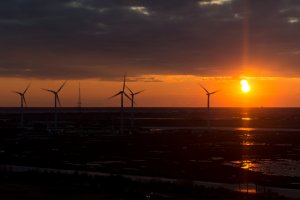 The Monmouth University Poll finds that the vast majority of Garden State residents support the development of electricity-generating wind farms off the state's coast, which is significantly higher than public backing for oil drilling and expansion of nuclear power. Nearly half say that wind energy development should be a major priority for the state in the coming decade. Support for wind farms decreases, though, if electricity rates were to go up because of a greater investment in wind energy. However, most residents currently expect that their rates will not increase because of wind farm development.
Three-quarters of New Jersey residents (76%) would favor placing electricity-generating wind farms off the coast of the state, while just 15% would oppose this action. Past support for offshore wind farms was slightly higher, ranging between 80% and 84% in polls taken between 2008 and 2011. Support is high among Democrats (79%), independents (77%), and Republicans (69%).
"There is broad, bipartisan agreement that moving forward with offshore wind projects should be a priority.  If New Jersey achieves Gov. Murphy's ambitious goal of generating 3,500 MW of electricity from offshore wind by 2030, it will put the state on a path to a green energy future," said Tony MacDonald, director of the Urban Coast Institute at Monmouth University.
Click here to read a press release with the full poll results.
NJHEPS Summit to Focus on Student Solutions to Plastic Pollution
April 2, 2019
The New Jersey Higher Education Partnership for Sustainability (NJHEPS) will hold its 2019 Annual Student Summit at Monmouth University on April 23. The event will run from 6-9 p.m. at the Rebecca Stafford Student Center and focus on solutions to plastic pollution.
The summit will start with motivational talks from representatives of Clean Water Action, Surfrider Foundation and Clean Ocean Action on their efforts and successes in reducing plastic pollution. Tables of attendees will then discuss and report on what changes can be implemented by students and administrators on college campuses to reduce plastic usage, putting alternatives in place and setting a positive example for surrounding communities, and in support of the state's pending plastic bag ban.
This event is free and open to the public, but participants must register in advance. To register, visit https://www.tikkl.com/njheps/c/2019-summt.
First Mid-Atlantic Ocean Forum Held at Monmouth University

March 28, 2019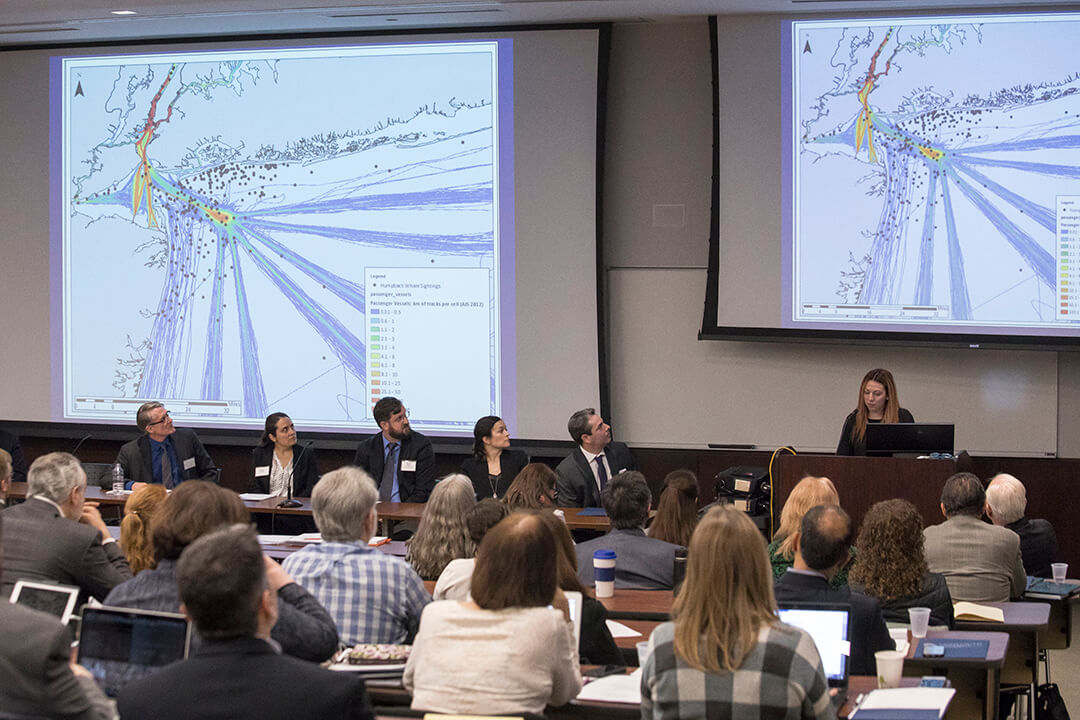 The Mid-Atlantic Committee on the Ocean (MACO), a consortium of state and federal agencies, fishery management officials and tribal entities, convened its inaugural forum at Monmouth University on March 20. The Mid-Atlantic Ocean Forum was the first of what is expected to be an annual series of events that provide industry experts, government officials and members of the public an opportunity to collaborate and exchange information on marine science and policy issues.
The New Jersey Department of Environmental Protection's Liz Semple, chair of the Mid-Atlantic Regional Council on the Ocean (MARCO), welcomed the nearly 200 attendees to the forum.
The UCI assisted with the event's organization and facilitation. UCI Director Tony MacDonald emceed the proceedings, while Associate Director Tom Herrington and Communications Director Karl Vilacoba led panel discussions on the topics of offshore sand/sediment resources and regional ocean data priorities, respectively.
Vilacoba, who serves as project manager and communications lead for the Mid-Atlantic Ocean Data Portal development team, offered a preview of the data products and tool upgrades planned for 2019. Among the many items highlighted were new maps depicting party/charter boat fishing hot spots in the region, fish and marine mammal distributions, potential sand resource sites and the most current offshore wind planning areas. He also unveiled a new tool that allows users to animate map layers showing the same data types at different time intervals, demonstrating with monthly maps of vessel traffic patterns in the Mid-Atlantic.
"This is going to make the viewing of any temporal data on the Portal a whole lot more user friendly," he said. "In the year ahead we'll apply it to some of our marine life, oceanography and commercial fishing data, and we think it's going to be very good and revealing when you view it that way."
Deerin Babb-Brott, the White House Office of Science and Technology Policy's principal assistant director for oceans and environment, provided an update on the implementation of President Trump's 2018 executive order on ocean policy. He said that one of its key directives was for federal agencies to work with regional entities throughout the country to compile a list of their top ocean data needs and identify federal resources that could help fulfill them. Babb-Brott said the administration is committed to providing funding for portal projects and regional ocean partnerships like those in the Mid-Atlantic and Northeast.
"You'll see in fiscal year 2019, Congress appropriated dollars to support regional data portals and regional capacity," Babb-Brott said. "It's small money to start, but it gets the ball rolling. And it's a demonstration that with an EO and administration support, we also have a relationship with the Hill that allows us to have a constructive conversation to all of your benefit."
Participants could choose to join any of six break-out sessions focused on the topics of ocean acidification, recreational/non-consumptive ocean use, healthy ocean indicators, marine debris, maritime commerce and navigation, and science and research priorities. The takeaways from each session were recorded and presented to the full group of forum attendees during a wrap-up discussion that concluded the event.
To view an agenda from the meeting and learn more about regional ocean planning, visit the MARCO website at midatlanticocean.org. Videos of the forum discussions will be available on the website soon.
View our album of photos from the event.
Register Now for Climate Change, Coasts & Communities Symposium April 17-18 at Monmouth University
March 26, 2019
Leading experts from around the world in the areas of climate change adaptation law and science will assemble at Monmouth University on April 17-18 for the Climate Change, Coasts & Communities Symposium.
With the "new normal" of increased storm events, flooding, sea level rise and coastal erosion being caused by climate change, the event will focus on lessons from other states and abroad that can help New Jersey navigate the challenges. Discussion topics will include climate change impacts to voiceless communities, including future generations, wildlife and natural resources; the public health dimensions of coastal adaptation; and scientific strategies to combat climate change-induced factors that are harming marine and coastal ecosystems.
Keynote speakers include Global Ocean Forum President Biliana Cicin-Sain, University of Tasmania Faculty of Law Professor Jan McDonald and University of Utah S.J. Quinney College of Law Professor Robin Craig. The two-day symposium will kick off with a panel of Monmouth University students presenting their research on issues including the transfer of development rights and easements to improve coastal resilience and the threats extreme weather events pose to drinking water supplies.
For registration and more information, visit monmouth.edu/climate-coasts-communities or contact Professor Randall Abate at rabate@monmouth.edu. The event is free for Monmouth University students and employees (registration required), $35 for members of the public and $25 for Monmouth alumni and non-Monmouth students. The admission cost covers an opening night reception, Thursday continental breakfast and lunch, and refreshments.
The event is being hosted by Monmouth University's Urban Coast Institute, Wayne D. McMurray School of Humanities and Social Sciences, School of Science, Office of the Provost, Global Education Office, Department of Political Science and Sociology, and Youth Activists Group.
'Our Ocean and Beaches: A Record of Success and New Challenges to Face' Panel April 5 at Monmouth University
March 26, 2019
Former state Sen. Joseph M. Kyrillos will moderate "Our Ocean and Beaches: A Record of Success and New Challenges to Face," on Friday, April 5 at 10 a.m. in the University's Wilson Auditorium.  This is the fourth and final panel discussion he will lead as the 2018-2019 Monmouth University Public Servant-in-Residence. Previous panel discussions in the public servant-in-residence series focused on pension and benefit reform, bridging the partisan divide, and jobs and the economy.
The panel will feature environmental experts including: Cindy Zipf, executive director of the nonprofit Clean Ocean Action; Chris Daggett, former regional administrator of the United States Environmental Protection Agency and commissioner of the New Jersey Department of Environmental Protection; and Tony MacDonald, director of the Monmouth University Urban Coast Institute.
Online registration and further information are available.
Abate Delivers Book Lecture to Miami Law Students
March 25, 2019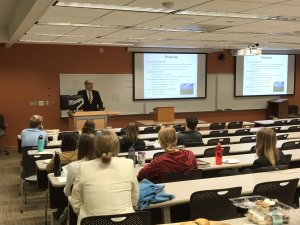 Professor Randall S. Abate (Department of Political Science and Sociology and Rechnitz Family/Urban Coast Institute Endowed Chair in Marine and Environmental Law and Policy) delivered a lecture on his book, Climate Change and the Voiceless: Protecting Future Generations, Wildlife, and Natural Resources (Cambridge University Press, forthcoming August 2019), to students at the University of Miami School of Law on March 19. The book talk was co-sponsored by the law school's Environmental Law Society and Student Animal Legal Defense Fund.
Coastal Lakes Summit Focuses on Improving Health of Monmouth Co. Waters
March 18, 2019
Monmouth University kicked off a citizen science partnership with community groups, residents and municipal officials on March 15 to probe the causes of environmental problems impacting six Monmouth County coastal lakes.
Over 100 representatives of the communities surrounding Deal Lake, Lake Como, Sunset Lake, Sylvan Lake, Takanessee Lake and Wesley Lake gathered at the Edison Science Building to lay the groundwork for a new Coastal Lakes Observing Network (CLONet). Through the partnership, Urban Coast Institute (UCI) and School of Science staff and students will train community members to collect water quality samples and post their results to an online database, helping build a better understanding of the conditions in each lake.
The UCI is managing the two-year effort with the support of a grant from the Jules L. Plangere, Jr. Family Foundation. The funding supported the purchase of water quality sampling kits that will be supplied to participants from each of the communities.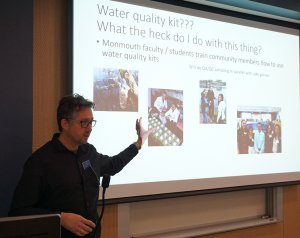 Endowed Associate Professor of Marine Science Jason Adolf will work with a team of students to analyze and ground truth the data. CLONet will establish a system for what types of data will be collected (for example, temperature, salinity, pH), where and how frequently sampling will take place.
"I am a scientist and I love science, but this is not all about science," Adolf told participants at the Coastal Lakes Summit. "It's about local knowledge and bringing it all together to build solutions."
According to School of Science Assistant Dean John Tiedemann, CLONet's roots trace back to another coastal lakes meeting that was convened at Monmouth a decade ago. At the time, there was a consensus that the county's coastal lakes suffered from a common set of problems, but there was a vacuum in terms of any central agencies responsible for addressing them. Tiedemann noted there were discussions about launching an initiative like CLONet in 2010, but Superstorm Sandy knocked the momentum off track and prompted the communities to re-evaluate their lakes' needs. The latest Coastal Lakes Summit was the third event of its kind held at Monmouth since 2008.
Longtime Issues
Monmouth County's coastal lakes have historically been important resources for their communities, first as drinking water sources for early settlers, and later as focal points for tourism and recreation, Princeton Hydro President Stephen Souza said. Those that connect to the ocean are also critical spawning grounds for anadromous fish. However, these ecosystems have been degraded due to pollution, algae blooms and invasive species.
Many of the lakes are plagued by a process called eutrophication. According to Souza, the problem occurs when there are blooms of cyanobacteria (also known as blue-green algae), a biologically adept organism that thrives on nitrogen from the atmosphere and organic phosphorous compounds carried into the water by runoff. Cyanobacteria can block sunlight needed by other plant life but don't mind low-light conditions themselves. They are rejected as food by filter feeders and zooplankton, he said.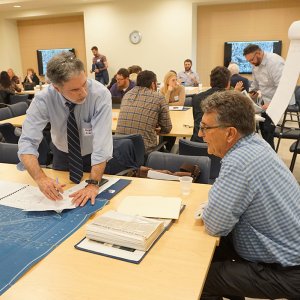 Heavy rain events can flood the waters with nutrients for these cyanobacteria, causing a sudden explosion in their populations. The organisms have been known to quickly sap out all of the oxygen in the water, causing fish and other organisms to die off. Common nutrient sources include lawn fertilizers, septic leaks and waterfowl feces.
"One pound of phosphorous can stimulate and sustain 1,000 pounds of algae," said Souza, a member of the UCI's Advisory Committee. "That's a lot of primary production."
The good news is, a eutrophic lake is not a dead lake, Souza said. Measures such as bolstering vegetation along waterlines and reducing and pre-treating runoff can "put lakes on a diet" and nurse them back to better health, he said.
Participants held a series of breakout discussions focused on the specific needs and issues facing their respective lakes, as well as next steps. Community workshops will be held in the lake areas under the guidance of Monmouth faculty, staff and students to mentor each community group on sampling techniques, and further discuss restoration plan development and implementation.
Additional Resources
For more information, email UCI Associate Director Tom Herrington, CLONet project manager, at clonet@monmouth.edu. Presentations and materials from the Coastal Lakes Summit are available below.
Professor and Communication Students Study Gentrification and Record Residents' Perspectives on Asbury Park's History
March 13, 2019
Monmouth University Associate Professor Deanna Shoemaker and her communication students are collaborating with community leaders and residents to generate and record oral histories of longtime Asbury Park residents and youth as part of a service learning and community engagement (SLCE) project. The results of this ongoing project will eventually be shared with members of the coastal community in various ways.
With the support of an Urban Coast Institute grant, Shoemaker and her students have partnered with the local nonprofit KYDS (Konscious Youth Development and Service) in Asbury Park. This organization was founded in 2014 by Mychal Mills and Rodney Salomon, both Monmouth alumni, and their mission is to prepare and create future leaders through holistic interventions and mindful youth development.
Graduate students in Shoemaker's fall 2018 "Communication, Culture, and Community" class attended KYDS' community events (gentle yoga, meditation, and open mics), met with various community leaders to learn about the history of Asbury Park, and co-hosted creative expression workshops with KYDS youth members at MU's Lakehouse Music space in Asbury Park. Students also conducted research that helped prepare them to interview members of KYDS on topics such as gentrification, displacement, and positive youth development.
Since Asbury Park's genesis as a beach tourism resort in the late 1800s, its east side has historically been the wealthier of the two areas, with hospitality businesses that were once exclusively geared toward white customers and off-limits to the black patrons who lived in neighborhoods west of the railroad tracks. Tensions caused by these disparities contributed to a 1970 riot that resulted in the destruction of buildings and a near abandonment of the waterfront district. The city is now in the midst of an economic resurgence that has brought about an overall rise in property values but also gentrification issues, as the progress has made the city less affordable for longtime residents.
For her graduate students in communication who study community-based research methods and undergraduate students in performance and communication-based courses who study and present cultural stories from their own and others' lives, Shoemaker hopes that service learning teaching and learning methods offer more applied experiences of the value of civic engagement and social justice. Listening to and helping to document stories from longtime local residents may contribute to deeper understanding and unity within our diverse and dynamic communities.
"Service learning projects can offer students meaningful opportunities to interrogate their own assumptions, build rapport and trust, practice empathic listening, and mutually discover ethical and sustainable ways to partner with fellow community members and organizations to collaboratively address community challenges," Shoemaker said.
The longer term goals of this project are to identify and interpret key themes in residents' narratives, support residents in developing initiatives that help to address various challenges, and encourage greater community trust and honest discourse. The results of this multi-year service learning project will be shared through video, audio podcasting, public performances, and various forms of publication.
UCI Director Named to National Academies Ocean Studies Board
March 4, 2019
The National Academies of Sciences, Engineering, and Medicine has appointed Monmouth University Urban Coast Institute (UCI) Director Tony MacDonald as a member of its Ocean Studies Board (OSB). He will begin his three-year term at the body's April 23-25 meeting in Washington, DC.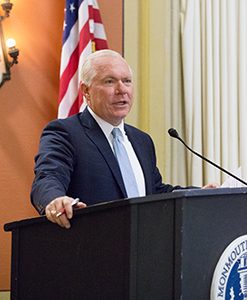 The OSB explores the science, policies and infrastructure needed to understand, manage and conserve coastal and marine environments and resources. In addition to exercising leadership within the ocean community, the OSB undertakes studies at the request of federal agencies, Congress or other sponsors, or upon its own initiative.
Among the many research areas the OSB has recently focused on are the ocean's role in the global climate system, technology and infrastructure needs for exploration, ocean-related aspects of national security, and fisheries science, management and policy.
"The Ocean Studies Board's members include leading ocean scientists from the nation's premier academic and research institutions, as well as distinguished private and public sector marine science and policy leaders," MacDonald said. "This appointment is not only a professional and personal honor, but also a recognition of the continued growth and importance of Monmouth University and the Urban Coast Institute's marine programs."
MacDonald has served as the director of the UCI since its launch in 2005. From 1998-2005, he was the executive director of the Washington, DC-based Coastal States Organization (CSO), which represents the interests of the governors of the nation's 35 coastal states and territories on coastal and ocean policy matters. Prior to joining CSO, MacDonald was the special counsel and director of environmental affairs at the American Association of Port Authorities, where he represented the International Association of Ports and Harbors at the International Maritime Organization on negotiations on the London Convention.
MacDonald has also practiced law with a private firm in Washington, DC, working on environmental and legislative issues, and served as the Washington, DC, environmental legislative representative for the mayor of New York City.