School of Education Student Scholarship Exhibition
Spring 2021 Schedule
Monday, April 19 though Wednesday, April 21: Online viewing and voting on posters from all categories
Thursday, April 22 at 6 p.m. – Live Research Panel Event with Scholarship Ceremony & Awards on Zoom
Watch Event Recording
https://monmouth.zoom.us/rec/share/Z-p0PGreTQo-jB62-1_WP4miGMaU8gKZr_UHZtZryGHne2xb-D0KhZMg-BOvk3JN.K0tvwP0yJe1wNIM7
Access Passcode: mKBW$r.2
Participating Panelists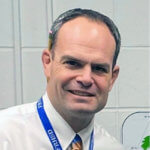 Dr. Adam Angelozzi has served in the capacity of Principal of Manalapan High School beginning in the 2012-2013 school year. As principal, Dr. Angelozzi leads and supports school-wide safety and security measures, operational plans, innovative and challenging curricular and extra-curricular educational programs, and dynamic classroom instruction designed to enhance learning and student achievement.
Dr. Angelozzi has had the unique experience of teaching at two new high schools early in his career as an educator. As a teacher at both New Egypt High School and Barnegat High School, he designed and implemented new curricular programs for physics, chemistry, and physical science. As an educational administrator, Dr. Angelozzi has served in the capacities of K-12 District Science and Technology Supervisor for Barnegat Township Schools, and as Assistant Principal at Freehold Township High School.
Dr. Angelozzi earned a B.S. in Physics (Secondary Education) from The College of New Jersey, an M.A. in Educational Administration from Rider University, and an Ed.D. in Educational Leadership from Rowan University. He and his wife, Dayna, a high school biology teacher, have three girls, Kai, Brynn, and Saige."

Kate Okeson is co-founder and program director of
Make It Better for Youth
, the Monmouth County Consortium for Lesbian, Gay, Bisexual, Transgender, Queer & Questioning Youth, where she organized people and resources to affirm and accept our young LGBTQ+ community through education, outreach, and social opportunities. Over the last several years, MIB4Y has focused intently on educator-to-educator initiatives, including the development of a pilot curriculum for NJ's LGBTQ+ Inclusive Curriculum legislation, and providing training to school districts on inclusive education practices and approaches.
Kate's work in education comes from her 20+ year career as an art educator and artist in NJ who focuses on bringing inquiry driven processes and exploration to the classroom. In her work as a studio arts teacher, she attends to the discipline of creative and critical thought as a means to ask beautiful questions which lead to growth and action.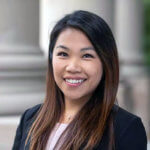 Dr. Chiu-Yin (Cathy) Wong
is Associate Professor of Curriculum and Instruction at Monmouth University where she teaches courses in ESL methods, Bilingual Education, and Applied Linguistics. She is also the MEd/ESL program director.
Prior to earning her Ph.D. in Curriculum and Instruction with an emphasis on Second Language Education, Dr. Wong had taught in Hong Kong, Korea, Hawaii, and Texas. Her research focuses on second language teaching pedagogies and challenges that ESL teachers face as they support their students. In addition, she is interested in translanguaging as well as the perceptions of graduate students and instructors in regard to hybrid and online instruction.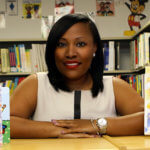 Dr. Saskia Brown's professional commitment reflects her conviction that high-quality education is a right that belongs to all children. She has committed over fifteen years of service in the field of education. She holds an undergraduate degree in Psychology, graduate degrees in Special Education and Educational Leadership, and is currently pursuing a Ph.D. in Higher Education from Seton Hall University. As an educational leader, her vision is to catalyze change in schools by creating authentic learning environments that provide direct support, resources, access, and opportunities to children, their families, and school district staff. Her goal is to develop school environments that cultivate a natural passion and ownership for teaching and learning.
Dr. Brown previously served as a general education and special education teacher, school program coordinator, and school administrator in public and charter school environments. She was a former fiscal and policy specialist at the New Jersey Department of Education (NJDOE) in the Office of Special Education Programs (OSEP) and served as the state's special education consultant. As the special education consultant, she oversaw the Learning Resource Center (LRC) in Morris Plains, New Jersey, providing technical assistance and support to district staff and parents. She also developed state guidance documents and presentations in special education, inclusion, interventions, multi-tiered system of supports, and co-teaching, to name a few.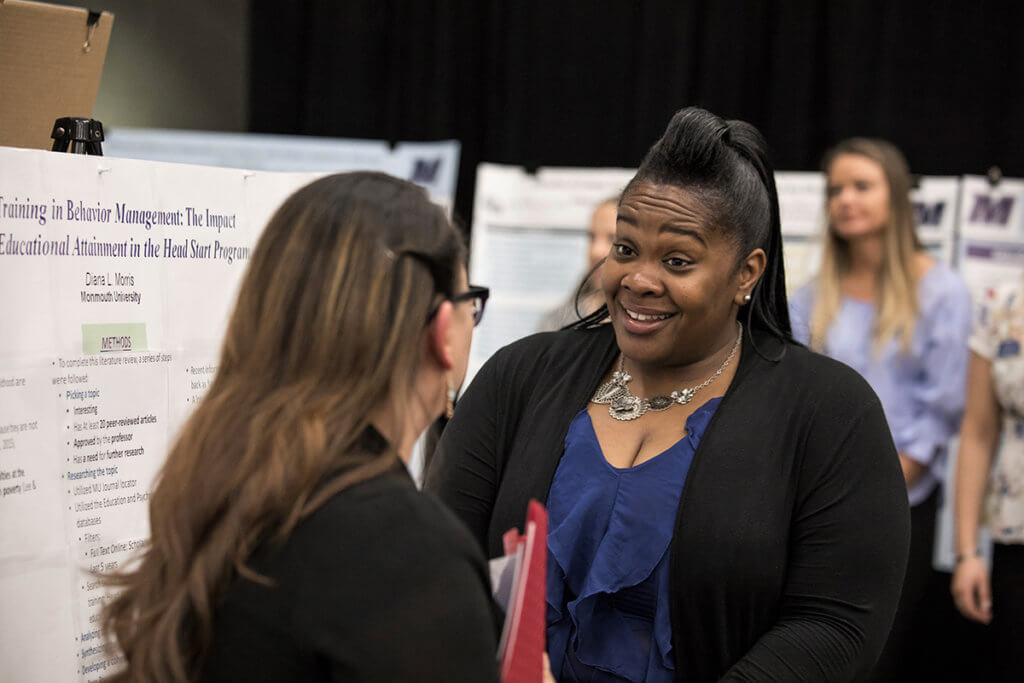 The SOE Scholarship Exhibition is a virtual poster session hosted by the School of Education. The purpose of this event is threefold:
Highlight student scholarly endeavors within our school and celebrate research that is completed or underway.
Create an opportunity for School of Education students at all levels to think about research and how it improves our respective fields.
Recognize and appreciate the work of student peers.
Social Justice Designation
This year we are excited to announce a special Social Justice designation for applicable poster. These posters have received the gold star "SJ" icon.
A social justice designation is scholarship that promotes one of the following areas:
Awareness
Includes general concepts of social justice and multiculturalism. Overall, the project focuses on both recognition and reflections related to social justice and practices which impact the highlighted topic.
Advocacy
Incorporates an informed inclusion of social justice and multiculturalism within the project. Additionally, the project includes action which generates small change.
Activism
Includes an intentional, proactive engagement in social justice with the goal of creating change to systems or policies that impact the highlighted topic.
Virtual Scholarship Exhibition FAQ
The SOE Scholarship Exhibition is a virtual poster session hosted by the School of Education. The purpose of this event is threefold:
Highlight student scholarly endeavors within our school and celebrate research that is completed or underway
Create an opportunity for School of Education students at all levels to think about research and how it improves our respective fields
Recognize and appreciate the work of student peers
This will be a multi-day event beginning on Monday April 19, with the kick-off of the poster presentations on the Monmouth University website.
Between Monday and Wednesday, April 21, at midnight, everyone will be encouraged to view the posters online and vote for the best presentation in each category.
Finally, on Thursday, April 22 starting at 6 p.m., there will be a live closing ceremony on Zoom. During this event there will be a virtual live research panel presentation, and the awards will be given for the exemplary poster presentations.
As the definition of scholarship varies widely from discipline to discipline, we have opened up the poster session to include four areas:
Proposed Research

This includes research that has not entered data collection, however uses the research process for problem identification, research question formation, and a plan for conducting research. This area would fit well for introductory research methods classes or students in the planning phase of honors theses. Posters would walk through this planning phase of research and likely include background, purpose and methods sections, though no specific format is required. This category would fit well for an introductory research methods classes, students' in the planning phase of honors thesis, or students who have completed a literature review.

Completed Research or Research In Progress

This includes scholarly research that is either in the data collection process without final results or research that has been completed. This can include scholarship conducted for honors theses, class projects that utilize the research process, faculty/student research collaborations, and independent research.

Experiential Education and Clinical Practice Reflections

This includes critical reflection of fieldwork experiences through internship opportunities and clinical practice placements. Posters will include reflection on the site, clients/students, assignments/role, as well as what the presenter learned through the experience and a reflection on how they impacted their site. This could work well for social work placements, clinical experiences in education, counseling, and speech language pathology, health studies professional seminar internships, and nursing clinical placements.

Creative Practice

This category is designed to highlight other scholarship that is taking place in the classroom that involves thoughtful inquiry or analysis according to the standards of your field. This category may include development of a lesson plan based on current pedagogy, an in-depth analysis of a policy or problem in the field, or a service learning experience that transformed understanding of the field. This category might also include timely and creative practices that were developed in the face of a virtual/hybrid Covid-19 educational environment. These are just examples, and this category is designed to demonstrate that scholarship in each field is often more broad than a traditional social science research paradigm.
The "must haves" on your poster depend on the type of presentation you are giving. Below are the recommended elements for each type of poster.
Proposed Research

Background
Purpose
Methods

Completed Research or Research In Progress

Background
Purpose
Methods
Results or Preliminary Findings
Discussion and/or Conclusions

Experiential Education and Clinical Practice Reflections

Site
Job title
Assignment or role
Clients/students
"What did you learn?"
"How did you impact the site?"

*inclusion of pictures of the site, your work products, etc., are encouraged*

Other Scholarly Work

Requirements as defined by the project
Each poster presentation needs to include:
ONE PowerPoint slide with a brief voiceover. The voiceover needs to be embedded in the slide (see below topic of "resources" for a free e-resource to help accomplish this).
Voiceover can be no longer than 3 minutes (or you will not be able to be included in the event).
Students are limited to two posters at the event.
Yes, you can use the Monmouth University School of Education (SOE) logo. Use this link to
Monmouth University's Visual Identity Guidelines
for information and usage.
Download the School of Education logo from the Brand Resources site.
Please Note: Students and academic units are not to use the Presidential Seal, as it is for official documents coming from the President's Office/Board of Trustees so please be mindful of this and choose one of the logos from the School of Education.

Yes, students can work in a group. The first researcher will submit ONE single presentation with all researchers' names.

Online voting will be open to the public the week of the event. Each individual could only vote once and should have fairly viewed multiple presentations.
Posters must be submitted Monday, April 5 @ 11 p.m.
Online viewing and voting on posters in all categories from Monday, April 19 through Wednesday, April 21 at midnight.
Live Student Scholarship Closing Ceremony and Awards will be held on Thursday, April 22 and streamed online starting at 6 p.m. A link will be provided.