In the Provisional Teacher Programs (PTP) we aim to pursue total peace of mind for our candidates through education, comprehensive real-time instruction, and a better online experience. This mission statement is not just words on a website; it's what we believe in our hearts and what we live by every day.
Today, 250 provisional teacher candidates later, we still put personalized service first. And it shows. Two-thirds of our business comes to us by person-to-person recommendation or from previous teachers. We focus on the real aspects of online learning.
Real Teachers in Real Time with Real Relationships for a Real Education
400-Hour Provisional Teaching Training Program
As of July 1, 2017, a candidate may obtain a Certificate of Eligibility before registering for the 400-Hour Provisional Teaching Training Program (PTP) or the Masters in Education (PTP). The 50-hour coursework must be completed before entering the 350-hours of coursework and does not require a CE. Please note that candidates must complete the 50-hour pre-service program before seeking employment.
Registration for this course is available on this site. After obtaining a CE and employment as a teacher of record, you may apply to any of our select programs for the PTP. For K-12 Candidates and Pre-3 candidates, please see our General Information section.
350 Hour Alternate Route Formal Instruction Program Schedule
A candidate applies for the Alternate Route teacher preparation program directly with a provider, of which Monmouth University is one.
The 400-Hour two-year non-credit program includes the 50-Hour preservice course along with 350-Hours completed after being hired as a teacher of record. The Provisional Teacher Program non-credit 350-Hour courses from September through April, with a unique summer session, depending upon the teacher's date of hire in a school district. Registrants are accepted through an application process and enrolled in one phase of study per semester. The course schedules and fees are on our website. The courses are delivered online through a combination of Zoom and asynchronous class work assignments.
Courses for PTP Candidates are currently all online for teacher candidates who are working towards a teacher license, hold a CE, and are hired as a teacher of record either full or part-time in a school. The online courses are in the evenings and are aligned with the following four phases:
Phase I
Phase II
Phase III
Phase IV edTPA (Pearson registration required)
The 2021-2022 Course Schedules are now available. Please contact the office directly to apply for an Independent Study.
Fees for the 400 Hour PTP Classes: K-12 Teacher Candidates
Tuition and fee costs for the PTP non-credit 350-Hour program are at present ~ $1,250.00 a phase due at the start of class. Phase IV requires and extra $300.00 registration fee paid directly to Pearson for edTPA.
The Graduate classes are set up with tuition prices you can view at www.monmouth.edu/tuition/graduate/. Please contact the office directly to apply for an Independent Study which costs $1,500.00 this year.
Learn More About PTP
What is the Provisional Teacher Program At Monmouth University? This short video explores what the Provisional Teacher Program is at Monmouth University and the steps to enroll. It includes interviews of current and former students who have successfully completed it, as well as its benefits.
The Masters in Education PTP Option This video goes in depth when describing the MEd Provisional Teacher Program (PTP) as well as the Ed.D. Doctoral program also offered as part of the Provisional Teacher Program at Monmouth University.
Teacher Spotlight From Program Graduate Dr. Jacob George A Teacher's Journey and Reflection: From Provisional Teacher to Doctorate with Dr. Jacob George.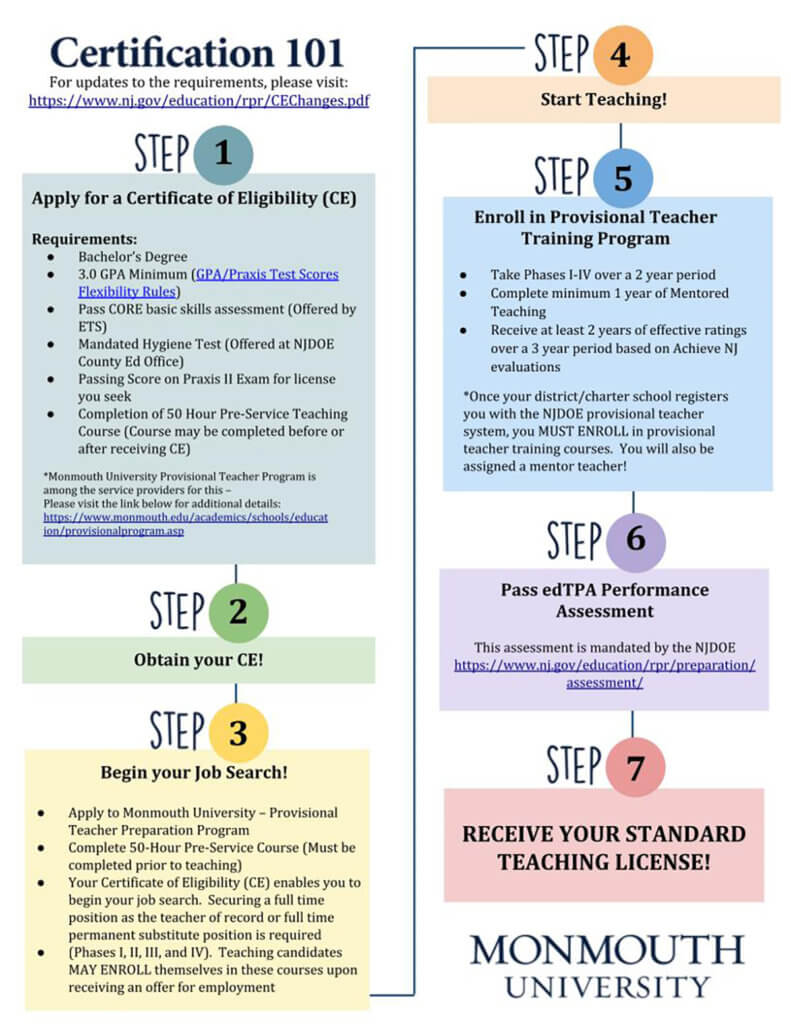 Certification Road Map
Contact Us
The Provisional Teacher Programs Office is open on a part-time basis. Please expect a response in up to 24 hours and email is the best method of communication.
Contact Information
Office 109 McAllan Hall
Office Phone Number: 732-263-5238
Director, James Falco jfalco@monmouth.edu
For General Inquiries Including the 50-Hour Pre-Service to Teacher Course
Email: Manager, Frank Riley at friley@monmouth.edu
For Pre-3 Inquires and Program Pathways
Email: Kerry Rizzuto at krizzuto@monmouth.edu
For Masters in Education PTP Information on our Graduate Programs Including the ESL and TOSD Endorsements
Email: Amy Vu at avu@monmouth.edu
Email: Sarah Moore at smoore@monmouth.edu