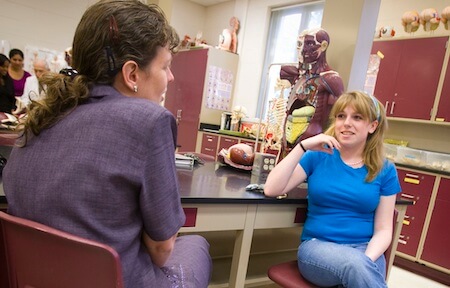 The affiliation agreement with Rowan-Virtua School of Osteopathic Medicine provides acceptance of highly qualified Monmouth University sophomores majoring in a pre-medical discipline (such as biology or chemistry) by Rowan-Virtua SOM to pursue a Doctor of Osteopathic Medicine (D.O.) degree.
Description
Located on a modern campus minutes from the center of Philadelphia and just one hour from famous Jersey Shore, Rowan-Virtua SOM offers an accredited four-year program leading to a Doctor of Osteopathic Medicine (D.O.) degree. It is consistently a leader among the osteopathic medical schools in academics, research, funding, and student diversity. The school's osteopathic graduate medical education program is one of the largest and most comprehensive in the country.
For more information about the school and the program, please visit https://som.rowan.edu/.
Mission Statement
Rowan-Virtua School of Osteopathic Medicine is dedicated to providing excellence in medical education, research, and health care for New Jersey and the nation. An emphasis on primary health care and community health services reflects the school's osteopathic philosophy, with specialty care and centers of excellence demonstrating its commitment to innovation and quality in all endeavors. The school seeks to develop clinically competent physicians from diverse backgrounds who are prepared to become leaders in their communities.
How it works:
Candidates for this program will be Monmouth students who are pursuing pre-medical course work and have completed their sophomore year (at least 60 credits) with a grade point average of 3.5 or better.
Students complete a four-year undergraduate degree at Monmouth University in a pre-medical discipline under the direction of Monmouth University's Pre-Health Advising.
Upon graduation from Monmouth University, students continue their studies at Rowan-Virtua SOM, where they will pursue four years of study leading to a D.O. degree.
Requirements
The Rowan-Virtua SOM program should be considered only by those who are serious about a career in medicine. Candidates undergo a rigorous selection process after their sophomore year. This program is open only to candidates who are United States citizens or permanent residents.
To be considered for the program, applicants must submit scores of all components of the SAT or ACT, and Monmouth University grade point average of at least 3.5. While a student's academic profile is important, it is not the only factor on the selection process. Extracurricular and community service activities, leadership roles, and exposure to the medical profession are considered. The selection process will include interviews by Monmouth University Pre-Health Advising (PHA), followed by interviews at Rowan-Virtua SOM if recommended by the PHA.
Application Deadline
Students interested in applying for the Rowan-Virtua SOM program must complete an application form available from the PHA. Applications must be received in the PHA office by April 1.
Expectations
It is expected that the students selected in the Rowan-Virtua SOM program will fulfill their commitment to the complete their bachelor's degree at Monmouth University and D.O. degree at Rowan-Virtua SOM if requirements listed below are satisfied while at Monmouth University.
Grade Point Average:
Maintain a cumulative GPA of 3.50 or better throughout the undergraduate study at Monmouth University. In addition, students must complete all pre-requisite courses required for admission to Rowan-Virtua SOM as specified in the Rowan-Virtua SOM catalog, and achieve a minimum grade of B in each pre-requisite course of the sciences.
MCAT (Medical College Admissions Test) Requirements:
Take and attain the required scores on the MCAT so that they are submitted to Rowan-Virtua SOM by September 15 of the student's fourth year at Monmouth University.
Receive a score of nine (9) or better on each section of the MCAT, with a minimum total score of 27.
Other Requirements:
Successful interview and a positive recommendation letter from the Director of PHA of Monmouth University. Applicants must apply to Rowan-Virtua SOM through AACOMAS application service prior to October 1, and after completion of the applicant's junior year at Monmouth University.
For more information, contact Pre-Health Advising and request an application form for the Rowan-Virtua SOM program. The office, located in Howard Hall, Room 312, may be reached at 732-571-3687 or via e-mail: bdickers@monmouth.edu or pphac@monmouth.edu.