How many students get into medical school from Monmouth?
This question is most frequently asked by students. It is one of the hardest questions to answer because there are many variables one must consider.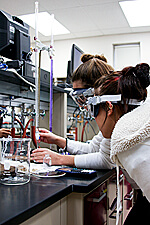 Nearly all Monmouth University students with the following requirements have been accepted into medical school: a strong academic record (GPA of 3.5 or greater); strong MCAT scores (30 or greater); a strong letter of recommendation from Pre-Health Advising; demonstration of health care experience; extra curricular activities (volunteering, research, university activities, sports, etc.); and a successful medical school interview.
Monmouth has an excellent record of preparing competitive students who can excel in the best medical schools (Johns Hopkins University of Medicine, Columbia University College of Physicians and Surgeons, Drexel University College of Medicine, Jefferson Medical College of Thomas Jefferson University, University of Medicine and Dentistry of New Jersey-New Jersey Medical School, and Robert Wood Johnson Medical School). Monmouth students pursue the M.D., D.O., and combined M.D.-Ph.D. degrees.
What kinds of support are available to me?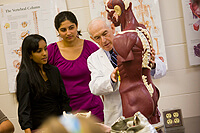 After you are accepted to Monmouth, you will work closely with a dedicated, experienced Pre-Health Advisor. The advisor will help you select your courses and explain what you need to accomplish in order for you to be able to submit a competitive set of credentials to the medical school.
You will work with your Pre-Health Advisor until you graduate from Monmouth University.