Graduate Cost and Financial Support
A Monmouth University education is an investment in yourself that will reward you for the rest of your life. We are proud to be able to help many students access the resources needed to make it happen.
International students will automatically be considered for graduate scholarships during the admission process.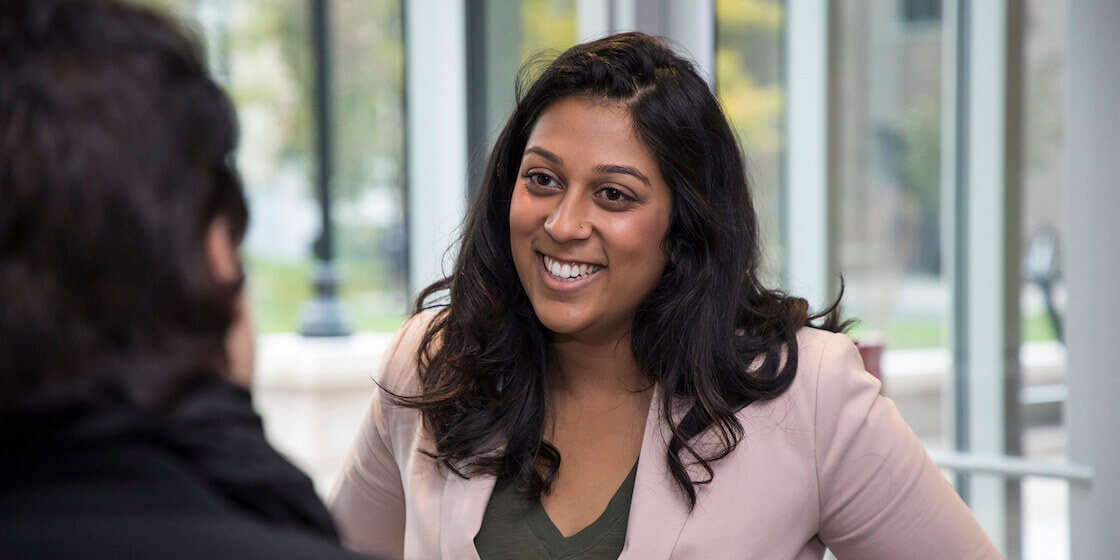 2021-2022 Tuition & Fees (9 months)
| | |
| --- | --- |
| Application Fee | $50 |
| Tuition | $23,364 |
| Comprehensive Fee | $712 |
| Miscellaneous Fees | $130 |
| SUBTOTAL | $24,256 |
Scholarships for International Students
Monmouth University is committed to making graduate education a realistic option for international students through our innovative graduate scholarship program. Although federal funding is only available to U.S. citizens or permanent residents, international students may be eligible for one of our academic excellence scholarships.
International applicants to Monmouth University are automatically considered during the admission process. International transfer students also may be eligible for the same scholarships as domestic transfer students. These scholarships are meant to reward your dedication and commitment to your education, and the amount of the award is based on your cumulative grade point average (GPA) in your previous degree and the number of credits taken each semester.
Available to graduate students in most graduate programs who have earned a 3.0 or better cumulative grade point average (GPA) upon completion of their undergraduate degree.
Amounts vary by the number of graduate credits taken each semester.
Students are automatically considered for graduate scholarships upon acceptance to the university.
We invite you to contact us or visit our online scholarship estimator to learn more about your scholarship potential.
Estimated Living Expenses
(9 months)
2020-2021
Room / Board (Estimated)
$12,014
Books and Supplies (Estimated)
$1,120
Transportation (Estimated)
$2,500
Personal Expenses (Estimated)
$5,132
Health Insurance
$1,438*
SUBTOTAL

$22,204

ESTIMATED GRAND TOTAL
$46,460
Minus Grant / Scholarship
– _______
Amount to be covered through financial documentation
________
* This expense can be waived if the student shows proof that (s)he is enrolled in a health insurance plan that is comparable to that required by Monmouth University.
"I encourage students to take advantage of the assistantship program at Monmouth to gain experience with research and create options for a Ph.D. degree."
Parth Nilesh Kadakia, India
M.S. in Software Engineering