School Counseling Program
The 60-credit graduate program in School Counseling is accredited by the Council for Accreditation of Counseling and Related Educational Program (CACREP) and prepares students to work as student advocates across P-12 environments. Upon completion, students will be certified school counselors, as well as have all of the educational credit requirements to become a licensed professional counselor (LPC) and work in various counseling settings.
Students develop a strong identity as caring, competent professional school counselors by focusing on increased self-awareness, personal and professional development, and continuous learning. Learning experiences involve theoretical and practical coursework, experiential transformative learning opportunities, and supervised counseling practice. Field experiences integrate clinical practice into the context of the school community so that students are proficient in delivering comprehensive programs to all P-12 students, and serve as advocates prepared to meet the challenges of a diverse, ever-changing society.
Program Delivery
Courses are offered in a fully hybrid format where students meet in-person for an hour and twenty minutes per week and for the other hour and twenty minutes work at their leisure online to complete coursework. This format provides students with an immersive hands on experience while reducing their time on campus when classes are scheduled on the same day back-to-back. We offer this flexibility because we realize that many of our students are working and have other life obligations while going to school. Monmouth's Educational Counseling programs are also known for their small class sizes and the personalized attention students receive from expert faculty.
Program Distinctiveness
Monmouth University's Education Counseling program fosters a strong commitment to increasing awareness of the diversity of student populations and to social justice. Diversity and social justice concepts are specifically addressed across the educational counseling curriculum and more intentionally within the course titled EDC-535: Diversity and Social Justice. Dedicated to addressing the convergence of identity, gender, socioeconomic class, privilege, and culture, the Educational Counseling programs in school counseling and student affairs/college counseling sponsor a pre-college mentoring program entitled Monmouth Future Scholars. This program seeks to increase the number of college-bound, first-generation students in Long Branch City Schools.
Several graduate student organizations exist to connect students socially and professionally to others across the program and provide opportunities for professional development.
Additional Endorsements
The program meets national criteria and students will be able to earn national certification (NCC)
The program meets pre-requisites for the Licensed Professional Counselor designation.
Students may also earn Student Assistance Coordinator certification.
Additional Endorsements, which include the Director of School Counseling, are also available.
Students may also work towards certification as a National Certified School Counselor.
Field Placements
Through an integrative 700-hour supervised practice experience distributed across several semesters consisting of three individual placements connecting to an academic course, students will serve in capacities across various levels of primary and secondary education as a school counselor-in-training and student-advocate. Our dedicated Field Placement Coordinator works with each individual student to secure an ideal and convenient internship location, supporting students throughout the entire process which some schools do not offer.
These courses are EDC 600: Practicum in Counseling, EDC 601A: Internship in Counseling I and EDC 602A: Internship in Counseling II, and require 100 and 300 hours respectively. Students are expected to complete experiences at the elementary, middle, and high school levels. Upon graduation, students have a diversity of experiences across P-12 which allows for greater employability. We encourage students to complete one placement in a low socioeconomic district.
Admissions
Applications are accepted on a rolling basis through the summer, fall, and spring semesters.
100%
of our Spring 2019 and Summer 2019 school counseling graduates are currently employed as professional school counselors.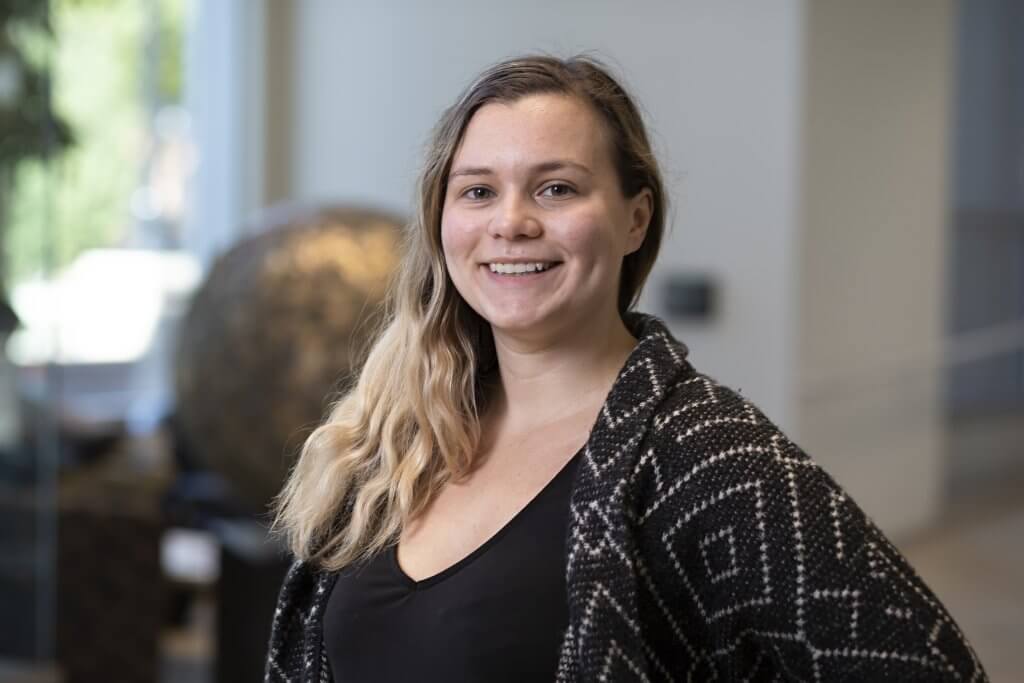 Monmouth's Educational Counseling program provides opportunities to delve into real-world topics like social justice and diversity while building skills and networks that will advance my career. The flexible courses and accessible faculty have made my transition into graduate studies very smooth, and I've loved every minute of my time in this program.
Lindsey Obrien
Educational Counseling Graduate Student – School Counseling