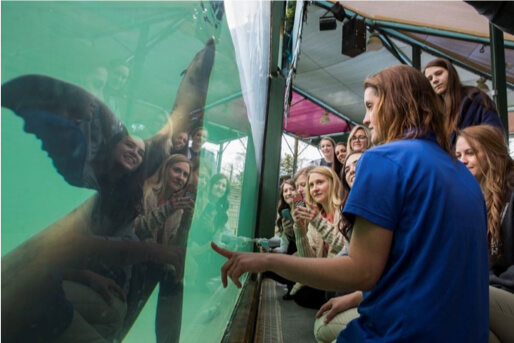 The affiliation between Monmouth University and Six Flags Great Adventure & Safari in nearby Jackson, New Jersey provides students with a mixture of classroom, on-site, professional development, and scholarship-based learning experiences in human-animal interactions, applied animal behavior and animal welfare. Originally starting as a field trip and as a single psychology course in 2011, the affiliation has grown into a year-round program that offers Monmouth University students a unique and unparalleled animal-related experiential education that is often unique to undergraduate institutions.
The program is coordinated by Dr. Lindsay Mehrkam, who is an assistant professor of psychology, applied animal behaviorist, and a doctoral-level Board Certified Behavior Analyst.
Field Experience in Animal Behavior (PY411)
Students learn firsthand the about the field of animal behavior as well as animal training and enrichment. Coursework includes topics of behavior analysis, learning and conditioning, cognition, behavioral biology, and welfare. These principles are demonstrated using a selection of the 1,300 animals that Six Flags Safari houses, including giraffes, sea lions, elephants, rhinoceros, and many other species. Under Six Flags supervision, students personally work with these animals as part of their course work. Students gain public speaking skills as they participate in educational outreach presentations both at Six Flags and on Monmouth University's campus. Students also have the opportunity to conduct professional interviews with animal professionals in their area of interest. Students also work closely with faculty and peers to develop an enrichment plan for an animal species at Six Flags; as part of their coursework, students design, implement, and evaluate animal behavior and welfare through field observation techniques and technology to assess how the animals respond to novel enrichment. During on-campus meetings, students can apply what they have learned to be able to assist in the Applied Animal Behavior Research Clinic, which provides clinical behavior services to dogs and cats in the Monmouth community using state-of-the art technology.
Research and Scholarship in Human-Animal Interactions
In addition to the Field Experience in Animal Behavior Course, students can assist and conduct supervised research protocols on applied animal behavior, human-animal interactions, and animal welfare at Six Flags through the Thesis in Human-Animal Interactions (PY490) course or as an independent study with Dr. Mehrkam in the Human-Animal Wellness Collaboratory. Recent projects have consisted of activity levels in baboons, cognitive enrichment for sea lions, and functional assessment of elephant social behaviors.
Six Flags Summer Professional Internship Experience
As part of the affiliation, Six Flags Great Adventure & Safari offers interdisciplinary paid professional internships each summer exclusively to Monmouth University students. Professional internships are available in entertainment, safari (animal care and education), loss prevention, security, finance, market research, marketing, and guest relations. Students may work full-time or part-time positions at Six Flags while completing Ex-Ed coursework through the University and receiving supervision by MU faculty in their chosen internship area. Learn more about available positions, benefits, timeline, and course credit options by visiting the Six Flags Professional Internship Experience page on the MU Portal.