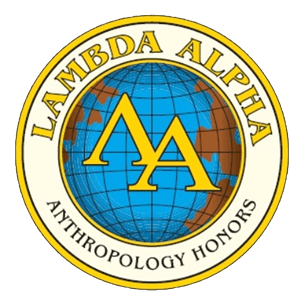 The Mission Statement
Established in 1968, the purpose of Lambda Alpha National Anthropology Honor Society is to both acknowledge and reward academic excellence. The name Lambda Alpha is composed of the initial letters of the Greek words Logos Anthropos, meaning the study of humankind. Lambda Alpha supports scholarship and research by acknowledging and honoring superior achievement in the discipline among students engaged in the study of anthropology. Superior academic performance is recognized through membership in the society.
Lambda Alpha at Monmouth University
To become a member in Lambda Alpha, an anthropology major can join their chapter through their anthropology department.
Membership requirements consist 3.4 GPA in anthropology and no less than a 3.0 cumulative GPA for all coursework. A 3.7 GPA is required for anthropology graduate students. Undergraduate students pursuing a major in anthropology must have completed a minimum of 12 hours of coursework in anthropology to apply for membership.
If interested in membership or if you have further questions, please contact your chapter's faculty advisor.
Alpha of NJ Chapter Faculty Advisor
Professor Brooke Nappi, M.A.
Department of History and Anthropology
Howard Hall 341
732-571-3610
bnappi@monmouth.edu