This Year's Theme: Resilience
Keynote Speaker: Farah Jasmine Griffin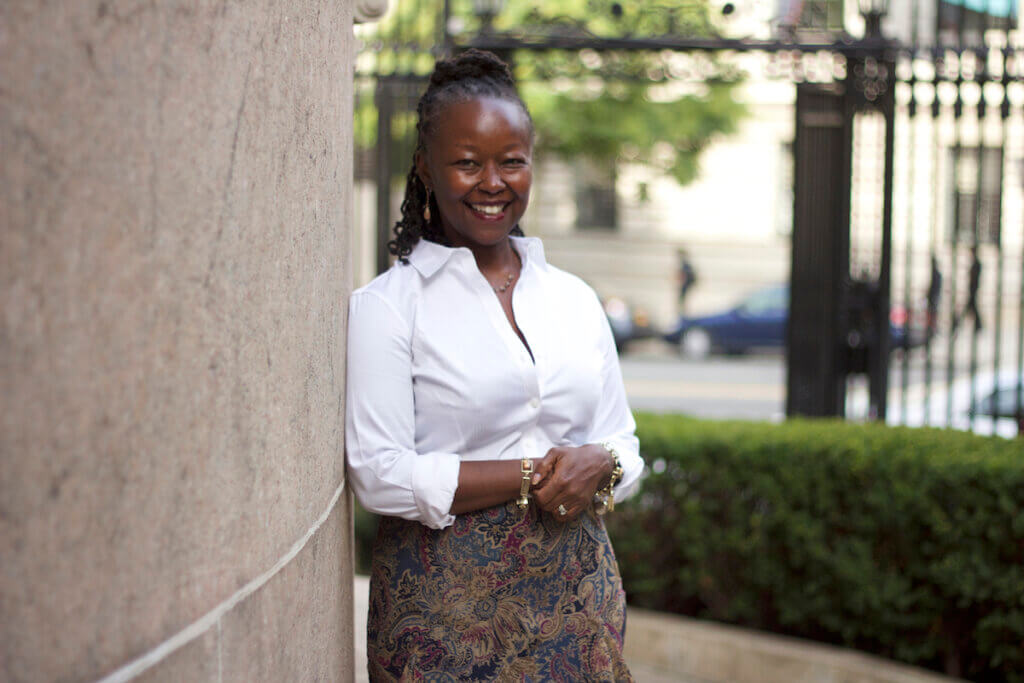 Farah Jasmine Griffin is the inaugural Chair of the African American and African Diaspora Studies Department at Columbia University, where she also serves as the William B. Ransford Professor of English and Comparative Literature. Professor Griffin received her B.A. from Harvard and her Ph.D. in American Studies from Yale. She is the author or editor of eight books including Who Set You Flowin?: The African American Migration Narrative (Oxford, 1995), If You Can't Be Free, Be a Mystery: In Search of Billie Holiday (Free Press, 2001), and Harlem Nocturne: Women Artists and Progressive Politics During World War II (Basic Books, 2013). Griffin collaborated with composer, pianist, Geri Allen and director, actor S. Epatha Merkerson on two theatrical projects, for which she wrote the book: The first, "Geri Allen and Friends Celebrate the Great Jazz Women of the Apollo," with Lizz Wright, Dianne Reeves, Teri Lyne Carrington and others, premiered on the main stage of the Apollo Theater in May of 2013. The second, "A Conversation with Mary Lou" featuring vocalist Carmen Lundy, premiered at Harlem Stage in March 2014 and was performed at The John F. Kennedy Center in May of 2016. Her most recent book, Read Until You Understand: The Profound Wisdom of Black Life and Literature was published by W.W. Norton in September 2021. Griffin is a 2021 Guggenheim Fellow and Mellon Foundation Fellow in Residence.

Digital Poster Competition
Sponsored by the Guggenheim Memorial Library
There is no time for despair, no place for self-pity, no need for silence, no room for fear. We speak, we write, we do language. That is how civilizations heal.

Toni Morrison
Eligibility: Contest open to all full-time, undergraduate students at Monmouth University. All entries should be submitted on an individual basis.
Entry Limit: One poster per student.
Deadline: Contest opens November 15, 2022. Entries must be submitted by Friday, January 27, 2023.
Requirements: Design a poster representing the theme "Resilience" in celebration of Nobel laureate Toni Morrison's birthday. The posters may engage with any aspect of Toni Morrison's work and legacy, including issues related to social justice, race, gender, civil rights, community, identity etc. Only original work is allowed. If you have a photograph (or images) as part of your poster, please confirm that either you took the photo or you have obtained legal rights to use the photo/images.
Poster Designs Should Contain: The name of the event (Toni Morrison Day) and the date: February 17, 2023.*A small credit line with the student's name.
Poster Size: The poster can be horizontal or vertical, measuring 48" x 36′′ (ratio of 4:3).
Media: Any mixed media suitable for reproduction as a poster is allowed, including computer-generated graphics. All posters must be original art. No trademarked or copyrighted images or phrases should be used.
Submission Format: Digital designs should be submitted as a 300 dpi JPG or PDF. A traditional painting or drawing, it should be scanned and sent as a 300 dpi JPG or PDF totonimorrisonday@monmouth.edu
Winners: Three winners for 1st, 2nd, and 3rd place for prizes of $100, $75 and $50 respectively will be chosen by a panel of judges (representatives from the English department's committee, the Library, and Art Department) and announced by February 10, 2023.
Display and Rights: The winning poster will be displayed at the University Library AND reproduced on the official Toni Morrison Day webpage. The Department/University will use the poster in whole for display or promotion only. All posters will, however, remain the property of the creator. Entry in the contest constitutes full permission to publish names and photos of winners and contestants without further compensation. The determination of eligibility of entries and any interpretation of these rules is at the sole discretion of the TMD committee and shall be final and binding upon all entrants

Creative Writing Contest
Sponsored by The Monmouth Review
The presence of evil was something to be first recognized, then dealt with, survived, outwitted, triumphed over.

Toni Morrison
Eligibility: Contest open to all students at Monmouth University.
Deadline: January 15, 2023
Only original, previously unpublished poetry and prose may
be submitted.
Submissions will be judged by members of the Monmouth Review editorial board; Monmouth Review club members who are not on the evaluation committee are welcome to submit.
Three winners will be announced on Toni Morrison Day, February 17, 2023
The winners will receive gift card prizes and their work will be published in the 2023 issue of The Monmouth Review.
Submission Guidelines: The submissions may engage with any aspect of Toni Morrison's work and legacy, including issues related to social justice, race, gender, civil rights, Black history, roots, community, identity, spirituality. The focus of Toni Morrison Day 2023 is on Resilience, so submissions on this theme are strongly encouraged.
Submit: Up to two poems (maximum 4 pages total) or one prose piece (maximum 6 pages). No cover letter necessary. Type your name only at the bottom of the file. Submit all work in one file, as Word document (.docx). Submit in the Toni Morrison Creative Writing Contest 2023 folder in the Monmouth Review on e-campus. (Note: It might be unpinned).