(Related: See the CSSE blog for additional recent graduates' stories.)
(Related: See the List of recent employers of CSSE graduates.)
Kristopher Horton, BSSE 2017, MSSE 2018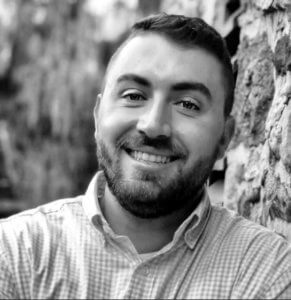 Employer: Almac Group, Souderton, PA
Job: Design Manager
Quote: "When I was first getting interviewed for the position of Design Manager/Business Analyst for Almac, I knew that I would be getting hired to help design software for large pharmaceutical companies. However, I never knew that what I would be doing could help change the world. In my position, I work specifically with Merck, one of the largest pharmaceutical companies in the world, to review medical protocols that are being approved by the FDA (Food and Drug Administration), MHRA (Medicines and Healthcare Regulatory Agency), and other governing bodies throughout the world, and design a software system based on Almac's platform, to be used throughout the duration of that specific clinical trial. Each system that is designed is specific for each study, and must match both the protocol and the study team's requests. A recent study that I was involved in designing was for Merck's new oral medication, Molnupiravir, which news reports have called a 'change in the fight against COVID.' Every study that I design is of utmost importance, but this one was especially important to me due to the extremity of the global pandemic we are in, and trying to be a part of a treatment or cure through software, knowing it will be used throughout the world, is something I am grateful for, and this could not be done without everyone at Almac. COVID-19 was a contributing factor to my grandfather's passing last May of 2020, so it has had a personal impact on myself, along with so many others. Being able to contribute through software in this fight against the virus makes me proud to be a Design Manager at such a wonderful company. But even though COVID-19 has become the priority, the fight against other rare diseases throughout the world has not stopped, so we continue to help design systems for studies all over the world that are helping research cures and treatments.
As a Design Manager, I am not only responsible for designing the system, but overseeing the entire project as it moves through the entire Software Development Life Cycle, including development, testing, UAT (both internal and external), and live deployment. This is where Monmouth University's Software Engineering program made a huge impact in the success of my career so far. As a Software Engineering major, I received the highest quality instruction in all aspects of the SDLC. For my position specifically, the most important courses that have helped me are Project Management, Requirements and Writing Use Cases, Software Design, and the business courses I took (as I deal with clientele every day). I truly believe the curriculum at Monmouth is second to none, and I encourage every prospective Computer Science or Software Engineering student to strongly consider Monmouth University."
Taylor Campos, 2017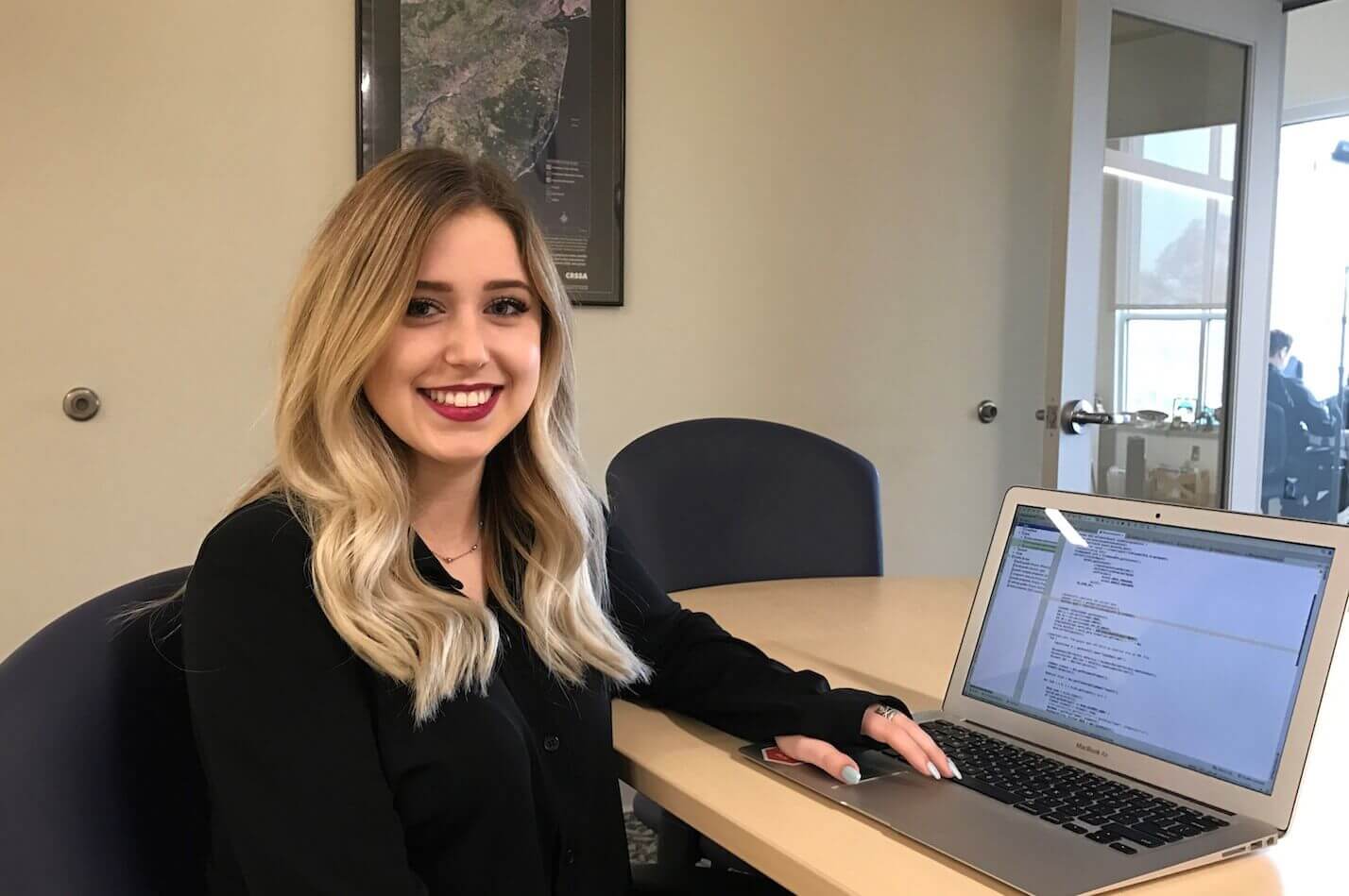 Taylor Campos (BSCS 2017) was featured in a 2017 School of Science Graduate Spotlight. She recounts what factors attracted her to Monmouth University, why MU was a good fit for her and how MU prepared her to be successful. She also discusses her experiences as a IEEE/ACM chapter officer and School of Science Peer Mentor.
Giuseppe Licata, 2017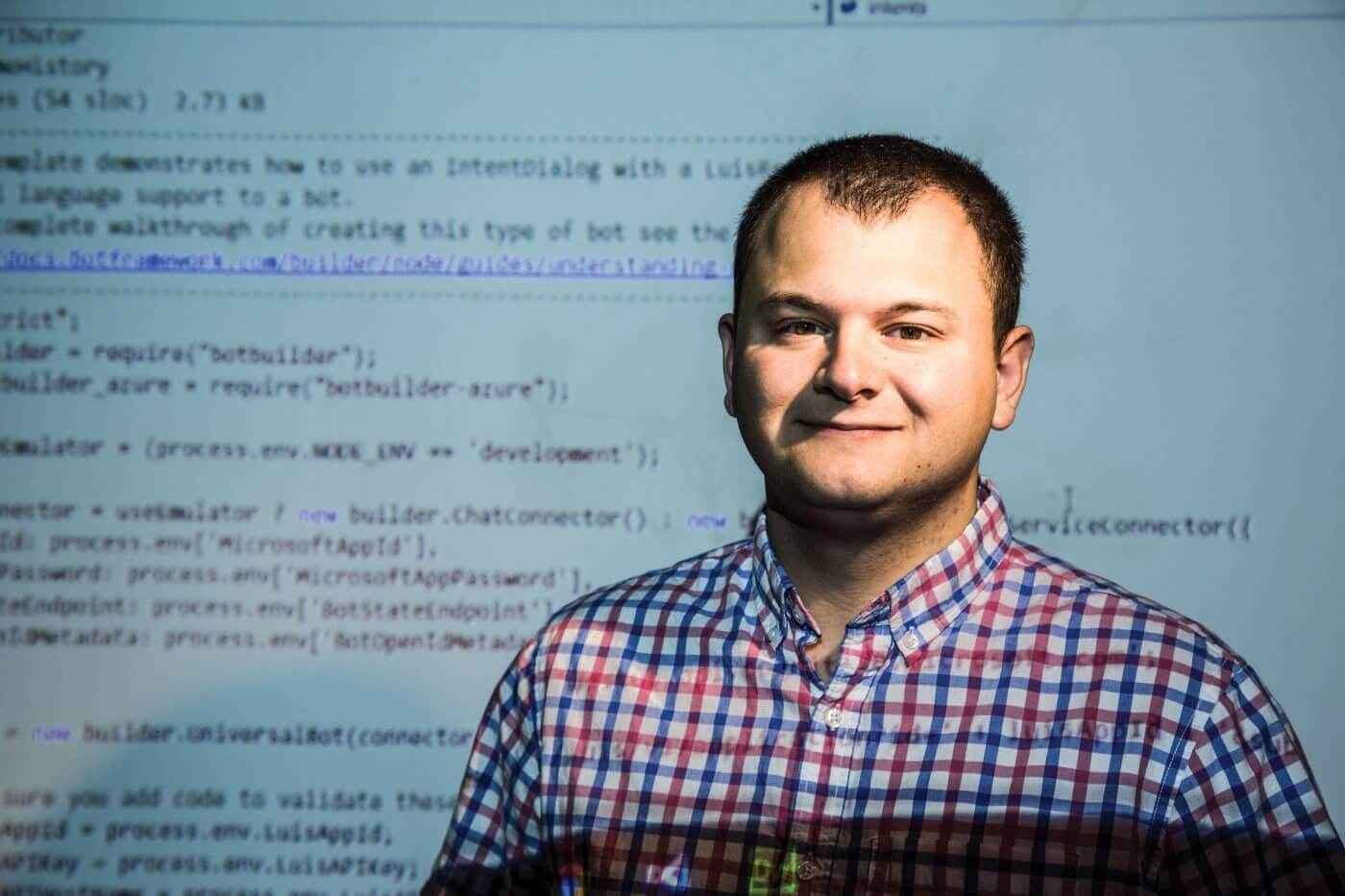 Giuseppe Licata (BSCS 2017) was featured in the Summer 2017 issue of Monmouth Magazine, in an article titled, "Bot Man: Giuseppe Licata is coding his way to the top, one chatbot at a time." He discusses the rising importance of chatbots in online services. The article mentions his contributions as part of the winning team in the February 2017 RightAnswers Chatbot Challenge at MU.
Jessica Anastasio, 2016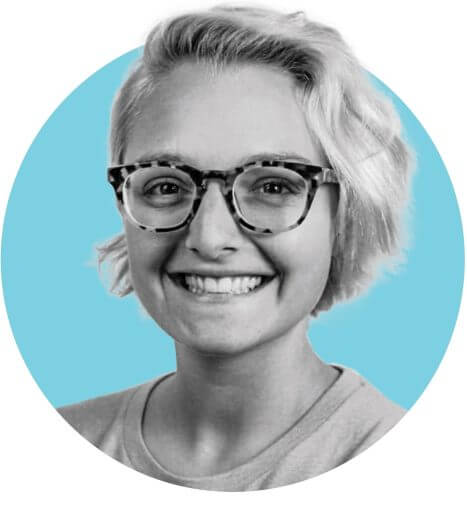 Jessica Anastasio (BSCS 2016) was featured in the Fall 2017 issue of Monmouth Magazine, in an article titled, "5 Steps To Landing Your Dream Tech Job: Buzzfeed's Jessica Anastasio shares her recipe for success." In the article, she recounts the challenges she faced and overcame as a female CS major. She also offers practical advise to help students break into and advance in careers in technology.
Read more about Jessica Anastasio.
Saoud Khalifah, 2014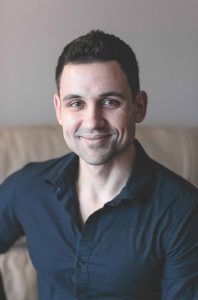 Saoud Khalifah (BSSE 2013, MSSE 2014) was featured in the Spring 2018 issue of Monmouth Magazine, in an article titled, "Consumer Protector: Tired of getting duped by fake product reviews online? Saoud Khalifah's website can help you shop smarter." In the article, he recalls how his personal on-line shopping experiences as a student led to his idea to develop Fakespot.com, "a website that automatically scans reviews to give consumers better insight about the products they want to purchase." He gives an overview of how Fakespot works, including the use of natural language processing to better comprehend and evaluate online product reviews.
Also read Saoud's full School of Science Alumnus profile.
Jessica Buck, 2014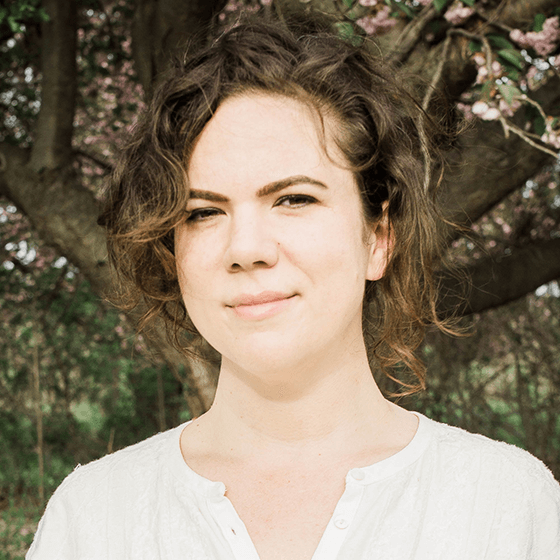 Jessica Buck (BSCS 2014) was the featured alumna in the Fall 2017/Winter 2018 School of Science newsletter. She is a current business analyst for MedForce. She also worked previously as a software developer and computer programmer/analyst for other healthcare companies. She recalls her journey from earning an Associates of Arts degree in English at Brookdale to a Bachelors in CS at Monmouth, all while balancing school and motherhood. She also recalls the supportive atmosphere and hands-on learning opportunities she experienced at Monmouth.
Chris Del Fattore, 2013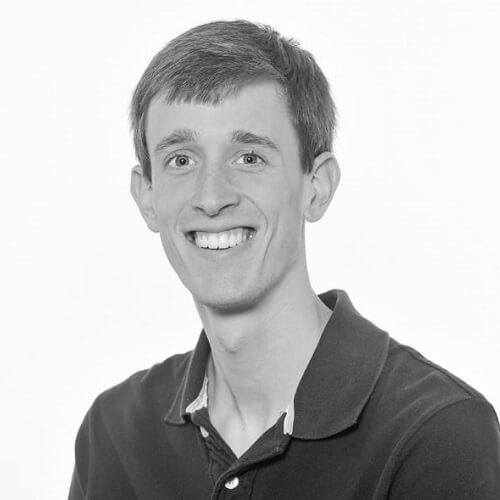 Christopher Del Fattore (BSCS, 2013) has a featured profile in Faces of Monmouth. As part of his Spring 2013 senior project, Chris and his team developed "The Mark," a Java application allowing users to comment on PDF documents. The project earned his team the Dean's Award of Excellence for Undergraduate Research at MU's Student Research Conference. After earning his bachelor's degree in computer science, he landed a job at ForeFront, Inc., a Fair Haven, NJ tech firm that specializes in cloud computing-services hosted over the Internet. He credits Monmouth for this opportunity. Also, in Fall 2013, he started in the computer science graduate program in pursuit of his master's degree.
Vishruti Desai, 2012
Software Engineering Dept. graduate (2012) Vishruti Desai wrote a graduation essay that appeared in the Asbury Park Press on January 19, 2013.
(Excerpt:)
"I joined MU in fall 2011 to study MS in software engineering. I am glad that I selected software engineering at MU.
I am very much thankful to Dr. Daniela Rosca for providing me guidance on choosing the MS course. The faculty staff of Software Engineering offered me a wide range of support and advice about my academic career.
I would like to take this opportunity to sincerely acknowledge and thank Dr. Jiacun Wang, my academic adviser and professor of some of my classes. Because of Dr. Wang's continuous support and guidance I have successfully completed all my graduate courses.
University environment and students across the Monmouth University are very friendly. I enjoyed being part of such a nice university. Course work that I completed during my time at Monmouth gave me strength in my technical skills. As a result of that I was able to successfully complete multiple internships during my graduate course. In addition, during my internship at Qualcomm Inc. my idea was selected in idea quest competition. Subsequently, my idea was selected for patent application."
Also read Vishruti's School of Science Alumna profile.
Jarad Wormley, 2010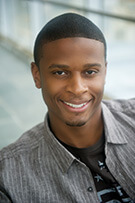 US Army CERDEC Release No.: 130102
14 January 2013
Monmouth University alumnus named 'Modern-Day Technology Leader'
ABERDEEN PROVING GROUND, Md. — Jarad Wormley has been named a Modern-Day Technology Leader by the Council of Engineering Deans of the Historically Black Colleges and Universities, Lockheed Martin Corporation, and the US Black Engineer & Information Technology magazine. Jarad graduated from Monmouth University in 2010 with a Masters in Software Engineering.
Jarad's accomplishments as a computer engineer for the U.S. Army Communications-Electronics Research, Development and Engineering Center, CERDEC, have merited him as a Modern-Day Technology Leader, which recognizes men and women of color whose outstanding performance have and will continue to shape the future course of engineering, science and technology.
Jarad currently serves as the Project Leader for the DCGS-A Enabled Common Ground Station, a system that facilitates Soldiers in situational awareness and battlespace visualization. In addition to his required duties Jarad is active in student outreach, serving as a mentor to Edgewood Middle School children, in Edgewood, Md. and a representative on the CERDEC Intern Council.
He will be formally recognized at the 27th Annual BEYA (Black Engineer of the Year Award) Science, Technology, Engineering and Math Global Competitiveness Conference on February 8, 2013.
Michael Barnathan, 2006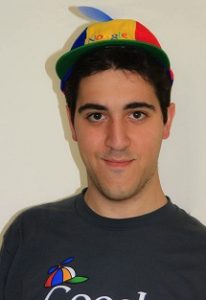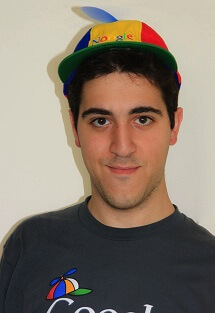 Michael Barnathan (B.S. in Computer Science, 2006) is currently a software engineer with Google, where he works on the internal development tools used to build and test Google's software. He earned a Ph.D. in Computer and Information Sciences at Temple University in 2010. His doctoral research involved the application of machine learning to medical image diagnostics, leading to the development of systems capable of diagnosing tumors in mammograms and brain MRIs with approximately 90% accuracy.
Quote:"Set on becoming a software developer from childhood, Monmouth challenged me to look farther: to become not only the best developer I could be, but to acquire new skills and a broader perspective – to achieve my full potential across fields and become the best person I could be."
Read Michael's full School of Science Alumnus profile.
Shawn Elliott, 2004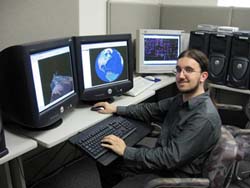 Employer: LJT & Associates, Inc., Herndon, VA
Job: Systems Engineer – Understands and documents customer needs, designs products to meet those needs, informs customers of design changes as development proceeds, and ensures that implementations meet the specification
Quote: "I have been involved in procurement and logistics database development, Web-based portal migration, database conversions, and Geographic Information Systems for the US Navy. My education at Monmouth University prepared me very well for this work."
Lauren Landrigan, 2004
Employer: U.S. Army Software Engineering Center, Fort Monmouth, NJ
Job: Software Engineer – Developing Command and Control Battle Space applications
Quote: "The courses at Monmouth University in Requirements Management, the Personal Software Process, and Human Computer Interfaces have helped tremendously early in my career."
Read Lauren's full School of Science Alumna profile.



Mike DiGiovanni, 2004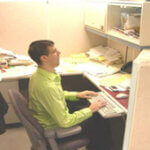 Employer: American Insurance General (AIG) Inc., Neptune, NJ
Job: Java developer who creates and maintains systems for the business area of the company. He solicits requirements from the business area, designs the applications, code, and deploys the software. He also coordinates the development and release of interdependent systems.
Quote: "My classes at Monmouth University set me up to be ready for almost all of the work I've been assigned to do. The most important part of the program was the practicum and the presentation of that project. It was a perfect collection of the many required tasks that I get whenever I'm involved with a new project here."
Raffi Khatchadourian, 2004
Raffi Khatchadourian (BS in CS, 2004) earned a Ph.D. in the Ohio State University's Department of Computer Science and Engineering in 2011. His Ph.D. thesis was titled Techniques for Automated Software Evolution. During his doctoral study, he was selected by the National Science Foundation for an East Asia and Pacific Summer Institutes (EAPSI) award for U.S. graduate students, which enabled him to travel to the University of Tokyo for research. Raffi has worked for Apple Inc. as an RF Systems Integration Engineering with the iPhone/iPad team. He is now an Assistant Professor of Computer Science at City University of New York (CUNY) Hunter College.
Suhaib Obeidat, 2001
Suhaib Obeidat (MS in CS, 2001) successfully defended his Ph.D. dissertation at Arizona State University's School of Computing and Informatics in 2008. His Ph.D. dissertation work was done under the supervision of Dr. Violet R. Syrotiuk and is titled "Cross-layer opportunistic adaptation for voice communications over wireless ad hoc networks." Suheib completed his MS in Computer Science at Monmouth under the supervision of Dr. Mohammad Obaidat. His M.S. thesis topic at Monmouth was "Performance Evaluation of Adaptive ABR Voice over ATM Networks.
Patty Azzarello, 1986
Patty Azzarello '86, is a graduate of the Electronic Engineering Department with a Minor in Computer Science. Her long career in engineering and software has included stints at Bell Labs and Hewlett Packard. After a successful career as an enterprise technology executive and CEO, Patty is currently the owner and founder of her own company, Azzarello Group, Inc. Azzarello Group helps companies improve how they run their businesses and helps leaders think and work more strategically.
Read Patty's full School of Science Alumna profile.
Trish Millines-Dziko, 1979

Trish Millines-Dziko '79, a graduate of the Computer Science Department, received the Distinguished Alumni Award at the Founders' Day Convocation, October 10, 2007. A gifted student and an outstanding athlete, she went on to a distinguished career at Microsoft and then co-founded the Technology Access Foundation, which provides children of color with technology experience through education and access opportunities.