Tropical Island Ecology
Tropical Island Ecology (BY 317) focuses on investigations of plants, animals, and natural ecosystems of the Bahamas archipelago with emphasis on marine ecosystems, island ecology, resource management, and sustainable development. The course is offered annually in the spring semester.
With an emphasis on authentic science, students develop an understanding of how the application of scientific research provides the foundation for development of effective solutions to coastal problems and marine resource management strategies. Specific course objectives include:
Students will be introduced to tropical island ecology, including a study of plants, animals, and habitats of tropical island ecosystems.
Students will learn the techniques involved in collecting, identifying, inventorying, and preserving living organisms.
Students will learn techniques involved in designing and performing biological and habitat assessments.
Students will learn to present scientific data in proper scientific format by collecting field data and presenting it in a final report and seminar-style presentation.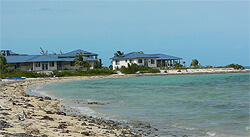 The course includes a two week field component held at the Cape Eleuthera Institute (CEI) and The Cape Eleuthera Island School located at Cape Eleuthera on the island of Eleuthera, Bahamas each January during winter break.
About Eleuthera
Eleuthera, the birth place of the Bahamas, is located approximately 225 miles east of Miami, Florida and 60 miles east of Nassau, Bahamas. The Exuma Sound lies to the west of the island and the Atlantic Ocean to the east. The island is approximately 100 miles long and the average width of the island ranges anywhere from half a mile to two miles.
Eleuthera is the most historic of the "out islands" of The Bahamas. It was founded in 1648 by Captain William Sayles and a group of Puritans who sailed from Bermuda in search of religious freedom. The name Eleuthera, from the Greek word "eleuthero" or "eleuther," means "free" or "freedom." Known as "Citagoo" by some of the inhabitants, Eleuthera's population is reported to be somewhere between 8,000 and 10,000 people. Many of these people are farmers and fishermen. In the early 1900s, the export of pineapple helped support the economy. Currently, however, tourism rather than agriculture provides revenue to support local communities.
The Cape Eleuthera Institute
The mission of the Cape Eleuthera Institute is to build relationships, provide resources, conduct research and education, and develop sustainable industries in South Eleuthera, The Bahamas, and the Caribbean.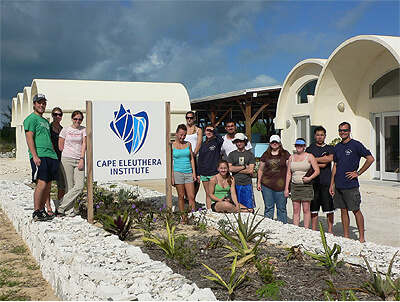 The goal of The Cape Eleuthera Island School is to make students better global citizens from an ecological perspective by restoring a sense of wonder and respect for biotic and cultural diversity.
The field component of the course includes lectures, hands-on field work, and applied research. Guest lectures are provided by scientists working at CEI and The Island School. Students investigate the local environment through fieldwork and field-based research projects conducted in conjunction with current research projects underway at the Cape Eleuthera Institute.