Student Enrichment & Engagement thru Mentoring Activities (SEEMA)
SEEMA – an exclusive mentoring program within the Leon Hess Business School was developed for our students to apply career development skills beyond the classroom. Through SEEMA, students will have the opportunity to engage in resume development, interviewing processes and other activities designed to enhance their preparedness in the professional job market. Enhanced networking opportunities will also result from participation in the program.
Business students who participate in SEEMA have the opportunity to work directly with professional mentors. Business professionals who serve in the program come from an array of industry backgrounds who are committed to providing insight and guidance to students. Group mentoring is applied to freshmen students while one-to-one pairing is established beginning in the sophomore year until senior year of college.
Students are encouraged to join the program starting in their freshman year to gain maximum benefits from SEEMA experience.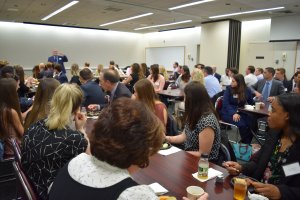 KICK-OFF EVENT
FOR MENTEES
If you are an individual who is seeking ways to improve social and business skills; and/or interested in becoming competitive in the real world; and/or would like to engage in mentoring activities that will help you refine your career plan – THEN THIS PROGRAM IS FOR YOU! All you have to invest is commitment and time!
Complete the online Student Application.
FOR MENTORS
Mahatma Gandhi once said, "Be the change you wish to see in the world." With your professional expertise and experience, you can make a difference in a student's life. If you are passionate about helping students define their goals, WE WOULD LIKE TO PARTNER WITH YOU. All we need is your commitment and a little of your time. Through SEEMA, YOU CAN LEAVE A POSITIVE LEGACY and LASTING IMPACT that will benefit many generations to come.
SEEMA Stages
For more information, please contact Ms. Janeth Merkle, Assistant Dean, at jmerkle@monmouth.edu or 732-571-3483.