Associate Professor Kimberly Callas gave a Feb. 6 talk on artwork she created during her two-year faculty fellowship as the artist-in-residence for the Urban Coast Institute (UCI). The talk was presented in conjunction with Monmouth University's ArtNOW: Performance, Art, and Technology series and Climate Crisis Teach-In lecture series.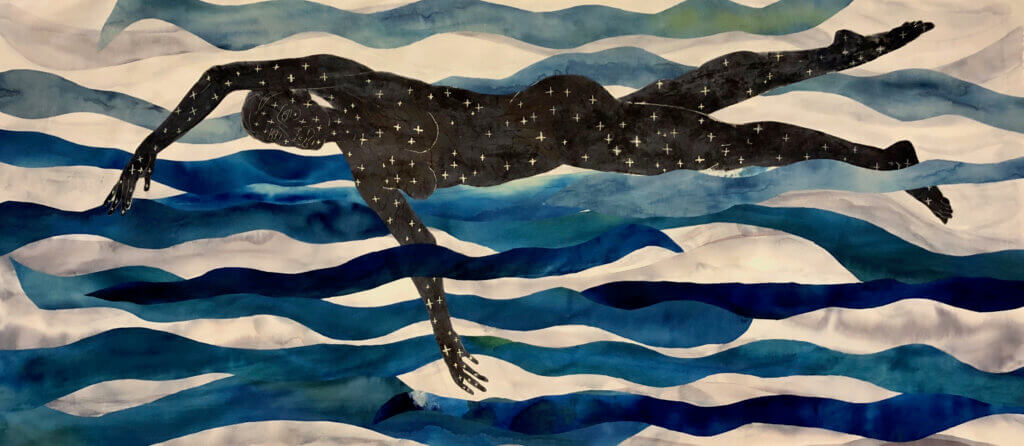 During the fellowship, Callas created a series of large-scale (10′) drawings that connect images of the ocean, ocean archetypes, and the human body. Inspired by historical nautical charts hand-drawn and mounted on muslin, her drawings are made of graphite, dye, and India ink on paper and dyed muslin. They are then mounted on canvas. In the drawings, Callas uses latitude and longitude lines, and depth charts to 'specifically place' the work in places that follow the endangered North Atlantic right whale's annual migration through the Jersey Shore. The drawings include symbols like the whale, fish, boat, net and horizon line, and archetypes like 'the night sea journey,' a journey navigated by stars to a new shore.
About Kimberly Callas
Callas is a multimedia artist, sculptor, and the lead artist of the social practice project Discovering the Ecological Self. She uses digital emerging technologies with traditional hand and clay modeling techniques to create life-size figures that combine the human body with symbols and patterns from nature. The figures are drawn or cast in plaster or bronze, 3D printed or routed out of wood with a computer numerical control (CNC). Ground pigments, beeswax, and natural materials such as wasp paper or birch bark are often used to finish the work.
Her work has been exhibited internationally in galleries and museums and has received national and international grants and awards. Recent awards include a Pollination Project Grant and Heidi Lynn Sculthorpe Scholars faculty enrichment grants. In 2020, she received the 1st Place Award in Sculpture at the Catharine Lorillard Wolfe Art Club's Annual Exhibit in New York City. Other recent exhibits include the 2019 International New Media Exhibit at the CICA Museum in South Korea, Summer Exhibition at Flowers Gallery in New York City, 9×12 at Dual Galleria in Budapest, Hungary and Crossing Boundaries: Art and the Future of Energy at The Pensacola Museum of Art, Pensacola, FL. Her work has been published in Post Human, New Media Art 2020 by CICA Press and has appeared in the Huffington Post and Art New England. Callas received her MFA from the New York Academy of Art and her BFA from Stamps School of Art at the University of Michigan. She maintains a studio in both Maine and New Jersey.