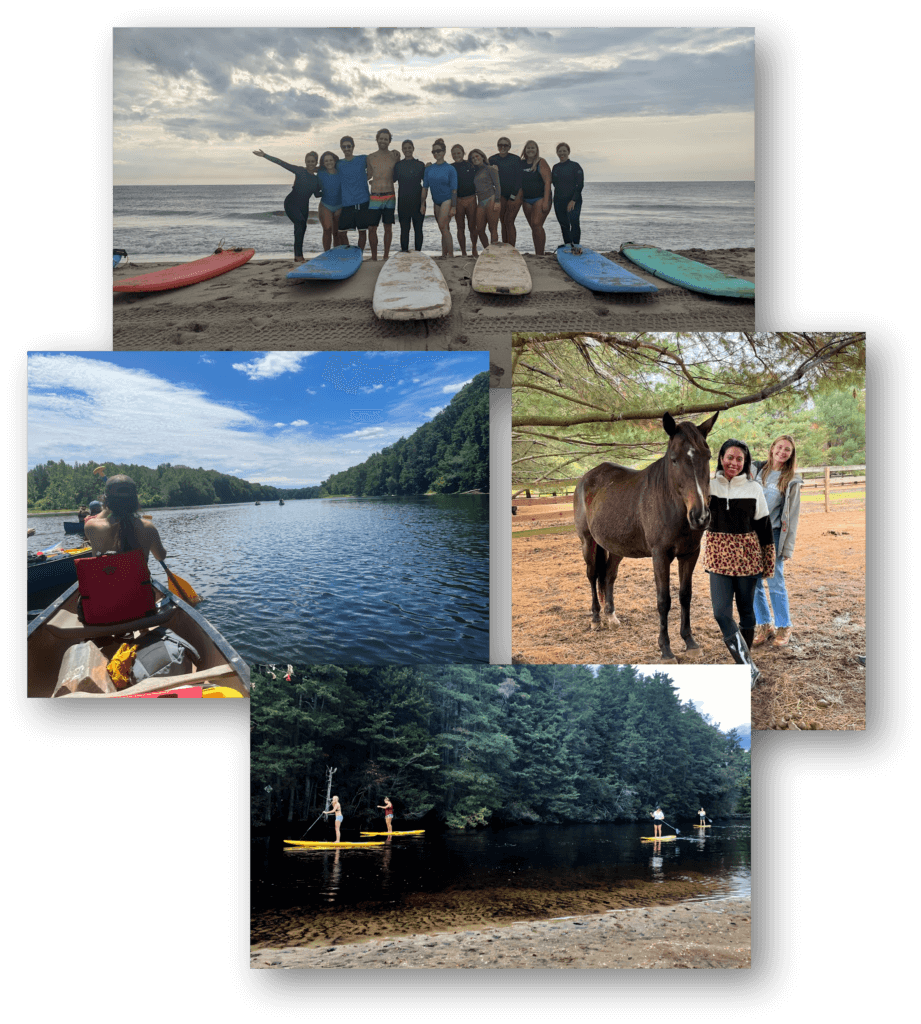 If you consider the beach your happy place, there's a growing body of evidence showing you're right.
Monmouth University Associate Professor Megan Delaney, of the Department of Professional Counseling, has developed a course on ecotherapy, which focuses on contact with nature as a method or element of counseling. According to Delaney, studies have indicated that regular exposure to the environment can reduce stress, obesity, attention-deficit/hyperactivity disorder, childhood anxiety, and carry other mental and physical health benefits.
"The research shows that we now spend 93 percent of our time indoors," Delaney said. "At its core, ecotherapy is about reconnecting with nature. We have lived in harmony with the natural world for so long; it wasn't until recently that we stopped, and look at the destruction that we're doing to it."
Delaney's course, Ecotherapy: Counseling with Nature (PC502), seeks to strengthen the rapport between her students and nature so they may pass it on to their clients when they become counselors. The graduate-level course is highly immersive, with regular activities in outdoor settings throughout the Jersey Shore area. On any given day, students may go surfing, canoeing, camping, gardening or take a goat yoga class. Delaney typically assigns a reading or video viewing related to the activity in advance, then provides a series of prompts for the students to discuss and respond to in their journals while on the scene.
Students are also tasked to take on a semester-long reciprocity project that helps the environment or nature, such as cleaning up beaches or working with animals. She said the assignment is meant to strengthen their bonds with the earth while serving as a model of a healthy relationship, in that you can't just take from it, but must give back to it.
Water Connections
Recently, Urban Coast Institute (UCI) Marine Scientist Jim Nickels took the class for a cruise along the Sandy Hook Bay and Shrewsbury River aboard the R/V Heidi Lynn Sculthorpe. The group viewed a TED Talk by "Blue Mind" author Wallace Matthews beforehand and spoke aboard the vessel about people's connections to water. Delaney said the experience was valuable to the students, many of whom had never seen the area they live in from offshore.
Delaney said ecotherapy and the theory behind it, ecopsychology, first emerged in the 1960s as psychologists and scientists began to probe the impact of humans' growing disconnect from the natural world. However, she noted that living in harmony with nature has long been central to Indigenous cultures, so in ways the practice has been appropriated from them. For her part, Delaney now conducts "walk and talk" therapy and no longer practices in an office.
The water holds a prominent place in ecotherapy. Therapists are now conducting sessions with clients while on the water surfing and paddleboarding, and Delaney recently reviewed a study about the benefits of fly-fishing while practicing.
"One of the big themes that I saw coming out of it was the connection to water — that people felt good being near it, or they felt alive or part of the earth when they're around or interacting with blue spaces," she said.
A Personal Path to Practice
She traces her own start in the field back to the love she developed for the outdoors during childhood camping trips with her family. As a college student, she took off a semester and spent three months in an Outdoor Leadership School course in Kenya, which opened her eyes to the world of outdoor education.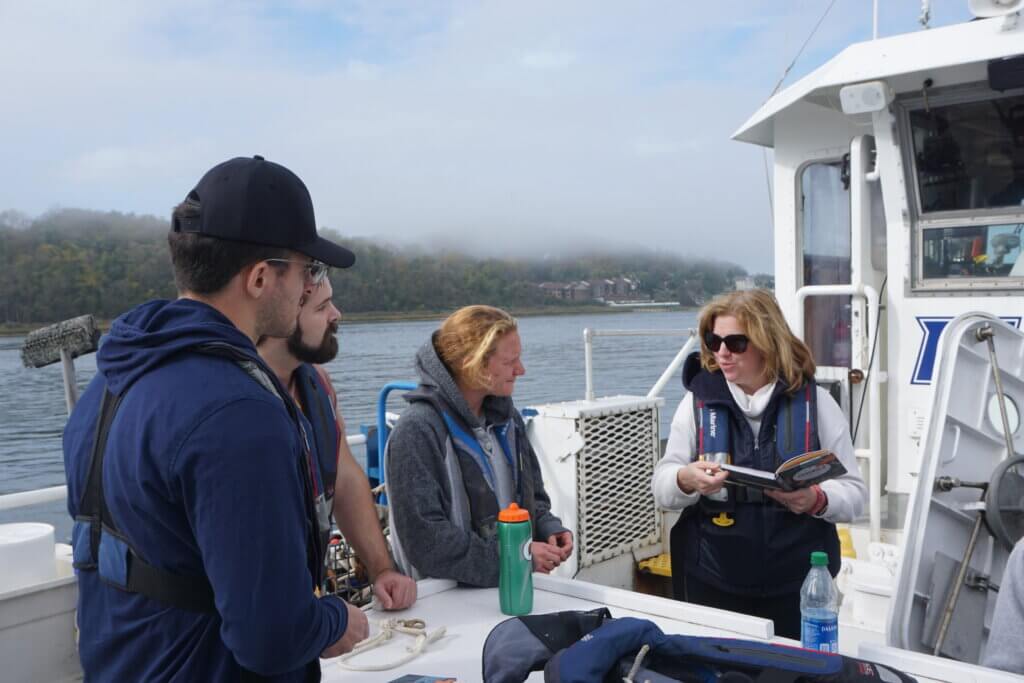 After graduating she moved to Utah and worked for a program that conducted wilderness therapy with juvenile detention centers. Youths were taken for 60-day camping trips as part of their rehabilitation, which she said affected an "incredible transformation" in them.
"The problem was, there wasn't a great transition," she said. "The students would learn how to be in nature and then move back into their other environment, and what was missing was that piece of, how do we apply what we learned? How can we survive in a toxic environment having learned what we did to survive in the natural world?"
She later returned to the East Coast and was working in a corporate job in New York City during the 9/11 attacks, a moment that prompted her to re-examine her career path. Delaney would return to school to study counseling and for the first time took a course in ecopsychology. She felt an instant connection to the material, which she felt expressed feelings and intuitions that she had long held but never knew how to articulate.
Ecotherapy at Monmouth
In Monmouth, she found an institution that was enthusiastic and open to her developing the course and leading the University's ecotherapy specialization. Today, her course fills up within hours and has a long waiting list.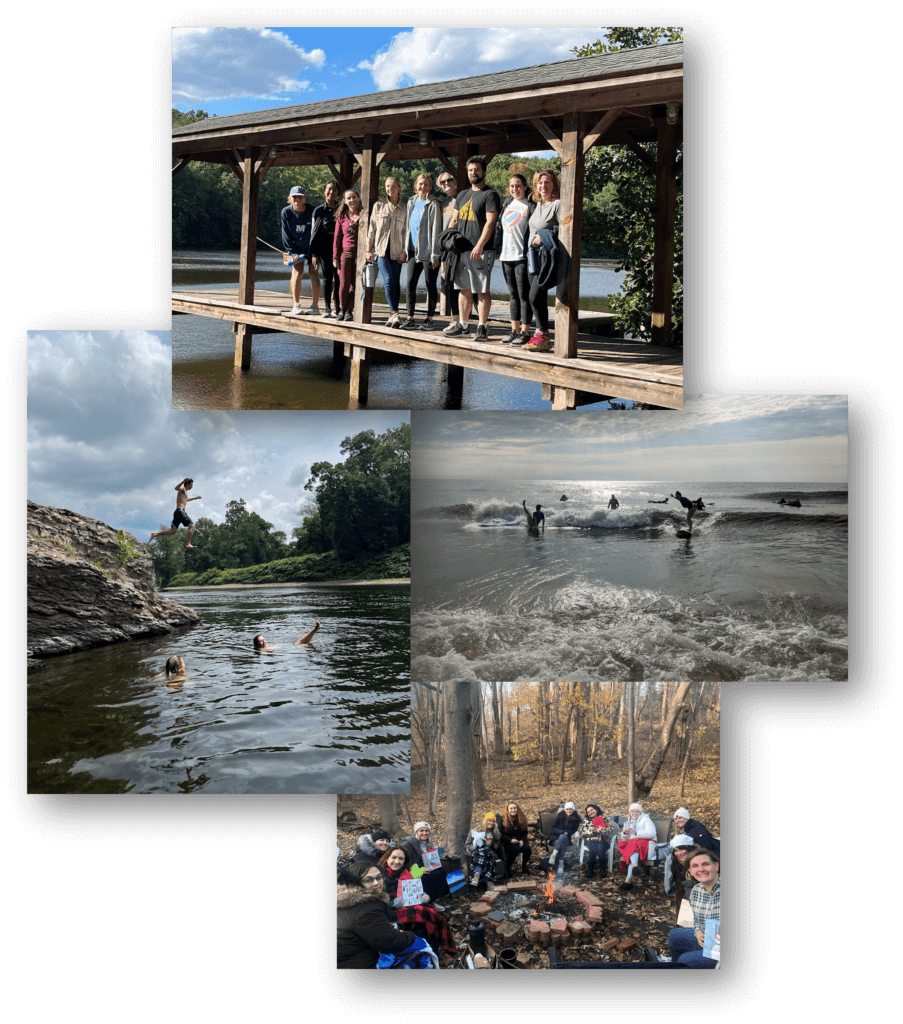 "I get calls from around the country because there are very few ecotherapy programs and we're the only ones that have a specialization, so people are coming here for that," Delaney said.
Taking advantage of all the peak Jersey Shore outdoor tourism season has to offer, Delaney also taught an Adventure-Based Ecotherapy (PC504) course over the summer. Based upon the tenets of ecotherapy, the class explored adventure-based counseling, a type of experiential therapy that uses challenging adventure activities to aid the therapeutic healing process. The class was conducted outside and included experiences such as ropes courses, rock-climbing, surfing and an immersive overnight outdoor expedition.
Delaney has secured multiple faculty enrichment grants through the UCI's Heidi Lynn Sculthorpe Scholars Program to conduct research on ecotherapy with the support of student assistants. She worked with Professor Kimberly Callas on a qualitative study of how students responded to Discovering the Ecological Self, in which Monmouth students and faculty provide lessons to local youths on nature and they produce artwork based on the experience. A second study looked at graduates' experiences in ecotherapy and how it shaped their identity as counselors. And over the summer, she conducted interviews with colleagues' clients to determine how ecotherapy impacted them. Every student who worked on the projects with her has graduated and is now doing ecotherapy work, she said.
She also authored a book on ecotherapy in 2020 titled "Nature Is Nurture: Counseling and the Natural World," published by Oxford University Press.
The isolation brought on by the pandemic has only fueled interest in ecotherapy, Delaney observed. The steady stream of alarming news about climate change and the state of the environment has also heightened anxiety, not only among the general public, but its researchers.
"I find that when I'm in conversations with scientists, especially climate scientists and environmentalists, that they're a really stressed-out bunch of people," she said. "I think that some of that is the conscious and unconscious understanding that what they're studying is dying. They're the first responders to the climate crisis in a lot of ways."