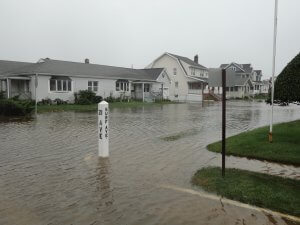 The UCI has awarded three Faculty Enrichment Grants for projects that will research whether sea level rise has impacted Jersey Shore home values, how engagement in climate activism influences young people's social views and identities, and the psychological benefits of experiencing nature.
The UCI offers these grants on a competitive basis to Monmouth University faculty to support individual or collaborative projects for the enhancement of existing curriculum, new curriculum development, research and scholarship and team-teaching opportunities. Funding is available through the Heidi Lynn Sculthorpe Scholars program for faculty and student researchers of all disciplines whose work advances core elements of Monmouth's Strategic Plan and supports the UCI's mission. The following projects were approved for the summer round.
Counseling with Nature: A Qualitative Study of the Experiences of Ecotherapy Clients
Faculty researcher: Megan Delaney, associate professor, Department of Professional Counseling
Student researcher: Molly Malkinski
This research will continue work begun through a previous UCI grant exploring clients' experience in ecotherapy (contact with the outdoors and nature as a method or element of therapy), including their connections with the natural world, connections to eco-grief and thoughts about climate change. Since many of the clients' sessions will have been done in areas on and around the New Jersey coastline, the researchers will also explore if and how water affects their counseling experience.
Experiences of Youth Climate Activists
Faculty researchers: Alyson Pompeo-Fargnoli, assistant professor, Department of Educational Counseling and Leadership; Melissa Alvaré, lecturer, Department of Political Science and Sociology
The team will explore how engagement in climate activism impacts the development of youth and their broader understanding of social justice issues. The research questions guiding this study are: What is the developmental journey like for youth activists? What are their catalysts, supports, and impediments? Are these environmental youth activists making connections to other areas of social justice activism?
Sea Level Rise – Flood Risk, Property Values and Income Effects on New Jersey's Coastal Communities
Faculty researcher: Gina McKeever, instructor, Department of Finance, Economics and Real Estate
Student researcher: Valentine Pane
To study the impacts of sea level rise on residential real estate values, an analysis will be conducted of 20 years of sales data for properties located within and outside of FEMA flood zones in coastal communities in Monmouth, Ocean and Cape May counties. The project will also seek to determine how income in these areas has changed and whether homeowners of low to moderate income are being priced out of their homes by rising flood insurance premiums and replaced with higher income buyers.
About the Program
The Heidi Lynn Sculthorpe Scholars program is funded through the generosity of many corporate and private donors. If you would like to make a tax-deductible gift to the UCI, please click here. For more information, contact UCI Associate Director Thomas Herrington at therring@monmouth.edu.