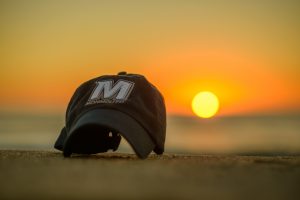 The Urban Coast Institute has awarded Heidi Lynn Sculthorpe Summer Research grants to support seven Monmouth University student-faculty projects ranging from studies of historic discrimination practices in beach access to nature's power for treating mental health issues.
The Heidi Lynn Sculthorpe Scholars Program offers competitive grant funding for students and faculty of all disciplines whose work supports the UCI's mission. The program supports several hands-on research projects each year that provide real world experience to students while helping make a positive impact in coastal communities.
The summer projects listed below kicked off this month and will continue until August. All work will be conducted in accordance with social distancing restrictions as prescribed by Monmouth University and the State of New Jersey.
Adapting to Protect the North Atlantic Right Whale from Climate Change
Student: Aidan Bodeo-Lomicky
Faculty Mentor:  Randall S. Abate, J.D., Rechnitz Family/Urban Coast Institute Endowed Chair in Marine and Environmental Law and Policy
The North Atlantic right whale is a critically endangered species native to the waters off the East Coast with only 400 individuals remaining. The student will prepare a paper that examines the range of threats to the species and the existing regulatory framework in the U.S. to conserve it, and proposes measures to enhance protections for the whale from climate change and the threats that it exacerbates.
Beach Access and Race Discrimination in New Jersey 
Student: London Jones
Faculty Mentor:  Randall S. Abate, J.D., Rechnitz Family/Urban Coast Institute Endowed Chair in Marine and Environmental Law and Policy
The student will prepare a research paper on beach access policies that were implemented throughout New Jersey's history to discriminate against minorities and where vestiges of these measures remain in place today.
Ecotherapy: Nature as a Co-Therapist
Student Researcher: Nicole Owenburg
Faculty Mentor: Dr. Megan Delaney, Department of Professional Counseling
The researcher will design a qualitative study and a survey that will explore the impact of ecotherapy (contact with nature/the outdoors as a method or element of therapy) in treating mental health issues such as anxiety, depression and adjustment disorders. The project will also examine the influence of the coastal environment on ecotherapy outcomes.
Harmful Algal Blooms in Monmouth County Coastal Lakes, Estuaries, and Ocean
Student Researchers: Karly Nolan and Skyler Post
Faculty Mentor: Dr. Jason Adolf, Department of Biology
This project will build on research that started in 2018 on the prevalence and causes of harmful algal blooms in Monmouth County aquatic environments, including the Navesink/Shrewsbury river estuaries, the Hudson-Raritan Estuary, and the county's coastal lakes.
Reptile and Amphibian Ecology and Conservation in Urbanized and Suburbanized Ecosystems
Student Researchers: Sara Grouleff and Angel Ireland
Faculty Mentor: Dr. Sean Sterrett, Department of Biology
The team will study the persistence of reptiles and amphibians in areas heavily developed by humans through activities including surveys of turtle and frog populations in Monmouth County's coastal lakes and the Delaware-Raritan Canal, and experiments with the use of drone technologies to detect diamondback terrapins and estimate their populations.
Using Artificial Intelligence to Track the Environmental and Economic Consequences of Climate Change
Student Researcher: Avery Jackson
Faculty Mentor: Katie Gatto, Department of Computer Science
The team will experiment with the use of algorithms to analyze data related to past natural disaster costs and future sea level rise projections in an effort to estimate the economic costs of climate change in America's coastal areas.
Using eDNA as a Tool for Understanding Our Coastal and Estuarine Communities
Student: Cameron Gaines
Faculty Mentor: Dr. Megan Phifer-Rixey, Department of Biology/UCI Marine Genetics Fellow
The researchers will collaborate with Monmouth University and National Oceanic and Atmospheric Administration scientists to investigate how marine environmental DNA (eDNA) can be used effectively to learn about local waters. Their efforts will contribute to both controlled, experimental tests and field surveys designed to determine how best to use eDNA.
Apply for Fall Funding
Monmouth University students and faculty are invited to apply now for fall Heidi Lynn Sculthorpe Scholars funding opportunities. Fall grants available include:
Faculty Enrichment Grants for the enhancement of existing curriculum, new curriculum development, research and scholarship, and team-teaching opportunities.
Mini-Grants are also available to faculty and students for conference fees, symposia, guest speaker honoraria, equipment and supplies, and other needs to be determined on a case-by-case-basis. Applications can be submitted at any time and are reviewed on a rolling basis. Awards range from $250 to $500 depending on the availability of funds.
Those interested may apply via the UCI Funding Opportunities page on the MyMU Portal (Monmouth University sign-in credentials required). For more information, contact UCI Associate Director Dr. Thomas Herrington at therring@monmouth.edu.
These opportunities have been made possible through the generous support of many corporate and private donors. If you would like to make a tax-deductible gift to the Urban Coast Institute, please use our Give a Gift Now contribution form.