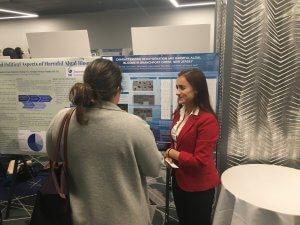 A poster co-led by Monmouth University students Erin Conlon and Skyler Post earned the top prize for work presented by undergraduates at the 10th U.S. Harmful Algal Bloom (HAB) Symposium, held in November in Orange Beach, Alabama. The poster highlighted the students' ongoing research on low-oxygen conditions and toxic organisms in Branchport Creek, a Shrewsbury River tributary located in Oceanport and Long Branch, New Jersey.
Post and Conlon attended the symposium with fellow Monmouth University Phytoplankton and Harmful Algal Bloom Lab (PHAB Lab) student researchers Maria Riley and Ariel Zavala, and Endowed Associate Professor of Marine Science Jason Adolf. All four students presented at the poster session and Post (seen in photo at the conference), who represented the Branchport Creek project, won Best Undergraduate Poster for her presentation of the work at the meeting. The trip and research was supported with grants through the UCI Scholars Program.
According to Adolf, the symposium's focus has shifted over the years from a near total focus on saltwater environments to a now 50/50 split between saltwater and freshwater HABs.
"In 2014 in the U.S., more than 400,000 people living around Lake Erie had toxic water coming out of their tap as a result of a harmful algal bloom," Adolf said. "The fact that many drinking water plants were not built to remove algal toxins speaks to the recent emergence of the problem."
New Jersey recently experienced what may be remembered as a summer of HABs, with blooms causing use restrictions and closures in the summer tourist destinations of Lake Hopatcong and Greenwood Lake, and the Manasquan Reservoir, a drinking water source for several Jersey Shore towns. This year the PHAB Lab has focused on monitoring water quality issues in Monmouth County coastal lakes, surfing beaches and local river systems and estuaries.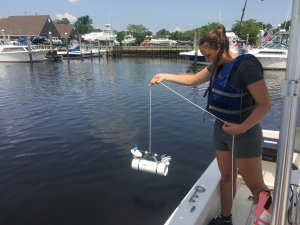 "Last year over the summer we were researching Sandy Hook Bay, the Navesink River and the Shrewsbury River, and every time we went out there was a hot spot of chlorophyll in Branchport Creek," said Conlon (seen in photo sampling the creek). "We didn't really have any stations set up there and we wanted to look at that more."
What they found were phytoplankton biomass levels 10 to 100 times higher than anywhere else in the system. Adolf also said that they observed phytoplankton stratified in a "super-concentrated layer" at the top of the water, while the layer below was had little or no plankton or oxygen at all.
Warning signs were posted around the creek over a decade ago when it was determined that stormwater runoff from the Monmouth Park horse racing track had caused high fecal coliform levels. The problem was later addressed as part of a settlement between the Department of Environmental Protection and the track's former operators.
"Even though there are signs up saying things like 'Polluted: Don't Touch,' we saw people there who were fishing and crabbing in that water. They definitely should not be," Post said. "You can almost always count on seeing dead fish or fish hopping out of the water there."
Adolf said the students' work could offer new insight on fish kills that have occurred in the creek in recent years. A decade ago, the UCI and School of Science conducted real-time monitoring of water conditions in the creek to study the impact of low-oxygen conditions on menhaden kills. The PHAB Lab work is focused both on water conditions and the microscopic plankton and bacteria living in the water. Organisms they found are known to make toxins that can irritate or kill wildlife.
"What [Conlon and Post] did was elucidate the fact that there's also a toxic dinoflagellate bloom – a massive bloom, with very high levels of biomass in that creek at the same time," Adolf said. "It fills out the story of the fish kills in the creek."