Monmouth University scientists and students have begun a yearlong study on the linkage between rainfall and microbial pollution at surfing beaches in New Jersey including Asbury Park, Deal and Long Branch. The work will be conducted through a $30,000 contract with the Surfers' Environmental Alliance (SEA).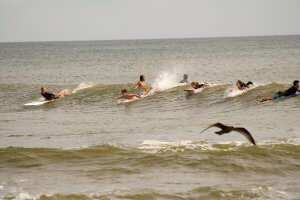 Microbial pollution, the contamination of water with pathogens that can make people sick, is a problem in densely populated coastal areas around the world. At some of Monmouth County's most popular surfing beaches, municipal storm drains and outflow pipes discharge directly into the surf zone.
"We've heard stories from surfers about how the water sometimes smells and looks different at these beaches after heavy rainstorms," said Endowed Associate Professor of Marine Science Jason Adolf of Monmouth University's School of Science and Urban Coast Institute. "However, no data have been gathered to back up the anecdotal evidence about the magnitude of the problem."
Monmouth University Specialist Professor Jeff Weisburg, the project co-lead, added that there is a significant gap in the state's sampling program because it is primarily focused on the busiest bathing beaches in the summer tourism season.
"Surfing is a year-round passion at the Jersey Shore, but the state doesn't test its waters as frequently during some of the best wave months, including the fall hurricane season," Weisburg said. "This project will help show what kind of health risks, if any, that surfers might be exposed to during the colder months."
Testing will focus on five locations: the Asbury Park Casino beach in Asbury Park; the Neptune Avenue and Roosevelt Avenue beaches in Deal; and the Ocean Place and S. Bath Avenue beaches in Long Branch.
Each location will be sampled before and after at least 10 storm events over the course of the year. The researchers will record atmospheric conditions and measurements of the ocean's temperature, dissolved salt levels and clarity before taking water samples near and far from the storm drain pipes at each site. The samples will be analyzed for bacterial abundance and compared with rainfall and water quality data to look for statistical relationships.
"SEA is proud to partner with Monmouth University to implement a long-needed water quality study at local surf spots after rain events," said  Richard Lee, the organization's executive director. "We're hoping this is the start of a long-term collaboration that will benefit the surf community and Monmouth University."