The Urban Coast Institute (UCI) will host its 15th annual Future of the Ocean Symposium and Champion of the Ocean Awards Luncheon on Oct. 22 at the historic Great Hall at Shadow Lawn. With a theme of "An Ocean for All: Ecosystems, Economies & People," the symposium, which is free and open to the public, will gather nationally recognized experts to share insights on the future use and conservation of our oceans, including how science and technology can inform our choices.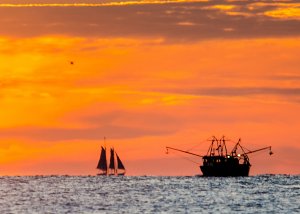 Monmouth University President Emeritus and UCI Ocean Policy Fellow Paul G. Gaffney II will moderate the panel discussion, which will present perspectives from the government, ports/maritime, offshore wind, ocean sciences and marine conservation communities. Rear Admiral Timothy Gallaudet, deputy administrator of the National Oceanic and Atmospheric Administration (NOAA), will deliver plenary remarks.
The panel will include Bradley Campbell, president of the Conservation Law Foundation and former New Jersey Department of Environmental Protection commissioner; David Hang, president of Ørsted U.S. Offshore Wind; Bethann Rooney, deputy director of the Port Department at the Port Authority of New York & New Jersey, and Scott Glenn, distinguished professor in the Rutgers University Department of Marine and Coastal Sciences and co-director of the Center for Ocean Observing Leadership.
"The U.S. and New Jersey's ocean economy, ranging from commercial fishing to recreational boating to travel and tourism, depends on clean water and healthy ecosystems. Many now find themselves competing for space with new and expanding industries such as offshore wind and shipping," UCI Director Tony MacDonald said. "At the same time, ecosystem changes, including ocean warming and shifting marine life habitats, are forcing those who make a living at sea to change the way they've done their work for generations. Through collaborative research and data sharing, we can reduce conflicts and ensure those whose livelihoods depend on a healthy ocean thrive in the future."
The symposium will run from 10-11:45 a.m.
Following the symposium, the UCI will host its Champion of the Ocean Awards Luncheon from noon to 2 p.m. At the luncheon, the UCI will present its National Champion of the Ocean Award to Gallaudet, the Regional Champion of the Ocean Award to Campbell, and the State, Coastal and Ocean Leadership Award to Glenn.
"We congratulate our latest class of Champions of the Ocean – a prestigious group that counts Sylvia Earle, Robert Ballard, Jean-Michael Cousteau and Leon Panetta among its members," Monmouth University President Patrick Leahy said. "It is always a great opportunity to bring these leaders to campus, where they can engage our students and the community in a dialogue on the most pressing public policy and environmental issues of our time."
Tickets are required for the luncheon, with proceeds supporting Monmouth University student research activities through the UCI Scholars Program.
For more event details, or to purchase luncheon tickets or sponsorships online, visit monmouth.edu/uci. Additional questions may be directed to uci@monmouth.edu or (732) 263-5662.