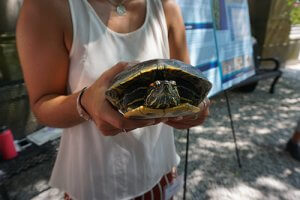 Over three dozen student projects were on display at the Monmouth University School of Science's 2019 Summer Research Program Symposium, held Aug. 8 at the University's Erlanger Gardens. The poster session has become an annual tradition, providing students an opportunity to share the work they completed over the preceding 12 weeks with friends, family, faculty members and the public.
The UCI supports several summer research projects each year through its UCI Scholars Program. Scroll down to hear some of the students discuss their work. Abstracts for all of the research projects presented at the symposium can be found here.
Turtles of Lake Takanassee: How Does this Assemblage Persist?
Christiana Popo and Travis Kirk
Characterizing Deoxygenation and Harmful Algal Blooms in Branchport Creek, New Jersey
Skyler Post and Erin Conlon
Can Rainfall Predict Fecal Indicator Bacteria Levels at Monmouth County Surfing Beaches Near Stormwater Outfalls?
Kelly Hanna and Victoria Lohnes
Nutrient Pollution and Harmful Algal Blooms Take a Toll on Monmouth County Coastal Lakes
Ariel Zavala
Using Environmental DNA (eDNA) to Track Black Sea Bass and Winter Flounder in a Controlled Tank Environment
Karolina Szenkiel
The UCI Scholars Program is supported through the generosity of private and corporate donors. If you would like to make a tax-deductible gift to the Urban Coast Institute, please use our Give a Gift Now contribution form.