The School of Education sponsors several student and professional organizations to support both undergraduate and graduate students in their professional preparation.
Alpha Upsilon Alpha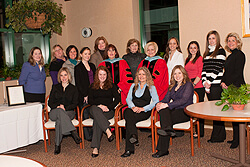 Beta Pi Chapter
Web Site: www.literacyworldwide.org
International Literacy Association
Honor Society Induction, March 2010
Alpha Upsilon Alpha (AUA), the honor society of the International Literacy Association, has as its purpose the recognition and encouragement of scholarship, the development of personal and professional leadership qualities, and service to the field of reading—with special emphasis at the undergraduate and graduate levels. The International Reading Association is uniquely qualified to recognize scholarship and to stimulate interest in the field of reading education through the sponsorship of an honor society. Through membership in the society, individuals are acknowledged as having excelled in their academic preparation.
AUA is open to undergraduate and graduate students who meet the following criteria:
Undergraduate Students
Shall have completed 5 semesters of undergraduate study or its equivalent
Shall be elected from the upper 25% of their class in scholarship
Shall have completed at least one course in reading/language arts and be recommended by a faculty member in this field
Graduate Students
Shall be a major in the field of reading and/or language arts or a closely related field
Shall have completed a minimum of 9 semester hours in reading/language arts
Shall have a GPA of 3.5 in all graduate work and specifically in the field of reading/language arts
Shall be recommended by a faculty member
Established in 1985, the honor society derives its name from the Greek words Anagnosis (reading), Upotrophia (scholarship), and Archon (leadership).
Contact
Chi Sigma Iota
MUA Chapter
Contact: Dr. Jose Maldonado
E-mail: jmaldona@monmouth.edu
Web Site: www.csi-net.org
Chi Sigma Iota is the international honor society for students, professional counselors, and counselor educators established at Ohio University in 1985. The society's mission is to promote scholarship, research, professionalism, leadership, and excellence in counseling, and to recognize high attainment in the pursuit of academic and clinical excellence in the profession of counseling.
Council for Exceptional Children Local Council (CEC)

Web Site: exceptionalchildren.org
The Council for Exceptional Children is an internationally known organization for educators in the field of special education. This local council holds regularly scheduled on-campus meetings in addition to co-sponsoring a yearly Spring Symposium. Its community service projects involve working with and providing assistance to handicapped children.
Contact
International Literacy Association Monmouth University Council (ILA)
Web Site: www.literacyworldwide.org
The purpose of the International Literacy Association (ILA) MU Council is to provide an opportunity for undergraduate and graduate students to become part of the leading advocacy group for worldwide literacy, to facilitate literacy connections with Monmouth University's greater community, to foster lifelong reading, and to reach out and support literacy development initiatives for children of any age.
Contact
Kappa Delta Pi (KDP) Honor Society
Nu Tau Chapter
Web Site: www.kdp.org
Kappa Delta Pi is an international honor society in education that provides leadership experience, service projects, professional growth, and fellowship. Kappa Delta Pi pledges itself to the four ideals: Fidelity to Humanity, Science, Service, and Toil. KDP invites into its membership undergraduates who exhibit the ideals of scholarship, high personal standards, and promise in the field of teaching. All initiates must have completed 70 credits, with at least 12 semester hours of professional education courses completed or in progress. Students must maintain an overall GPA of 3.2 or better.
Contact
Phi Delta Kappa (PDK) International Jersey Shore, Chapter #1360
Contact: Department of Curriculum and Instruction
Phone: 732-571-4417
Web Site: www.pdkintl.org
Phi Delta Kappa is an international professional fraternity of men and women in education dedicated to the three principles of research, service, and leadership. PDK is committed to advancing progress in education and particularly in support of public education. The membership is composed of recognized leaders in the profession and graduate students in education whose leadership potential has been identified. Members include classroom teachers, school administrators, college and university professors, and educational specialists of many types.