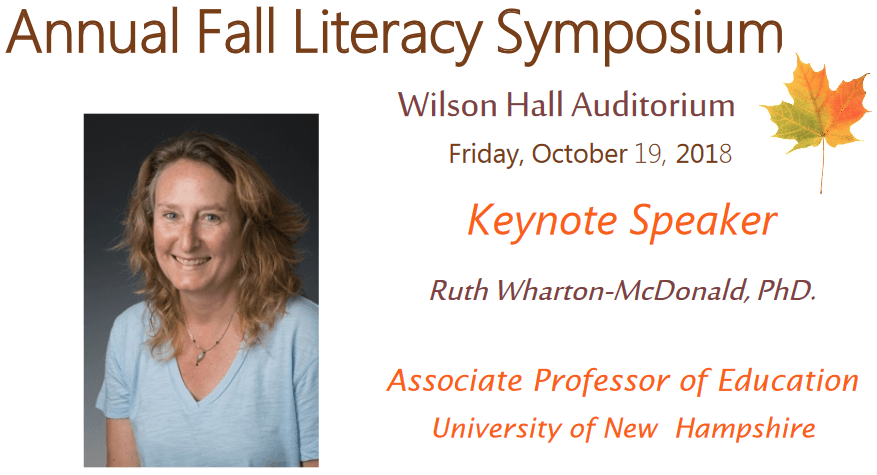 Ruth Wharton-McDonald, Ph.D., is an Associate Professor of Education at the University of New Hampshire.
Her interest in children's literacy development stems from her experiences as a classroom teacher, a reading specialist, a school psychologist, and a supervisor of elementary teaching interns. She completed her M.Ed. in Reading, Language and Learning Disabilities from Harvard University and her Ph.D. in Educational Psychology from the State University of New York at Albany.
Dr. Wharton-McDonald's research has focused on some of the factors that contribute to children's success (or struggle) in literacy development including exemplary teachers, students' understandings of what it means to be a reader or a writer, and recently, the decisions made by students and teachers in selecting reading materials. At the University of New Hampshire, Ruth directs Seacoast Reads, a volunteer literacy support program pairing undergraduates and children in schools, libraries, and after school programs. She helped to establish the university's new Community Literacy Center, and for 15 years, she has led a middle school book group at the local public library.
Workshop Sessions
Session A Workshops
Session A1: Reading is Thinking: Empowering Readers to Comprehend
Speaker: Colleen Henkin, Reading Specialist, Millstone Elementary School, Millstone Township School District
Session A2: Finding our Students by Losing them to Books (Middle School-High School)
Speaker: Melissa Caliendo-Satz, English Teacher, Holmdel High School Holmdel, Township School District
Session A3: Get in the Game! A Parent Engagement Playbook for K-4
Speaker: Jamie Johnson, 4th Grade Teacher, Meadowbrook Elementary School, Eatontown School District
Session A4: Secrets to Student Engagement in the Literacy Classroom and Beyond
Speaker: Jenna Atkinson, 4th Grade Teacher, Indian Hill School Holmdel, Township School District
Session A5: Having Fun with Fluency: Strategies Readers Will Enjoy (Grades K-8)
Speaker: Adrienne Hansen, Memorial Middle School, Spotswood School District
Session B Workshops
Session B1: Comprehension Instruction in the Early Grades
Speaker: Gracemary Desciscio, Kindergarten Teacher, Our Lady of the Lake School in Verona, NJ Newark School District
Session B2: Integrating Digital Resources into a 21st Century Workshop Model
Speaker: Amy Bennett, 4th Grade ECG, Joseph J. Catena Elementary School, Freehold Township School District
Session B3: Book Clubs: Tapping the Interests of Young Readers
Speaker: Stacy Frazee, 1st Grade Teacher, Navesink Elementary School, Middletown School District
Session B4: Learning Studios and Literacy Instruction
Speaker: Katlyn Nielsen, 3rd Grade Teacher, Laura Donovan Elementary School, Freehold Township School District
Session B5: Community Building in the Literacy Classroom
Speaker: Jackie Stern, 4th Grade Literacy Teacher, Indian Hill School, Holmdel School District
Please contact Colleen Finnigan at 732-571-3437 or cfinniga@monmouth.edu with any questions