Professional counseling is a timely profession given the unique challenges and developmental stages individuals encounter on a daily basis. Counselors assist with therapeutic techniques and skills that are designed to help clients reach their goals and maximize their potential for growth.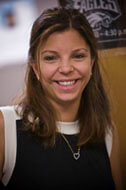 The goals of the counseling programs at Monmouth University are to foster the growth and development of students who aspire to be professional school counselors, student affairs professionals, or college counselors. The components of the program goals incorporate a knowledge base of theoretical counseling applied to clients from diverse environments. Our faculty is steadfast in using teaching approaches that infuse current research studies in professional counseling.
A thorough understanding of human behavior and mental health can facilitate personal growth and conceptualization towards students, clients, families, and school/university systems. The implementation of our program philosophy necessitates a comprehensive approach that addresses the individual goals of our students related to their professional aspirations.