Superintendents' Academy
The School of Education at Monmouth University is pleased to announce the twelfth year of their Superintendents' Academy for superintendents and central office administrators.
Workshop Registration & Membership Opportunity 2021 – 2022
The yearly fee for membership in the academy is $300 per district, which includes the attendance of up to 3 superintendents/superintendent's representatives at each workshop. Non member fee per ONE session is $0.
Current Central Jersey Consortium for Excellence and Equity (CJCEE) members are eligible for:
A 2021-2022 comprehensive membership in the Superintendents' Professional Development Academy program at no cost
– OR –
A 2021-2022 comprehensive membership in the Principals' Professional Development Academy program at no cost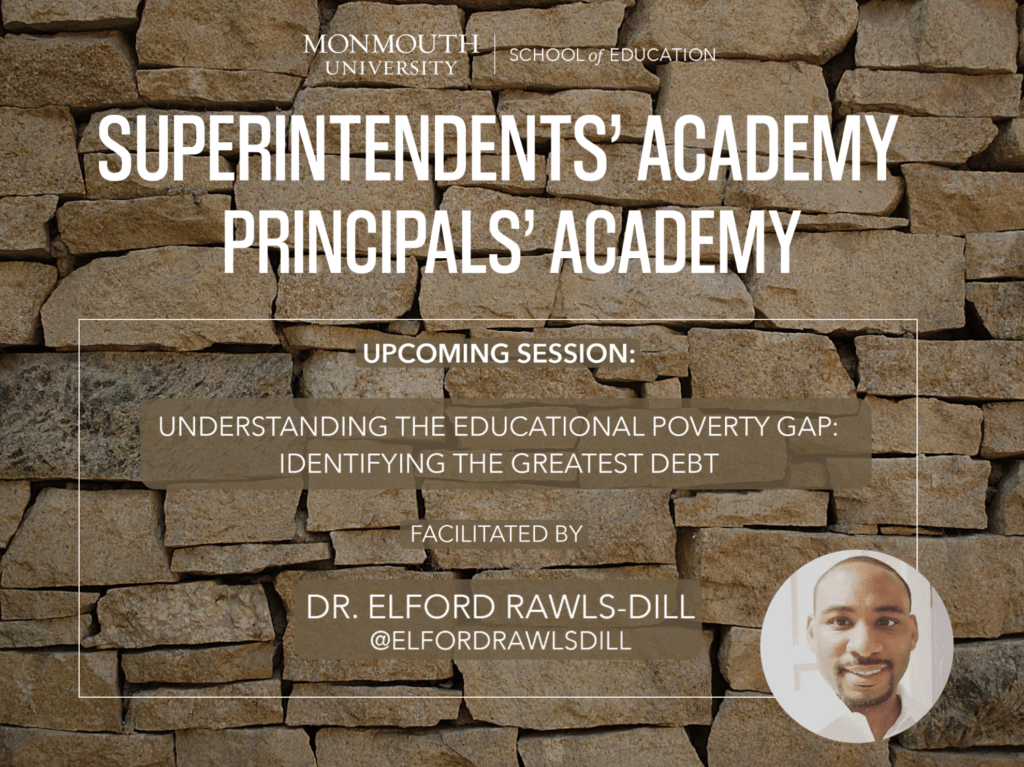 Superintendents' Professional Development Academy
2021-2022 Event Schedule
Date
Event Description
September 23, 2021

4:00-5:30pm

Superintendents' Academy, Principals' Academy & School Change Academy Combined Event
Topic: Understanding the Educational Poverty Gap: Identifying the Greatest Debt
Presenter: Dr. Elford Rawls-Dill

November 18, 2021

10:00-11:30am

Topic: Effectively Utilizing ESSR Funds
Presenter: To Be Announced

February 24, 2022

10:00-11:30am

Topic: Active Citizenship/GlobalEd
Presenter: To Be Announced

March 24, 2022

4:00-5:30pm

Superintendents' Academy & Principals' Academy Combined Event
Topic: Equity/Equitable Classroom Practice
Presenter: To Be Announced
Districts Registered for the CJCEE (as of 11/9/2020)
Avon School District
Deal Borough
Glen Ridge Public School District
Howell Township Public Schools
Kenilworth Public Schools
Long Branch Public Schools
Middletown Township Public Schools
Monmouth Regional High School
Mullica Township
Neptune City
Point Pleasant Beach
Red Bank Charter School
Toms River Regional Schools
Township of Ocean
Upper Freehold Regional School District
Woodbridge Township School District
Previous Sessions
Instilling Hope Amidst a Crisis
Please Mute Yourself: A Virtual Equity/SEL Themed Play
An Integrated Approach to Systemic Health
Empathy Wisdom in Leadership with Monmouth County Partnership for Wellness
Standing on the Shoulders of Giants: A Look at Transformative Mentoring Practices that Elevate Teacher Efficacy and Leadership