The Central Jersey Consortium for Excellence and Equity (CJCEE) is an evolving collaboration of administrators, teachers, support staff, parents, and elementary and secondary students that are collectively committed to learning and working together to enhance the achievement and well-being of all students, as well as increasing the academic performance, engagement, and future success of traditionally underachieving students. CJCEE focuses on inter-district collaboration and shared learning for continuous improvement in eliminating the disparities in achievement and school engagement among students.
Founded by Lynn Romeo, Ed.D., former dean of the School of Education and associate professor emeritus, along with James Stefankiewicz, Ed.D., superintendent of Township of Ocean School District, the CJCEE has been in operation since 2012. Tina Paone, Ph.D., professor of Educational Counseling, coordinates the program for the School of Education. For information on the consortium, contact the School of Education, Certification, Field Placements & School Partnership Office at CJCEE@monmouth.edu.
2023-2024 Topic of the Year: Transforming Our Schools & Communities Through Culturally Sustaining Education
Meet This Year's Speaker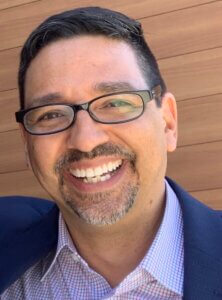 Curtis Acosta, Ph.D., was a high school teacher for nearly 20 years, where he developed and taught Latinx Literature classes for the renowned Mexican American Studies program in Tucson. He is an award-winning educator who was named one of the "Top 10 Latinos to Watch in US Politics" by the Huffington Post. His work was featured in the documentaries Precious Knowledge and Dolores, as well as The Daily Show with Jon Stewart. He is the founder of the Acosta Educational Partnership, a consultation firm that helps educators create culturally sustaining and humanizing educational practices in their classrooms, schools, and communities.
Acosta received his Bachelor of Arts degree from Willamette University in Salem, Oregon, and later obtained a Master's of Arts degree and Ph.D. in Language, Reading, and Culture from the University of Arizona in Tucson. He is currently an assistant professor in Teaching, Learning, and Sociocultural Studies and director of the M.Ed. in Secondary Education, Alternative Path program at the University of Arizona.
District Teams
Each district should create an equity team to attend each of the sessions. The team members will work together the entire year. It is highly recommended that the equity team remain the same throughout the year. Additionally, the equity team should include adult mentors that will assist the students with their projects.
Who should be on our equity team?
Your team should consist of administrators, classroom teachers, specialists, school counselors, school social workers, and support staff. Team members should be interested in the topic of social justice and come ready to work. These team members will also serve as the individuals mentoring and assisting the students in the work they will do over the year.
Which students should we send?
Selected students should be leaders who are committed to and interested in social justice work. These students will work with the adult team that will be representing your district. Students will be expected to attend two conferences (October and June) and implement district set goals at the student level.
Information about our 2023-2024 sessions
The CJCEE team sessions will be two-and-a-half hours (9:30 a.m.–12 p.m.) in a virtual setting. Sessions are organized to facilitate the work of district teams to accomplish specific goals for the district. Therefore, the overarching purpose is to apply what is learned in the CJCEE sessions to your work with diversity in the schools. Student sessions will take place in person from 9:15 a.m.–1 p.m.
2023-2024 Membership
The membership includes fifteen (15) adult team members (administers, teachers, counselors, staff, etc.) and ten (10) student participants.
Yearly Membership: The membership fee for the CJCEE for the 2023-2024 academic year is $2,300.
Team Session Dates (Virtual)
Team Sessions will be virtual: 9:30 a.m. – 12 p.m.
Session 1: Monday, Sept. 18, 2023
Session 2: Monday, Nov. 13, 2023
Session 3: Monday, Dec. 11, 2023
Session 4: Monday, Jan. 22, 2024
Session 5: Monday, March 4, 2024
Student Conference Dates (In-Person)
Student Conferences will be in-person: 9:15 a.m. – 1 p.m.
Fall: Wednesday, Oct. 4, 2023
Spring: Wednesday, June 5, 2024
Follow CJCEE on Social Media