Mission Statement
The purpose of the Special Services Academy (SSA) is to create an opportunity for dialogue and an exchange of ideas and experiences for Directors of Special Services, Learning Disabilities Teacher Consultants, School Psychologists, School Social Workers, and Speech Language Specialists. Through collaboration with university administrators and faculty, the academy will provide professional learning communities that offer growth opportunities for members through sessions which focus on promoting reflective practice and positively impacting student and teacher learning. A network of support and resources for members will be established for developing new experiences.
The BCBA Roundtable is a professional development community comprised of Board Certified Behavior Analysts (BCBAs) who actively provide behavior consultation, training, and assessment in New Jersey public schools. The members of this organization seek to enhance the role of the BCBA in schools through professional collaboration on ethically sound behavior analytic practices, dissemination of peer-reviewed research for applied settings, and integration of scientifically-based interventions in classrooms. Monmouth University is a verified Authorized Continuing Education (ACE) Provider Organization by the Behavior Analyst Certification Board; members of the BCBA Roundtable earn Type 2 continuing education credits for each professional development event.
Additional Information
For more information regarding the Special Services Academy or the BCBA Roundtable workshop series, please email soessa@monmouth.edu.
Special Services Academy Workshops Dates and Topics
Session 1: Monday, October 3, 2022: Legal Matters

Presenters: Lester E. Taylor, Esq. and Caitlin Pletcher, Esq.
Florio Perrucci Steinhardt Cappelli Tipton and Taylor LLC, New Providence, NJ 07974
Session 2: Monday, December 5, 2022: School Refusal

Presenters: Alanah Mellin, children's reference librarian, Holmdel Public Library; Elyse Greenbaum, social worker, Special Services, Mendham Township School District; Al Oberman, director of Special Education and Pupil Services, Bristol Township School District; and Lee Cohen, school psychologist, West Orange Public School District

Session 3: Monday, February 27, 2023: Transition Services

Presenters: Monmouth Cares, Ashley Novak and Suzanne Grell

Session 4: Monday, April 3, 2023: Topic TBA

Presenters: Ai Kamei, Ph.D., associate professor of Special Education at Monmouth University, and Erik Raj, Ph.D., associate professor of Speech Language Pathology at Monmouth University
BCBA Roundtable Discussion Dates and Topics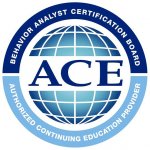 We are excited to announce our new BCBA Roundtable sessions for this school year. The presentations are based on recommendations from our members and have been created to support you and your staff.
This session will offer 2 Teaching CEUs for BCBAs. The Behavior Analyst Certification Board certifies that we are an Authorized Continuing Education provider organization.
The sessions for this year will be conducted primarily in-person (with a HyFlex option, by special request). In order to provide appropriate space, we will require specific names of those attending in person prior to each session. Lunch will be provided.
If you or your district has not registered yet, kindly complete the BCBA Registration for each individual attending. Registrants will be sent a correlating scholarly article and/or material in relation to the BCBA Roundtable Session prior to attending the event (A Zoom link will be provided, by special request).
Workshop Topics/Dates (all session will be from 10 a.m. – 12 p.m.):
Monday, October 3, 2022: Considerations for Implementing Behavior Reduction Procedures
Monday, December 5, 2022: Applications of Practical Functional Assessment
Monday, February 27, 2023: Supplemental and Out of School ABA Programming
Monday, April 3, 2023: Ethical & Legal Decision-Making in School-Based ABA Programming
For more information Contact: soessa@monmouth.edu
Thank you to those who have been attending our sessions for the last few years and hope that you will join us this year—and spread the word to your fellow BCBAs around New Jersey!
Previous Workshops
Autism Programming
Tele-therapy
Suicide Prevention
ADHD and Executive Functioning
Maximizing Behavior Analytic Services in Schools
Considerations & Strategies for Teaching Social Skills
Criminal Justice Advocacy
Defensible IEP's
Transition
Mental Health Issues, Concerns, & Dialogue
Tiered Systems of Support
Evidence-based Practices for Students with Autism
Legal Issues
LRE Implementation
Assessment
Reading Approaches and Individualized Reading Programs
Role of the Social Worker on the Child Study Team
Dyslexia
Special Education and Its Relation to PARCC
Special Services Professional Development Academy Membership
The Special Services Academy will hold 4 virtual workshops this year with topics on timely issues directly related to matters of interest to attendees. This membership includes attendance (up to 3 people) at each of the four sessions. Attendees can be changed as needed. Sessions run from 1 – 2:30 p.m.
The yearly fee for membership in the academy is $200 or non-member per session is $75 (per person).
BCBA Professional Development Academy Membership
The BCBA (Board Certified Behavior Analyst®) Professional Development Academy will host 4 roundtables during the 2021-2022 season. Current membership in the Special Services Academy (SSA) includes free attendance for up to 3 representatives at each of the four sessions that will be held during the school year.
For non-SSA members, the cost to attend a BCBA roundtable is $50 per session per person.
The Behavior Analyst Certification Board certifies that we are an Authorized Continuing Education provider organization.
Special Services Academy Steering Committee
Danielle M. Frith, Specialist Professor, Special Education, Monmouth University
Natalie Gricko, Supervisor Child Study Team, Woodbridge Township School District
Assistant Professor Mary Haspel, Ed.D., BCBA-D, Special Education, Monmouth University
Jo-Ann Johnson, Learning Disabilities Teacher Consultant, Point Pleasant Borough Schools
Assistant Professor Ai Kamei, Ph.D., Special Education, Monmouth University
Assistant Professor Stacy Lauderdale-Littin, Ph.D., BCBA-D, Special Education, Monmouth University
Associate Professor Kathryn Lubniewski, Ph.D., Special Education, Monmouth University
Assistant Chair Carol McArthur-Amedeo, Ed.D., Special Education, Monmouth University
Erick Nunez, Supervisor, Woodbridge Township School District
Chair Alex S. Romagnoli, Ph.D., Special Education, Monmouth University
Kerri Walsifer, Director of Special Services, Tinton Falls School District