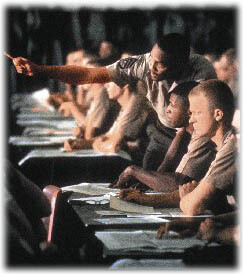 Monmouth gives credit for the Defense Activity for Non-Traditional Education Support (DANTES) program. DANTES allows you to take exams, without enrolling in classes, to earn college credit. These include the College-Level Examination Program® (CLEP), which provides students with the opportunity to demonstrate college-level achievement through a program of exams. These exams can be worth college credits of between two and six units each. Through DANTES, this test is free to service members.
Monmouth University is among a group of more than 400 colleges and universities that provide voluntary post-secondary education to members of the military throughout the world. Monmouth recognizes the unique nature of the military lifestyle and has committed itself to easing the transfer of relevant course credit, providing flexible academic residency requirements and credit learning from appropriate military training and experiences. Over the years, many of the courses students have taken while on duty have been evaluated and approved by academic departments. Students receive equivalent credit from Monmouth for these courses.
For more information about using your military experience for college credit, contact Mr. Patrick Dorsey, Associate Director of Undergraduate Admission, by sending an e-mail to pdorsey@monmouth.edu or by calling 732-263-5873.