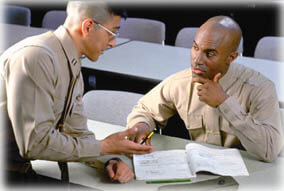 Official Marine Corps Photo
Q. How do I enter the military after college?
A. If you've already graduated from Monmouth University and are just now considering a career in the military, you can speak directly with a recruiter about joining the service branch of your choice. Alumni up to the age of 35, in most cases, can still enter military service. As a college graduate, you may want to look into post-graduation commissioning programs offered by each of the services. This will allow you to enter the military as an officer. Your recruiter can also tell you about career specialties that are currently in demand.
If you are still in school, you may want to consider one of several options offered by the military, such as scholarships, which allow you to study during the academic year and earn a commission upon graduation. This will help pay for your college expenses, including tuition, books, and fees. In many cases 100% of your expenses plus other benefits will be provided. Each branch of the service has unique programs designed for this purpose. Of course, accepting these benefits will obligate you to a specific length of military service upon graduation. Your recruiter can give you full details.
Q. How can I prepare for a military career while attending Monmouth University?
A. If you are considering the military, your first stop should be the Monmouth University Career Development. The staff can put you in touch with a recruiter who will answer all your questions about a successful career in the military. You also might want to discuss your future long-term goals with the placement staff to determine if military service will help you to better realize your ultimate professional objectives. Students can make career coaching appointments through Handshake, as well as browse and register for events hosted by Career Development. All Monmouth University students have a Handshake account already created for them; just activate that account by signing in with your Monmouth University login information monmouth.joinhandshake.com
Q. How will the military help me to pay for my education while at Monmouth?
A. As noted above, each branch of the service has various tuition assistance programs and scholarships you may qualify for while at Monmouth, which will help pay your tuition, fees, and other expenses.
Q. I just completed my military service. How can I use the GI Bill at Monmouth?
A. If you are a veteran coming to Monmouth for your degree after your service, some of your college expenses can be covered under the G.I. Bill ®, as determined by the Veterans Administration (VA).You must submit required paperwork to the VA in order to qualify for this benefit. More information about the GI Bill ® can be obtained from your local Veterans Administration office. For information about using your VA benefits at Monmouth University, please contact the Office of Veteran Services.
Q. How can I get into an officer commissioning program?
A. There are generally four ways to pursue a career as a commissioned officer in the military.
1) You can graduate from one of the Service Academies, such as Annapolis or West Point.
2) You can join an ROTC program at your college or university and receive a commission upon graduation. Monmouth currently participates with Rutgers University's Air Force ROTC program.
3) You can accept a direct commission. Direct commission officers are degreed professionals with specialized training, such as doctors, dentists, engineers, and attorneys.
4) You can join an Officer Candidate School (OCS) program while still in college or after graduation. After successful basic military training, you would attend officer basic training. Upon successful completion, you would be commissioned as an officer. For specific information about commissioning programs, click on the links below. Your recruiter can also answer your questions.
Q. What career fields are open to me in the military?
A. There is an enormous number and variety of career fields open to college graduates in the military. There are literally hundreds of career choices, known in military parlance as MOS, or Military Occupational Specialties. Almost every job found in civilian life (attorney, doctor, business manager, computer specialist, and many others) can be found in the military. In addition, you'll find career specialties unique to the armed forces, such as those dealing with advanced weapon systems, intelligence, and submarine nuclear propulsion. One thing is certain—your experience in the military will translate into increased responsibility and success in your civilian career. Military recruiters associated with the University will be happy to discuss with you the variety of career specialties in their respective branches. You can also visit the official military Web sites for the Army, Navy, Air Force, Marines, and Coast Guard for more information.
Q. How can my military experience translate into advanced standing at Monmouth?
A. Monmouth University is a member of the Servicemembers Opportunity Colleges (SOC) program and gives credit for the Defense Activity for Non-Traditional Education Support (DANTES) program. Both programs will help you utilize your military experience for advanced standing at the University.
Q. I'd like to call a recruiter directly. What are the toll-free numbers for military recruiters?
A. You can call 1-800-USA-ARMY, 1-800-MARINES, 1-800-USA-NAVY, 1-800-423-USAF or 1-800-GET-USCG to reach the recruiter of your choice.
Q. Will military service make a difference in my civilian career?
A. Business, community, and government leaders across the country all agree that the experience one earns in the military is a highly sought-after commodity in the labor market. Former military service people have excelled as executives, entrepreneurs, elected officials, and leaders in every field. Few places outside the military can be matched for the level of responsibility and leadership assumed by its members.
Q. I'm not sure a full-time military career is for me. What are my options?
A. You may want to consider a career in the National Guard. You can still enjoy many of the benefits of military service but with a more flexible time commitment. National Guard members accrue generous tuition benefits for use at many colleges and universities, including Monmouth. It's a great alternative to full-time military service. Find out more about the Army National Guard or the Air National Guard.