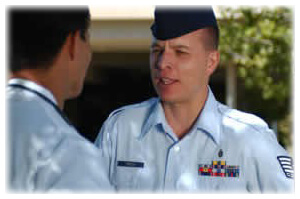 From pilot to police officer, logistics planner to lawyer—each of these careers and just about every career in between can be found in the United States military. If you are a college senior or graduate student interested in pursuing a career in military service after completing your degree, your career options are nearly limitless. Most career paths found in civilian life are mirrored in the military, and many more are unique to the armed forces. With the exception of specific technical or specialty fields, most military careers are open to graduates in good standing from all majors.
Experience in the military is an excellent way to gain valuable knowledge and skills for your future career development, while at the same time serving your country. As a college grad, in most cases, you would be eligible for commissioning as an officer, where benefits and salary are competitive with many private industry careers. Long-term advantages, such as retirement options, are outstanding in the military.
All branches of the service offer programs designed to help students plan for a military career while still in school, such as Reserve Officers Training Corp (ROTC) and Officer Candidate School (OCS). Scholarship programs are also available. Recent grads can still enlist after graduation through their military recruiter. For other alumni, the armed services generally allow candidates to apply for enlistment up to age 35, depending on occupational specialty.
Monmouth University and Rutgers University have an agreement permitting students at Monmouth University to cross-enroll in either the Air Force or Army ROTC programs at Rutgers University. More details about this agreement and contact information can be found on page 55 in the Monmouth University Catalog.
If you would like to talk personally to a military recruiter about careers before or after graduation, please contact Career Development by sending an e-mail to careerservices@monmouth.edu  or by calling 732-571-3471. Career Development also can tell you when military recruiters will be visiting the campus.
Additional Information