Internships at the Institute for Global Understanding
The Institute for Global Understanding is pleased to announce that it will host interns starting during the Fall 2020 semester. Included below is a short description of experiential education at Monmouth University and how internship placement at IGU will be addressed.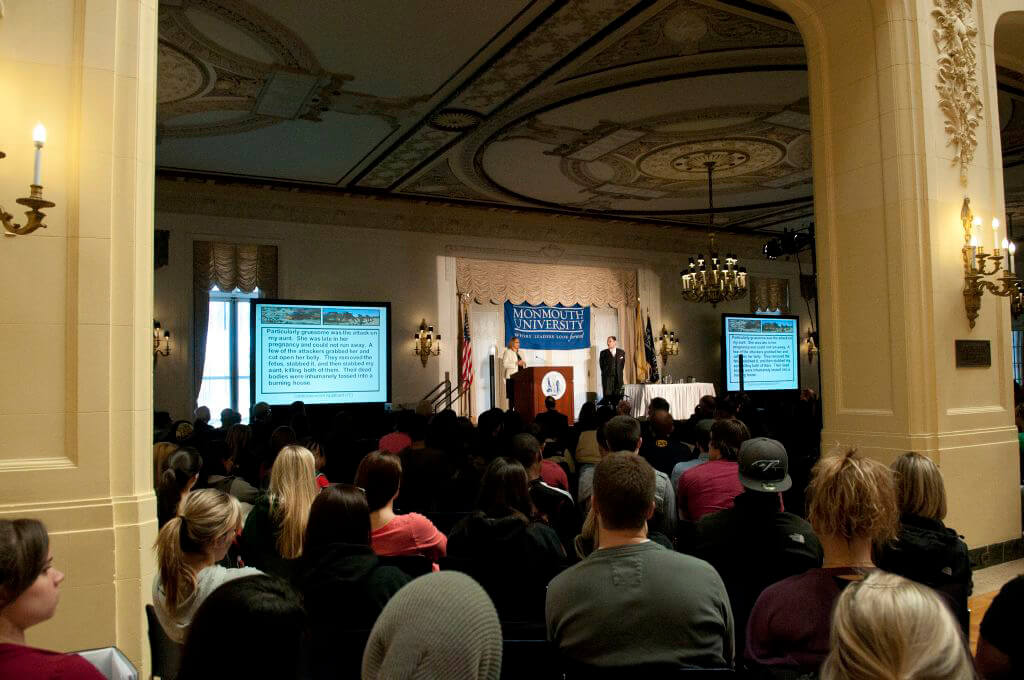 Experiential Education at Monmouth University
Experiential Education provides students with the opportunity to apply theory in practice through actual work experiences that involve both academic and experiential learning. The experiential part involves a minimum of 150 hours of work (for most majors) during the semester for three credits. The academic aspect involves the intern in developing goals for the internship, maintaining a weekly reflective journal, writing an analytical report related to the internship, actively discussing and making presentations on the internship, assessing the internship, and securing the intern supervisor's evaluation.
Any experiential education course at MU enables students to fulfill the following learning objectives:
Apply their knowledge within the professional environment of their experiential education placement;
Fulfill the responsibilities associated with the professional environment of their experiential education placement;
Articulate the role of their coursework in helping them to perform the work associated with their experiential education placement;
Describe careers related to their experiential education experience; and
Discuss the broader context in which their experiential education experience took place.
While most students perform their internships off-campus, several internship opportunities exist on campus, such as at the Office of the General Counsel, Office of Human Resources, Athletics Department, and Polling Institute.
Interning at the Institute
Internships at IGU will be of great value to both students and IGU. While interns will learn about the IGU mission and goals and participate in its activities, the IGU will gain new perspectives and facilitate the spread of its message to the student body.
Interns will work directly with the IGU Director and or with member(s) of one or more of the IGU Committees (that is, Fulbright Opportunities and Global Partnership Committee, UN Relationships Committee, Intra-campus Synergies Committee, Global-Local Committee, IGU Symposium Planning Committee). The number of internships and the selection and placement of interns will depend on IGU needs and the availability and interest of IGU supervisors.
Interns can assist with research, writing, and programs. They can, for example, conduct online guided research and write briefs or short papers related to the UN and or the theme and sub-themes of the symposium in spring 2021. (Those unable to be physically present on-campus because of the pandemic can conduct research and writing virtually.) Those able to be on campus can help with organizing events, placing posters around campus, and attending and videotaping events. In whatever activity they become engaged, it is important that interns benefit community and benefit from learning in community (e.g., IGU, MU, NJ, the world at large) as well as experience critical thinking and reflect on lessons learned.
Supervision will be conducted by the faculty member with whom the interns work. Supervision, as per best practices 1, consists of: monitoring interns and providing feedback regularly about progress; enabling interns to apply academic skills and knowledge to the internship environment; identifying intern successes and strengths and offering feedback on progress toward goals; providing meaningful projects and tasks that foster learning and application; and cultivating an environment that promotes mentorship for career planning. Such supervision will be considered IGU service.
Interns should also follow best practices. Among these are: maintaining professionalism in all internship interactions, and respecting office policies and project deadlines; establishing individual and professional goals and committing to pursuing them; reflecting systematically and deeply on the entire internship and its relevance to future professional and personal development; and proactively seeking and embracing mentoring relationships 2.
---
1. These and other practices are presented in the Internship Bill of Rights and Responsibilities of the Washington Center for Internships and Academic Seminars.
2.Ibid.