P.U.S.H. (Professors United for a Safe Haven) Back!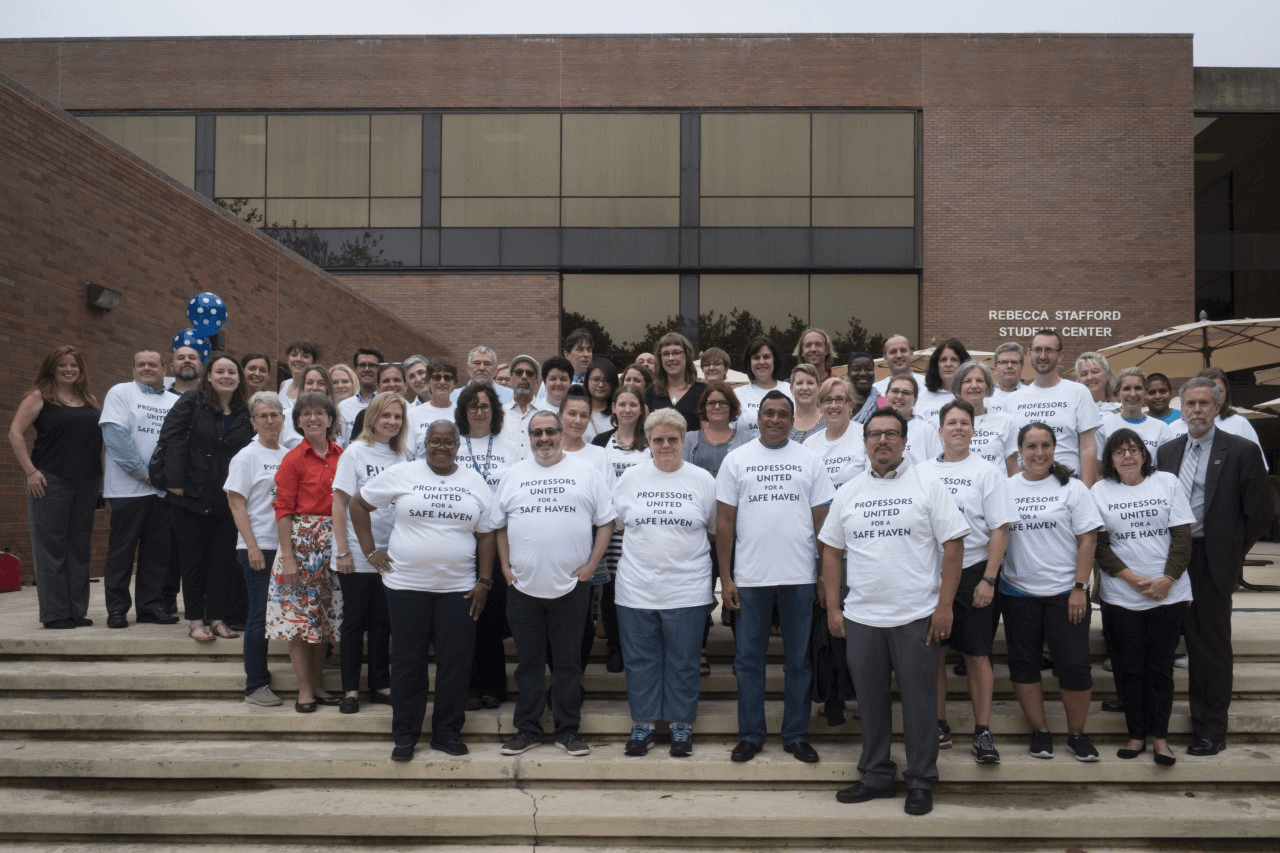 Professors United for a Safe Haven (P.U.S.H.) BACK @ Monmouth is an interdisciplinary network of allied MU faculty organized in partnership with the MU Gender Studies Program and anti-oppression student organizations.
Monmouth PUSH Back faculty have been pushing back against …
Racial and immigrant injustice
Discriminatory policies that impact students and faculty
Rape culture
Violence on campus
… and plan to keep pushing against other threats to a safe haven on campus
Professors interested in participating are welcome to attend a Gender Studies meeting held once each Fall and Spring and are encouraged to join the Gender Studies listserv for updates. P.U.S.H. Back tshirts are available by request.
Dear Monmouth University Students:
We, the professors of Monmouth, stand behind President Dimenna's recent statement "condemning hatred, bigotry, and violence in all forms." Further, we support "our shared commitment to building a community of mutual caring and respect, diversity, and integrity."
We look forward to teaching you, and are eager to learn from you. We encourage open and respectful discussion. Importantly, we are committed to maintaining learning spaces that are free from fear. Harassment and violence will not be tolerated in our classrooms, or on our campus. We are committed to creating a University where all individuals can learn.
We are here for you, and we support you.
Examples of Student Organizations Centering on Social Action, Advocacy, and/or Justice
Artists for Change
African American Student Union
CommWorks
Counseling Students Association
Gender Studies Student Club
Latin American Student Association
Monmouth Youth Activists
Muslim Student Association
National Council of Negro Women MU chapter
OWLS (Organization of Women Looking for Sisterhood in Chi Upsilon Sigma)
Spectrum (formerly All Lifestyles Included)
Social Work Society Student Club
Sociology Student Club
SAGE (Students Advocating for Girls' Education)
Examples of Majors and Minors Examining Inclusivity, Diversity, and Solidarity
Anthropology Major and Minor
Clinical Mental Health Counseling
Geography minor
Gender Studies Minor
History Major and Minor
Political Science Major and Minor
Religious Studies Minor
Race and Ethnic Studies Minor
Social Justice Minor
Social Work Major
Sociology Major and Minor
World Languages & Cultures Majors and Minors
Contact for More Information
Sociology Program Director
Dr. Johanna Foster, jfoster@monmouth.edu
PGIS Director
Dr. Lisa Dinella, ldinella@monmouth.edu