Program in Gender and Intersectionality Studies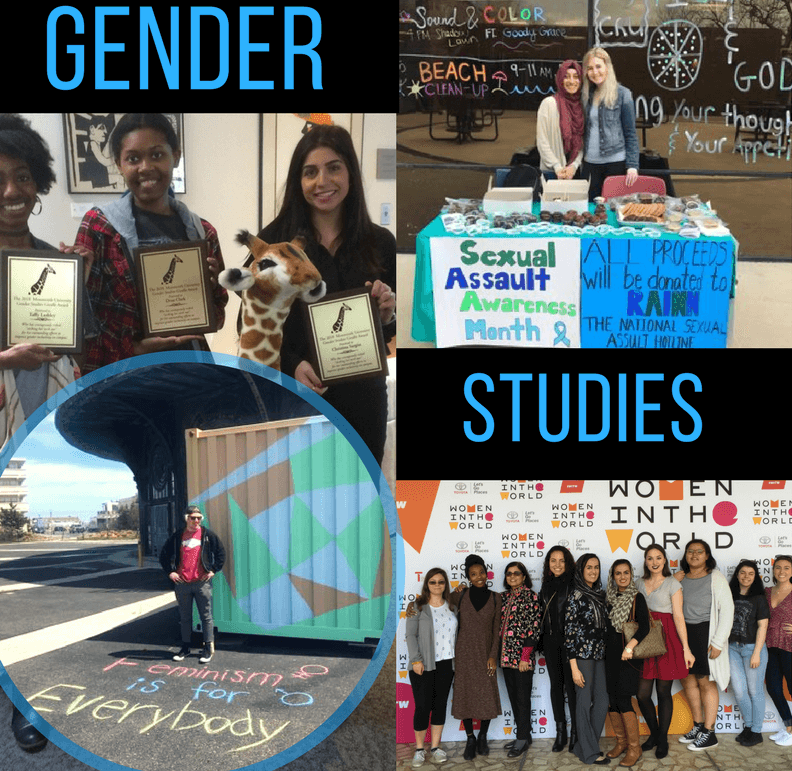 Welcome to our website. If you have an interest in Gender Studies, or would like to learn more, please think about dropping into a Gender Studies Student Club meeting or contacting any Gender Studies faculty member for more information. The program brochure is available for download here.
Director of Program in Gender and Intersectionality Studies (PGIS)
Dr. Lisa Dinella
ldinella@monmouth.edu
732-263-5295
PGIS Executive Committee Members:
Prof. Brooke Nappi
bnappi@monmouth.edu
732-571-3610
Dr. Deanna Shoemaker
dshoemak@monmouth.edu
732-263-5194
Dr. Johanna Foster
jfoster@monmouth.edu
732-263-5440
Dr. Manuel Chávez
mchavez@monmouth.edu
732-263-5738
Internship Opportunity
Garden State Equality is actively seeking interns for the spring semester. Located in Asbury Park, New Jersey, Garden State Equality is a non-profit organization that focuses on issues regarding discrimination in the LGBT community. Garden State Equality is currently working on campaigns to address safe environments for youth, improvement of health services that meet LGBT community needs, and respectful treatment of seniors. As of today, Garden State Equality is the largest civil rights organization in New Jersey.
Students who are interested can send an updated resume to Kayvon Paul. For more information about Garden State Equality, please visit www.gardenstateequality.org
Additional Information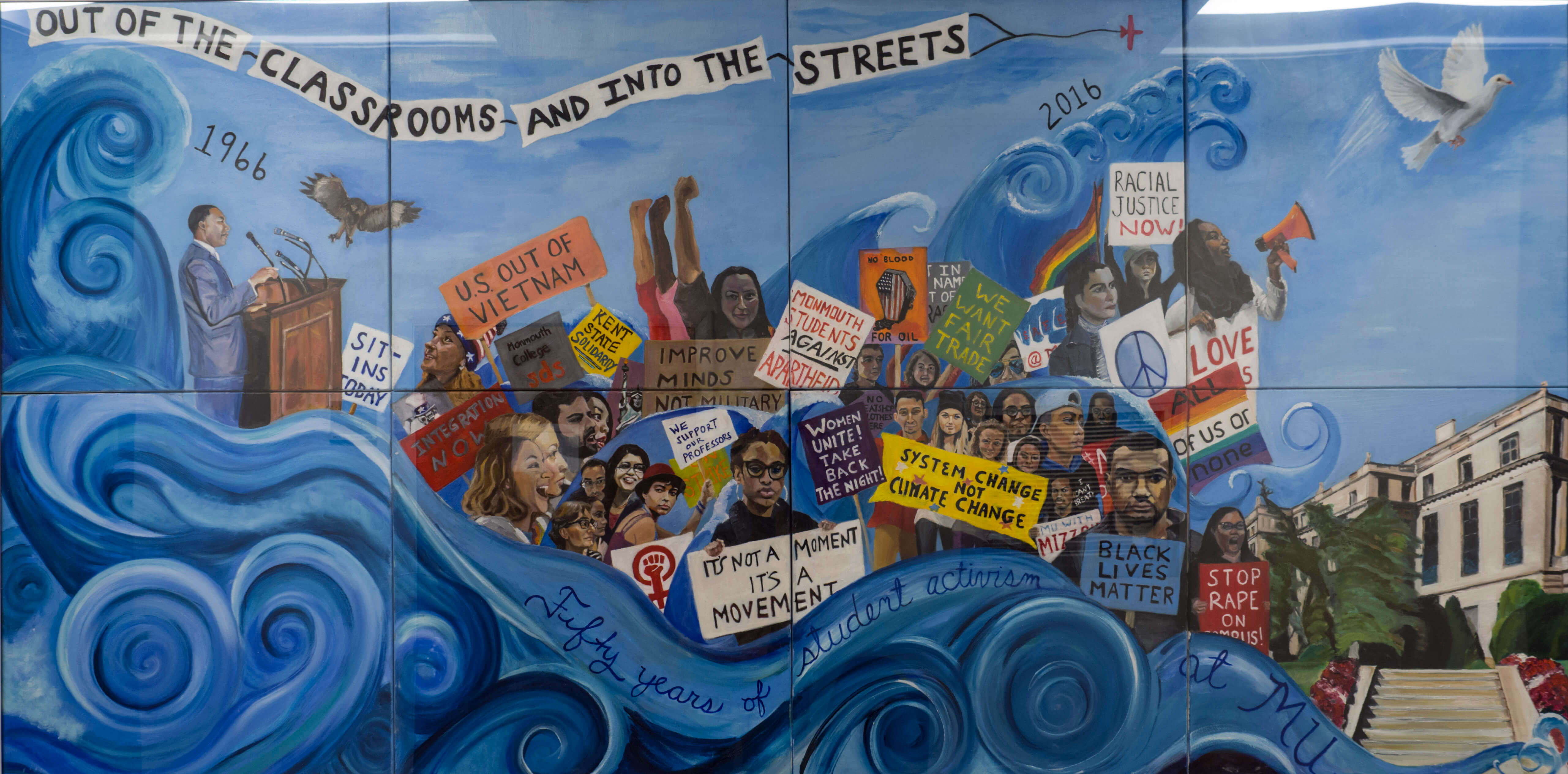 "Out of the Classrooms and into the Streets." Dr. Johanna Foster, artist.
Featured Class: Investigating the School-to-Prison Pipeline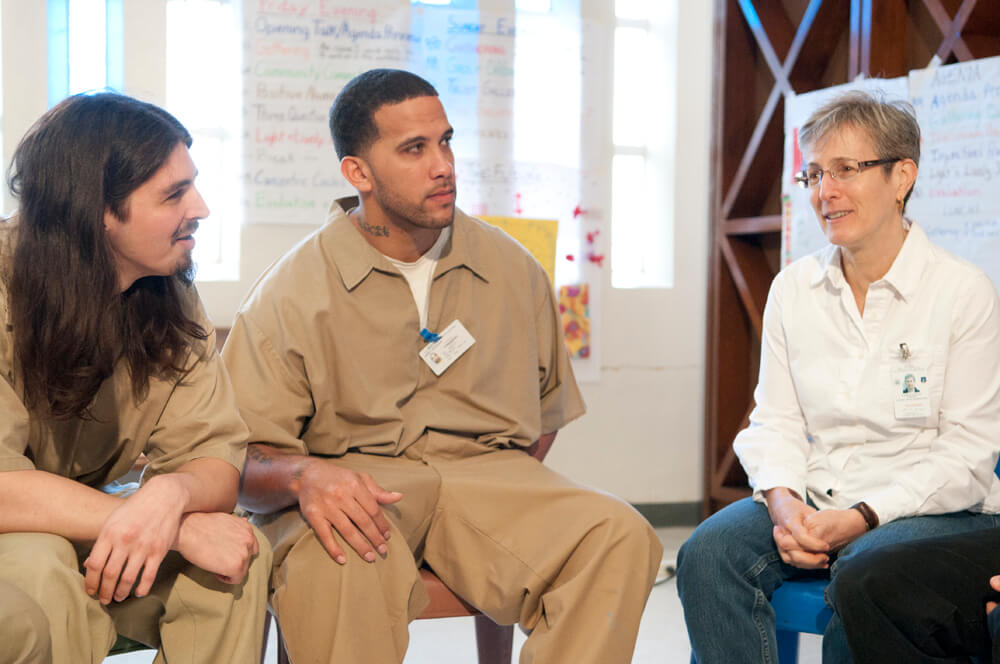 Monmouth University's new two-semester class, "Investigating the School-to-Prison Pipeline," is a provocative new offering that will engage Monmouth students this spring and next fall in an exchange of ideas and perspectives with students incarcerated in a New Jersey state prison.
In the first semester of the class, in Spring 2017, led by Dr. Johanna Foster, MU students will study the two-sided nature of public education as a paradoxical institution that can either open doors to social mobility or reproduce serious social inequalities. In the second semester, in Fall 2017, led by Dr. Eleanor Novek, MU students will travel to a New Jersey prison classroom to extend their learning in collaboration with incarcerated students.
Building from this understanding of our commonalities and differences in the realm of education, the class will generate specific academic support strategies to benefit the needs of the students enrolled. It will promote greater democratic access to education for marginalized people in the hopes of reducing recidivism through program peer support.
This course marks the first collaborative effort between Monmouth University and the New Jersey Department of Corrections.
What is Gender?
What's the Wage Gap?
---
Typical Majors that Minor in Gender and Intersectionality (PGIS)
Anthropology
Communications
Psychology
Social Work
Sociology
What You Can Do with a PGIS Minor
Diversity Efforts
Community Organizing
Public Leadership
Advocacy for Inequalities
Nonprofit Organization
PGIS-Designated Courses
Only 6 credits may be shared with major.
AN 218 Comparative Family History
AN 220 History of Advertising
AR 368 Women, Art and Society
BE 301 Labor Economics
CO 383 Gender, Race and Media
EN 431 Contemporary Women Novelists
GS 218 Contemporary History of the Family
GS 225 Introduction to Gender Studies (Required)
GS 252 Race and Ethnicity
GS 305 Women in US History
GS 377 A Comparative Study of Women in the World
HE 324 Human Sexuality
HE 330 Women's Health
HS 218 Comparative History of the Family
HS 307 History of Sexuality in America
PR 401 Perceptions
PR 407 Morality and Community
PR 422 Gender and Global Culture
PR 415 Technology and Women's Lives
PS 277 Gender and Politics
PY 331 Psychology of Women
PY 332 Psychology of the Male Experience
PY 335L Gender and Sex Roles Thesis Laboratory