Program in Gender and Intersectionality Studies
Welcome to our website. If you have an interest in Gender and Intersectionality Studies, or would like to learn more, please think about dropping into a Gender Studies Student Club meeting or contacting any Gender and Intersectionality Studies faculty member for more information. The program brochure is available for download here.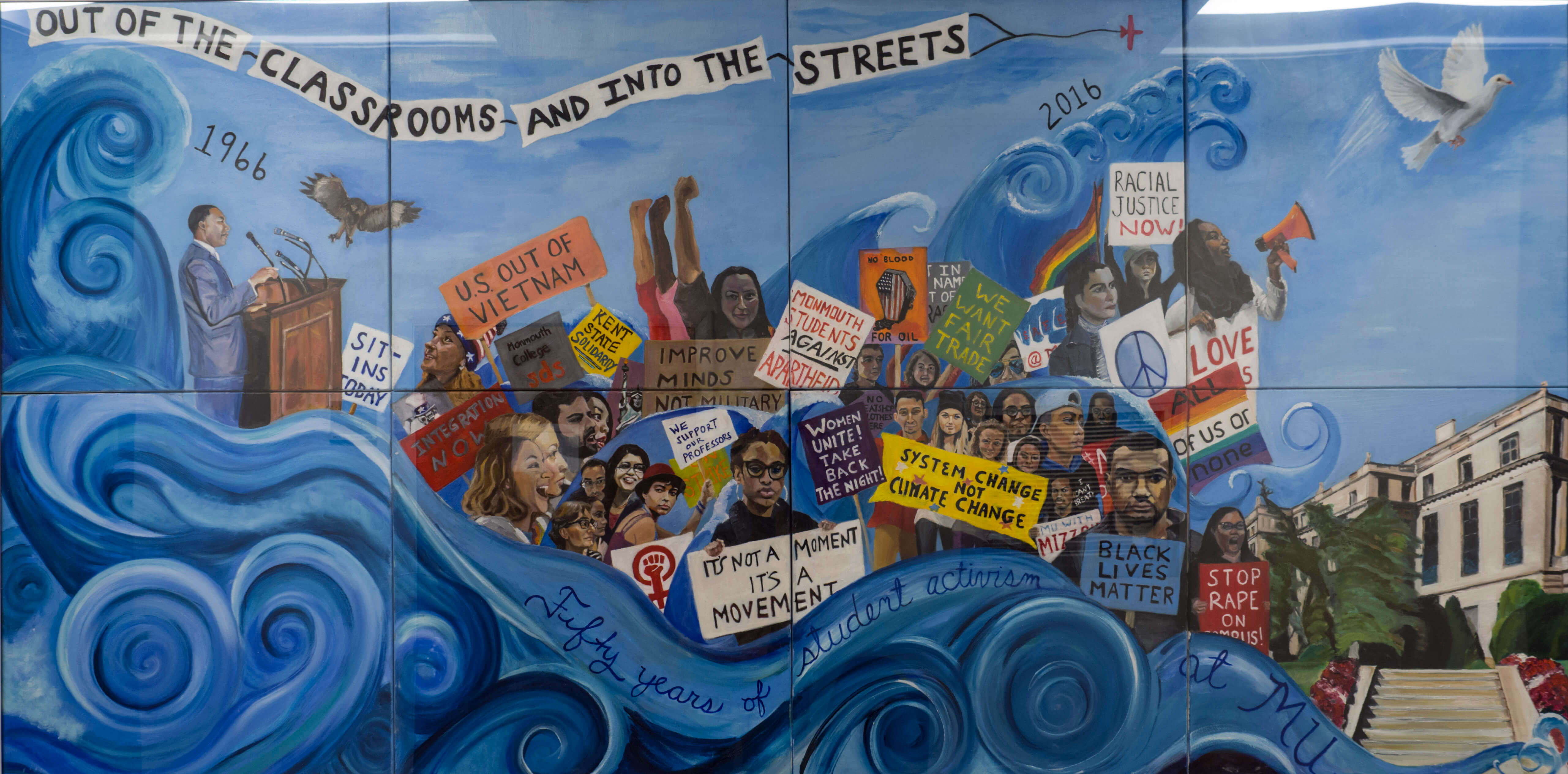 "Out of the Classrooms and into the Streets." Dr. Johanna Foster, artist
Giraffe Award Winners 2020: Sticking one's neck out for gender equity
Brittany Macaluso, Junior, Social Work
Brittany Macaluso is Junior majoring in Social Work, with a minor in Sociology. She has a passion for social justice, and has been a dedicated feminist activist on our campus, particularly when it come to issues of sexual and gender violence. She is a member of the MU Academic Exchange in Prison Project, which works to educate and motivate students to respond to the crisis of mass incarceration in the U.S. She is also President and former Events Chair for the Social Work Society and has been on the organizing teams for the MU Social Work Teach-In, and was the lead student assistant on the Banished event. Brittany has also played a role as a key leader in the student campaigns that emerged out the Conversation and Action event.
Dr. Sasha Canan, Health & Physical Education
"… [Dr. Canan] was always ready and willing to help with planning any collaborative events and made herself available to any student who needed her. She really went the extra mile as an advisor and a mentor, frequently reaching out to students who she thought might be interested in certain causes or opportunities to help better their community involvement. As a teacher, she went out of her way to create an open, safe, and accepting learning environment to ensure that all students were comfortable enough to be themselves and thrive in an academic and social [way.] Her research with the LGBTQ+ community could not possibly be valued by students any more. Knowing that there is a staff member dedicating their life to gathering empirical evidence to improve the lives of marginalized groups makes us feel heard and unwaveringly supported, and her inclusion and regard for all identities and how they intersect with the course material is not something that can be found in every classroom. Specifically in her work as a sex educator, Dr. Canan takes the time to include queer health as well as aspects of women's health that are often left out of the conversation completely, showing her queer students that they are just as deserving of education as anyone else. Monmouth University and it's faculty and students are incredibly lucky to have an educator of Dr. Canan's capacity at our institution, and those who have worked with her feel lucky to have had the opportunity. We offer her our sincerest congratulations and luck in her new position, and are excited to see what she has in store for her new community." – Tyler Castro & Ailisse Aquino, Gender Studies Club
Conversation & Action Event: Title IX, Sexual Assault, & Campus
In September 2019, the Intersection Project at Monmouth University presented a two-day Conversation and Action Event.
The Conversation and Action series explore a range of social and policy issues related to gender inequality. This two-day event included dynamic discussion featuring divergent and diverse perspectives on a timely topic of interest to feminist scholars and activists. This was followed by an all-day student workshop that focused on related social change responses. Central to the series were the voices of scholars who amplify the analysis of the intersections of gender, race, class, and sexuality in the public square.
The theme for 2019-20 was Title IX, sexual assault and college campuses.
PGIS Spring 2020 Newsletter
Additional Information
Gender and Intersectionality Minor
Gender Research Center Library
Typical Majors that Minor in Gender and Intersectionality (PGIS)
Anthropology
Communication
Psychology
Social Work
Sociology
What You Can Do with a PGIS Minor
Diversity Efforts
Community Organizing
Public Leadership
Advocacy for Inequalities
Nonprofit Organization
PGIS-Designated Courses
Only 6 credits may be shared with major.
AN 220 History of Advertising
AR 368 Women, Art and Society
BE 301 Labor Economics
CO 383 Gender, Race and Media
EN 431 Contemporary Women Novelists
GS 225 Introduction to Gender Studies (Required)
GS 252 Race and Ethnicity
GS 305 Women in US History
GS 377 A Comparative Study of Women in the World
HE 324 Human Sexuality
HE 330 Women's Health
HS 307 History of Sexuality in America
PR 401 Perceptions
PR 407 Morality and Community
PR 411 Gender and Global Culture
PR 415 Technology and Women's Lives
PS 277 Gender and Politics
PY 331 Psychology of Women
PY 332 Psychology of the Male Experience
PY 335L Gender and Sex Roles Thesis Laboratory