Interdisciplinary Conference on Race
SIXTH BIENNIAL
THEME: Race, Memory, and Identity
DATES: Thursday, November 14 to Saturday, November 16, 2019
VENUE: Monmouth University, West Long Branch, NJ
Conference program (updated 11/7/19)
---
This conference aims to bring together scholars from multiple disciplinary perspectives to broadly explore the intersections of Race, Memory, and Identity. Contemporary social, political, and media discourses demonstrate the continued need to evaluate the differing ways that race and identity impact memory in connection to history, trauma, loss and remembrance. Understanding memory as both a subject and a tool can act to promote conversations about how memories of the past impress upon individual and collective memory to affectively shape racial and cultural identities. How might we remember the legacies of personal and historical injustices in the present while at the same time shaping the future to allow for an exploration of the persistently entangled forces of remembrance, identity, and justice?
The Monmouth University race conference was founded in 2008 by Dr. Julius Adekunle and Dr. Hettie V. Williams. This conference has brought together scholars from more than fifteen U.S. states, four continents, and twelve nations. Robin D.G. Kelley, Tera Hunter, David Roediger, and Jonathan Holloway have all previously served as keynote speakers for this event. This year, historian Dr. William Sturkey, UNC, Chapel Hill, will deliver the opening plenary lecture. Dr. Qiana Whitted, USC, and other distinguished speakers will also participate in this conference (TBA).
The Interdisciplinary Conference on Race program committee eagerly invites proposals from students, scholars, researchers, artists, and teachers around the world on topics related to the scholarly and/or pedagogical aspects of the conference's themes. Some examples of topics one could pursue under the conference theme include, but are not limited to:
Art, artifacts, comics, sequential art, visual culture, murals, street art
Collective, public, and personal memory
Ethnic, cultural, or national identity
Fluidity of identity
Social memory
Memory construction, remembrance, maintenance
Identity: imagined and real
Authenticity, acculturation, appropriation
Social practice / social relevance
Erasure / forgetting
Counter memory
Social justice
Individual / Sociocultural processes of identity
Representations of the past
Monuments, memorials, markers, museums
Preservation
Oral history / storytelling / narrative identity
Intersectionality
Commemoration, nostalgia, memorialization
Transmission of memory
Sense of place and displacement
Cultural production and consumption
Ritual, rites of passage, celebrations
FORMATS INCLUDE:
Organized Panels (3 to 4 panelists, one chair, and optionally, one discussant) – Individual papers, maximum of 20 minutes in length (panels of 4 have a maximum of 15 minutes in length for papers)
Single papers (not part of an Organized Panel)
Roundtables (between 4 to 6 participants) –5 minute opening statements from participants and then conversational dialogue with the audience
Workshops on specific teaching techniques or practices
Proposals for poster displays and presentations
Meet the Author/Podcaster/Artist sessions—an opportunity for exchanges between authors and end-users of various media to explore explanations of methods, and suggestions for use
FOR MORE INFORMATION
For further information you may contact the conference conveners:
Brooke Nappi, Lecturer of Cultural Anthropology, Department of History and Anthropology, bnappi@monmouth.edu
Maryanne Rhett, Associate Professor of Middle Eastern and World History, Department of History and Anthropology, mrhett@monmouth.edu
Featured Speakers and Performances
Opening Plenary Lecture – Dr. William Sturkey, Assistant Professor, Department of History, University of North Carolina, Chapel Hill

Dr. William Sturkey is an historian of Modern America who specializes in the history of race in the American South, with a particular interest in the histories of working-class racial minorities. He teaches courses on Modern American History, Southern History, the Civil Rights Movement, and the History of America in the 1960s. His first book, To Write in the Light of Freedom, is a co-edited collection of newspapers, essays, and poems produced by African American Freedom School students during the Mississippi Freedom Summer of 1964. His second book, Hattiesburg: An American City in Black and White, is a biracial history of Southern Jim Crow that will be published by Harvard University Press in the Spring of 2019. Dr. Sturkey is currently working on a new project, tentatively titled To Be An American, which is a biography of the legendary Vietnam War hero Master Sergeant Roy Benavidez.
Dr. Sturkey works with graduate students in all fields of Modern American History. He is currently advising the talented Jennifer Standish and Laura Woods. Dr. Sturkey also serves on the Faculty Advisory Board of the UNC Center for the Study of the American South and the UNC Program in the Humanities. He also serves an elected representative on the UNC Faculty Athletics Council. During the 2017-2018 academic year, he was named one of two faculty recipients of the university-wide UNC Diversity and Inclusion Award for "significant contribution, time and effort of Carolina community members towards advancing an inclusive climate for excellence in teaching, research, public service and academic endeavor." Dr. Sturkey is also an engaged public scholar who regularly gives public lectures, appears in local and national media, and works with K-12 teachers.
Keynote Speaker – Dr. Qiana Whitted, Director of African American Studies and Professor of Literature, Department of English Language and Literature, University of South Carolina.
Dr. Qiana Whitted
, (Yale 2003) is Director of African American Studies and Professor of Literature in the department of English Language and Literature at the University of South Carolina. Professor Whitted works in 20th-Century African-American Literature and Culture, American Comics and Graphic Novels, and Southern Literature – all areas reflected in her recent works EC Comics: Race, Shock, and Social Protest (Rutgers University Press, 2019; and "A God of Justice?" The Problem of Evil in Twentieth-Century Black Literature (University of Virginia Press, 2009).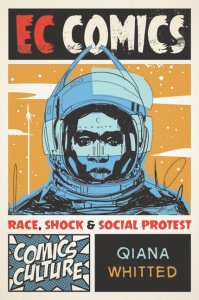 About EC Comics: "Entertaining Comics Group (EC Comics) is perhaps best-known today for lurid horror comics like Tales from the Crypt and for a publication that long outlived the company's other titles, Mad magazine. But during its heyday in the early 1950s, EC was also an early innovator in another genre of comics: the so-called "preachies," socially conscious stories that boldly challenged the conservatism and conformity of Eisenhower-era America.
EC Comics examines a selection of these works—sensationally-titled comics such as "Hate!," "The Guilty!," and "Judgment Day!"—and explores how they grappled with the civil rights struggle, antisemitism, and other forms of prejudice in America. Putting these socially aware stories into conversation with EC's better-known horror stories, Qiana Whitted discovers surprising similarities between their narrative, aesthetic, and marketing strategies. She also recounts the controversy that these stories inspired and the central role they played in congressional hearings about offensive content in comics." (Rutgers University Press)
---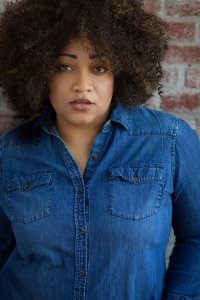 Leah Joy will perform "Freedom" by Beyonce′ Knowles at the opening (her bio and picture can be found on her webpage) and at the evening African American music and culture extravaganza. She has previously performed at the Apollo Theatre, Carnegie Hall, and Crossroads Theatre. Having earned her Bachelors and Masters Degrees in Education from Eastern University, (she also spent a glorious semester at Spelman College during the fall of her senior year), Leah Joy is a proud educator. For the past three years, she has served as Behavior Specialist in Washington, D.C. and continues to perform in live stage productions.
Leah Joy performing "I'm Here" from The Color Purple
Memory in African American Music and Culture
An Extravaganza – Poetry • Spoken Word Poetry • Stomp the Yard Demonstration • Negro Spirituals • Gospel Music
November 14, 2019 in the Great Hall from 6:00 pm to 8:30 pm
This event is an evening that includes spoken word poetry, a stomp the yard demonstration, and the singing of some classic Negro spirituals, as well as contemporary gospel music. Culture has been the primary location of black identity formation in U.S. history. As a response to oppression, and the denial of opportunity, African Americans turned to poetry and music to record their grievances, triumphs, and sorrows. African Americans have recorded and memorialized the black experience in literature and music from the first arrival of Africans in North America to the present.
Additional Information
If there are any problems with this website, please contact Heidi Bludau.