Minors within the Department of Computer Science and Software Engineering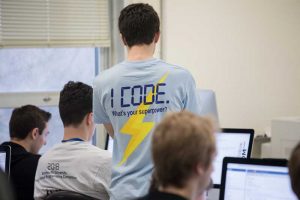 The Department of Computer Science and Software Engineering offers students two distinct and valuable minors in the technology field.
Students interested in blending a background of computing with their chosen major can do so with either the 21-credit Computer Science (CS) Minor or the 15-credit Information Technology (IT) Minor.
The value of such integration may best be summarized by Market research firm Burning Glass Technologies' 2016 report Beyond Point and Click The Expanding Demand for Coding Skills, which analyzed 26 million online job postings as well as indicators from the Bureau of Labor Statistics:
Coding skills are in high demand
Coding skills are not just for programmers
Coding jobs pay more
Coding skills provide an avenue to high-income jobs, and
Coding jobs are growing faster than the job market.
Computer Science Minor
The Computer Science Minor offers students a solid introduction to computer science that helps them develop critical thinking and problem solving skills, acquire object-oriented coding and debugging proficiencies, and work with software engineering concepts and/or computer architecture. Given the progressive nature of coding courses, students should allow 4 or more semesters to complete the CS minor.
Information Technology Minor
The Information Technology Minor provides students with essential proficiencies to help maximize their technological fluency. In addition to exposing students to hands-on development work in essential tools that include, but are not limited to: Microsoft Access, Excel, Word, and PowerPoint, students in the IT Minor also explore coding through HTML, CSS, Visual Studio and Javascript, work with Adobe Dreamweaver and Photoshop, learn about project management and the software development lifecycle, and gain sensitivity to the social and ethical ramifications of technology.
According to the Burning Glass Technologies' report mentioned above, the top 10 skills that are requested by employers include:
Communication Skills
Organizational Skills
Writing
Customer Service
Microsoft Excel
Microsoft Word
Problem Solving
Planning
Computer Literacy
Research
Many of these competencies, including Communication Skills, Organizational Skills, Writing, Planning and Research are addressed through coursework in Monmouth University's 39-credit General Education component. Adding the IT Minor to a student's program would ramp those skills up another notch and add Microsoft Excel and Microsoft Word proficiency, provide experience in Problem Solving and Computer Literacy, and, through the minor's Experiential Education component where students work on multiple projects serving outside clients, offer experience in Customer Service. The IT Minor is appropriate for Monmouth students across all academic concentrations.