Bachelor of Science in Computer Science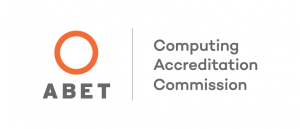 Overview
Our Bachelor of Science in Computer Science program, accredited by the Computing Accreditation Commission of ABET (http://www.abet.org), provides a breadth-first approach to computer science allowing students to gain a broad, substantive overview and understanding of the many aspects of the 21st century computing professional. This program is suited to students who wish to engage in research or advanced studies in CS or engineering or pursue employment opportunities, and is the designated programmatic path for our Computer Science B.S./M.S. 5-year program. According to ABET, graduates from an ABET accredited program have met essential standards established by a network of experts. Graduates from an ABET-accredited program have a solid educational foundation and are capable of leading the way in innovation, emerging technologies, and in anticipating the welfare and safety needs of the public.
Student Outcomes
Graduates of the B.S. CS program will have an ability to:
Analyze a complex computing problem and to apply principles of computing and other relevant disciplines to identify solutions.
Design, implement, and evaluate a computing-based solution to meet a given set of computing requirements in the context of the program's discipline.
Communicate effectively in a variety of professional contexts.
Recognize professional responsibilities and make informed judgments in computing practice based on legal and ethical principles.
Function effectively as a member or leader of a team engaged in activities appropriate to the program's discipline.
Apply computer science theory and software development fundamentals to produce computing based solutions.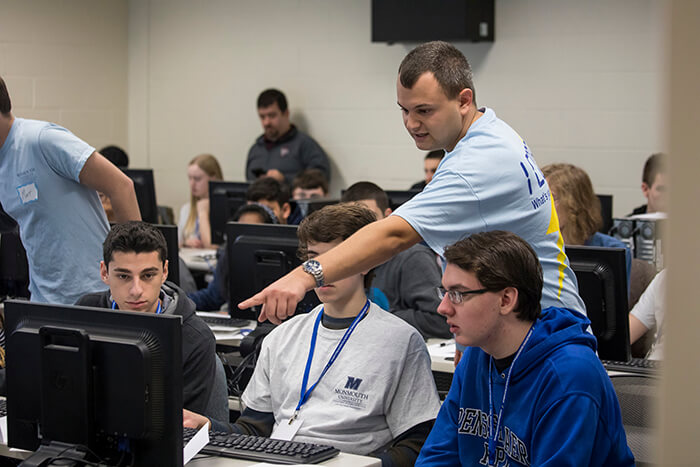 Program Requirements
54 credits of computer science topics
17 credits of Mathematics at or above Introductory Calculus
11 credits of Science intended for Science and Engineering majors, including laboratory work
30 credits of General Education requirements
3 credits of Interdisciplinary requirements
5 credits of free electives
Experiential Education

Co-operative or internship experience, or completion of a specially designated EXED course
Educational Objectives: Bachelor of Science in Computer Science
The Bachelor of Science in Computer Science identifies the following educational objectives in order to prepare graduates to do the following within the first few years after graduation from the program.
Work as effective team members or team leaders in the development of secure computer and software systems covering a wide range of business, educational and scientific applications, or undertake graduate studies.
Work in teams to solve client problems, communicating effectively with technical and non-technical team members, clients and customers, while meeting the social and ethical responsibilities of their profession.
Adapt to new technologies, methodologies and regulations with the skills required to react to and innovate for a changing world.
Enrollment
The following table shows enrollment and graduation data for the program under its former name of "Bachelor of Science in Computer Science with a Concentration in Advanced Computing Program".
Bachelor of Science in Computer Science
Accredited by the Computing Accreditation Commission of ABET (http://www.abet.org)
Academic Year
Enrollment Year
Total Students
Total Students at Senior Level
Degrees Conferred
Freshmen
Sophomore
Junior
Senior
2021-2022
FT
21
10
17
23
72
24
PT
1
2020-2021
FT
22
21
20
16
81
18
16
PT
1
2
2019-2020
FT
23
23
19
18
83
18
15
PT
2018-2019
FT
27
12
19
20
78
20
17
PT
2017-2018
FT
17
20
19
10
66
10
4
PT
2016-2017
FT
28
14
11
13
66
13
12
PT