Bachelor of Science in Computer Science

Bachelor of Science in Computer Science
Overview
Our Bachelor of Science in Computer Science program, accredited by the Computing Accreditation Commission of ABET (http://www.abet.org), provides a breadth-first approach to computer science allowing students to gain a broad, substantive overview and understanding of the many aspects of the 21st century computing professional. This program is suited to students who wish to engage in research or advanced studies in CS or engineering or pursue employment opportunities, and is the designated programmatic path for our Computer Science B.S./M.S. 5-year program. According to ABET, graduates from an ABET accredited program have met essential standards established by a network of experts. Graduates from an ABET-accredited program have a solid educational foundation and are capable of leading the way in innovation, emerging technologies, and in anticipating the welfare and safety needs of the public.
By the time students in the B.S. CS graduate, it is expected they will have demonstrated the following:
An ability to apply knowledge of computing and mathematics program requirements appropriate to the discipline
An ability to analyze a problem, and identify and define the computing requirements appropriate to its solution
An ability to design, implement and evaluate a computer-based system, process, component, or program to meet desired needs
An ability to function effectively on teams to accomplish a common goal
An understanding of professional, ethical, legal, security and social issues and responsibilities
An ability to communicate effectively with a range of audiences
An ability to analyze the local and global impact of computing on individuals, organizations, and society
Recognition of the need for and an ability to engage in continuing professional development
An ability to use current techniques, skills, and tools necessary for computing practice
An ability to apply mathematical foundations, algorithmic principles, and computer science theory in the modeling and design of computer-based systems in a way that demonstrates comprehension of the tradeoffs involved in design choices
An ability to apply design and development principles in the construction of software systems of varying complexity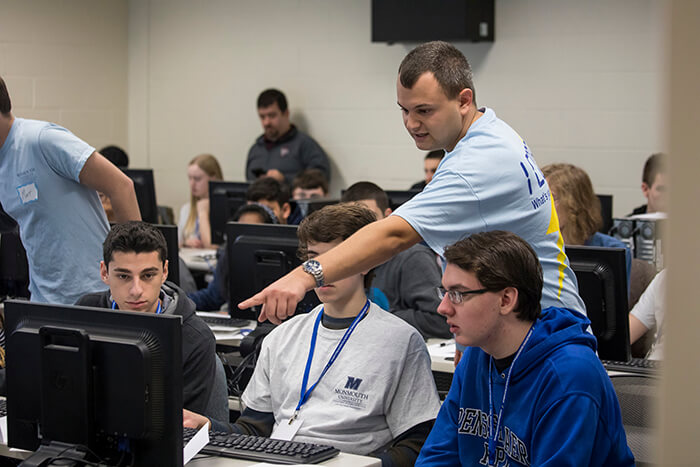 Educational Objectives: Bachelor of Science in Computer Science
The Bachelor of Science in Computer Science identifies the following educational objectives in order to prepare graduates to do the following within the first few years after graduation from the program.
Work as effective team members or team leaders in the development of computer and software systems covering a wide range of business, educational and scientific applications.
Enter professional careers in positions including, computer programmer, software tester, systems analyst, network administrator, software systems designer, database manager, computer systems integrator, software security analyst and game developer.
Undertake graduate studies and develop the knowledge and expertise to complete advanced studies or do research in computer science, engineering and other scientific fields.
Work in teams, communicating effectively with technical and non-technical team members, clients and customers, while meeting the social and ethical responsibilities of their profession.
Explore, synthesize and implement ideas in their areas of interest and activity.
Adapt to new technologies and methodologies with the skills required to react to a changing world.
Program Requirements and Information
Course catalog, curriculum chart, sequence chart

33 credits general education (English, history, arts, culture)
29 credits math and lab science
45 credits CS

36 credits required courses
9 credits elective CS

21 credits free electives
Experiential Education

Co-operative or internship experience, or completion of a specially designated EXED course
Enrollment
The following table shows enrollment and graduation data for the program under its former name of "Bachelor of Science in Computer Science with a Concentration in Advanced Computing Program".
Bachelor of Science in Computer Science
Accredited by the Computing Accreditation Commission of ABET (http://www.abet.org)

Academic Year
Enrollment Year
Total Students
Total Students at Senior Level
Degrees Conferred

| | Freshmen | Sophomore | Junior | Senior |
| --- | --- | --- | --- | --- |

2017-2018

| | | | | |
| --- | --- | --- | --- | --- |
| FT | 17 | 20 | 19 | 10 |
| PT | 0 | 0 | 0 | 0 |

66
10
4
2016-2017

| | | | | |
| --- | --- | --- | --- | --- |
| FT | 25 | 19 | 11 | 13 |
| PT | 0 | 0 | 0 | 0 |

68
13
12
2015-2016
46
6
4
2014-2015
35
6
2
2013-2014
21
5
2
2012-2013
25
7
4