Marine and Environmental Biology and Policy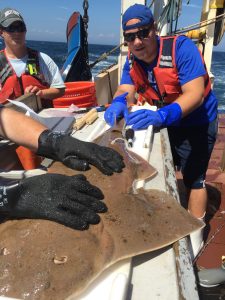 Monmouth University offers a Bachelor of Science in Marine and Environmental Biology and Policy (MEBP) for students who have a passion for nature and the environment, and who want an immersive, hands-on experience in their undergraduate education. Our faculty seeks to provide tomorrow's scientists and managers with expertise which balances marine and environmental resource use with sustainability by offering a degree program involving the study of marine and terrestrial ecosystems, ecosystem processes, and relevant environmental issues, laws, and policies.
The B.S. in Marine and Environmental Biology and Policy is a multidisciplinary program with a curriculum that allows students to gain a solid foundation in the biological, chemical, and physical sciences, together with an understanding of their application to addressing environmental problems and conserving and managing natural resources.
Core courses include Ecology, Zoology, Marine Biology, Botany, Environmental Biology and Policy, Coastal Zone Management, and Natural Resource Conservation and Management. In addition, students can choose from a series of guided electives including Biological Oceanography, Ichthyology, Marine Science Field Methods, Tropical Island Ecology and others that allow them to focus on their own area of special interest. Depending on their passion and career goals, students may also elect to complement the MEBP major by selecting one of a number of pertinent minors, including Chemistry, Geographic Information Systems (GIS), Global Sustainability, or Public Policy.
Specifically, the B.S. in Marine and Environmental Biology and Policy is designed to:
Allow students to gain an understanding of the biological, chemical, and physical sciences and their application to marine and environmental issues.
Introduce students to the scientific method and how it applies to understanding particular biological phenomena as well as developing solutions to specific environmental problems.
Provide a curriculum that enables students to better understand the foundations of marine and environmental policy.
Enable students to identify research problems, collect and analyze pertinent data and synthesize the information into a useful format.
Demonstrate that undergraduate students can be actively involved in research and make a contribution to the fields of marine and environmental science or policy.
Produce graduates that have the skills to solve present environmental problems as well as future environmental problems.
Prepare students for a professional career in the fields of marine and environmental science and policy with local, state and federal agencies, private planning and consulting firms, as well as non-profit organizations.
Prepare students to enter graduate programs in marine science, environmental science or environmental management and policy.
Facilities and Location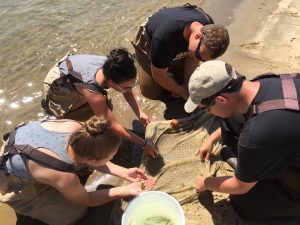 The MEBP Program offers students access to fully-equipped classrooms and teaching laboratories during their on-campus studies in the newly renovated science building. These facilities are
complemented by an array of state-of-the-art sampling equipment, small research vessels, and undergraduate faculty research laboratories.The campus is located within a mile of the Atlantic Ocean and in close proximity to a number of estuarine and terrestrial ecosystems that provide a wealth of natural outdoor classrooms as well. In addition, MEBP class sizes remain small, and our faculty members, not graduate students, teach all lecture and lab courses, and provide undergraduate students with opportunities to gain hands-on experience in applied science by working collaboratively on faculty-directed research projects.
Undergraduate Research and Internship Opportunities
Undergraduates majoring in Marine and Environmental Biology and Policy have the opportunity to work directly with faculty on research projects during the school year, as well as during the School of Science Summer Research Program.
Examples of current faculty-directed research projects in the areas of marine and environmental biology and policy include: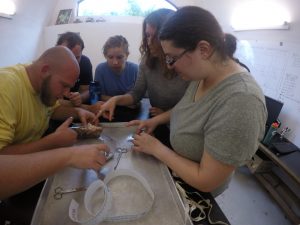 Exploring the ecology of harmful algal blooms (HABs) in coastal lakes and estuaries
Exploring the impacts of sea level rise on coastal forest ecology of New Jersey
Evaluating the detection of Diamond-backed Terrapins from unmanned aerial systems (drones) using 3D printed models
Assessing the state and dynamics of turtle assemblages in coastal lakes of New Jersey
An experimental test of artificial cover board material on secretive snake detection in forests
Use of eDNA as a tool for assessing regional aquatic and marine communities
Use of genetic markers to identify the source of migratory striped bass
Assessing the impacts of urban environments on house mice
SPARCnet: a research network focused on understanding range-wide population dynamics and vulnerabilities to climate change of Red-backed salamanders, the most ubiquitous woodland salamander in North America
CLOnet: a community-based coastal lakes observation network dedicated to understanding the causes of environmental problems facing coastal lakes in Monmouth County
Stripers for the Future: a research and education campaign initiated in 2011 as a collaborative effort with the recreational angling community focused on development and dissemination of scientific information on local striped bass populations that allows anglers to contribute to the conservation and long-term sustainability of the striped bass fishery.
Our students also participate in collaborative research projects with other colleges and universities, government agencies, community and civic organizations, and environmental organizations through the University's Urban Coast Institute. Our affiliation with institutions such as the New Jersey Sea Grant Consortium and the Cape Eleuthera Institute provide students with opportunities to study at field stations on Sandy Hook, New Jersey, and in The Bahamas. For example, each year during winter break students have the opportunity to participate in our 14 day Tropical Island Ecology field course held at the Cape Eleuthera Institute.
The MEBP Program also offers experiential education and internship opportunities with various off-campus partner organizations including government agencies and government sponsored programs like the Barnegat Bay Partnership, the New Jersey Division of Fish and Wildlife Endangered and Nongame Species Program, the National Oceanic and Atmospheric Administration, regional environmental organizations like the Conserve Wildlife Foundation of New Jersey, the American Littoral Society, and local watershed associations, as well as private firms offering environmental consulting services. Interns work closely with host scientists in developing a project, carrying out the work, and preparing research results for presentation at the annual School of Science Student Research Conference held as part of the University's Student Scholarship Week each April.
Student Outcomes
After graduating with a B.S. in Marine and Environmental Biology and Policy, students will be ready for careers in the public or private sector investigating environmental quality, dealing with conservation and management of natural resources and implementation of environmental policy, or to enter a graduate program.
For example, in terms of careers and employment, recent MEBP graduates are employed by government agencies such as the New Jersey Department of Environmental Protection, the National Oceanic and Atmospheric Administration, the U.S. Environmental Protection Agency, and the U.S. Geological Survey. Other graduates work for local, regional and national environmental organizations such as the American Littoral Society, the NY/NJ Harbor Baykeeper Program, and the Cacklamass River Watershed Association. Still others work for regional and national environmental consulting firms or private research organizations. We even have several alums working at Sea World in Orlando, Florida.
Many of our students have also gone on to pursue graduate degrees in marine science, environmental science, and environmental policy. The University of Massachusetts Amherst, Villanova
University, the University of Delaware, the College of Charleston, the Virginia Institute of Marine Sciences, Scripps Institute of Oceanography, the Oregon Health and Science University, Pace University, Rutgers University and the University of Hawaii are among the many institutions granting Masters Degrees and Ph.D.'s to graduates of our MEBP Program.