Undergraduate Commencement Instructions
PNC Bank Arts Center, May 15, 2019
Seating Chart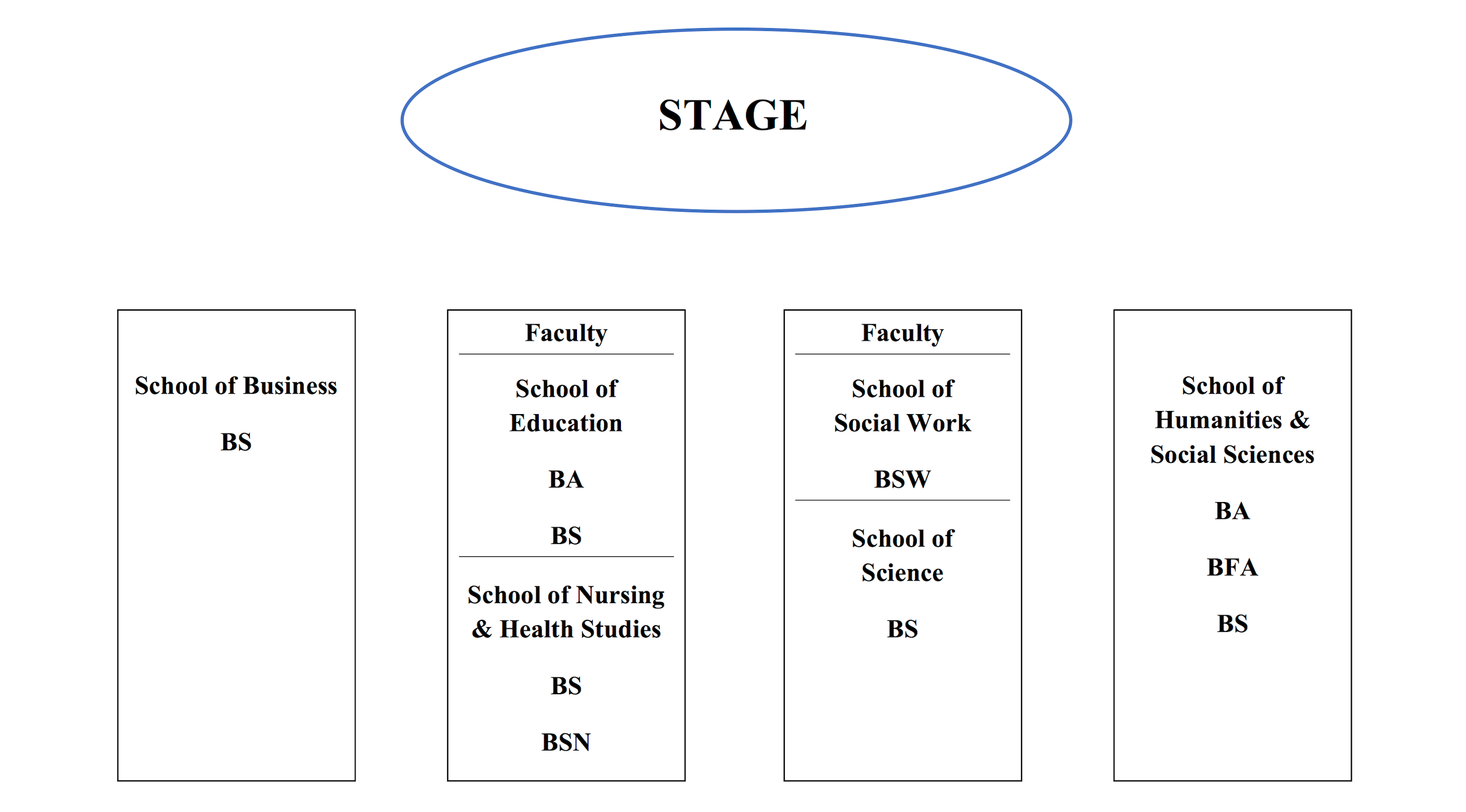 Cap & Gowns
In addition to your cap, gown and hood, you will also receive a card with your name, your line of march number, the degree you are earning, and your school. It is critical that you bring this card with you to the Commencement Ceremony. It will be used for student lineup and handed to the reader to have your name announced on stage.
Tassels
Undergraduate students should wear tassels on the right side of their caps when processing to the seating area. Tassels should be moved to the left side when the President confers your degree (see Item 6).
Dress
Please note that the PNC Bank Arts Center is an open-air venue that provides protection from the rain but not the temperature. Graduates and guests are advised to dress accordingly taking into account this is a dignified ceremony.
Assembly Area
Report to the student assembly area (see attached map) at the PNC Bank Arts Center by 11:30 a.m. on Commencement Day. Look for signs indicating where your school is assembling. University personnel will assist you in lining up. This area is not protected from the weather. If there is inclement weather, you will be pre-seated.
Processional
Weather permitting, you will be instructed to line up in numerical order according to the card you received at cap and gown pickup. Staff will be there to assist you. Save your card. You will hand it to the announcer during the ceremony and your name will be read. When taking your seat, be sure to sit next to the person preceding you. The student processional will begin at 12:15 p.m.
The line of march will be as follows: Faculty Marshals, Faculty, Student Marshals, and Degree Candidates.
Conferral of Degrees
Degrees will be awarded by school. The Dean of each school will ask candidates to come forward and be recognized (e.g., Bachelor of Arts, etc.). The President will then say, "…I confer upon you the degree you have earned, with all the rights and privileges pertaining thereto."
At that time:
Students will move their tassels from the right side of their caps to the left side.
Candidates will come to the stage. Each graduate will hand the announcer his/her card with name-side up. Tell the announcer your full name to ensure correct pronunciation.
As the announcer reads your name, move to the Dean of your school and shake his/her hand; to Provost Moriarty to receive your diploma case; then to President Dimenna and Chairman Plodwick to shake their hands.
Walk down the stairs on the opposite ramp you walked up and return to your seat. Staff will direct you. Please note that you may not be returning to the same seat. You will, however, return to the same row.
Be sure to sit in the seat directly next to the person preceding you.
Students are reminded that they must return to the seating area after leaving the stage. Out of respect for all students being recognized, participants are required to remain until the faculty and platform party have recessed from the amphitheater.
Guests
Guests are requested to take their seats by 12:00 p.m. and to remain seated until the faculty have left the area at the conclusion of the ceremony. Each student will receive five (5) guest tickets for seating in the amphitheater. No one will be admitted to the seating area without a ticket. Weather permitting, additional seating will be available on the lawn; tickets are not required for this area. The gates to the Arts Center will open at 10:30 a.m. on Commencement Day.
Special Needs Seating/Parking
An area limited in size has been reserved for guests requiring special accommodations and space for one person to assist them. The Office of Student Life has requested the names of anyone requiring special seating by Wednesday, May 8, and will accommodate guests until the seating area is at capacity. ADA parking is available at the Arts Center for those with a disabled parking placard or plate. If this area is full, guests may be dropped off at the entrance to the Arts Center.
Parking
Parking is ample at the PNC Bank Arts Center, but you may be required to park in one of the remote areas. If you do park in one of the lots on the perimeter of the Arts Center, shuttle buses will be available for you and your guests. Please follow the directions of the parking attendants. Also, please note that traffic will be heavy on Commencement Day and additional time should be allotted for travel to and from the Arts Center.
Diplomas
Diplomas may be picked up at the Office of the Registrar located on the second floor of Wilson Hall, Room 208, from Monday, June 3, 2019 through Friday, June 7, 2019. A photo ID is required to receive your diploma. Diplomas not picked up by June 7, 2019, will be mailed to your home address by certified mail. Diploma cases will be distributed on stage to each graduate. All financial obligations to the University must be satisfied prior to diplomas being released. This includes all parking tickets and fines; library materials and late fees; equipment and of course, tuition and fee payments.
Professional Photography
GradImages, a professional photography service, will be at Commencement to photograph graduates as they are recognized on stage. Proofs will be mailed to your home address.
Reminders
State and local laws prohibit the public consumption of alcohol. Do not bring any alcoholic beverages with you for consumption at the Arts Center and also on the Monmouth University campus.
The PNC Bank Arts Center has a number of amenities available for you and your guests: parking, a disabled seating area, numerous restroom facilities, and food service concessions.
Please turn off all cell phones for the duration of the Ceremony. Air horns, noise-making devices and any objects that would detract from the formality of the day are prohibited and will be confiscated by University staff and PNC Bank Arts Center security personnel.
The University will remain open on May 15, 2019 until 6 pm. You are invited back to campus after the ceremony for light refreshments and picture taking. President Dimenna will be available in the Erlanger Gardens of Wilson Hall for picture taking. Please do not bring alcoholic beverages to campus.