Monmouth's Timeline
Since 1933, Monmouth has transformed from a junior college that offered night classes at Long Branch High School to a nationally ranked university boasting doctoral programs, Division I athletics, and state-of-the art facilities. Despite this growth, one thing remains the same: Monmouth's Hawk Pride. Explore our rich history and learn about the students, alumni, and visionaries who have and continue to make Monmouth soar.
1933
On December 17, 1933, the establishment of Monmouth Junior College was announced in the Asbury Park Press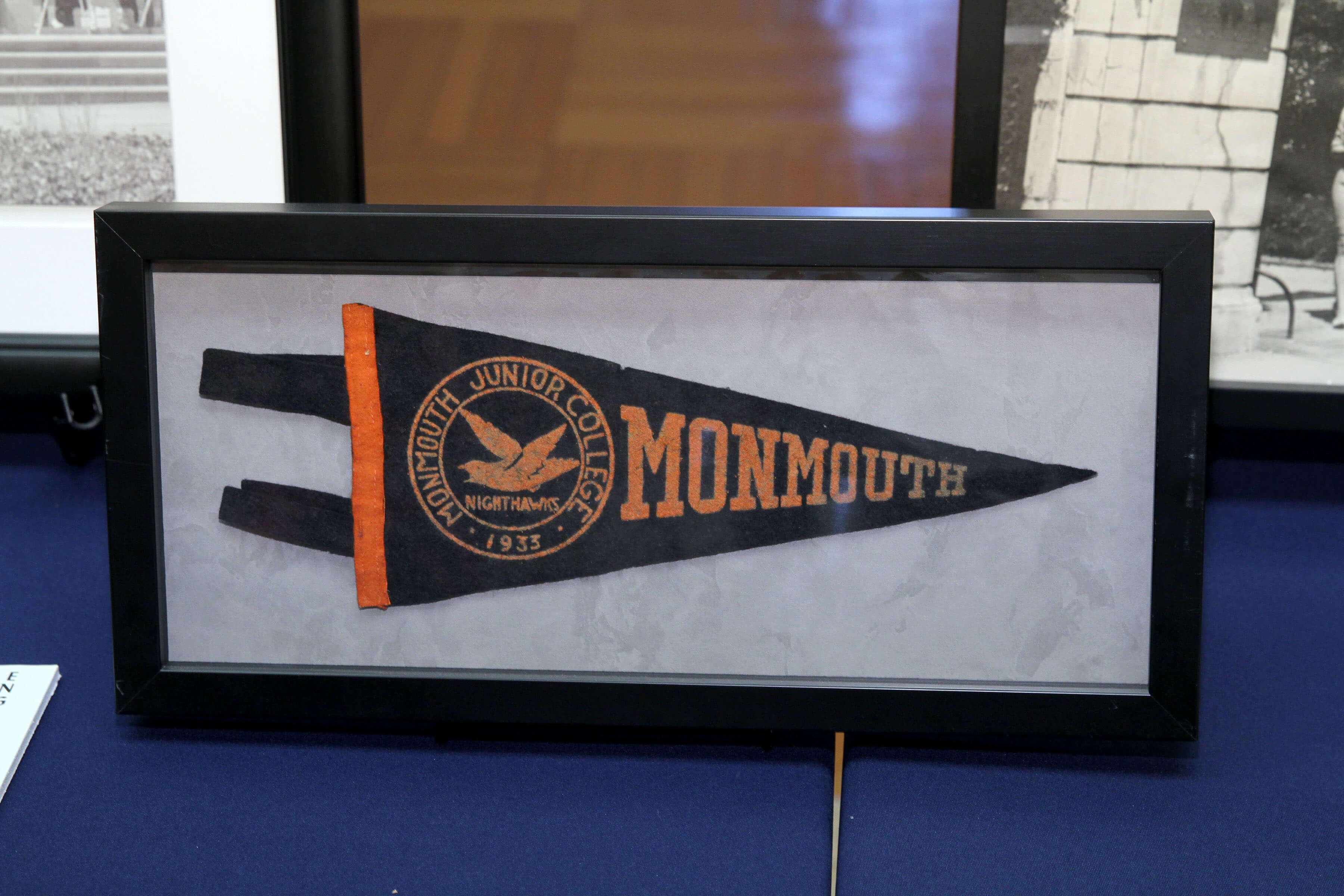 1933
Monmouth Junior College pennant
1933
Edward G. Schlaefer served as the founding director of Monmouth Junior College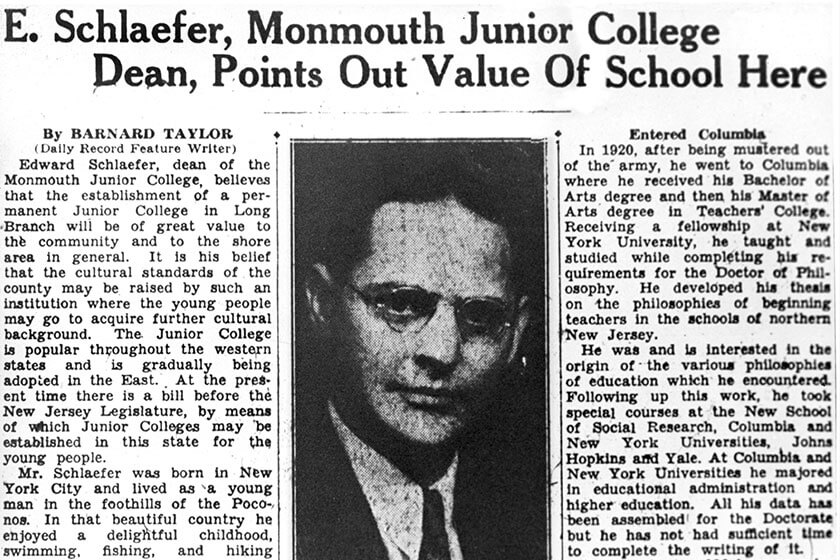 1933
More about Edward Schlaefer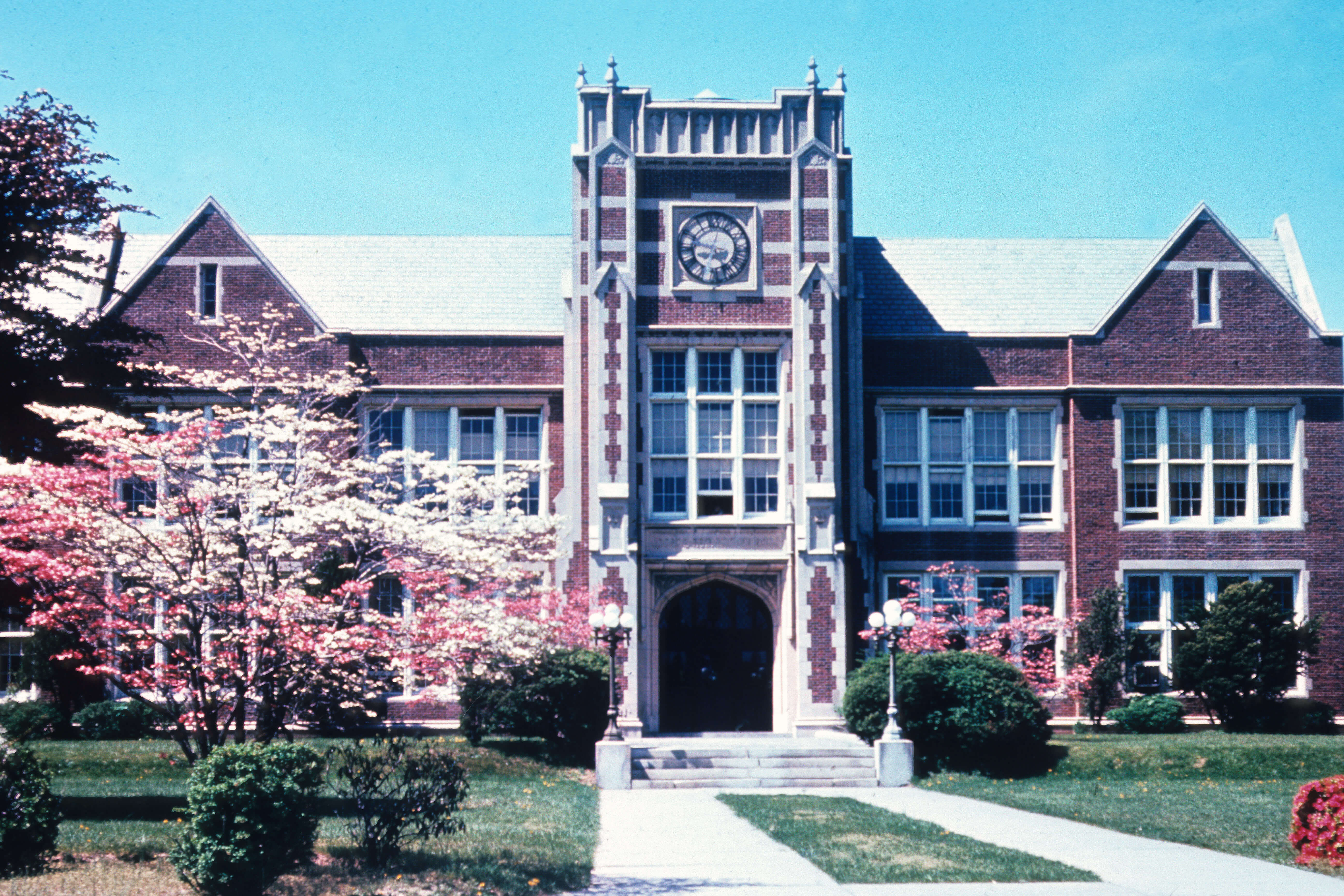 1933
Night classes were held at Long Branch High School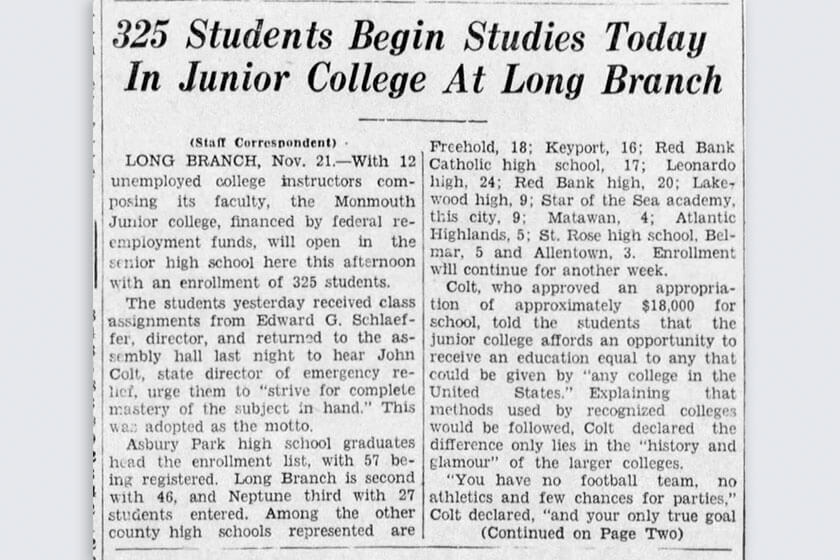 1933
Article about Monmouth Junior College in the Asbury Park Press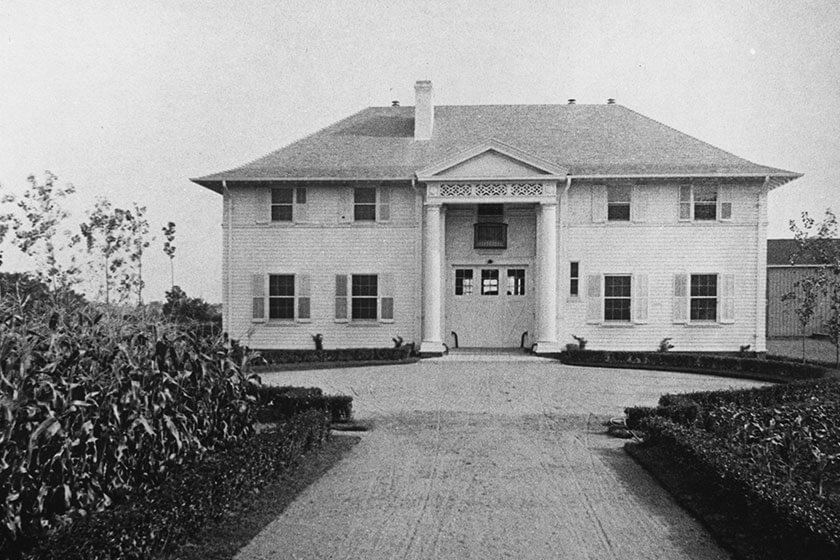 Mid 1930s
The original Woods Theater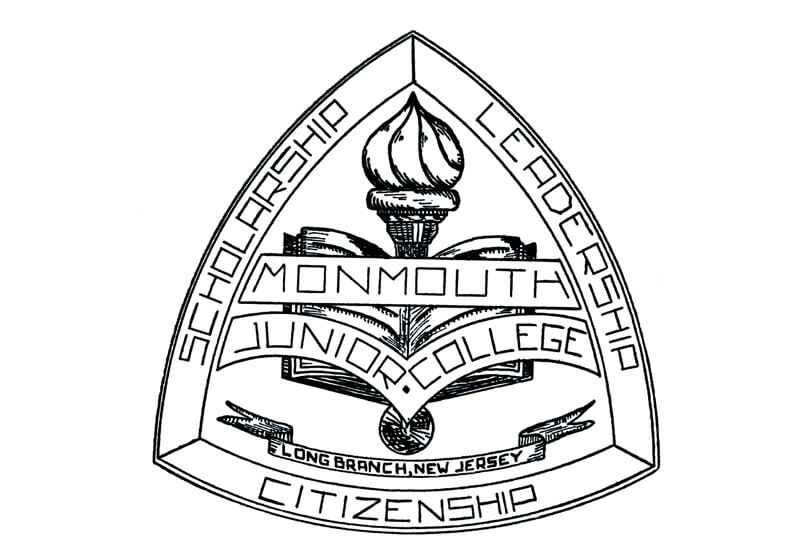 1939
Monmouth Junior College logo
In 1933, Monmouth officially opens as a junior college, offering classes at the Long Branch Senior High school under Dean Edward G. Schlaefer.
The state of New Jersey Board of Education awards the college full accreditation and, according to "The Ballad of Monmouth Junior College," gives it "life anew." In 1948, the first associate degrees are awarded to 100 students—the largest class in the college's history.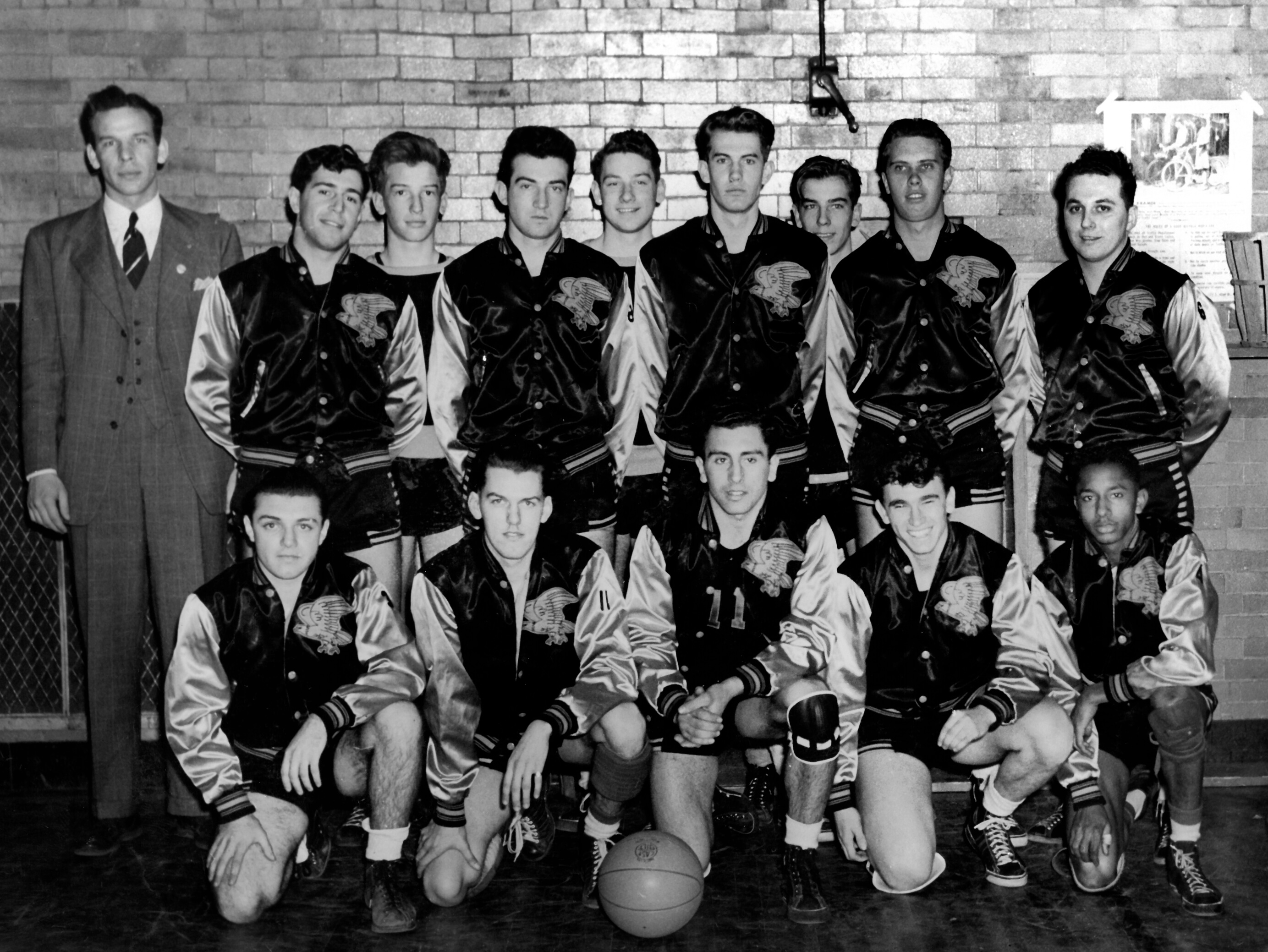 1941-1942
Monmouth Junior College Men's Basketball Team during the academic year. L-R Front Row: Gene Masco, Dick Rogers, Frank Cioffi, Moe Fribaum and Ivan Ware. Middle Row: Garry Penta, Bill Custer, Bill Taylor, Brad Parker, and Al Kroner. Back Row: Coach Art Brown, Russ Wilder, Stanley Wolpin and Donald Mayer.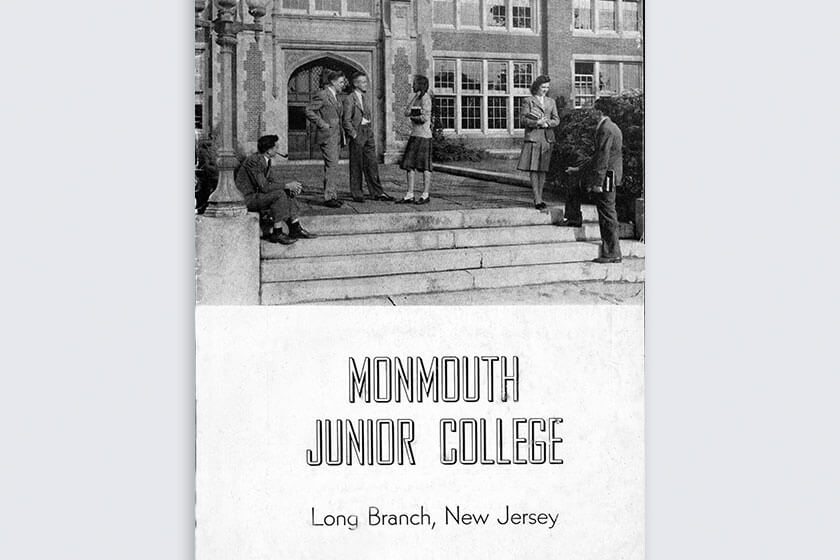 1944
The Monmouth Junior College brochure highlights academic programs and campus life activities of the 1940s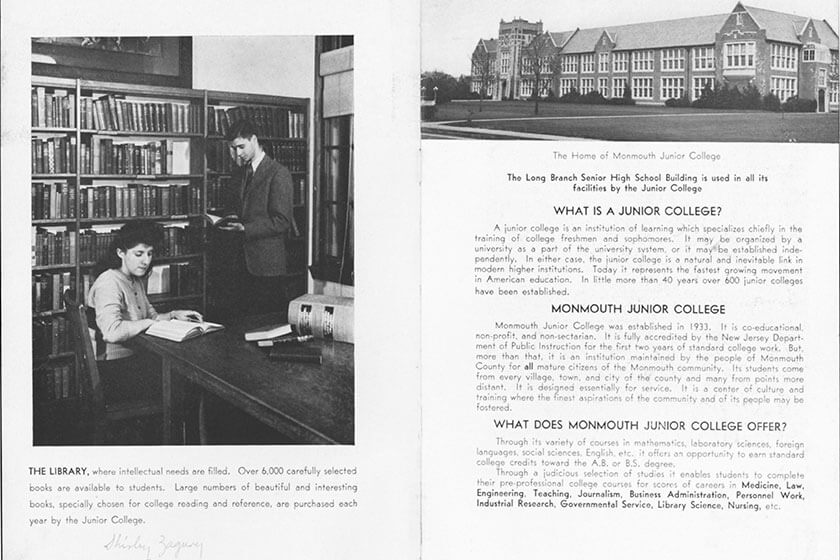 1944
Overview of Monmouth Junior College
1944
Monmouth Junior College admission requirements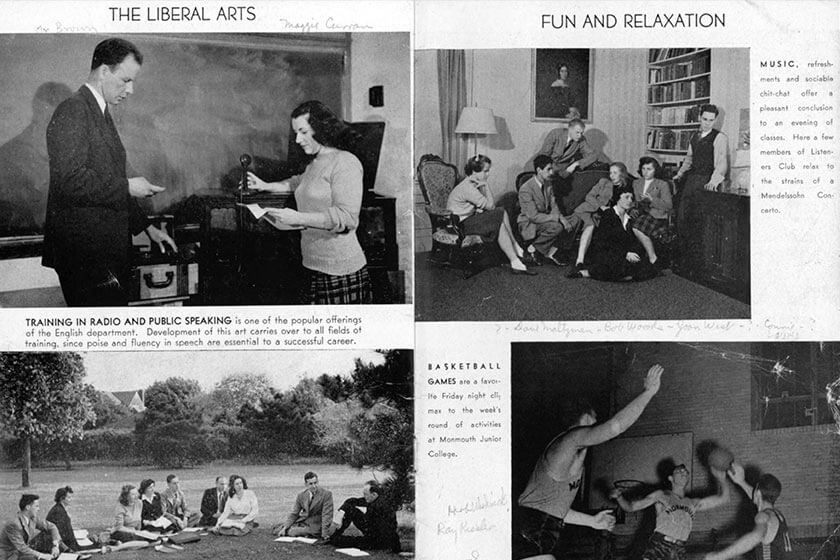 1944
Monmouth boasts training in radio, public speaking, and student life activities
1944
Monmouth's equestrian team takes a stroll on campus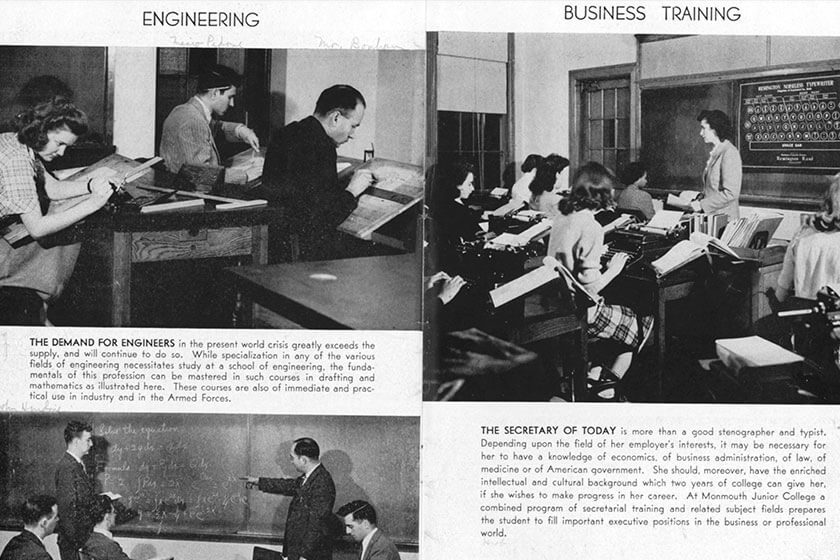 1944
The college markets engineering degrees for men and business training in stenography for women
1944
Monmouth offers a variety of science-oriented programs in the 1940s, while highlighting the use of industry technologies like the micro-projector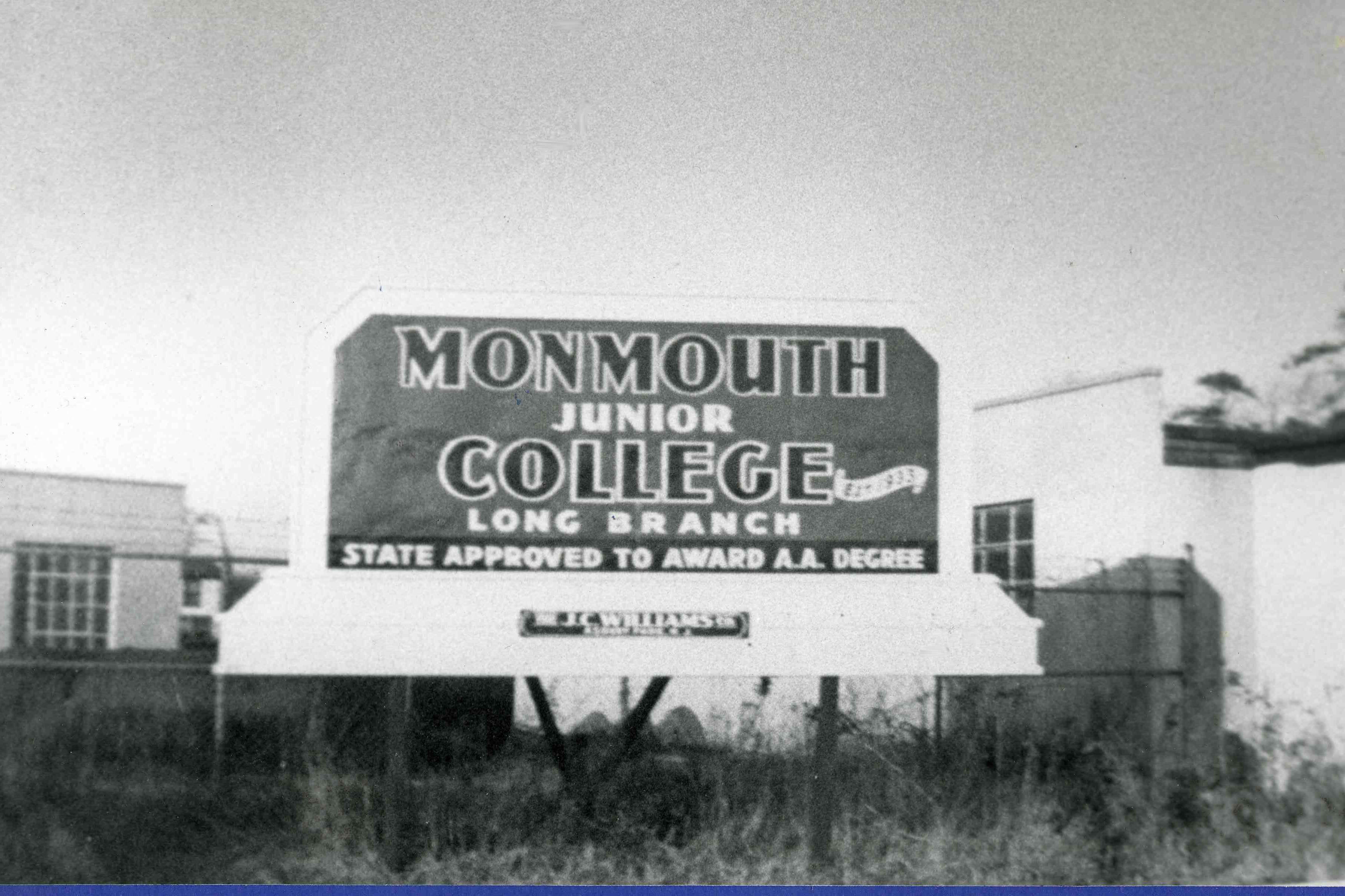 1947
Monmouth was accredited to award associate's degrees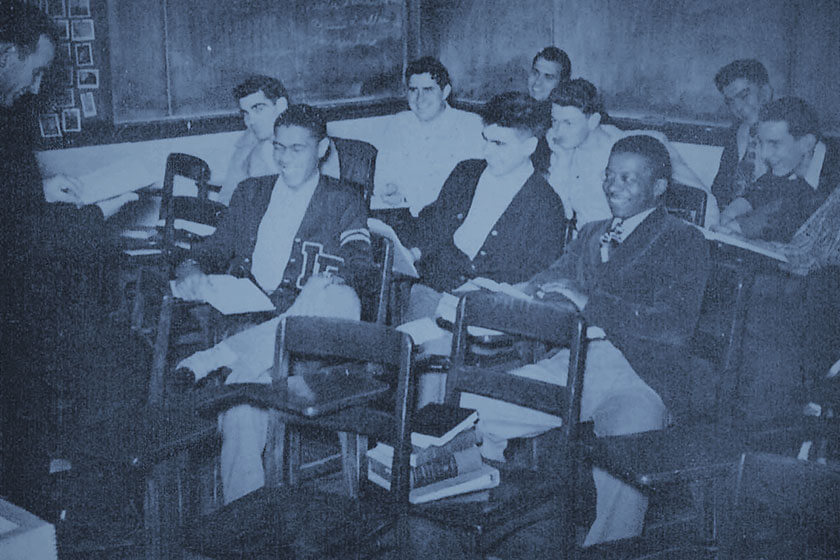 1949
Students enjoy faculty-led class discussion about the 'psychology of personality'
Late 1940s – Early 1950s
Copies of Monmouth's yearbooks are archived at the Guggenheim Library; the Alumni House offers alumni the opportunity to sift through editions from almost every year
1951
Men's Basketball Team 1951-1952
1952
Aerial view of Monmouth Junior College campus
1955
Edward Schlaefer options Shadow Lawn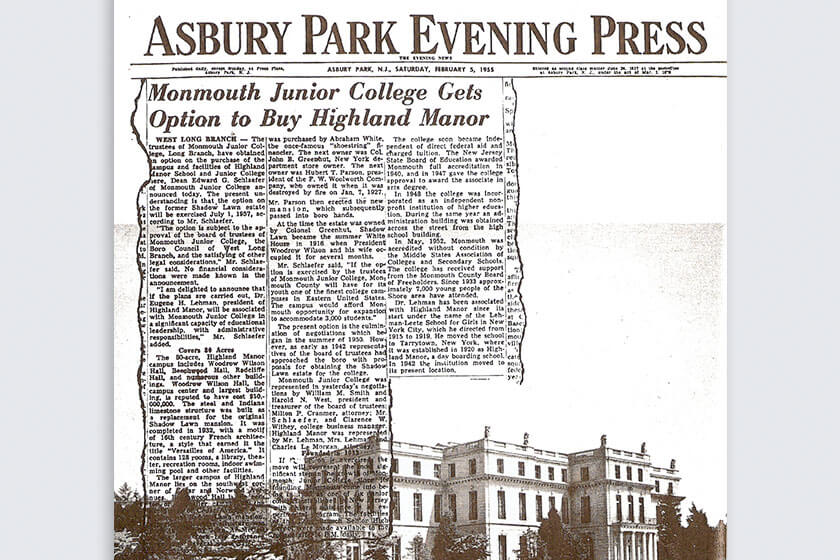 1955
News about the sale hits the Asbury Park Press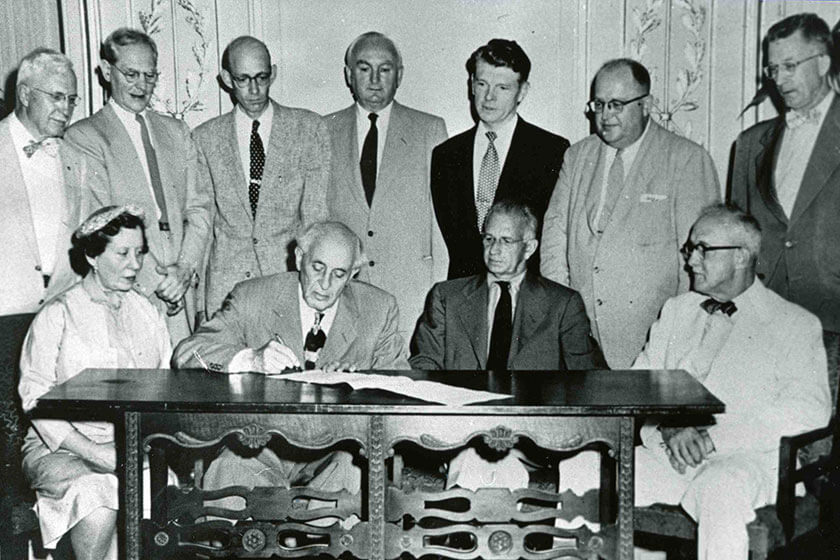 1955
Dr. Eugene H. Lehman signs over the deed to Shadow Lawn estate to Monmouth Junior College for $350,000, with the provision that he serves as president of Monmouth College for one year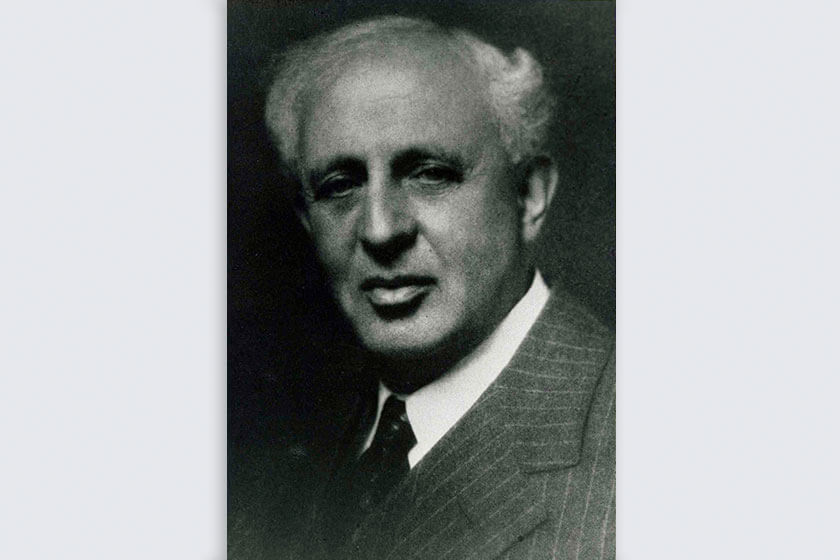 1956
From 1956 – 1957, Dr. Eugene Lehman served as the first president of Monmouth College
1956
This plaque honors Monmouth's founding Board of Trustees; pictured on the right is Edward Schlaefer's daughter, Nancy Bruch '58, who continues to be an active member of the alumni association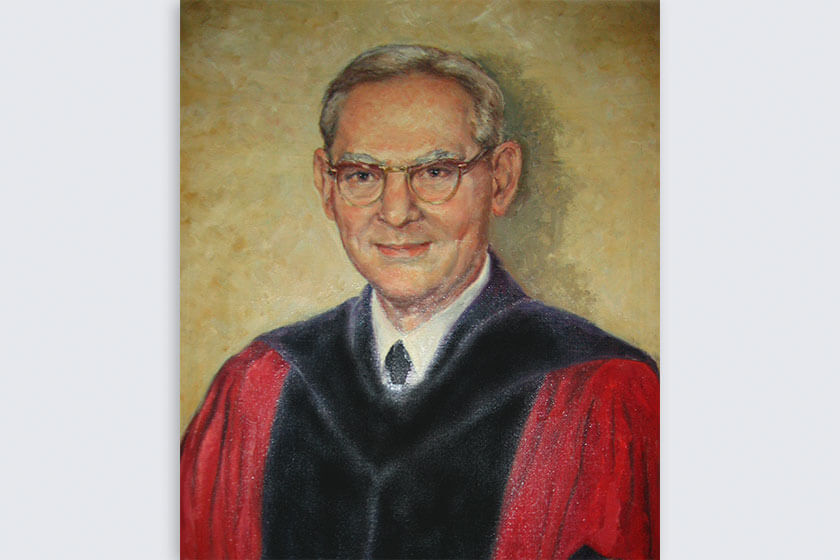 1957
Edward G. Schlaefer becomes president of Monmouth College and serves through 1962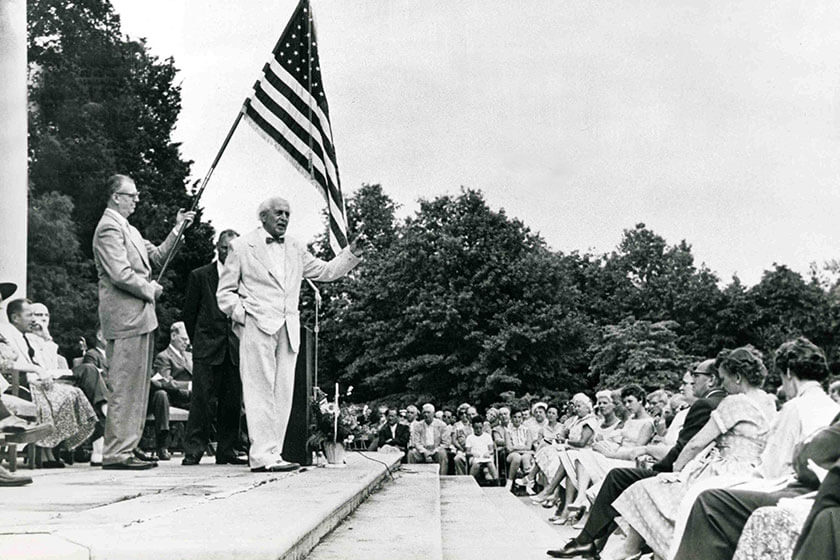 1957
Monmouth's first commencement was held on Shadow Lawn
1958
Monmouth College awards its first four-year bachelor's degrees and changes its name from "Monmouth Junior College" to "Monmouth College"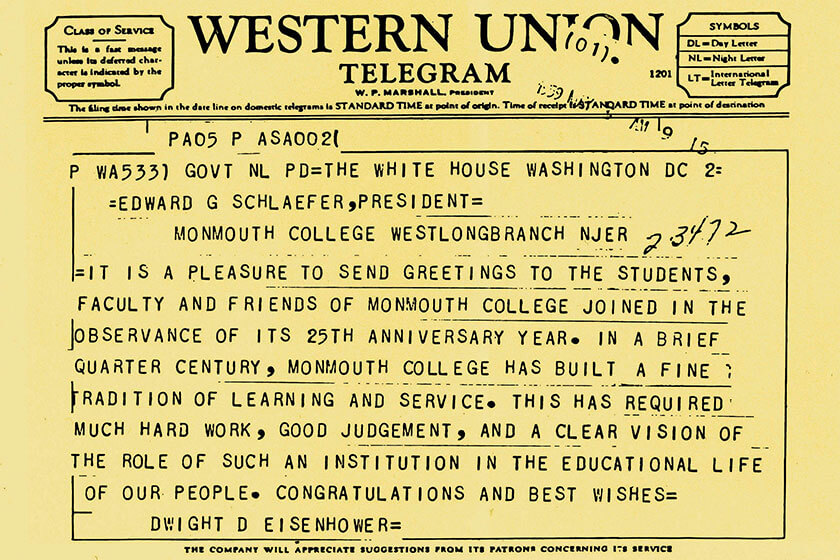 1959
Telegram from President of the United States, Dwight D. Eisenhower, congratulating Monmouth on its 25th anniversary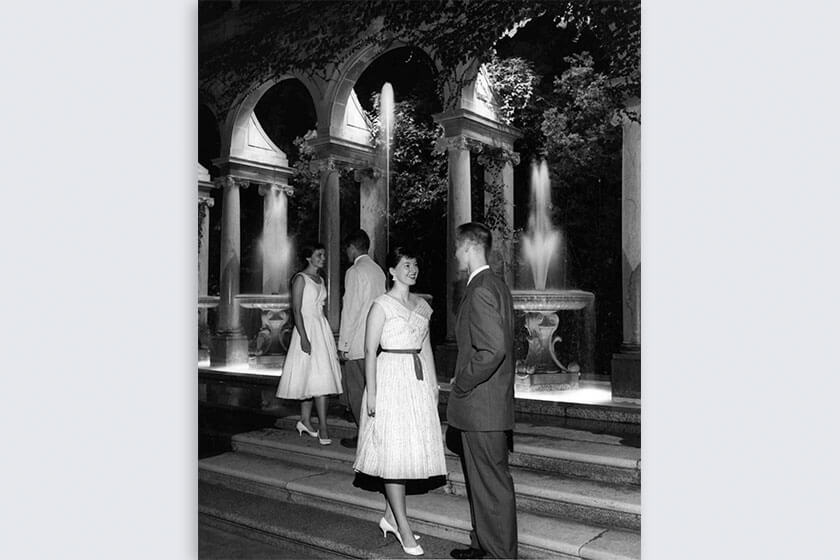 1959
Students enjoying social events during the summer of '59
School spirit soars to new heights in the '60s with a burgeoning athletics program, Greek life, clubs, and more. Campus life and traditions begin to take shape as the first residence halls open and social events rise in popularity. Throughout the decade, Monmouth campus attracts nationally recognized speakers, musicians, athletes, and more, including Martin Luther King, Jr., Bob Hope, and Ray Charles.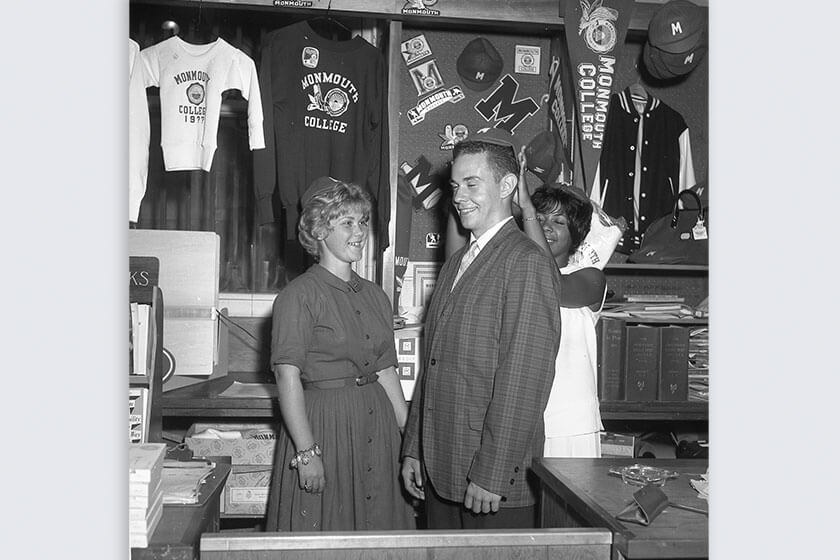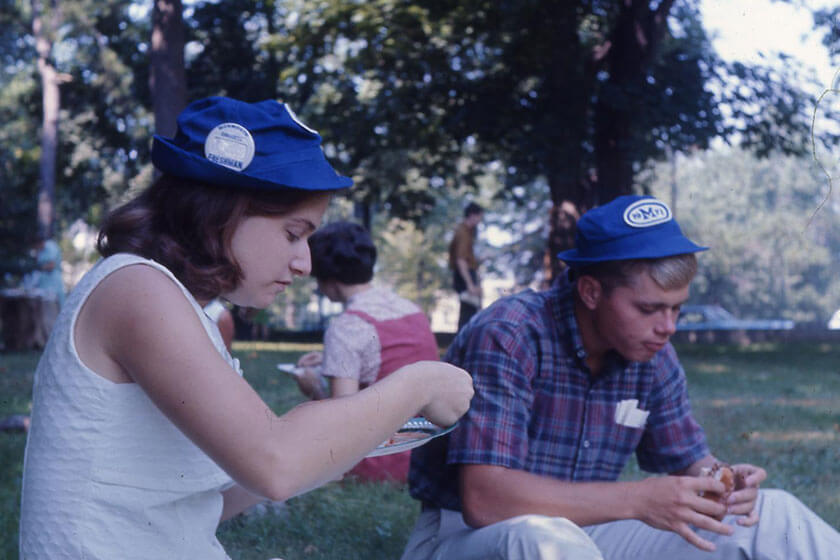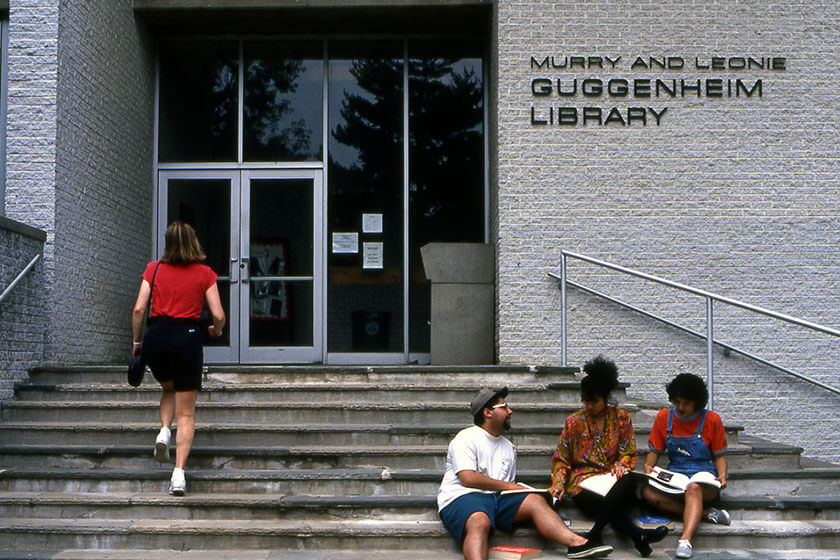 1960
The Murry and Leonie Guggenheim Foundation transfers ownership of the Guggenheim Cottage to Monmouth College and it is dedicated as the college library the following year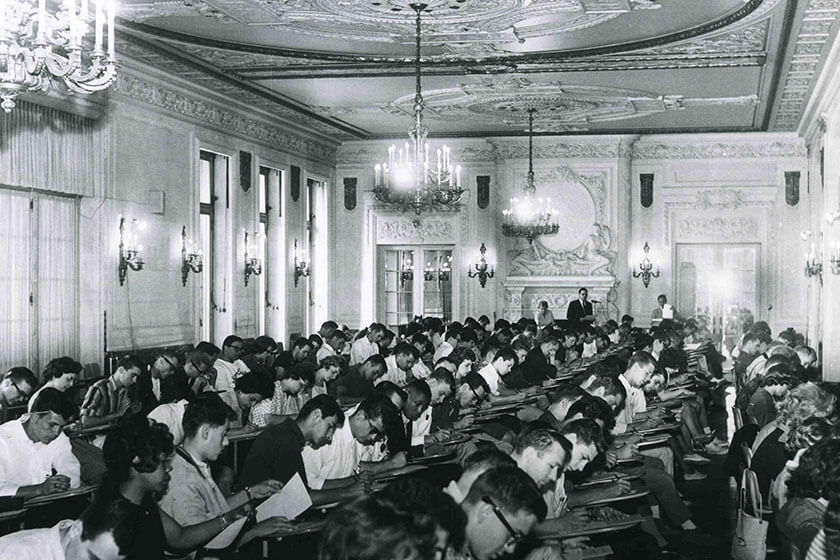 1960s
Exams were taken in the Great Hall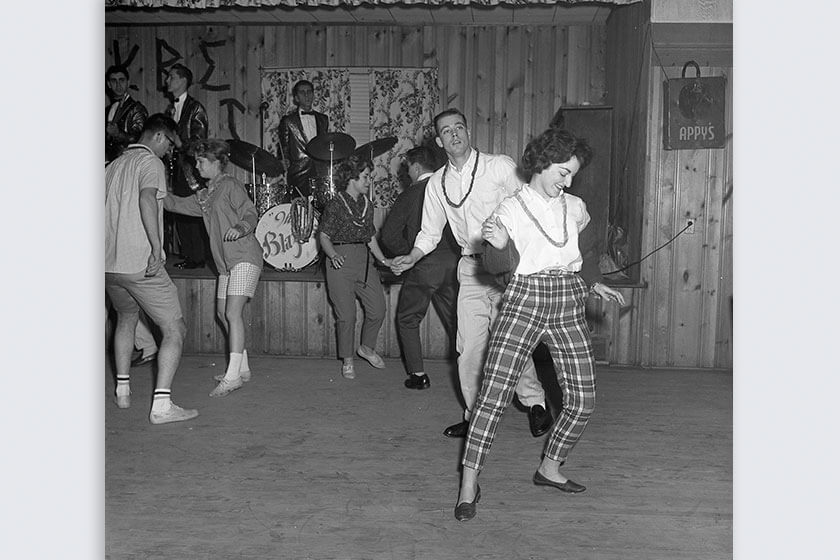 1960s
Student life in the '60s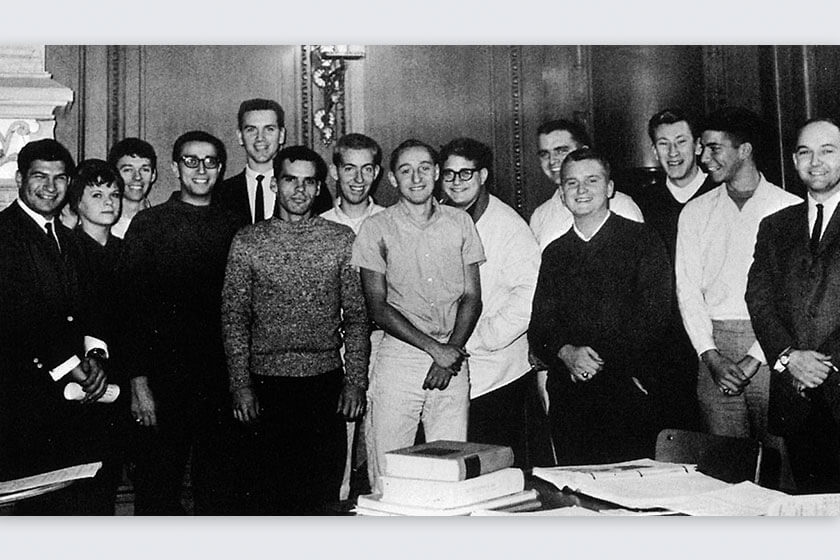 1960s
Parking on campus in the 1960s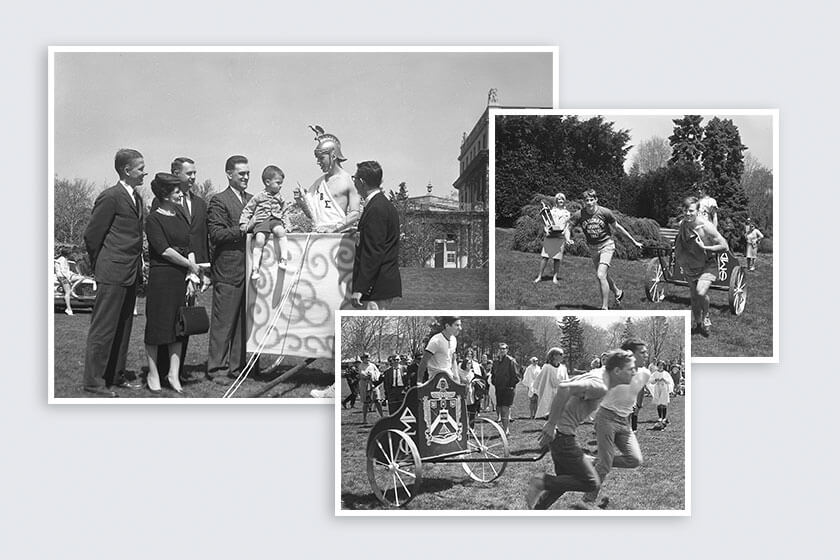 1960s
Greek chariot races were held during Spring Weekend and raised funds for the Dr. Schlaefer Memorial Scholarship Fund
1960s
Greek Life conversation with Alpha Theta Chi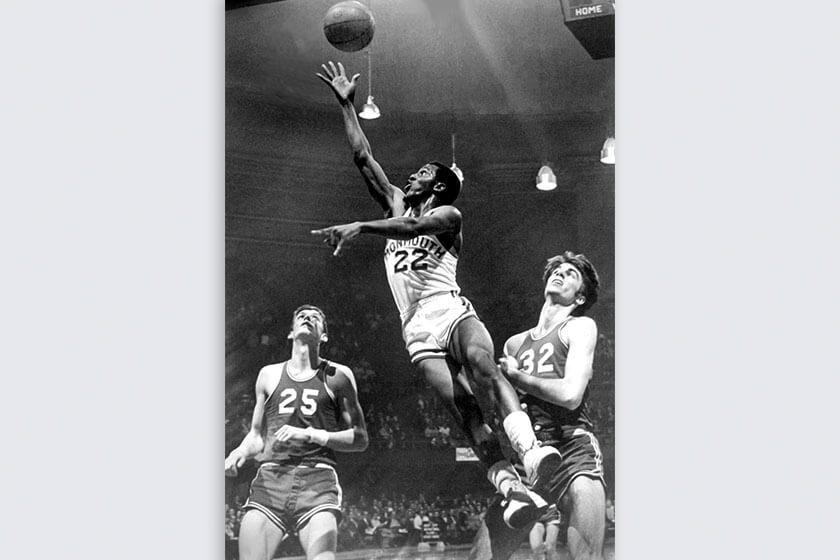 1960s
Ron Kornegay '69 '74M, No. 22, was the first men's basketball number to be retired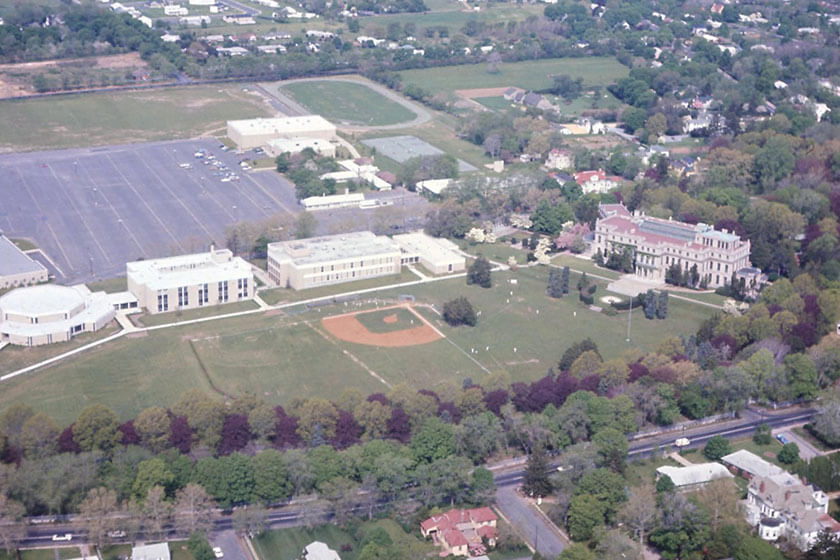 1960s
Aerial view of campus in the '60s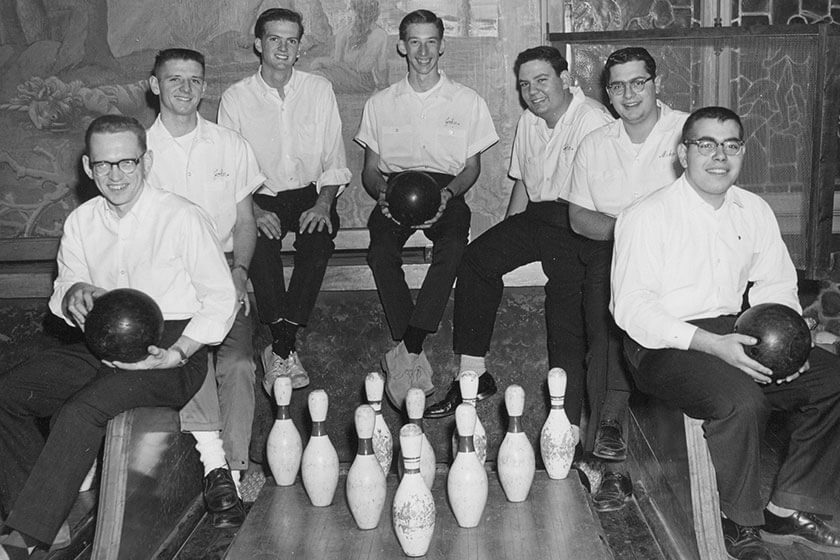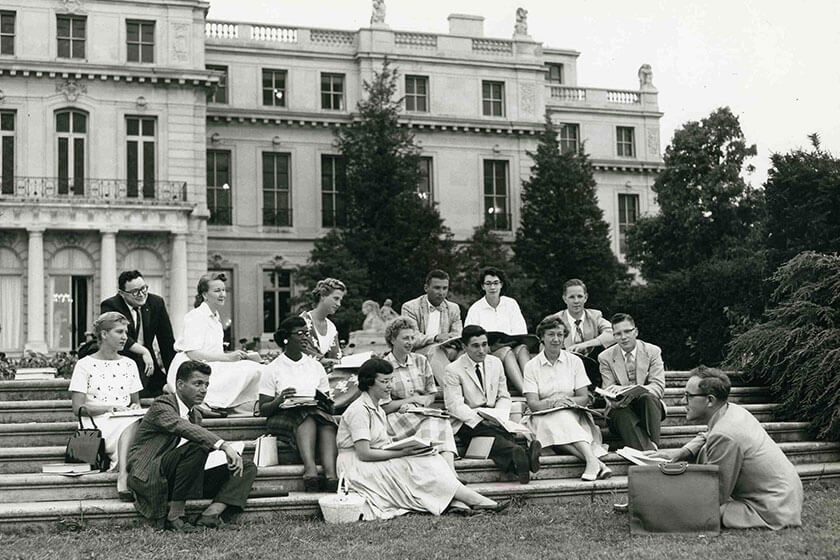 1960s
Faculty took advantage of hosting class outside of Great Hall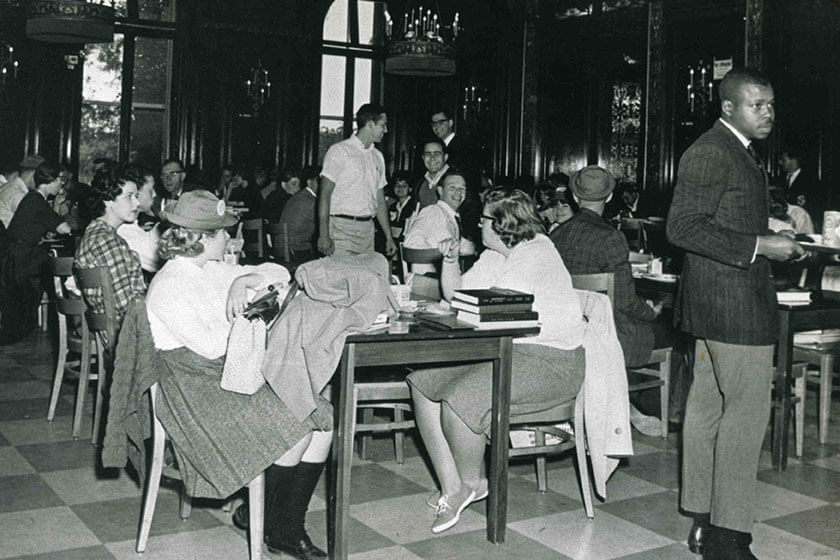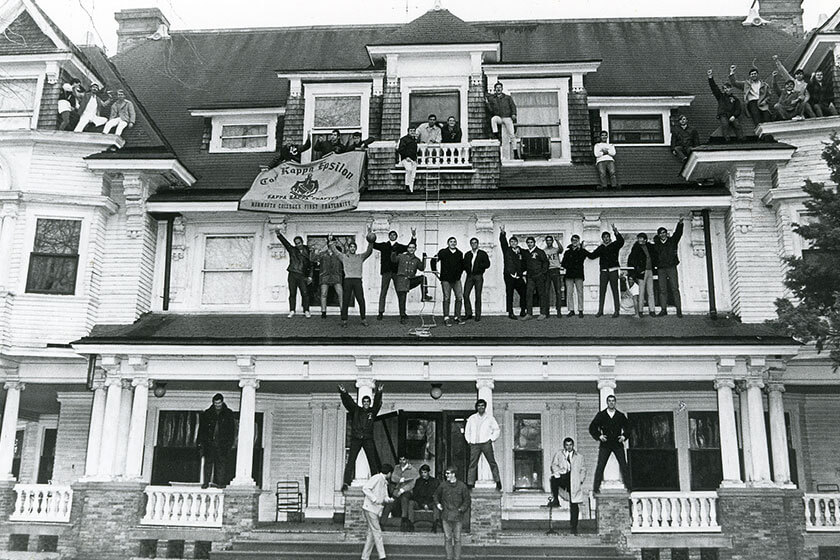 1960s
Tau Kappa Epsilon fraternity house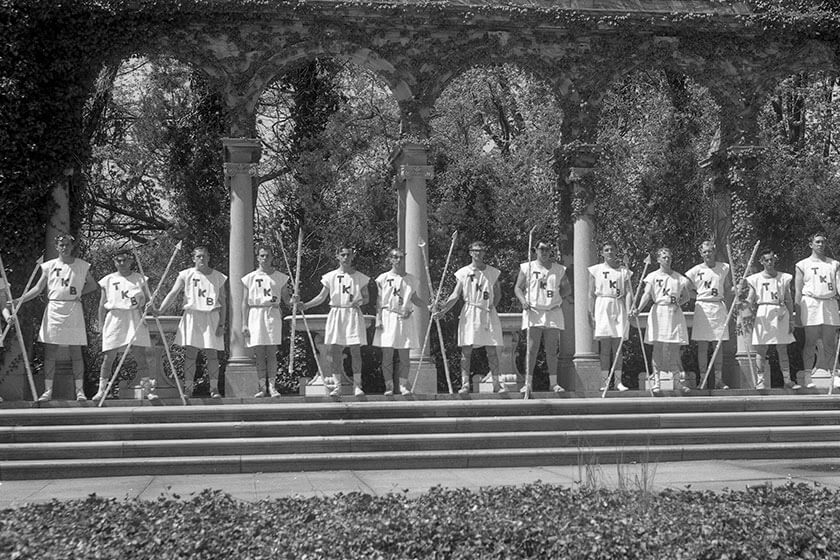 1960s
Tau Kappa Beta photo taken in Erlanger Gardens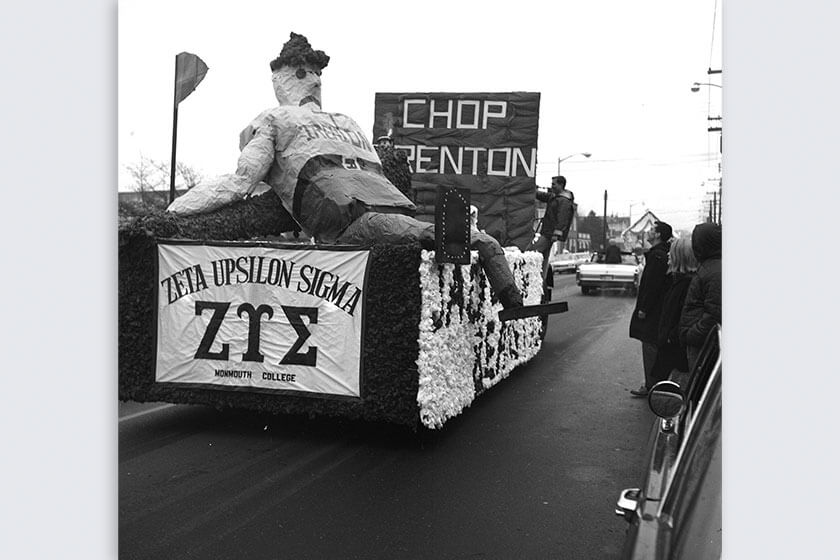 1960s
Zeta Upsilon Sigma supports Monmouth Athletics by participating in spirit parade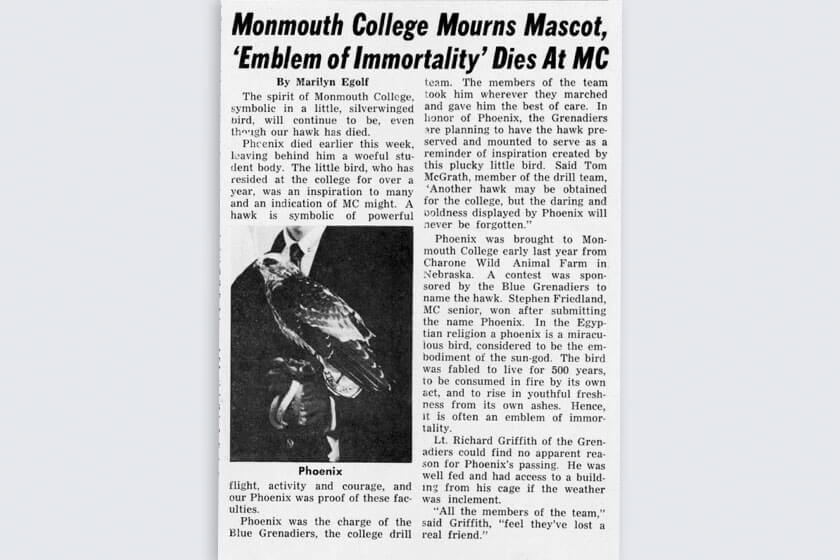 1962
On December 13, Monmouth's Hawk mascot, Phoenix, passed away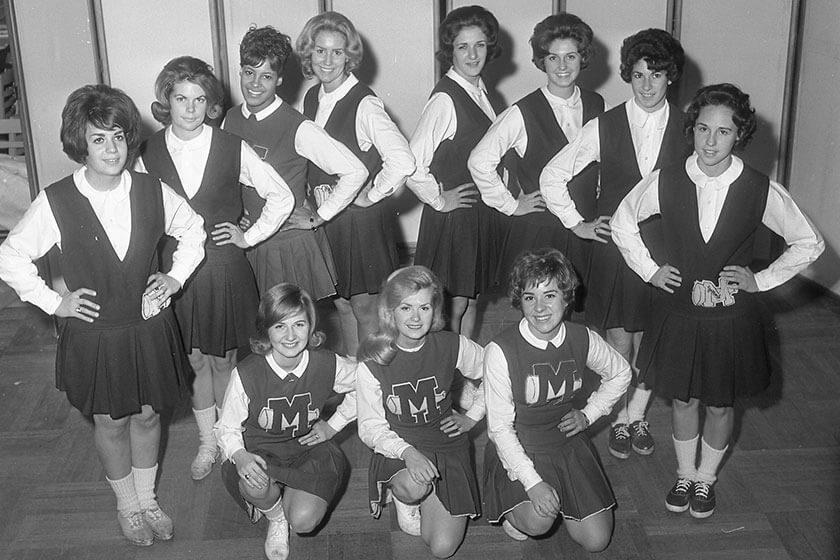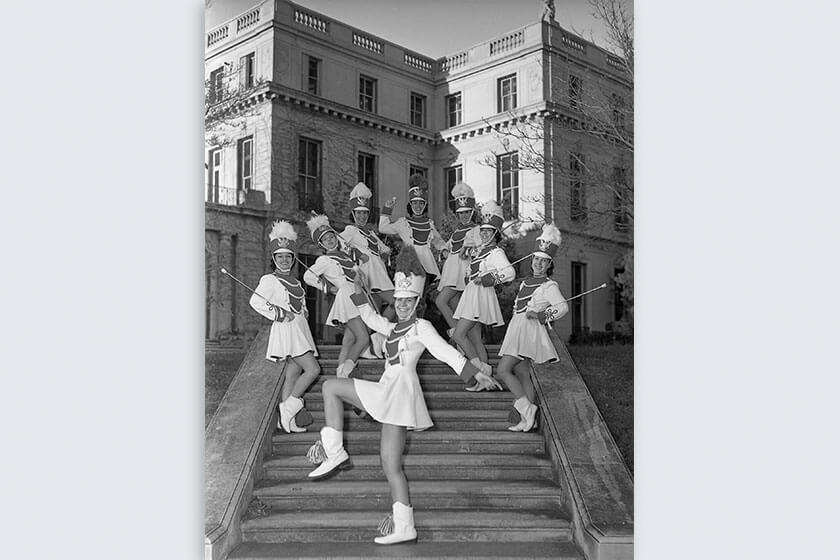 1962
Drum majorettes pose on steps of Great Hall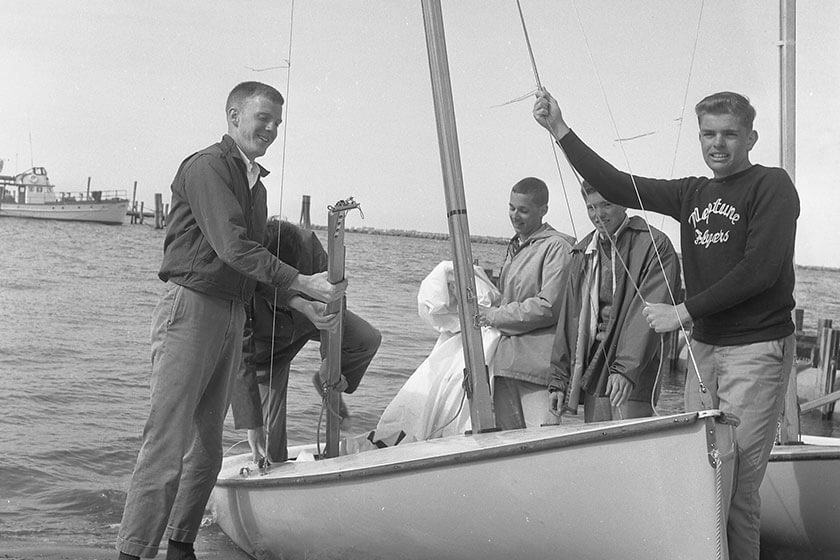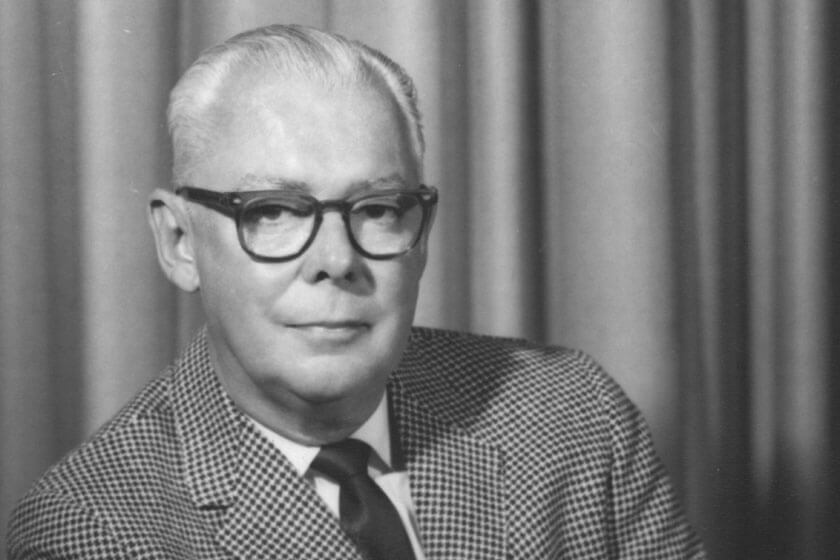 1962
Dr. William G. Van Note served as President of Monmouth College from 1962 – 1971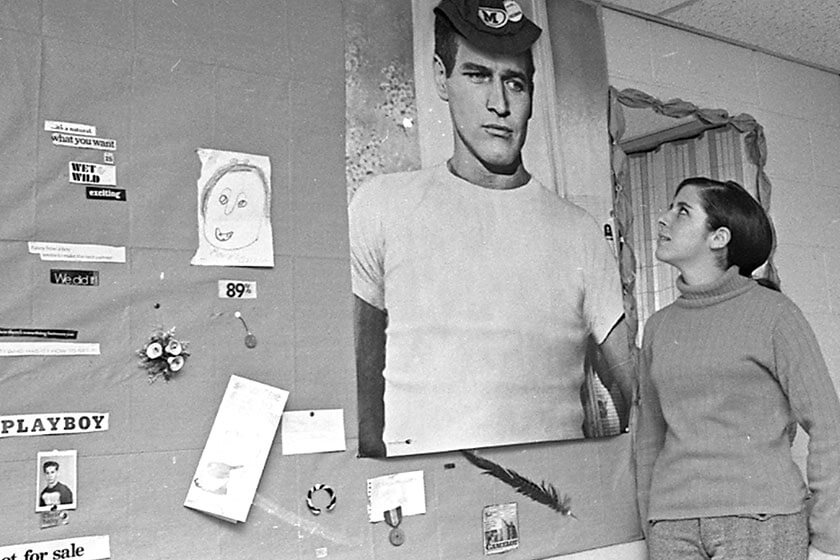 1963
Monmouth's first campus residence halls, Elmwood and Pinewood, open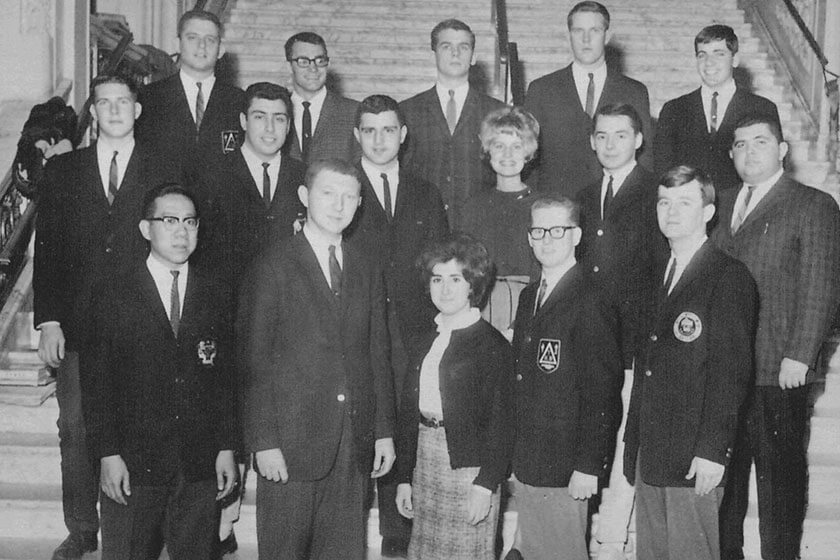 1963
Student Government Association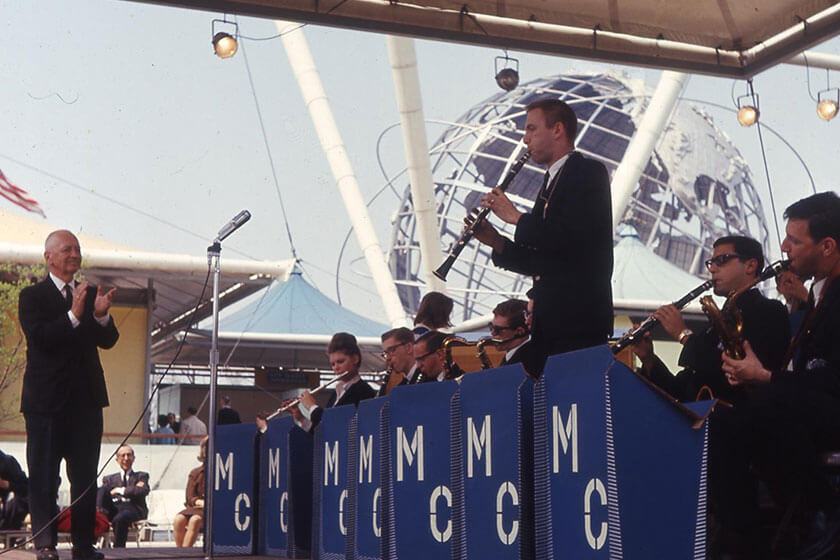 1964
Monmouth's band performs at the World's Fair in New York
1964
Shadow Lawn was a popular student hang-out between classes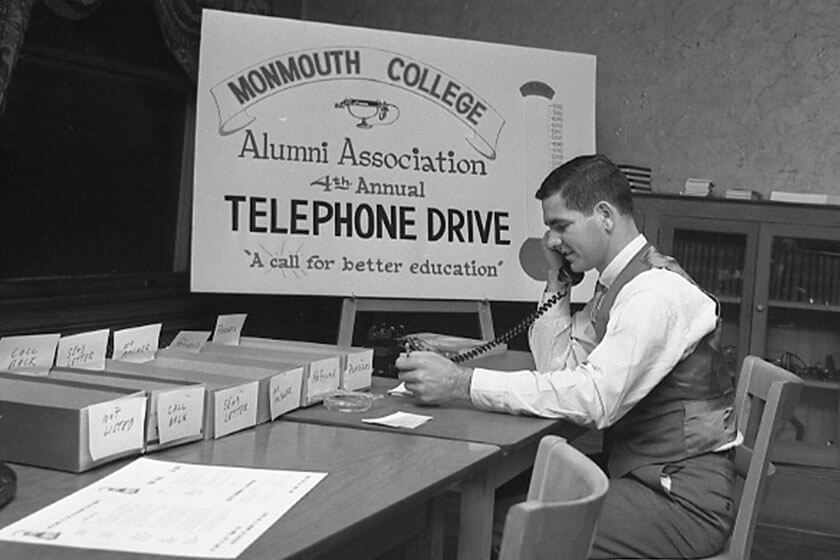 1965
Students and the Alumni Association assist with fundraising efforts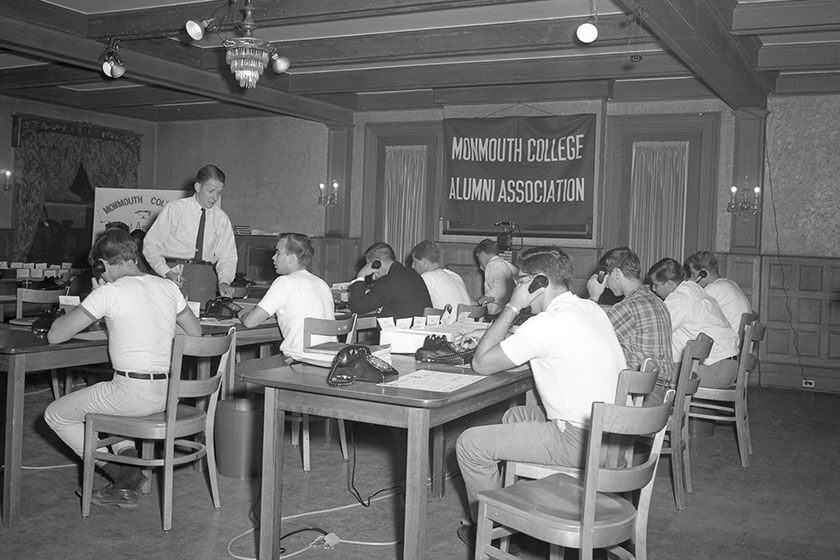 1965
Volunteer fundraising efforts continue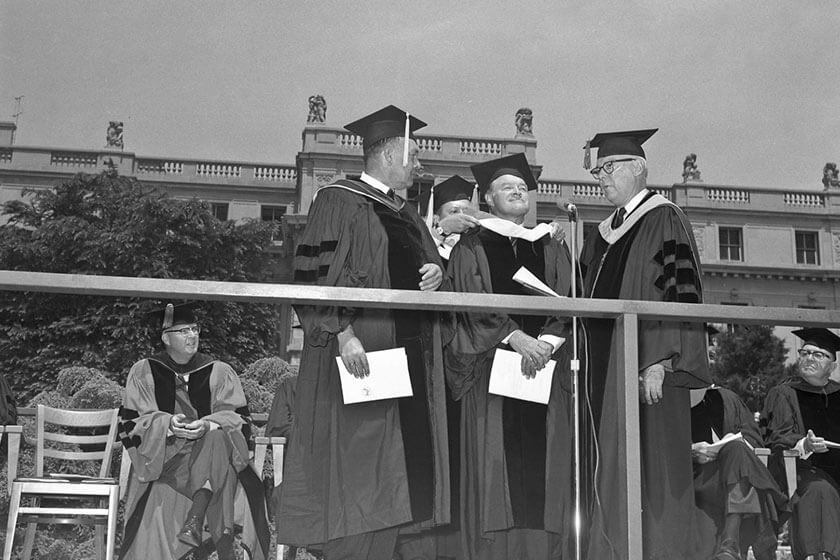 1965
Bob Hope '65HN receives an honorary degree from Monmouth College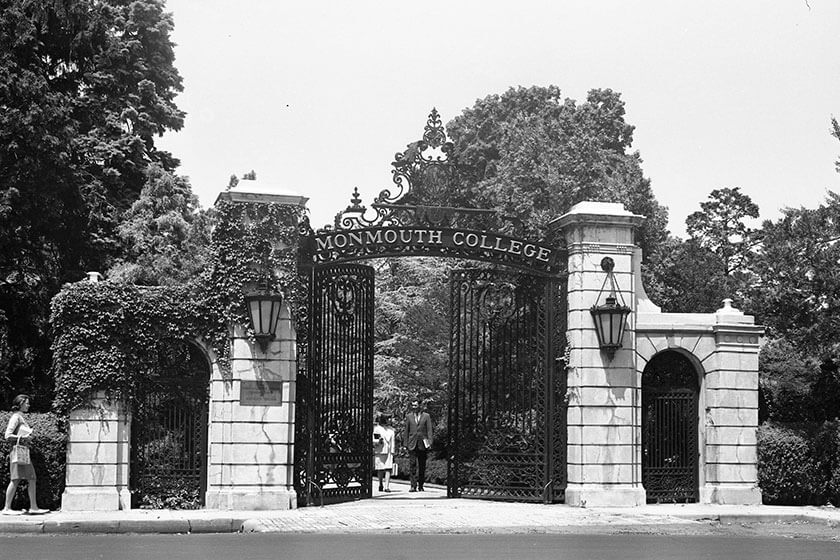 1965
Monmouth's name adorns the college gates
1966
Dr. Martin Luther King Jr. speaks at Monmouth College on October 6, 1966, launching the Student Union Lecture Series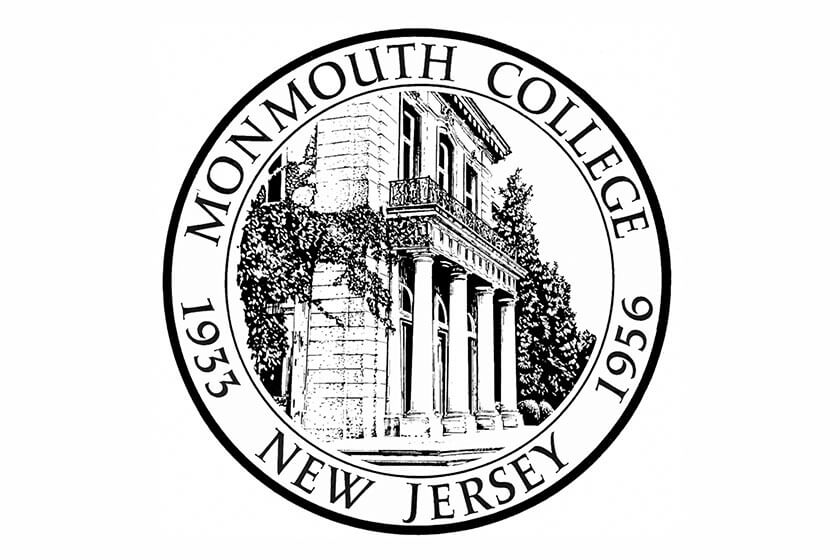 1967
Monmouth College is authorized to offer graduate programs and award master's degrees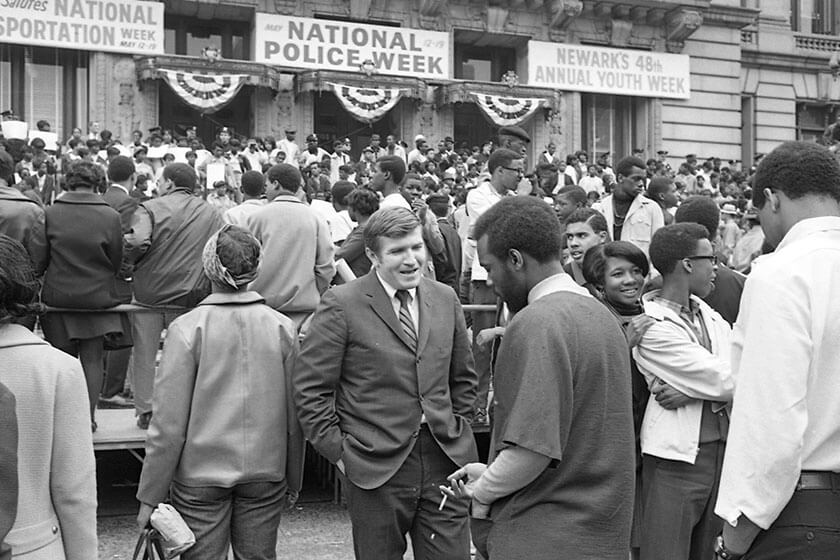 1968
Alumnus Harold Hodes '68 practices his degree in political science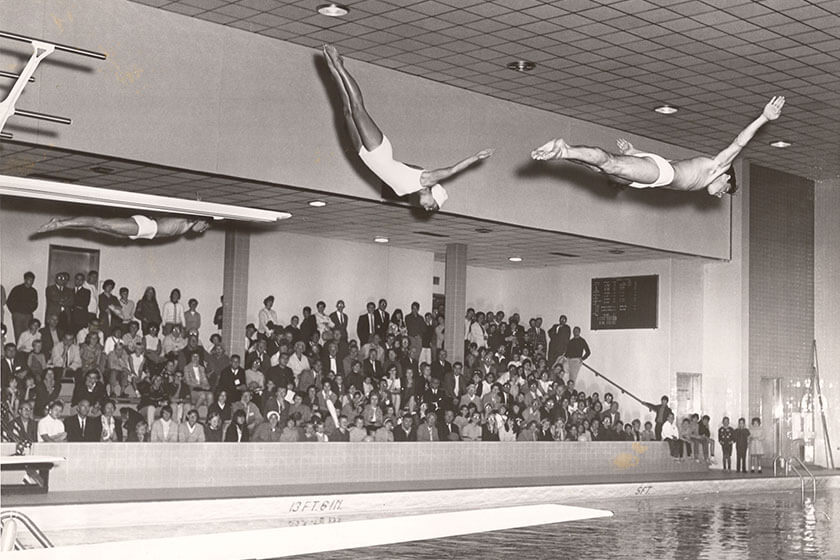 1968
Monmouth's Diving Team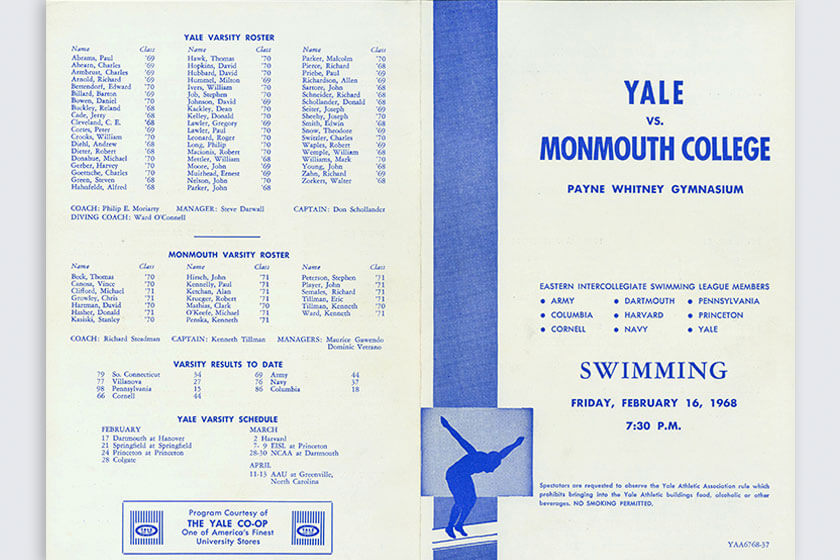 1968
Monmouth Swimming vs. Yale
1969
Frank Valli and "The Four Seasons" entertain at the Mardi Gras Weekend Concert in the gymnasium
1969
Musician Ray Charles plays in Monmouth's gymnasium
1969
African American Studies Club meeting
1969
Mr. and Mrs. Maurice Pollak bequeathed their home to Monmouth, which led to the construction of what is now a hub for the Center for the Arts, Pollak Theatre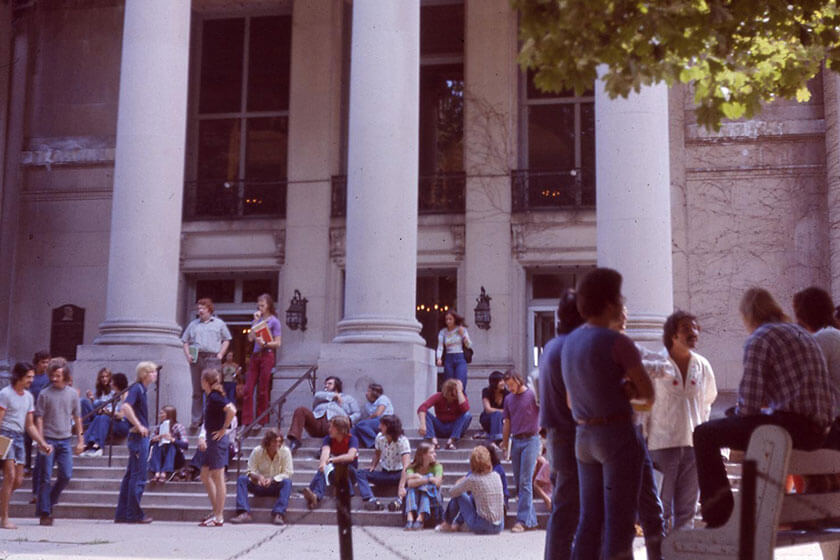 1970s
Students participate in another academic year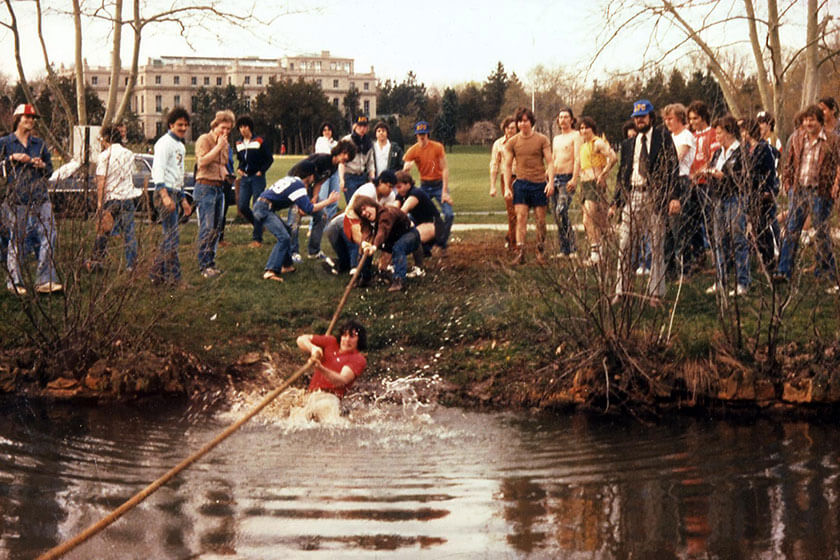 1970s
Social events like tug-of-war across Whale Pond Brook became popular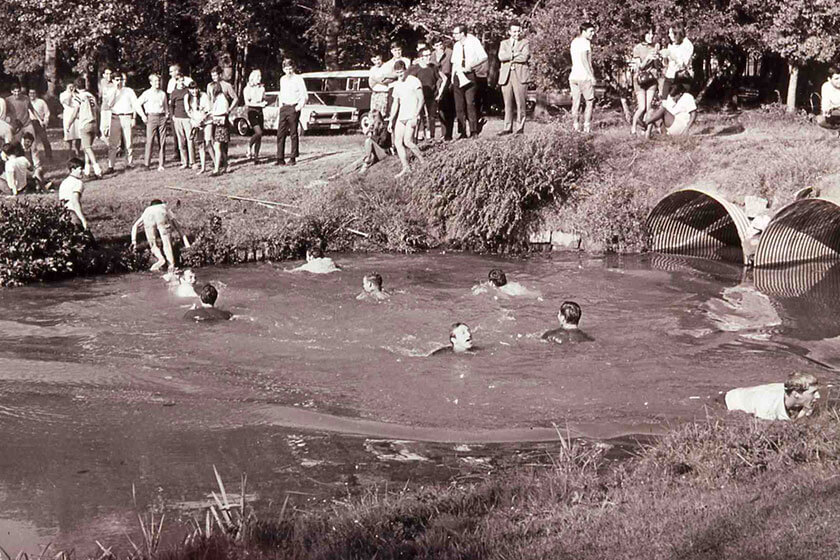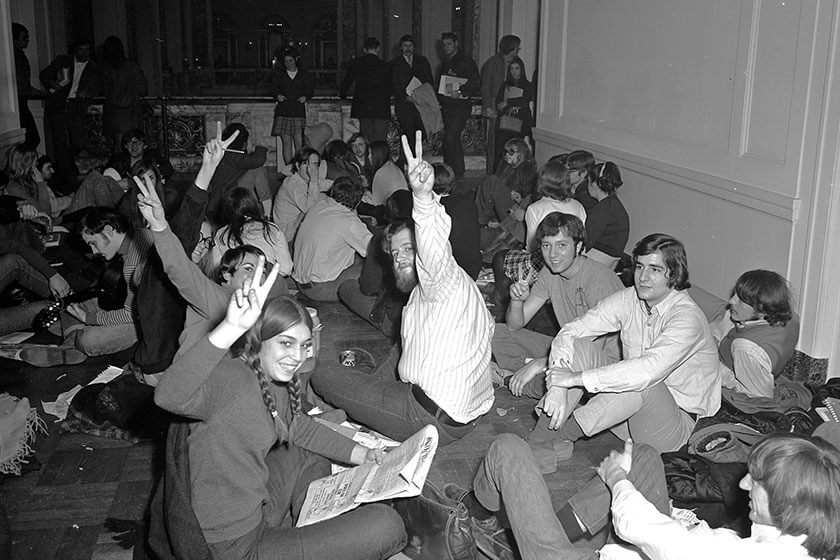 1970s
Triggered by the Vietnam War, Monmouth students initiated sit-in protests around campus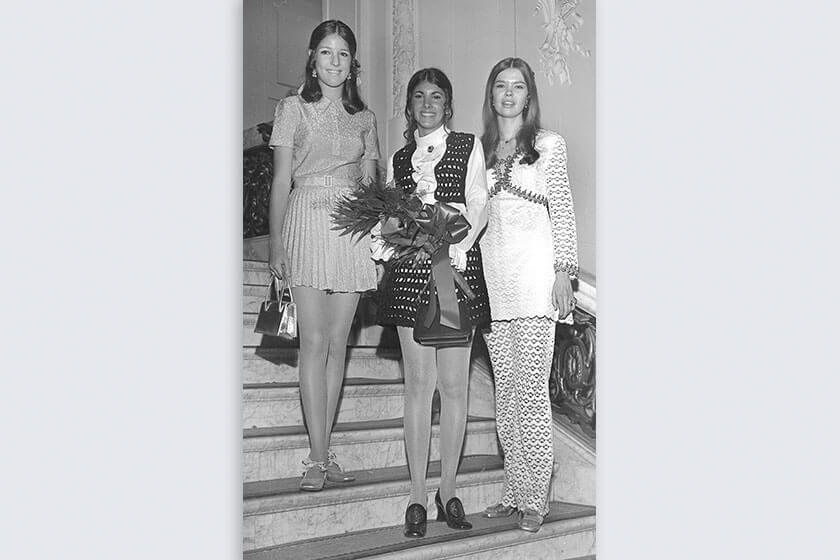 1970
Glamour contest in Great Hall
1970
Student life activities continued with canoe races on Whale Pond Brook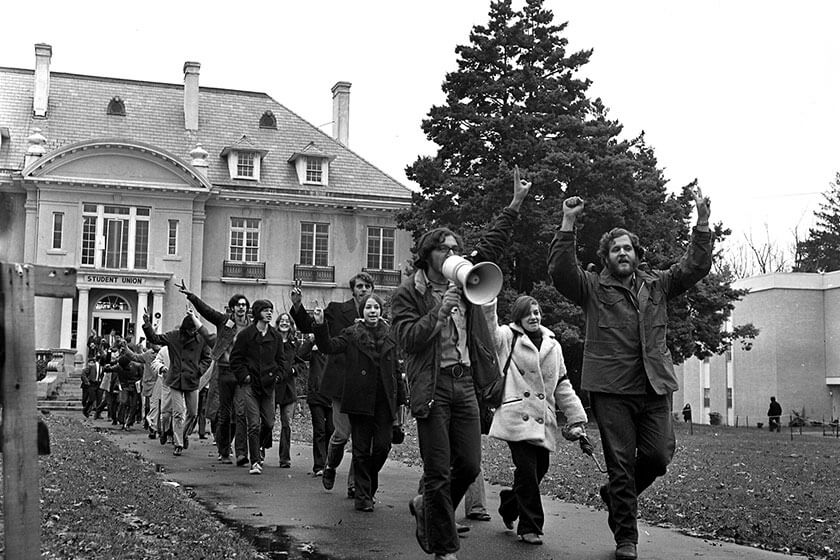 1970
Students parade from the Student Union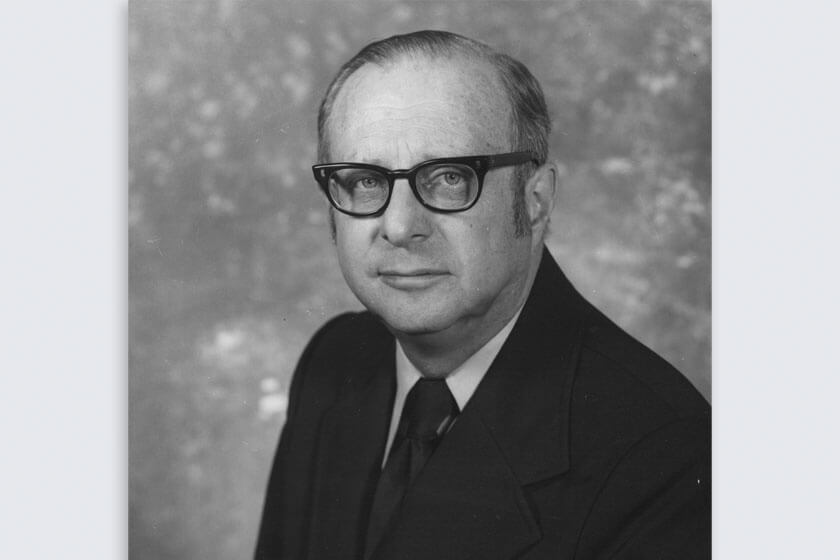 1971
Richard Stonesifer begins term as fourth president of Monmouth College, serving until 1979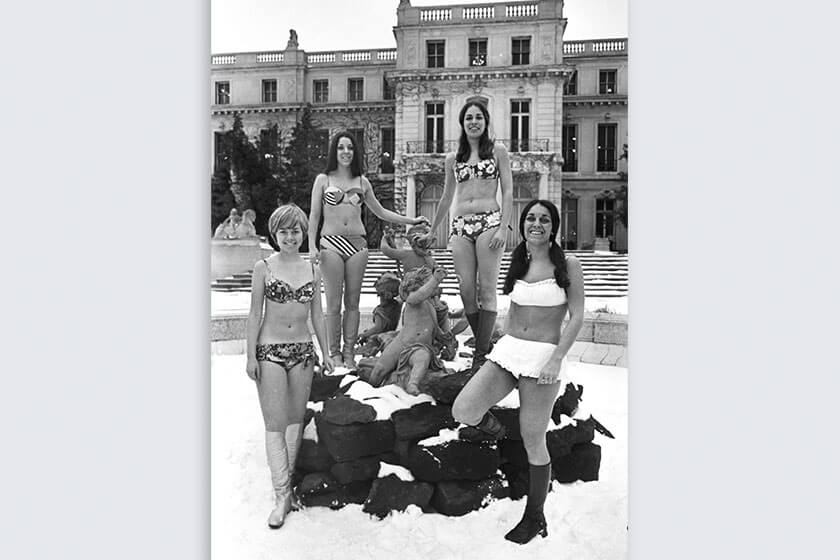 1971
Students participated in a bikini contest during winter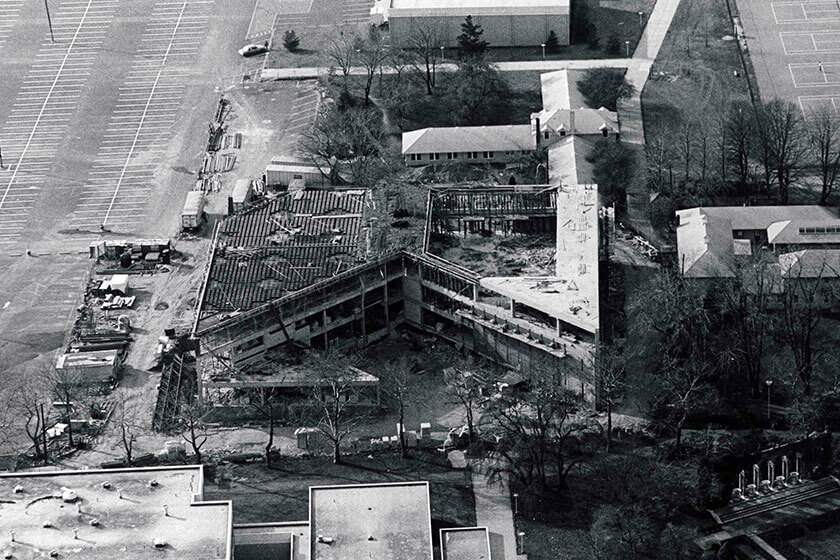 1973
In 1973, construction begins on the College Center, known today as the Rebecca Stafford Student Center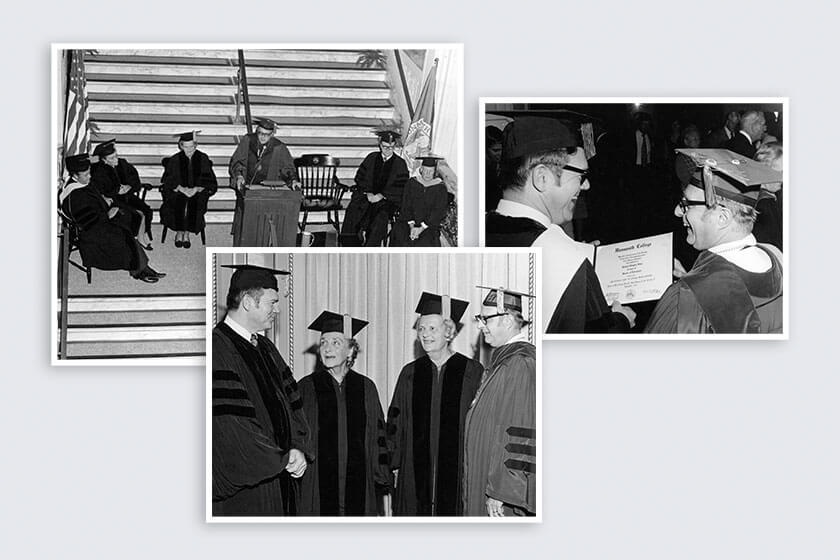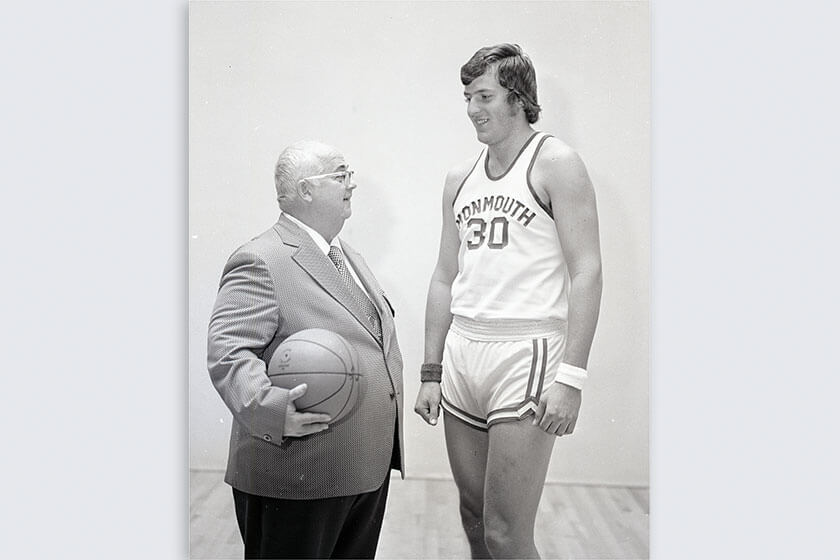 1974
Famed men's basketball coach, Bill Boylan, speaks with senior, Don Kleber '74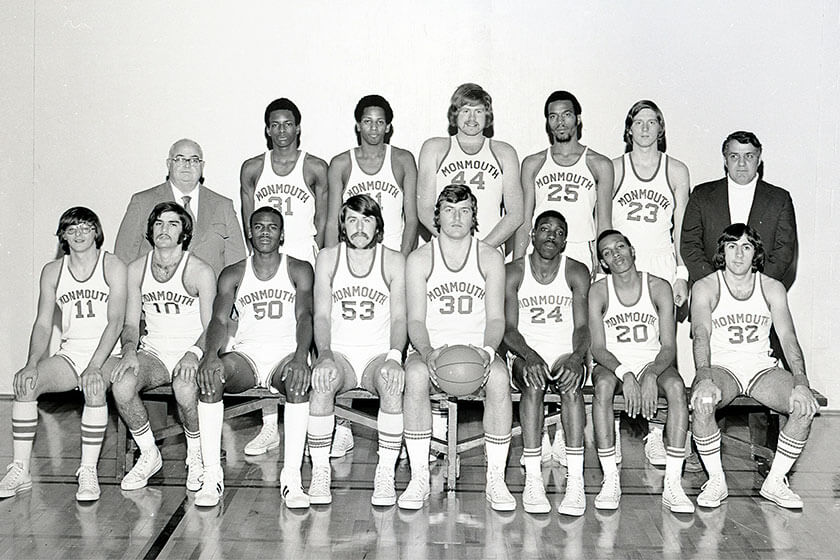 1976
Wendy Boglioli set world and Olympic records in swimming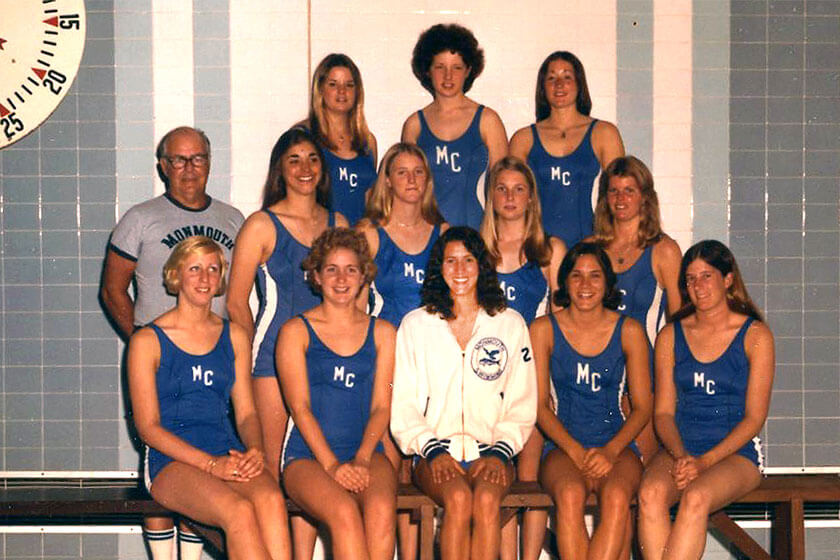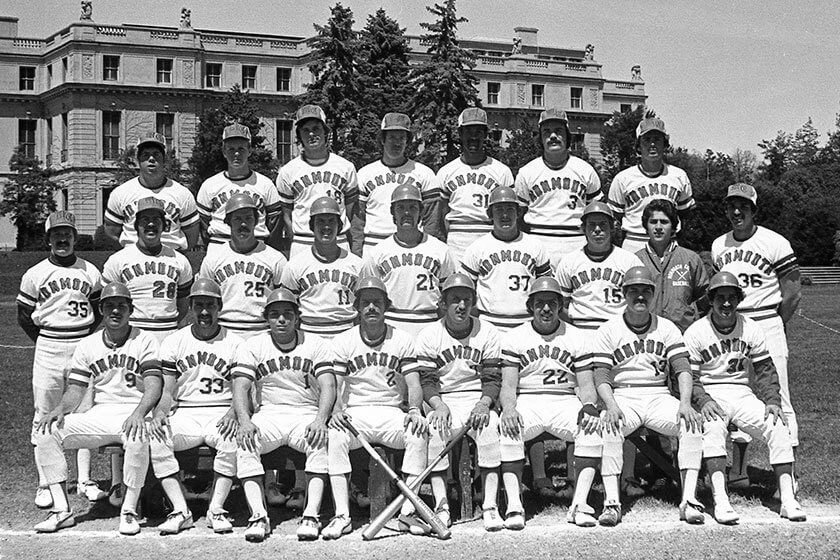 1977
The 1977 baseball team heads to the World Series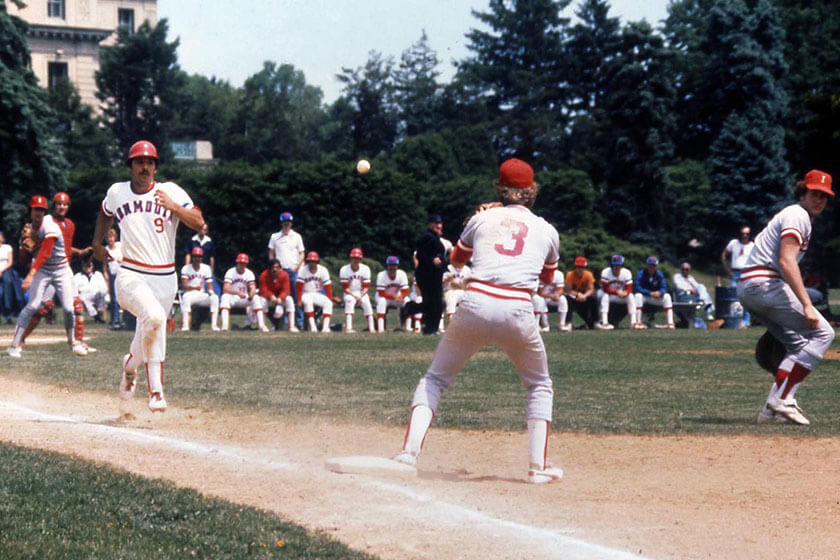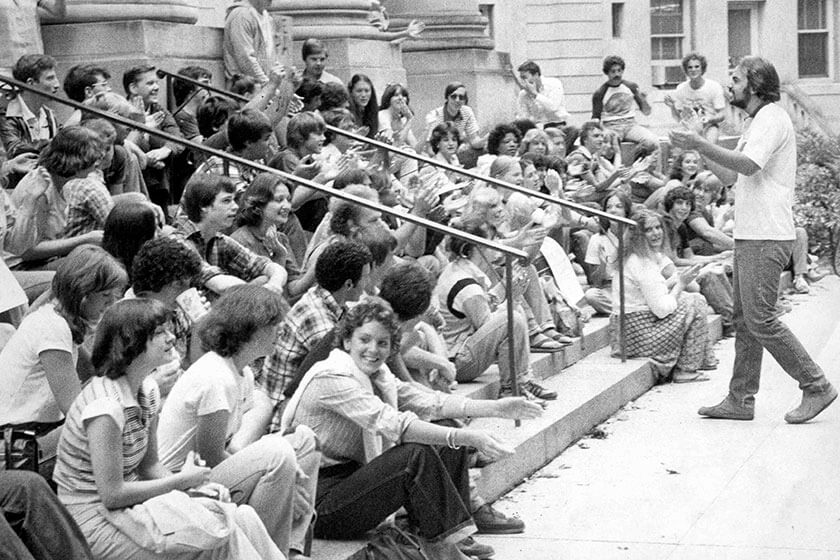 1979
Monmouth students protest the faculty strike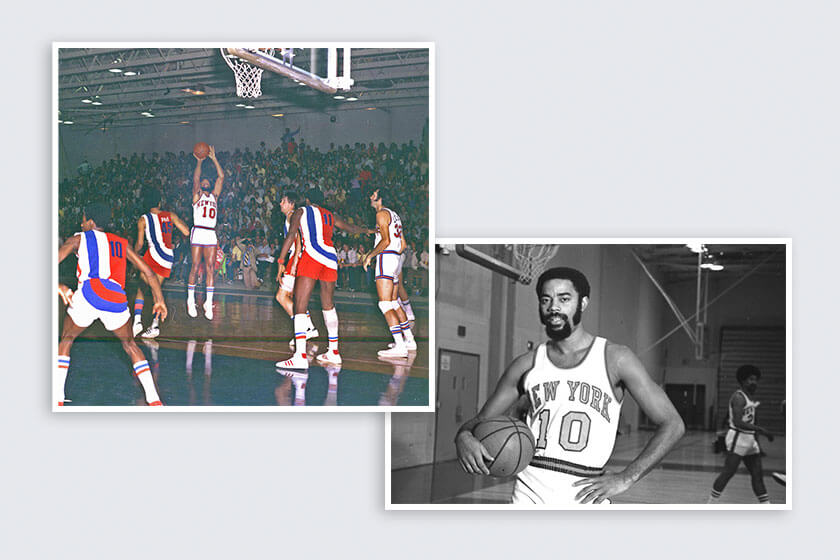 1979
The NY Knicks trained in the Alumni Memorial Gymnasium, known today as Boylan Gymnasium
Monmouth continues to grow, working to establish itself as a leader in education and athletics. And as political and social unrest grips the country, Monmouth students organize protests and sit-ins across campus.
The steps of Great Hall become immortalized by Hollywood as Monmouth serves as the backdrop for the 1982 film, "Annie." And as Monmouth celebrates its 50th anniversary in 1983, the school's athletics program officially joins Division I.
1980
Samuel Hays Magill begins term as president and serves until 1993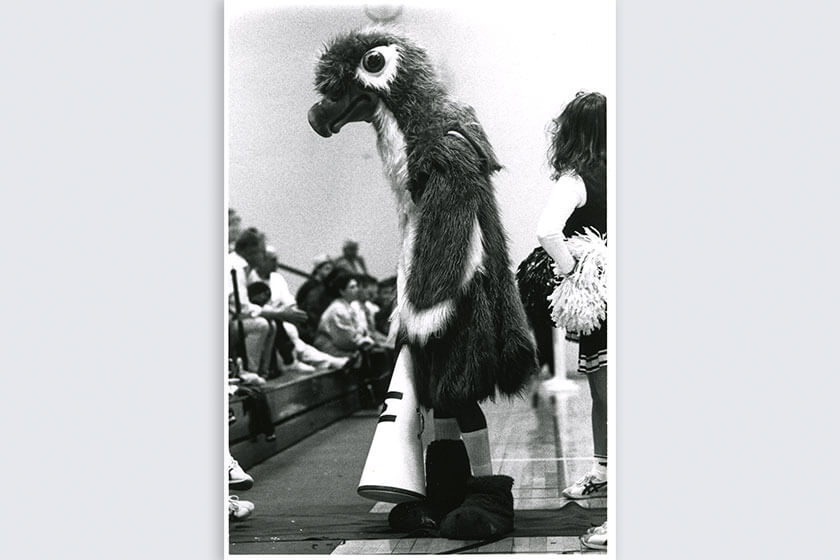 1980s
Monmouth's mascot, Shadow the Hawk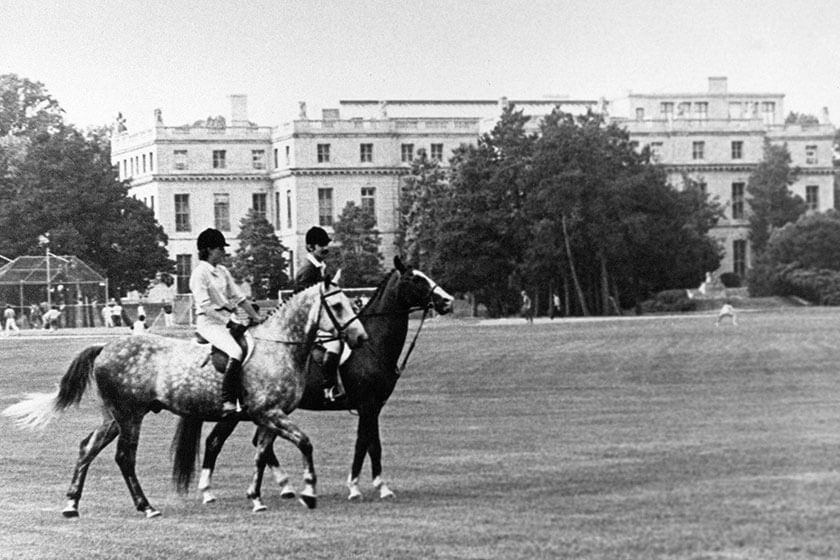 1980s
Former equestrian team members ride horses outside of the Great Hall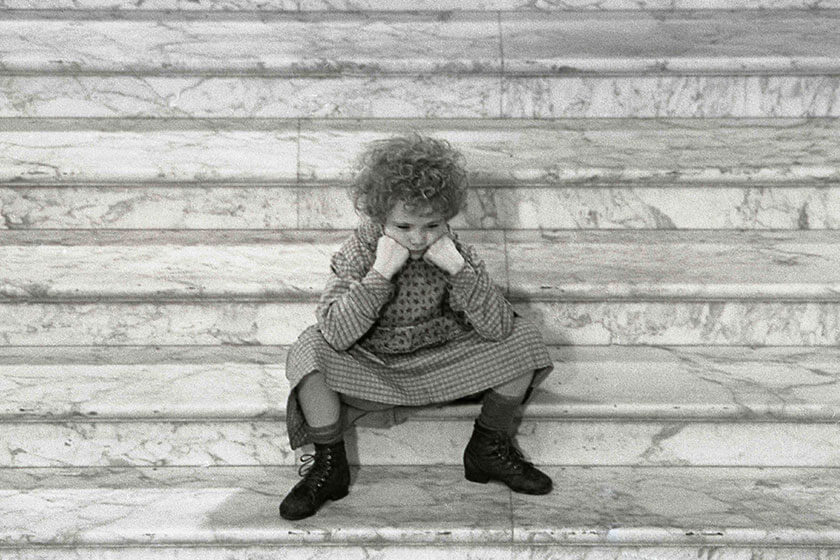 1982
Monmouth College was the location for the film, "Annie"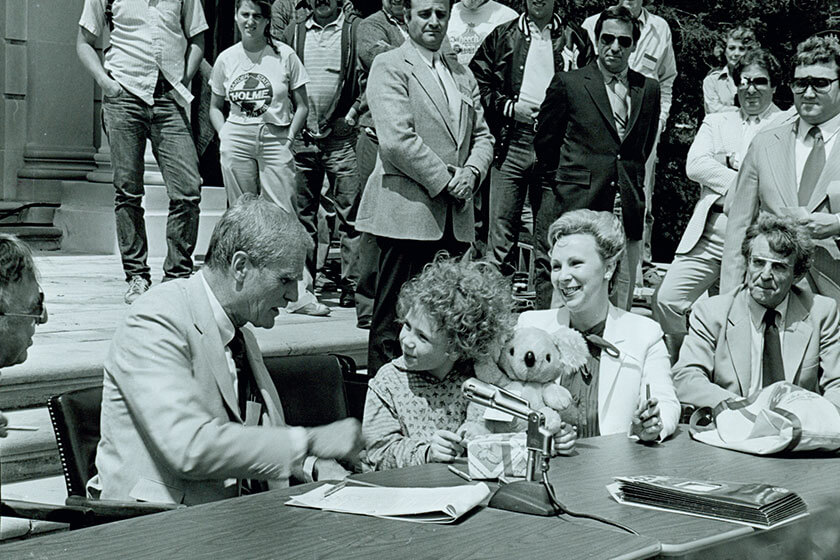 1982
Members of Monmouth College including President Samuel Magill sit with Eileen Quinn during filming of "Annie"
1982
Filming of the movie "Annie" in the Great Hall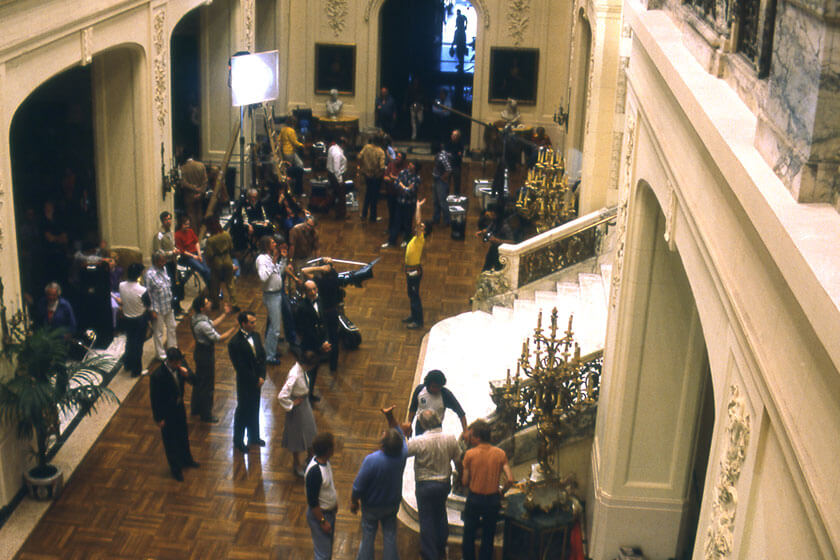 1982
Behind-the-scenes photos of "Annie"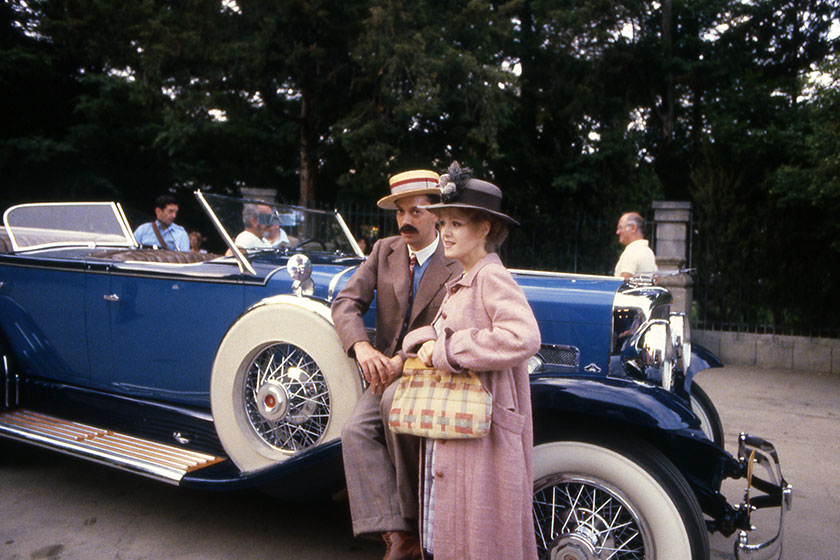 1982
Behind-the-scenes photos of "Annie"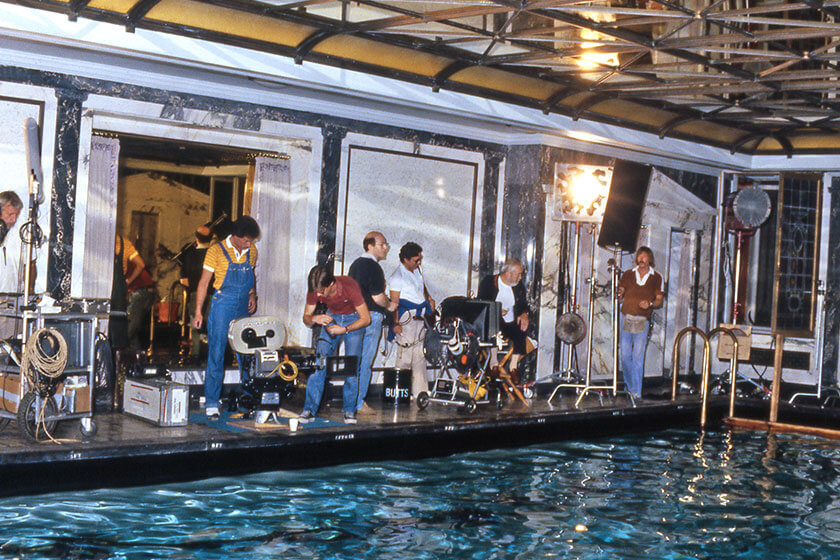 1982
Swimming scene filmed in the Great Hall's pool
1983
Monmouth College celebrates its 50th anniversary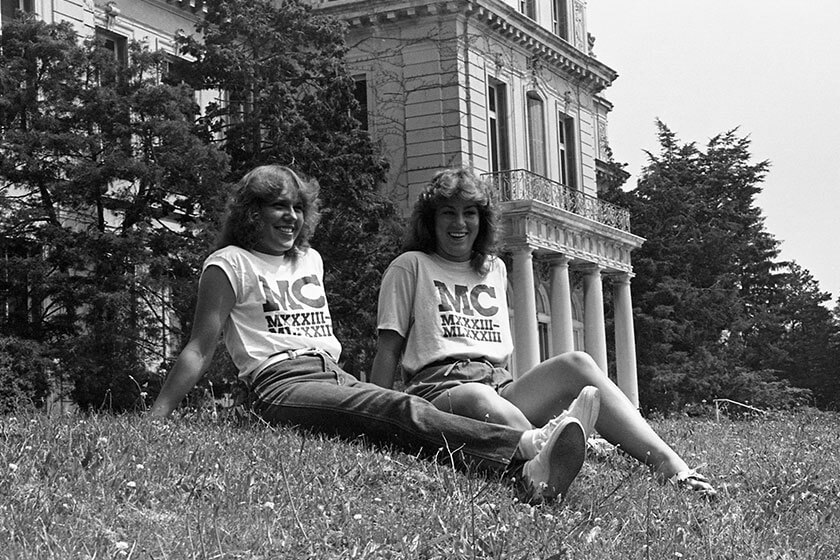 1983
Students wearing 50th anniversary t-shirts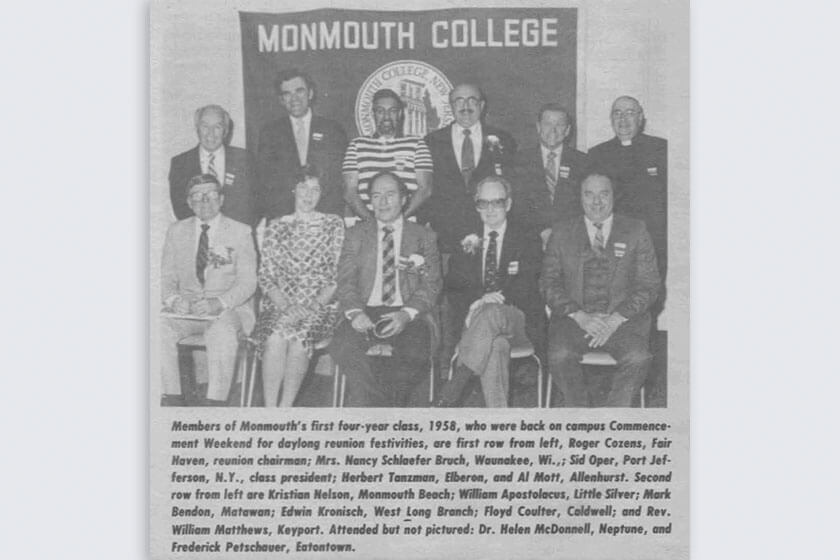 1983
Members of the Class of 1958 attended their 25th reunion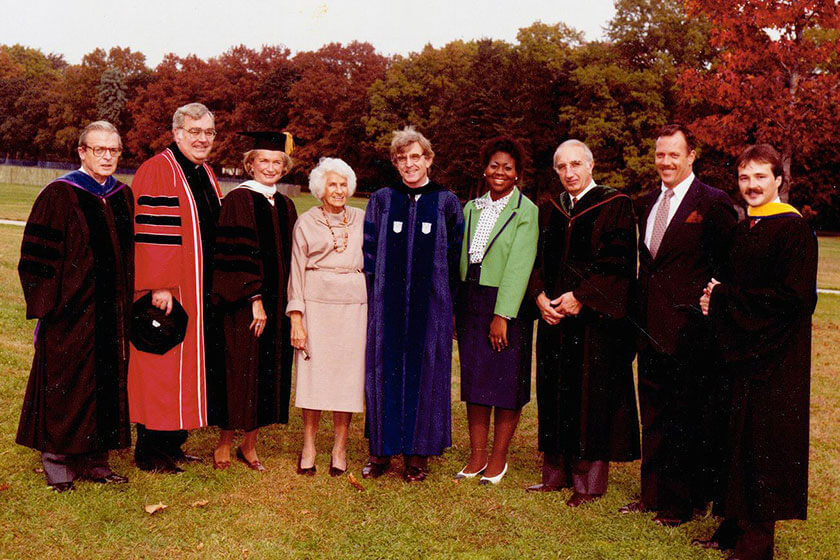 1984
Monmouth College leadership and trustees gather for a photo at Founder's Day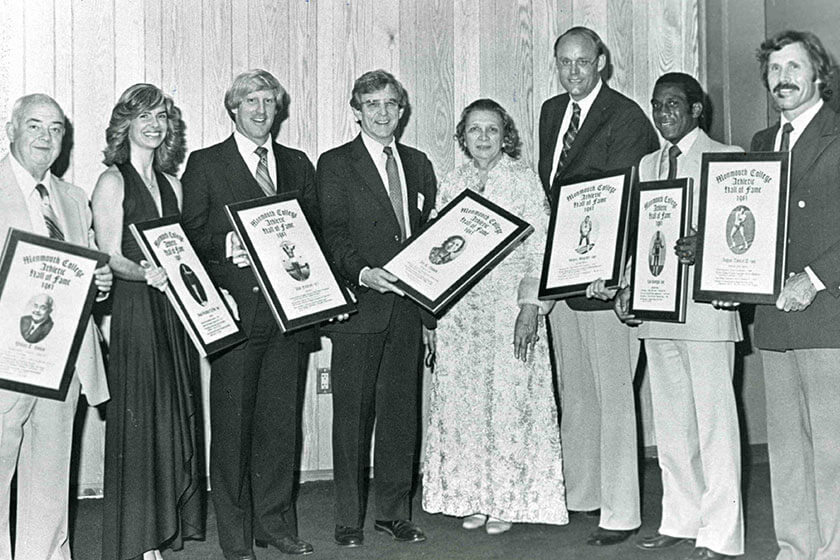 1987
The Athletics Hall of Fame was established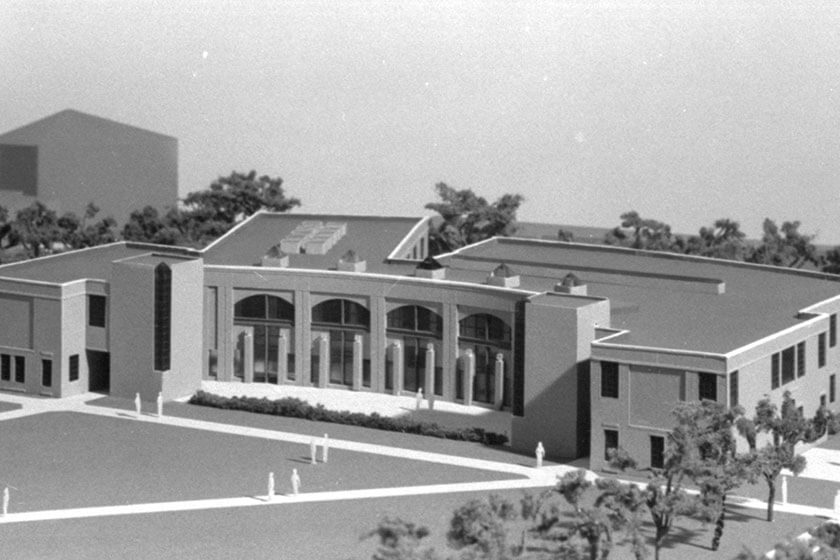 1987
Rendering of Samuel E. and Mollie Bey Hall at Monmouth College
1988
Former Athletics Director and Men's Basketball Head Coach Wayne Szoke proudly stands in front of Monmouth Athletics billboard
1988
Student Ellen Brennan '88 processes at commencement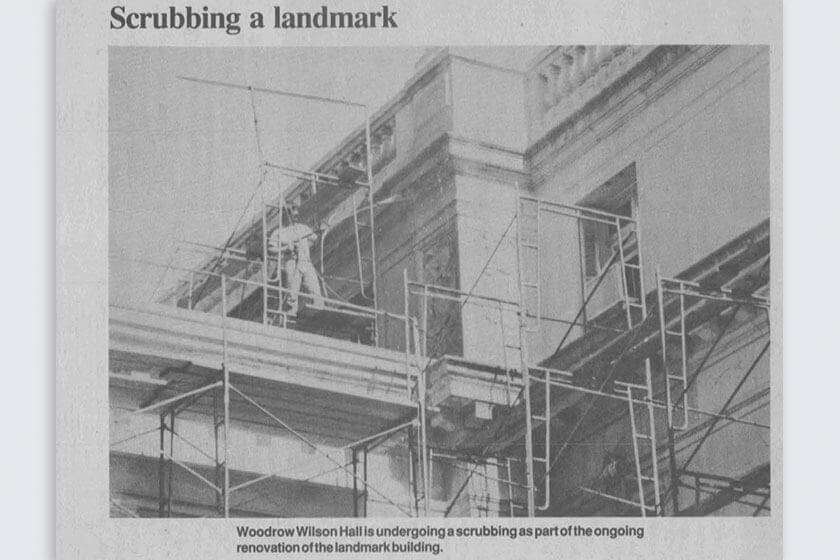 1988
Historic Great Hall renovations
1988
Excitement about student move-in
1988
Alumni from the 1930s hold reunion in 1988
1992
Monmouth Bookstore ad
1992
Dr. Thomas Pearson named Provost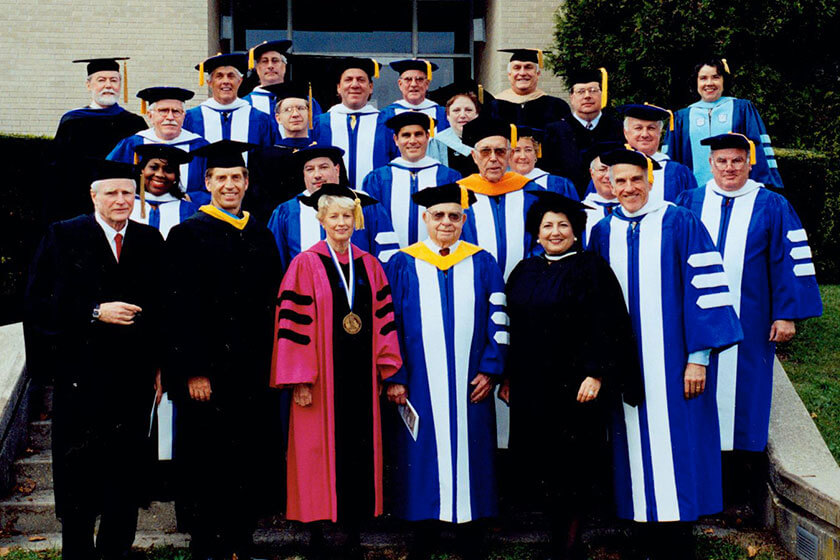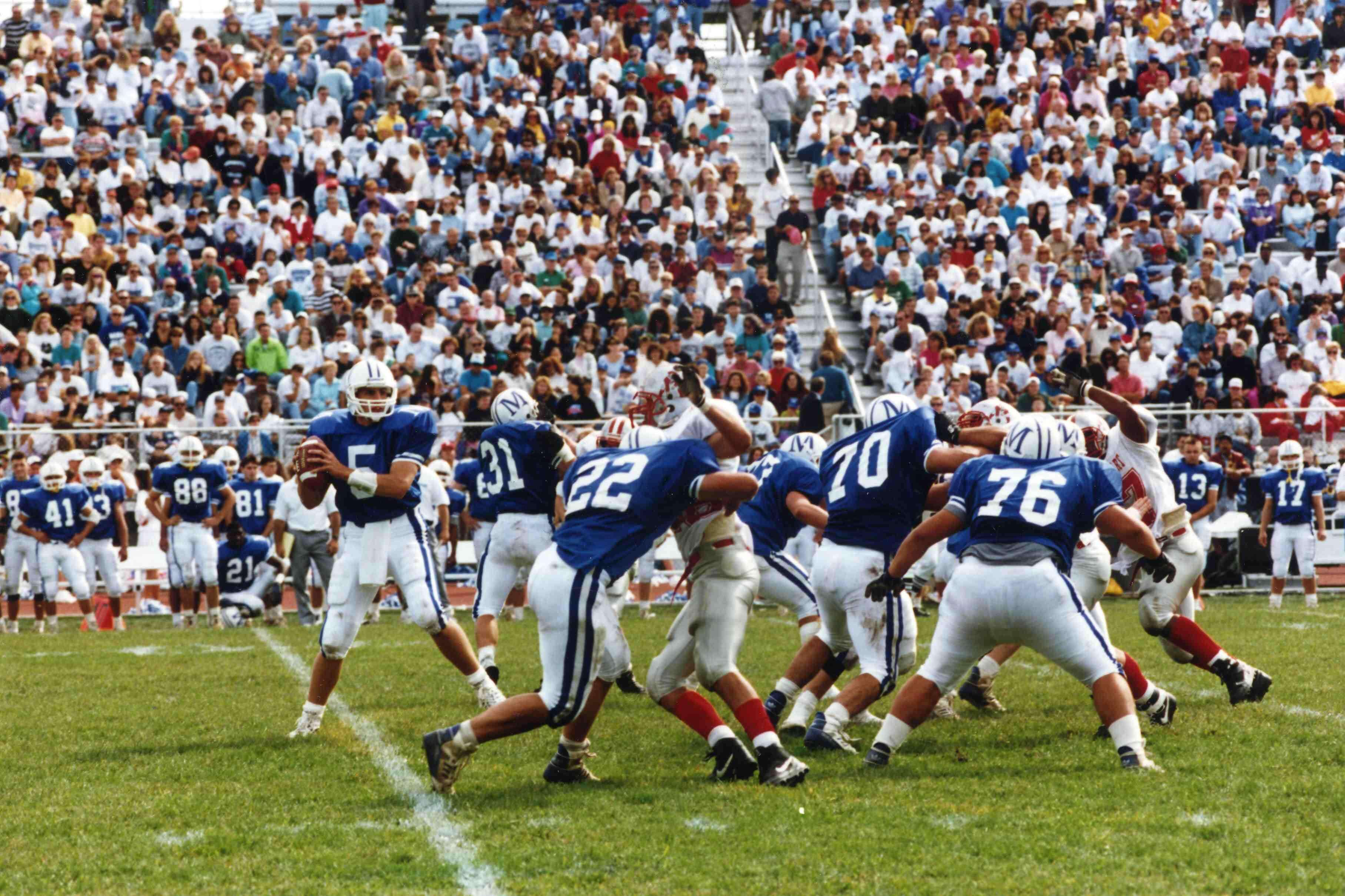 1993
Monmouth football's first game
1993
Rebecca Stafford begins term as sixth President of Monmouth College, serving from 1993-2003
1994
The School of Graduate Studies is established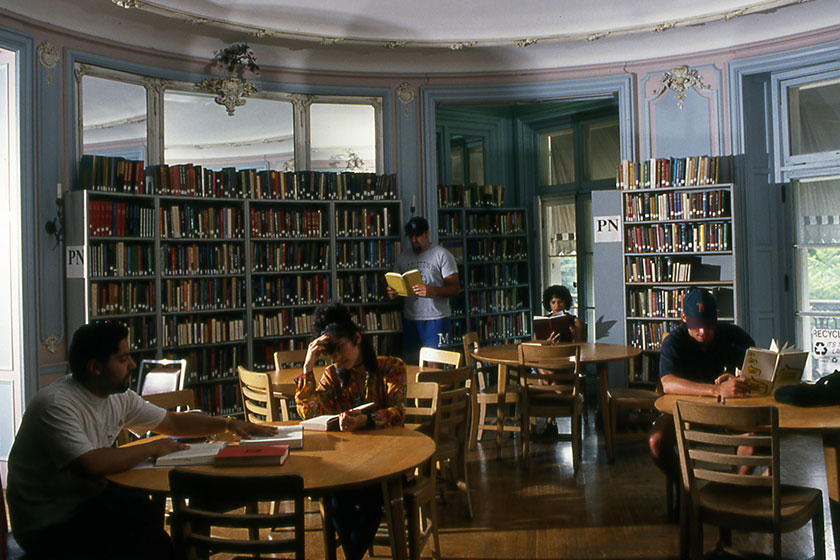 1994
Students in the Guggenheim Library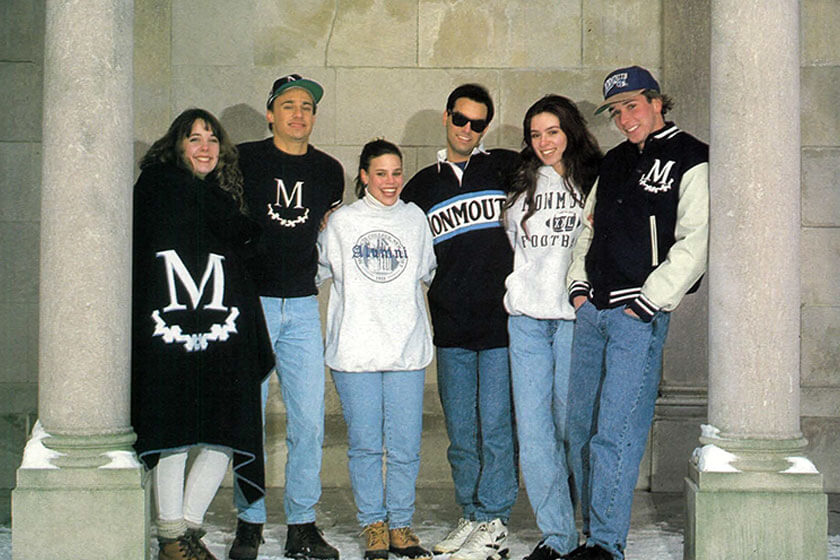 1994
Students show off their Monmouth pride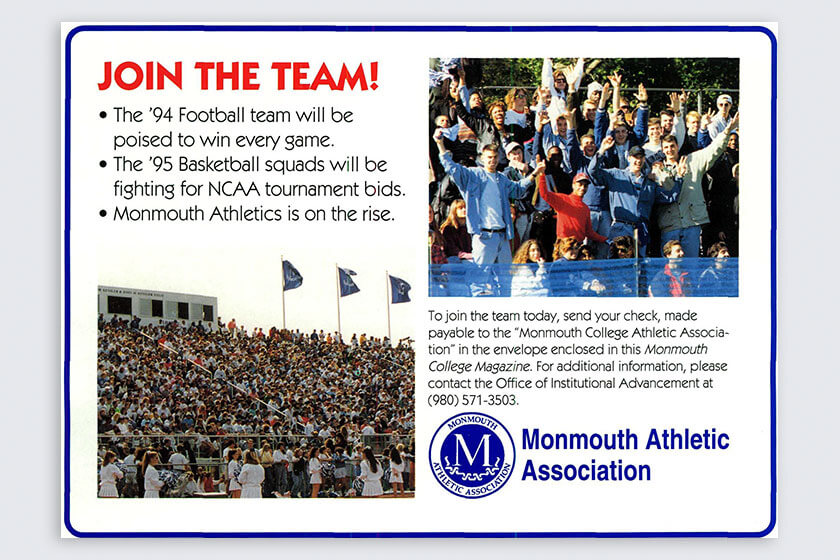 1994
Early advertisements for the athletics booster club, now known as the Blue/White Club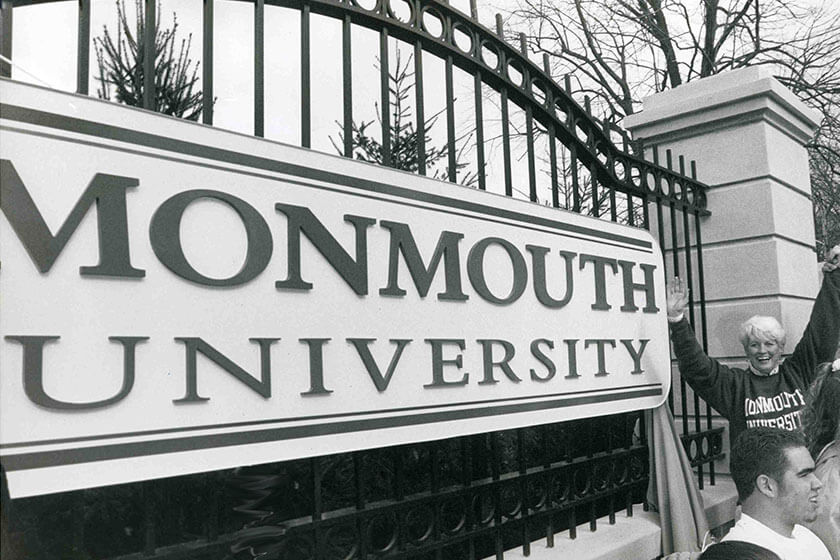 1995
Monmouth receives University status and changes its name to Monmouth University
1995
Spring issue of the Monmouth Magazine celebrates University status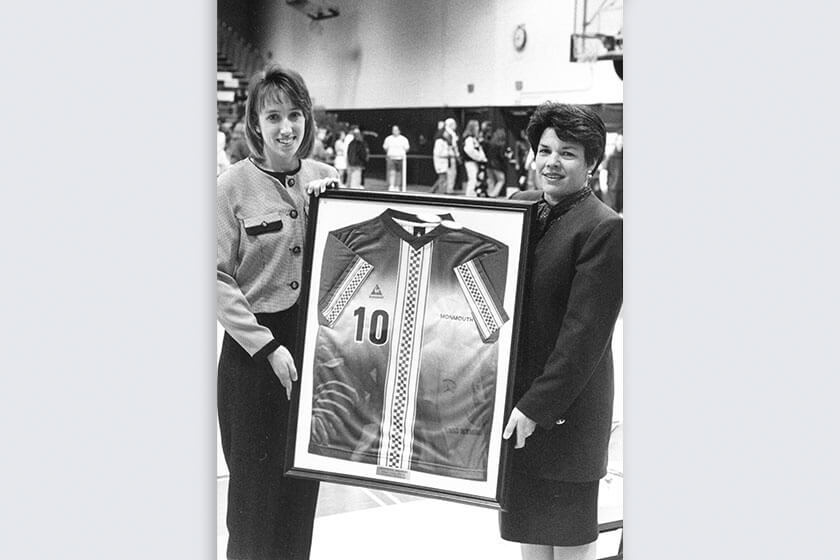 1996
Athletics Director Dr. Marilyn McNeil stands with Jeannette Goepfert '92 to celebrate the retirement of her women's soccer jersey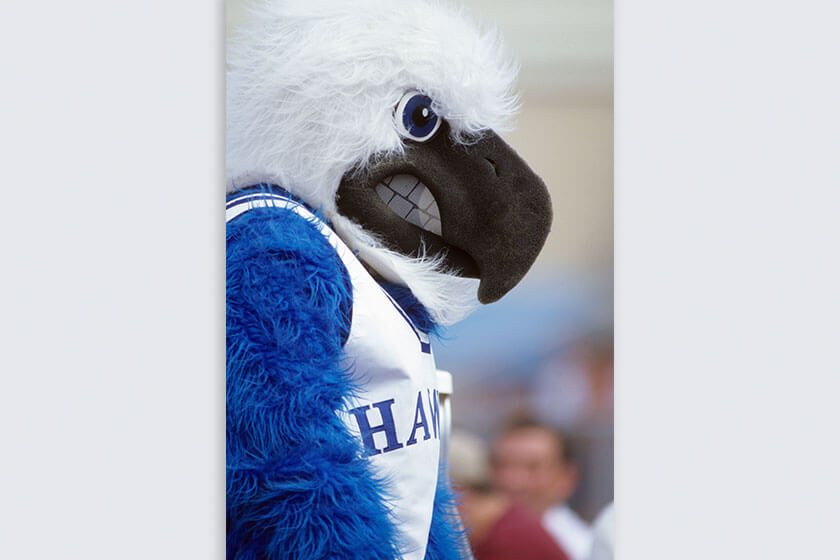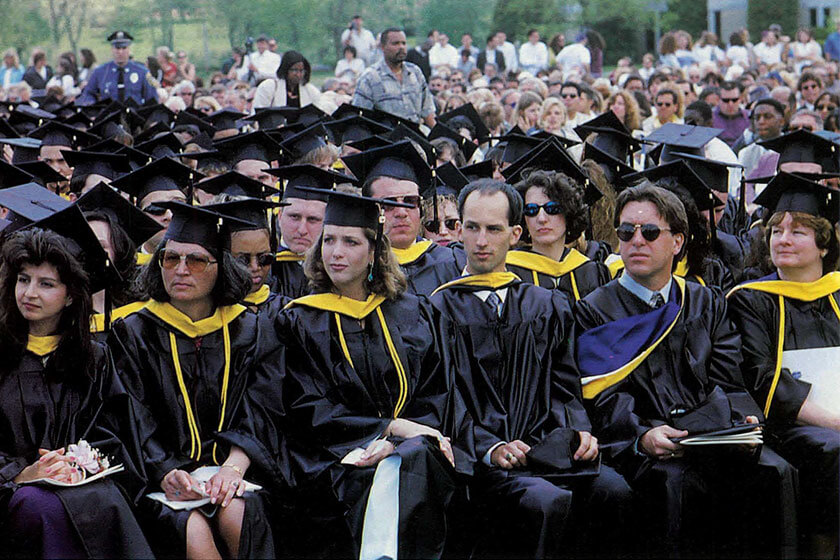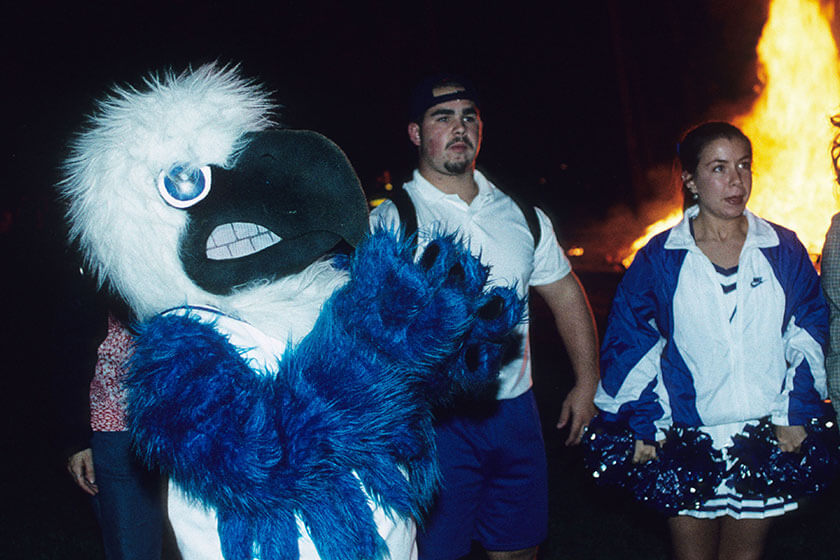 1997
Students enjoying the Homecoming bonfire tradition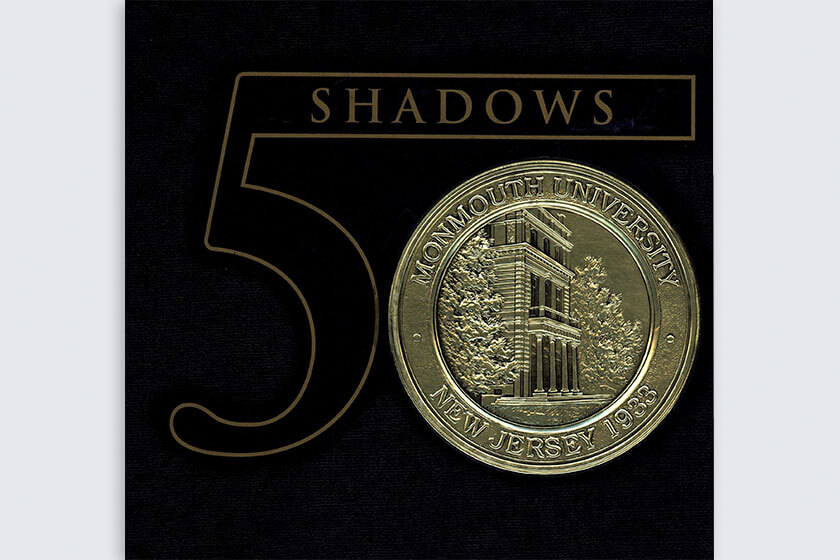 1999
Monmouth Yearbook turns 50
In 1995, Monmouth College officially becomes Monmouth University, and, according to then-president Rebecca Stafford, is "on the move."
Monmouth's campus expands to welcome a new millennium as construction is completed on the pedestrian underpass and the MAC, known today as the OceanFirst Bank Center.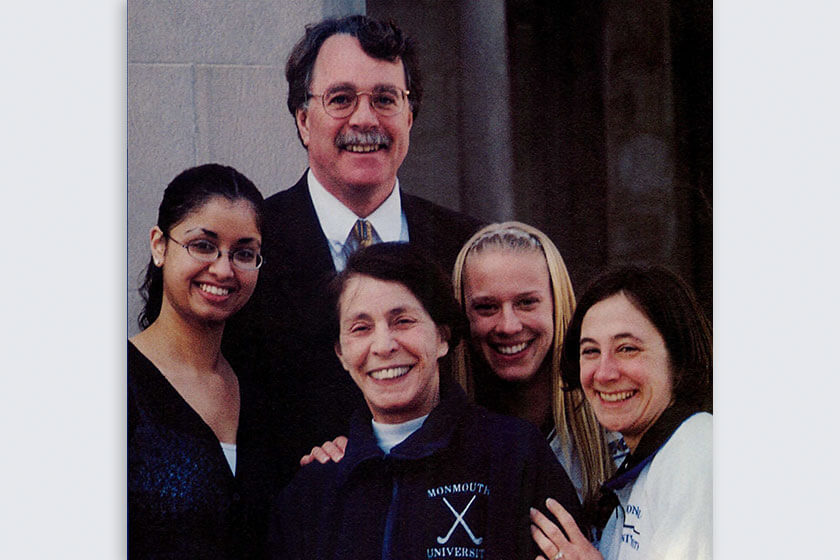 2000
Celebrated Honors School benefactor Jane Freed '81 stands with students and famed faculty member and dean, Dr. Brian Garvey
2001
Monmouth opens the Student Underpass with Sen. Joseph Palaia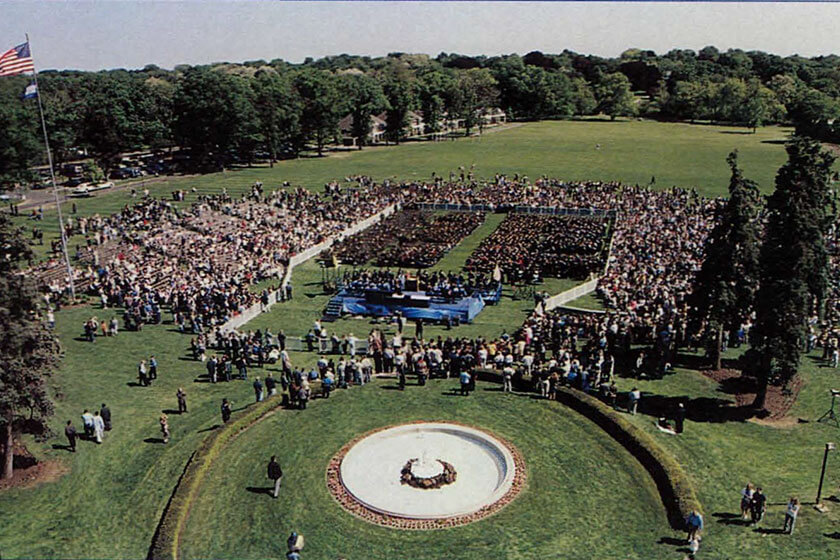 2002
Graduation on the Great Lawn
2002
Thanks to Robert McAllan '69, Monmouth celebrates the naming dedication of academic building, Robert E. McAllan Hall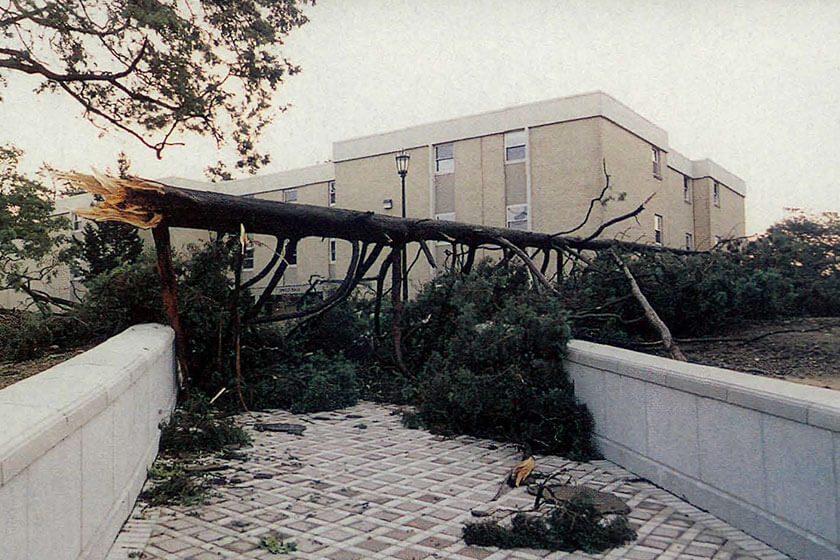 2002
Trustee Emeritus Jules L. Plangere Jr. '86HN at the dedication of Jules L. Plangere Jr. Center for Communication and Instruction
2002
Vision Award presented to Jules L. Plangere Jr. '86HN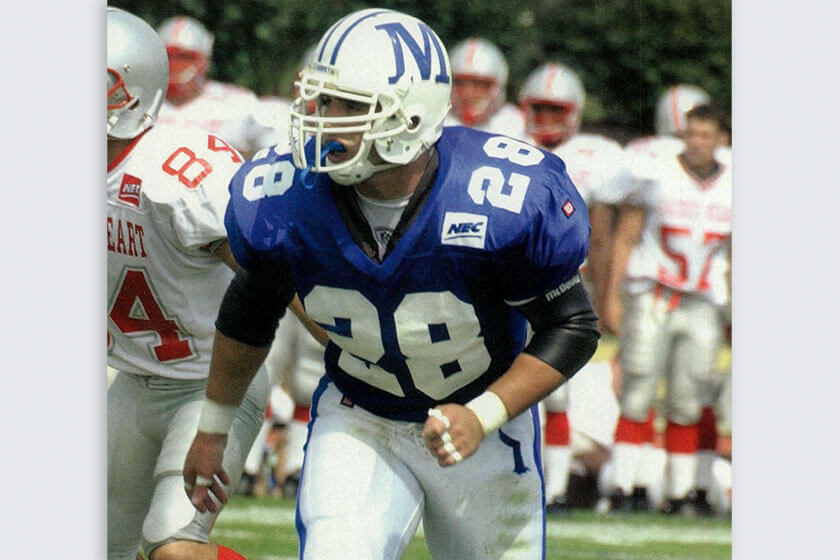 2003
Joe Sentipal '03 is the first Monmouth football player to earn Division I-AA All-American honors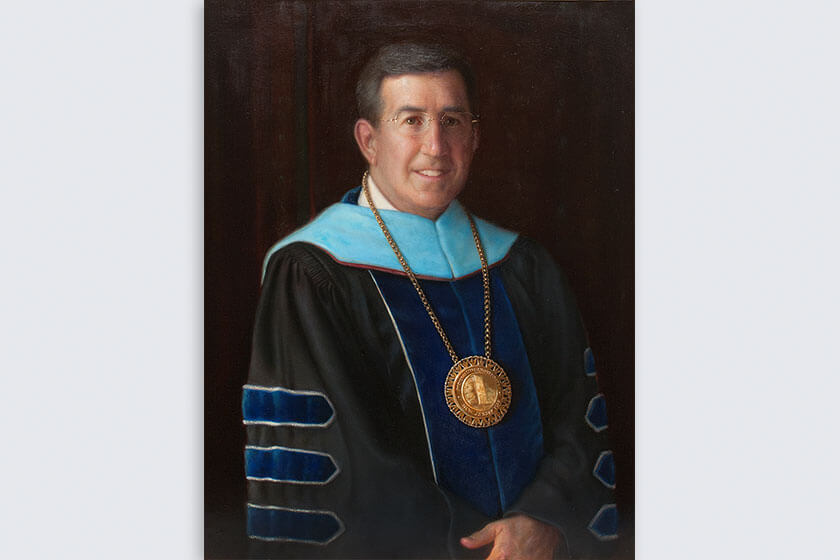 2003
Paul G. Gaffney II served as Monmouth's seventh president until 2013
2004
Christie Pearce '99 received Olympic gold medals in soccer with the U.S. Women's National Team in 2004, 2008, and 2012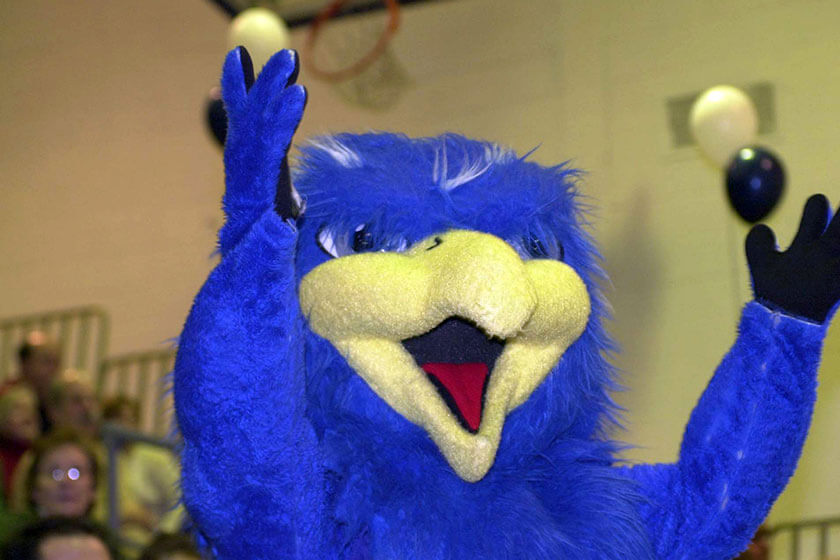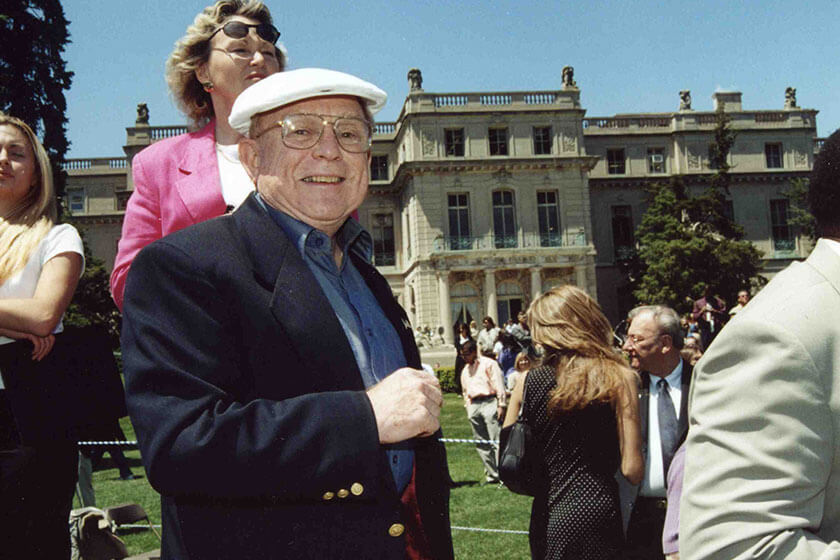 2005
Former Monmouth University photographer, Ralph Binder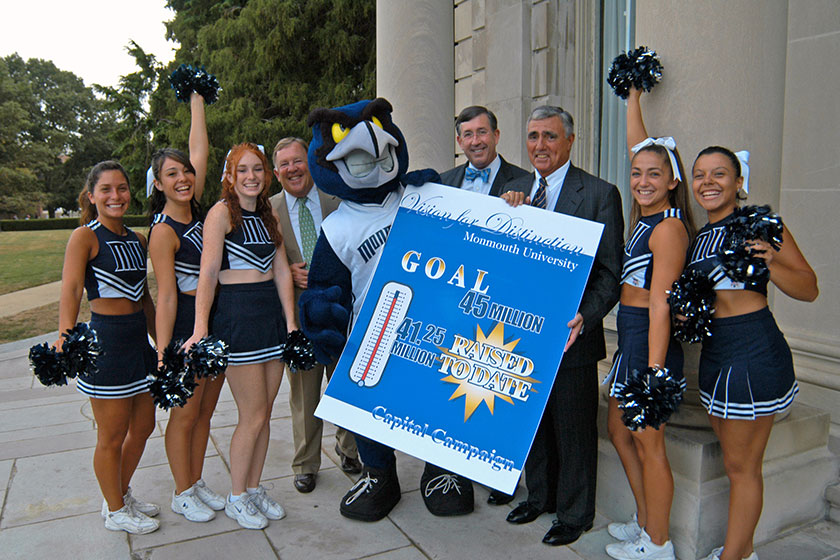 2005
Monmouth's Capital Campaign Kick-Off event
2006
School of Social Work celebrates its 30th anniversary with Dean Dr. Robin Mama and alumni
2006
Men's basketball takes on Villanova during the NCAA Tournament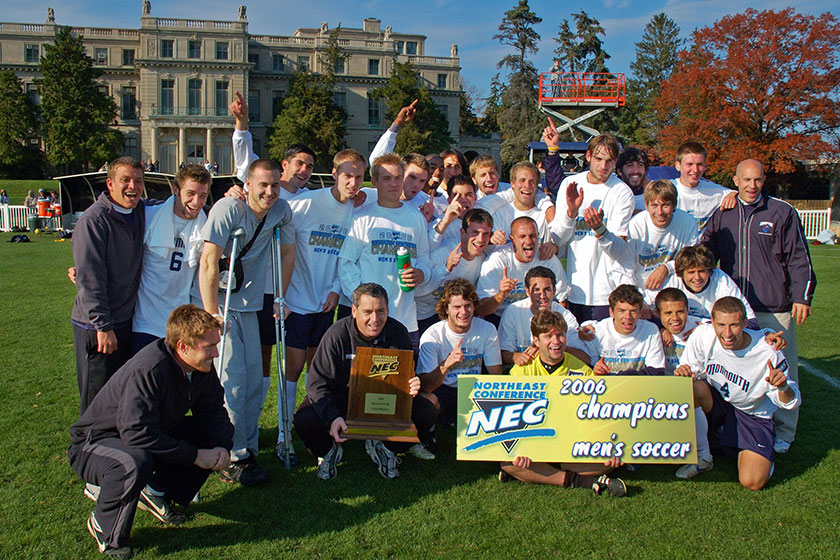 2006
Men's soccer is named NEC champions
2008
Alumni gather for the Athletics Hall of Fame Dinner in the Great Hall
2009
Student Government Association continues the Homecoming King and Queen crowning tradition during halftime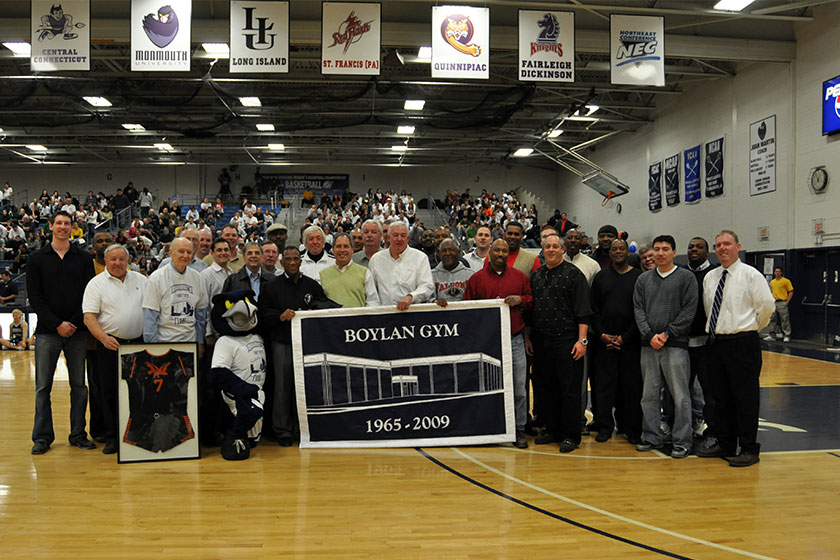 2009
Last men's basketball game held in Boylan Gymnasium
2009
The MAC, now known as the OceanFirst Bank Center, opened
2009
Monmouth celebrates the opening of the MAC, the multipurpose activity center
2010
Miles Austin '18, NFL wide receiver for the Cowboys and two-time Pro Bowl selection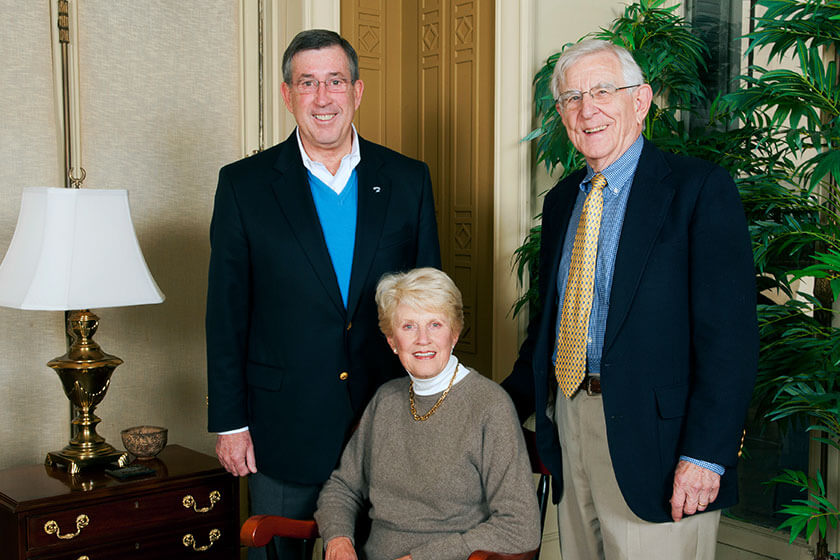 2010
Monmouth Presidents Magill, Stafford, and Gaffney
2012
Financial Markets Lab opens in Bey Hall, enabling Monmouth students to have hands-on experience analyzing real-time market and financial data
2012
Thanks to the generosity of Robert Rechnitz and wife, Joan H. Rechnitz '84 '12HN, Rechnitz Hall supports and celebrates the work of our fine arts and graphic design students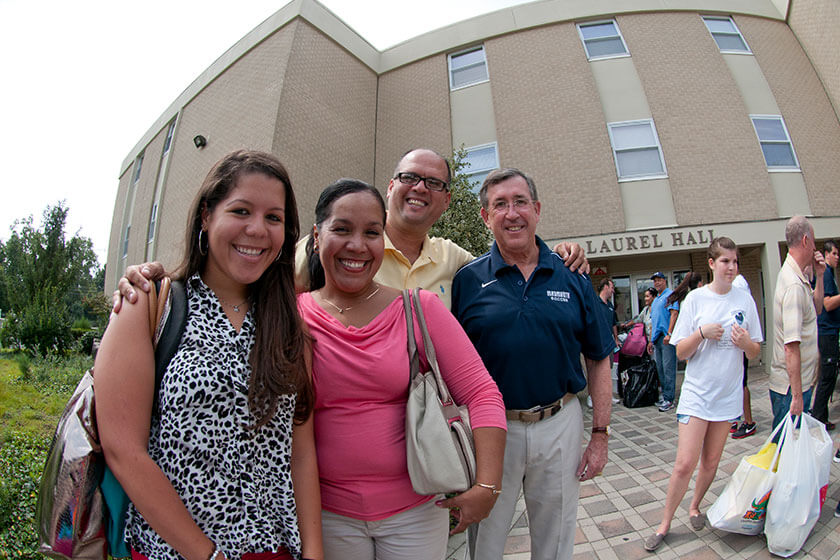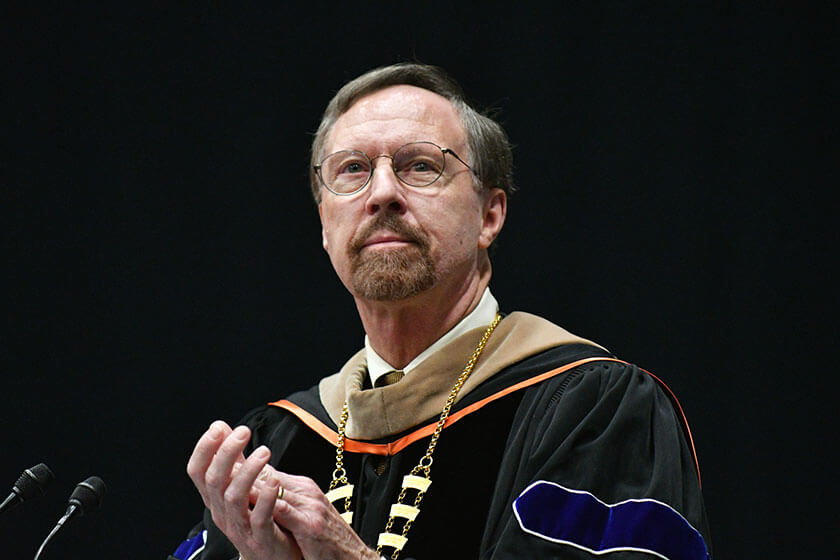 2013
Dr. Paul R. Brown served as Monmouth's eigth president until 2017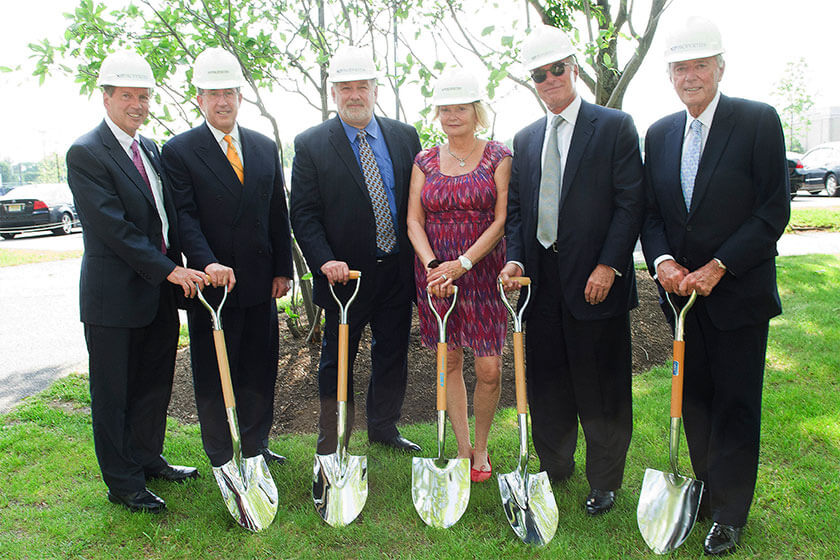 2013
Monmouth celebrates the groundbreaking of Pozycki Hall, thanks to the generosity of Steven J. Pozycki '73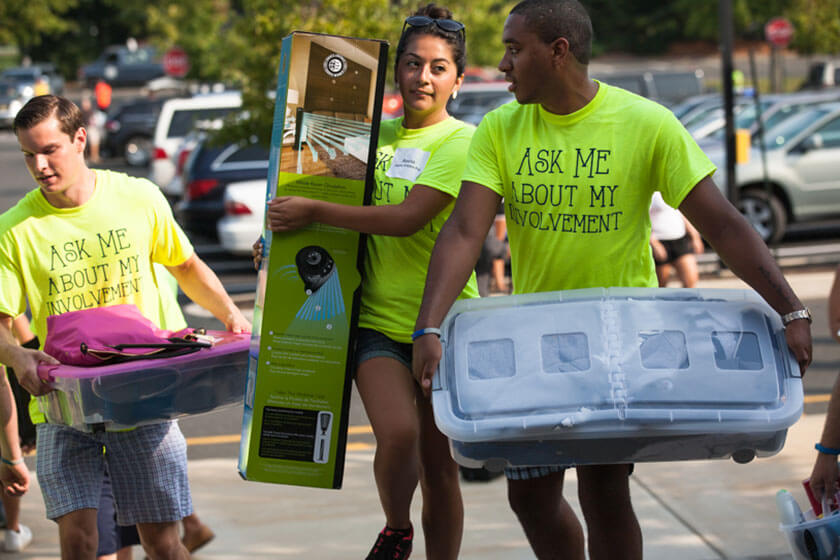 2014
Student volunteers help welcome the incoming class by assisting during move-in
2014
Monmouth hosts the dedication of the new soccer field named, Hesse Field on the Great Lawn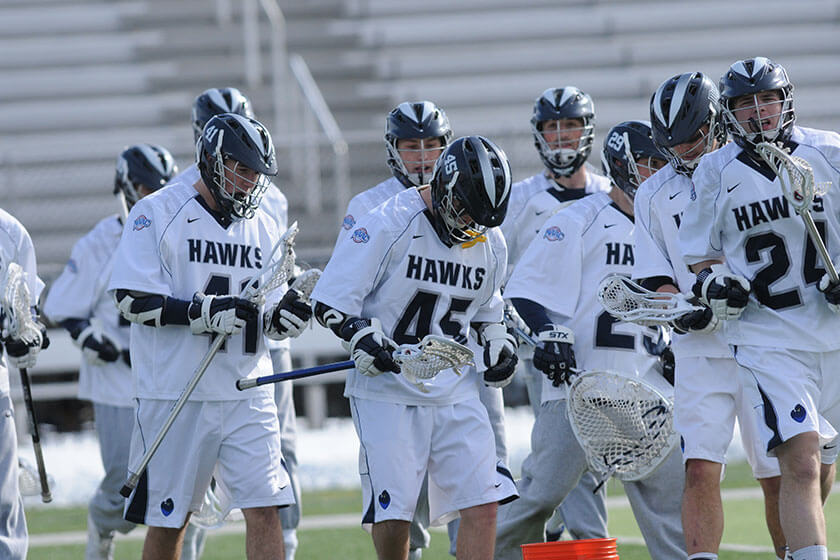 2014
Men's lacrosse take on Saint Joseph's University for their first ever home game
2016
Brad Brach '08 was the first ever all-star in Major League Baseball from Monmouth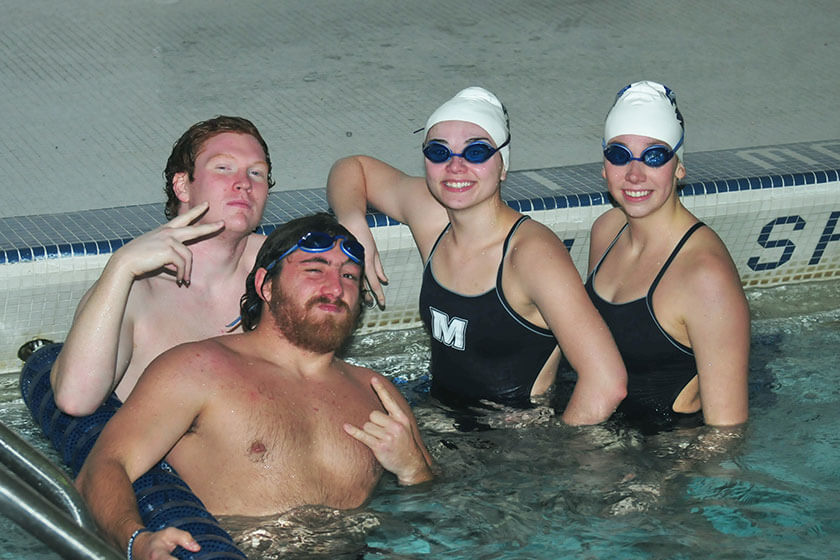 2016
Swimming was reinstated as a Division I sport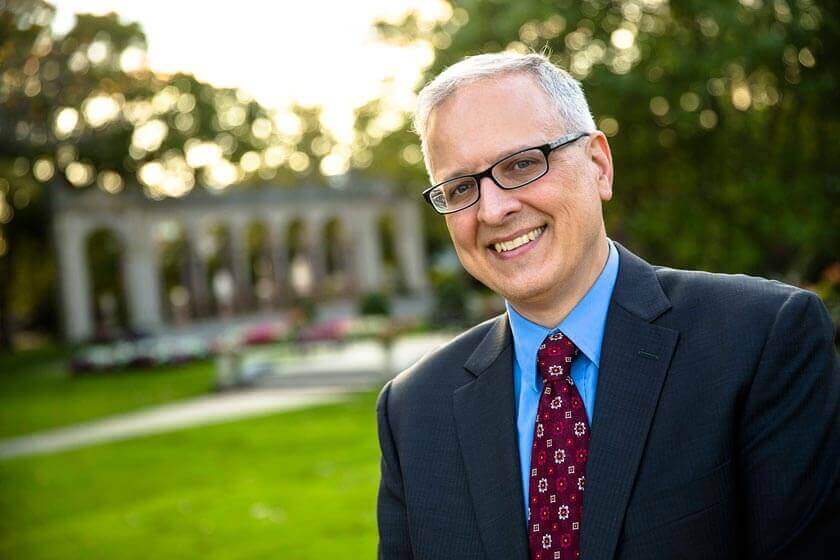 2016
The Polling Institute garnered national recognition for surveys conducted throughout the 2016 presidential race and also received an A+ rating
2017
The Kessler Stadium ribbon-cutting ceremony also marks the 25th anniversary of football at Monmouth
2017
Thanks to Robert Santelli '73, Monmouth announced the creation of the Center for American Music and Springsteen Archives
2017
Grey J. Dimenna, Esq. was appointed president in 2017 and will serve as Monmouth's ninth president until summer of 2019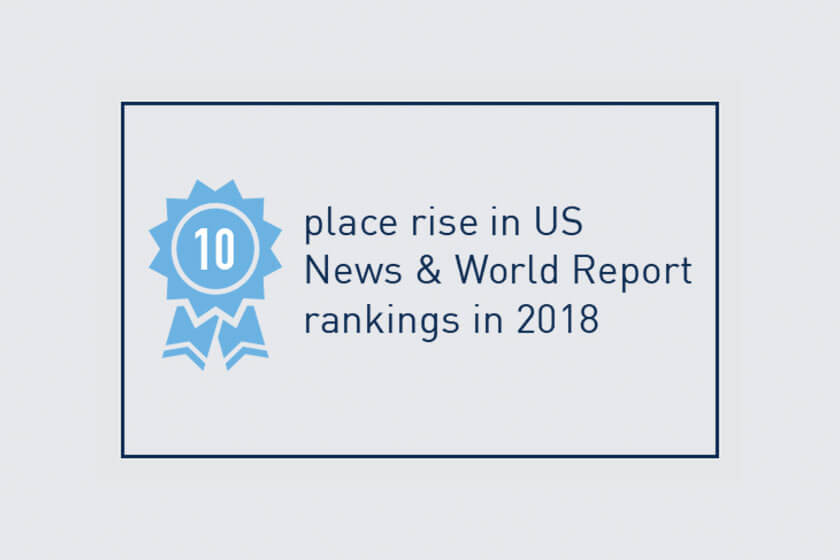 2018
Monmouth rises 10 spots in US News & World Report rankings
2018
Renovated Edison Science Hall opens and offers science students hands-on, collaborative research opportunities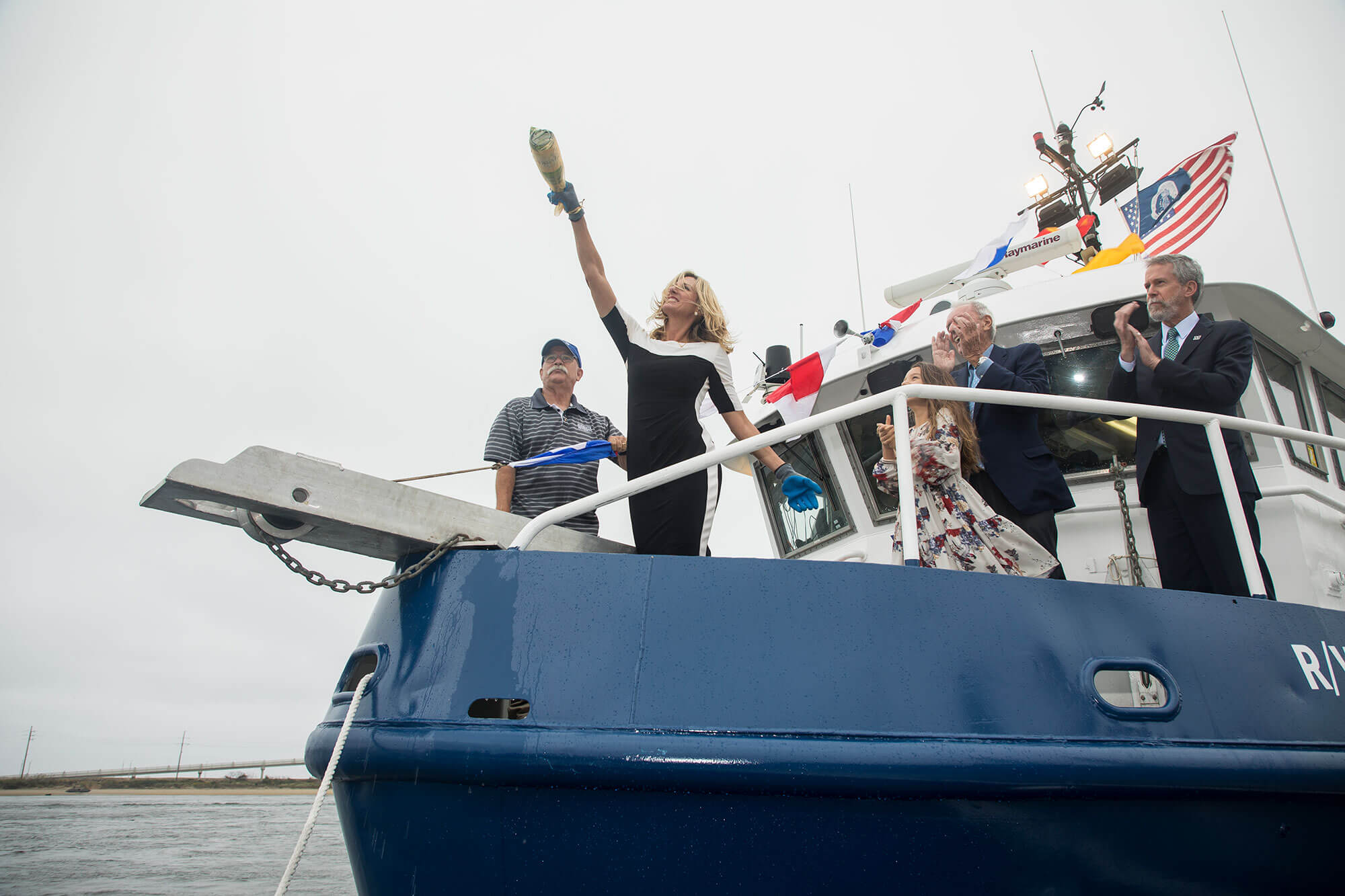 2018
The Heidi Lynn Sculthorpe, formerly known as the Nauvoo, was named and designated as Monmouth's largest ocean research vessel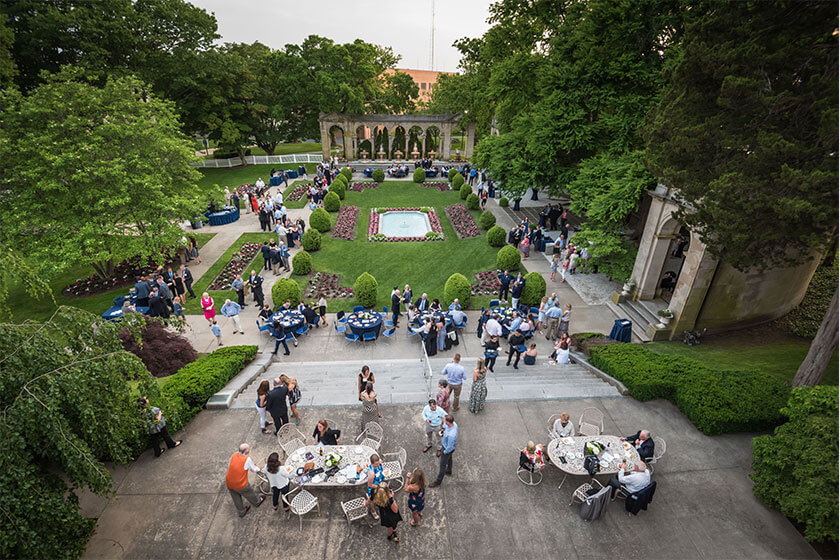 2018
Athletics Hall of Fame joins Alumni Weekend for the first time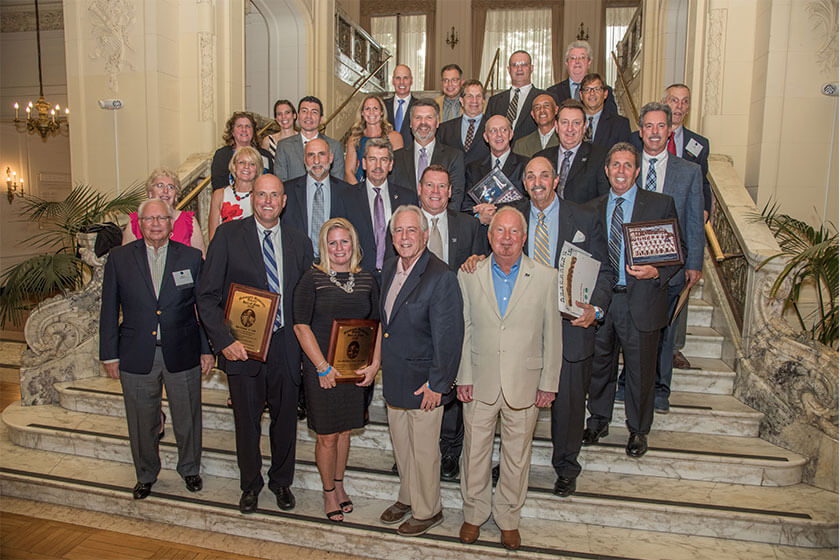 2018
Athletics Hall of Fame Induction Class of 2018
2018
Thanks to world renowned sculptor, Brian Hanlon '88, the 22-foot wide bronze sculpture, The Hawk at Brockriede Common, was formally dedicated during Homecoming 2018
2018
Dr. Patrick F. Leahy was announced as the tenth president of Monmouth University on December 14, 2018 and will take office on August 1, 2019
2019
Michael Salvatore, Ph.D. '98, Deb Mannix '83, and Dante Barry '10 are the alumni awards recipients, recognized for professional achievement, outstanding leadership and volunteer commitment to Monmouth
You have the ability to help us soar to greater heights.
Monmouth commits to a number of bold initiatives in the coming years that will propel the institution forward, making it a national leader at integrating excellence and access.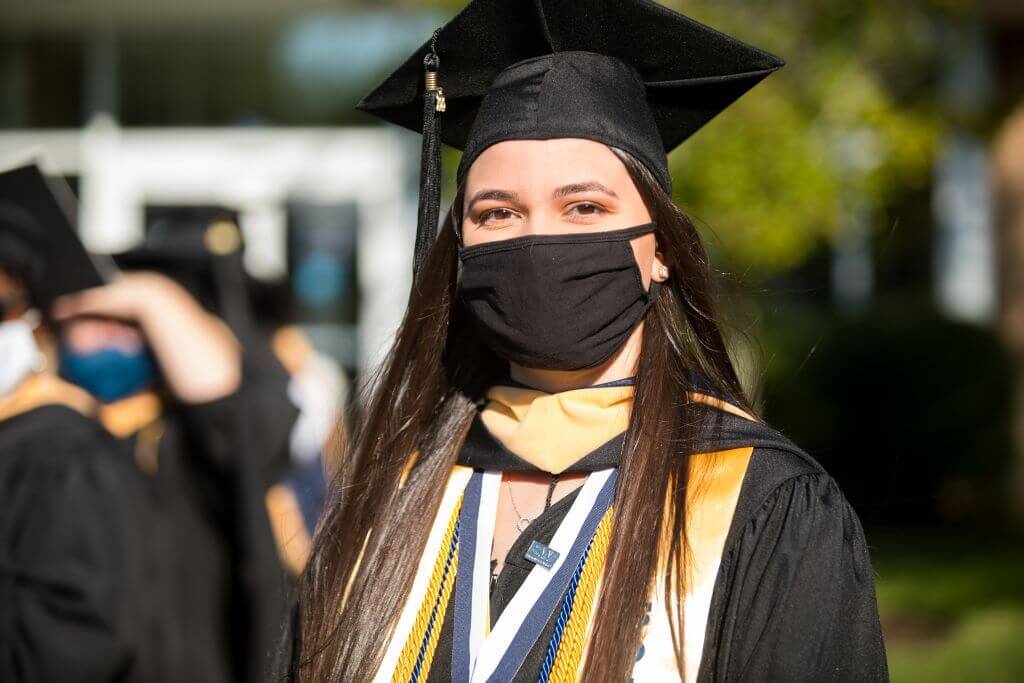 2020
The Class of 2020 is welcomed back for an in-person Commencement after finishing the year virtually due to the COVID-19 pandemic
2020
The Linda Grunin Simulation Lab and Learning Center opens at the University's Graduate Center, providing students with hands-on learning and training opportunities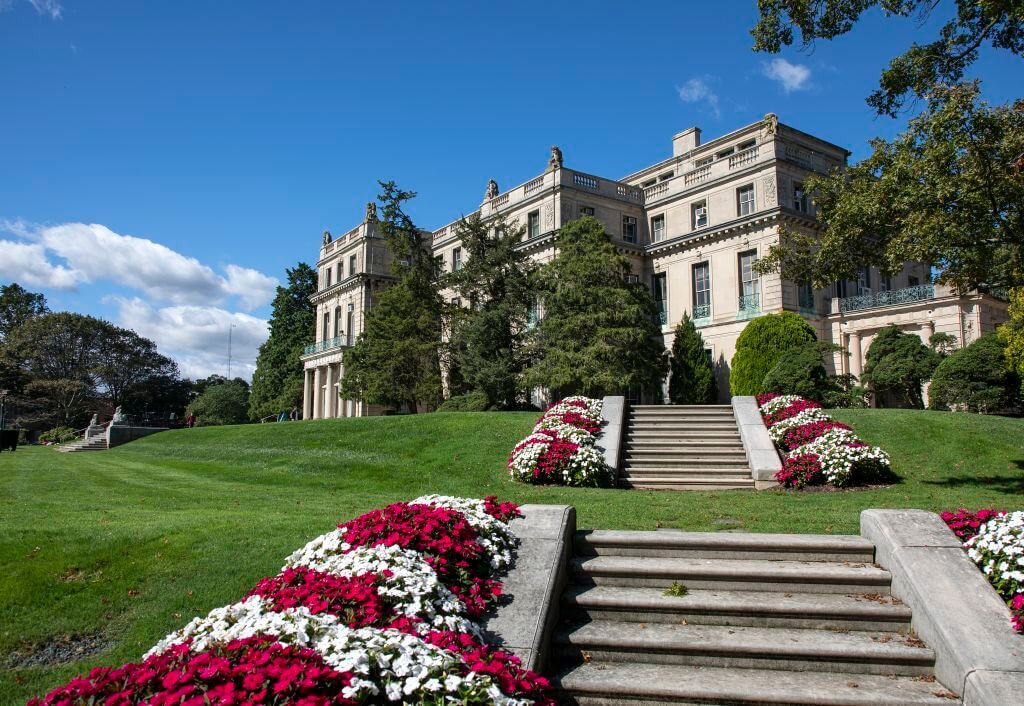 2021
Wilson Hall is renamed the Great Hall at Shadow Lawn as part of a larger effort to make Monmouth a more inclusive and supportive community for all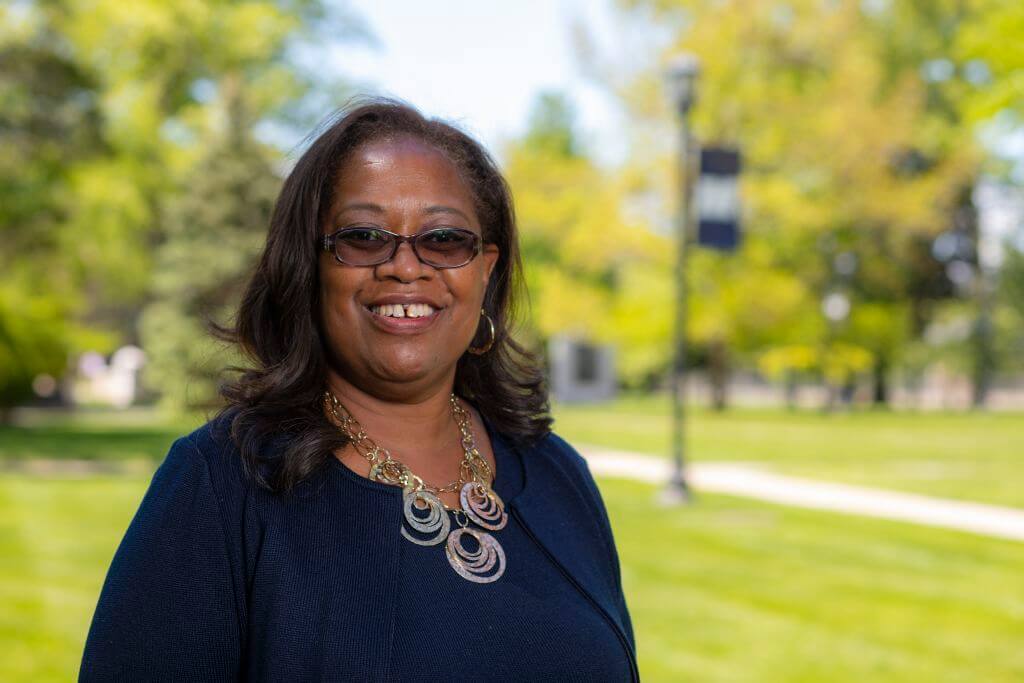 2021
Pamela Scott-Johnson, Ph.D., joins the Monmouth University community as provost and senior vice president for academic affairs